Generally speaking, Italians are still quite suspicious of veganism, mostly because they think all vegans eat is tofu and lettuce. Those who mock vegans may have never stopped to consider that some of Italy's most popular dishes actually are either vegan or vegetarian. Filling and flavorful, they have nothing to envy meat-based dishes and, if you follow a vegetarian or plant-based diet, you have plenty of options. In fact, while we have listed ten of our favorites Italian vegetarian and vegan dishes, there are many more we could have included, from pumpkin tortelli to homemade potato gnocchi, from mushroom risotto to peperonata to cacio e pepe.  
Find below our picks and let us know what your favorite Italian vegetarian and vegan dishes are. 
Note: by the term 'vegetarian' here we refer to dishes without meat or fish. 
Spaghetti pomodoro e basilico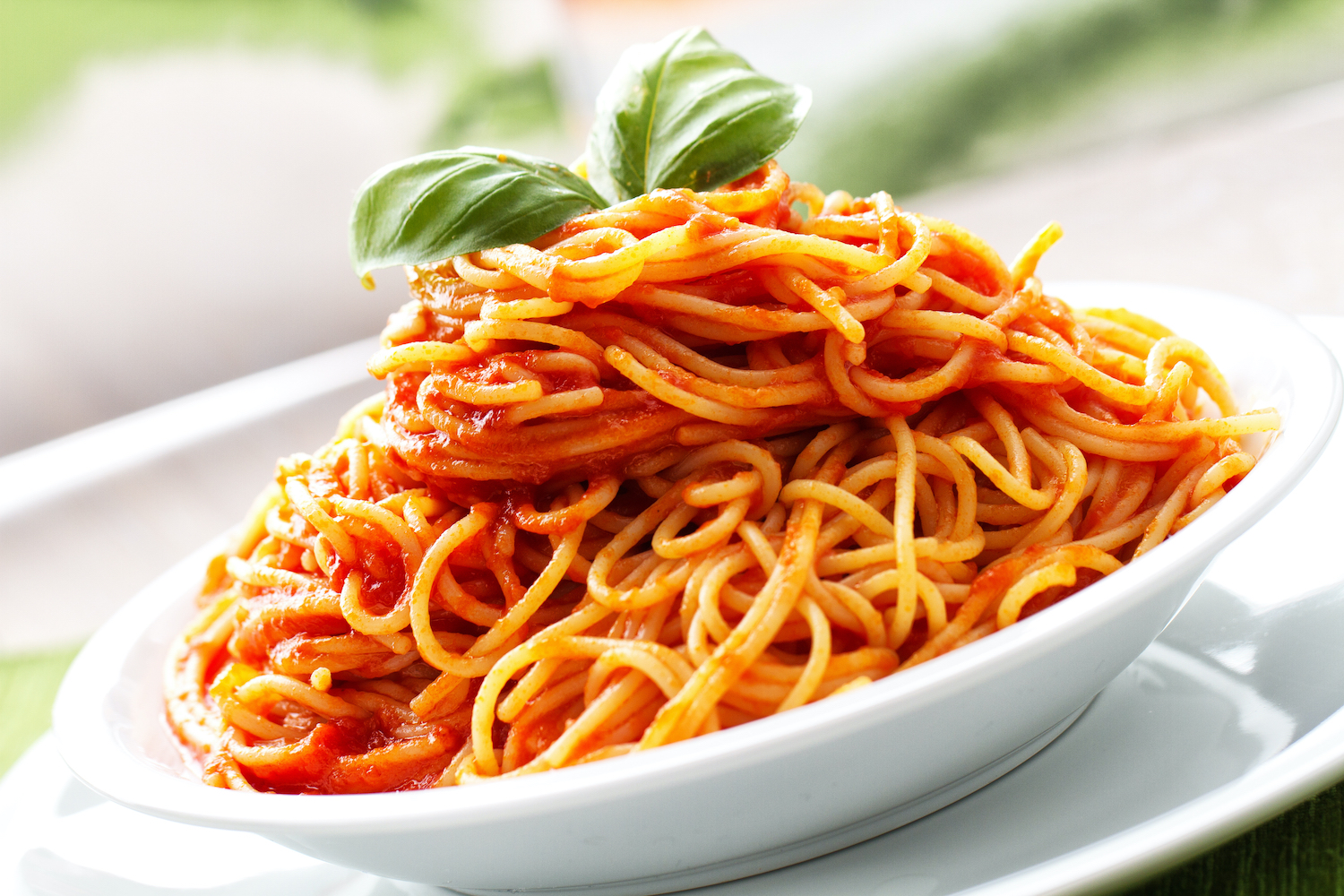 Spaghetti with tomato and basil may very well be one of Italy's most representative dishes, with the three main ingredients so typical of Italian cuisine: spaghetti, tomato and basil. Simple and delicious, all it needs to shine is a good can of tomato puree (preferably San Marzano), good extra virgin olive oil and some fresh basil. Here's how to make it: sauté some onion and garlic in olive oil until translucent. Add the tomato purée, salt and pepper, half of the basil and one cup of the pasta cooking water, simmer for five minutes. Discard the garlic. Drain pasta and toss with the sauce, adding some more olive oil and basil. In this version, the recipe is vegan, but you may add some grated Parmigiano cheese. 
Spaghetti aglio, olio e peperoncino
This is the classic dish for the so-called 'spaghettata di mezzanotte', a social and culinary rite that was very popular in the 1980s in Italy — the summer dish you prepared in the company of your friends after returning home from a fun night out, hungry and happy. 
Spaghetti aglio e olio originated in Naples, but it is now widespread throughout Italy. Simple, cheap and quick, you make it by sautéing a chopped clove of garlic and fresh chili pepper (remove the seeds first) in a pan with olive oil. It goes best with "long" pasta such as vermicelli, spaghetti or linguine. This satisfying vegan dish is great for when you're in a hurry or have nothing left in the fridge. You may also add parsley at the end. 
Melanzane alla parmigiana 
The dish over which Italians fight the most as to what version is the most authentic (actually, that happens for almost all Italian dishes), eggplant parmigiana is a beloved comfort food that originated in southern Italy and is now popular all over the country (and abroad). It is a delicious melt of fried eggplant (you can also just bake them for a lighter version), baked in the oven with tomato sauce, basil, garlic, mozzarella and Parmigiano Reggiano cheese.
Here's the Salentino version from Puglia. 
Pesto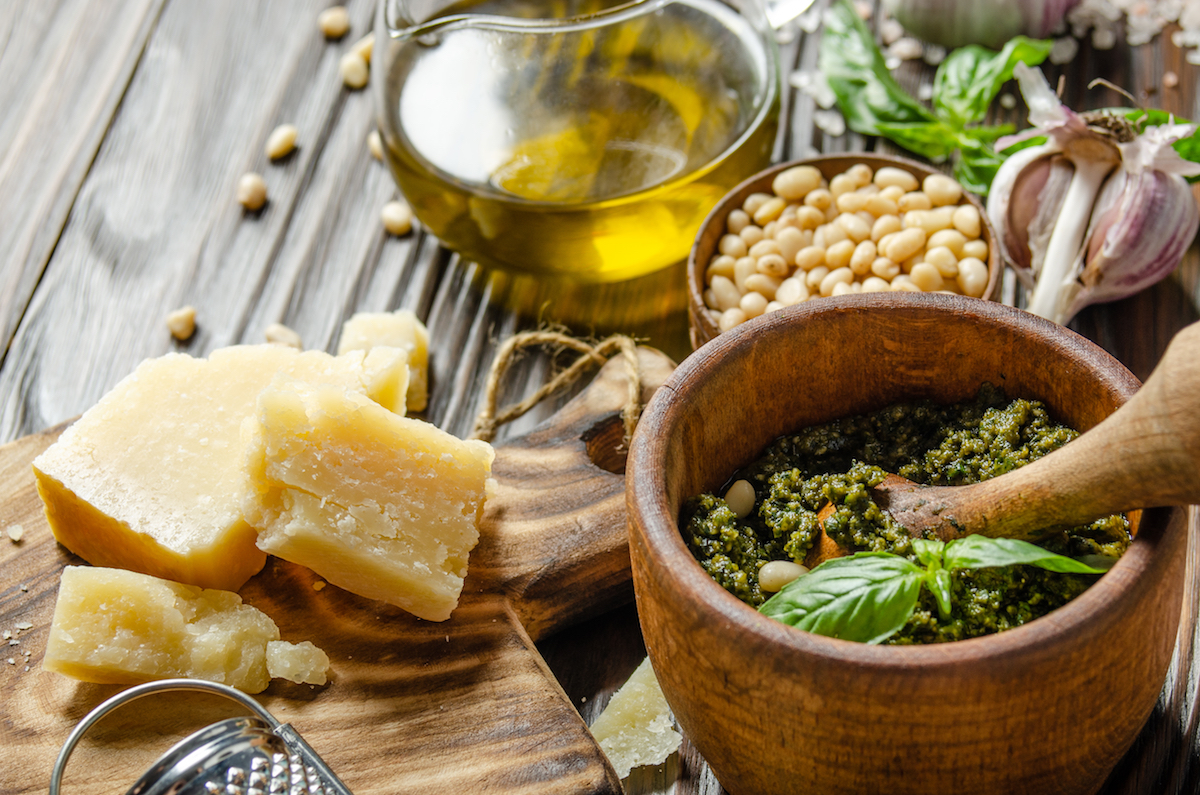 Pesto is one of the most popular pasta sauces in Italy (and the world). It originated in Liguria, specifically in Genoa. The ingredients for an authentic pesto genovese recipe are: basilico Genovese DOP (basil leaves designated with the DOP trademark), extra virgin olive oil (preferably from Liguria), Parmigiano Reggiano DOP (possible variant with Grana), Pecorino cheese DOP, pine nuts, garlic and salt.
For a real Ligurian Pesto, the ingredients must be crushed using a wooden pestle and a marble mortar. The name pesto derives in fact from the Italian verb 'pestare', which means 'to crush'.
The classic Ligurian pasta to go with pesto is trofie or trenette.
Insalata caprese 
Insalata caprese has a place of honor in the list of Italy's most popular vegetarian dishes. 
Caprese is a salad that is eaten as a single dish or second course, usually in summer. Its name descends from the island of Capri, where it's thought to have originated. It consists of tomato, preferably of the variety called fiascone originating from the Sorrento peninsula, or San Marzano, and buffalo mozzarella, all cut into slices, seasoned with extra virgin olive oil, salt and basil. Sometimes oregano and/or black pepper are added.
Pasta e fagioli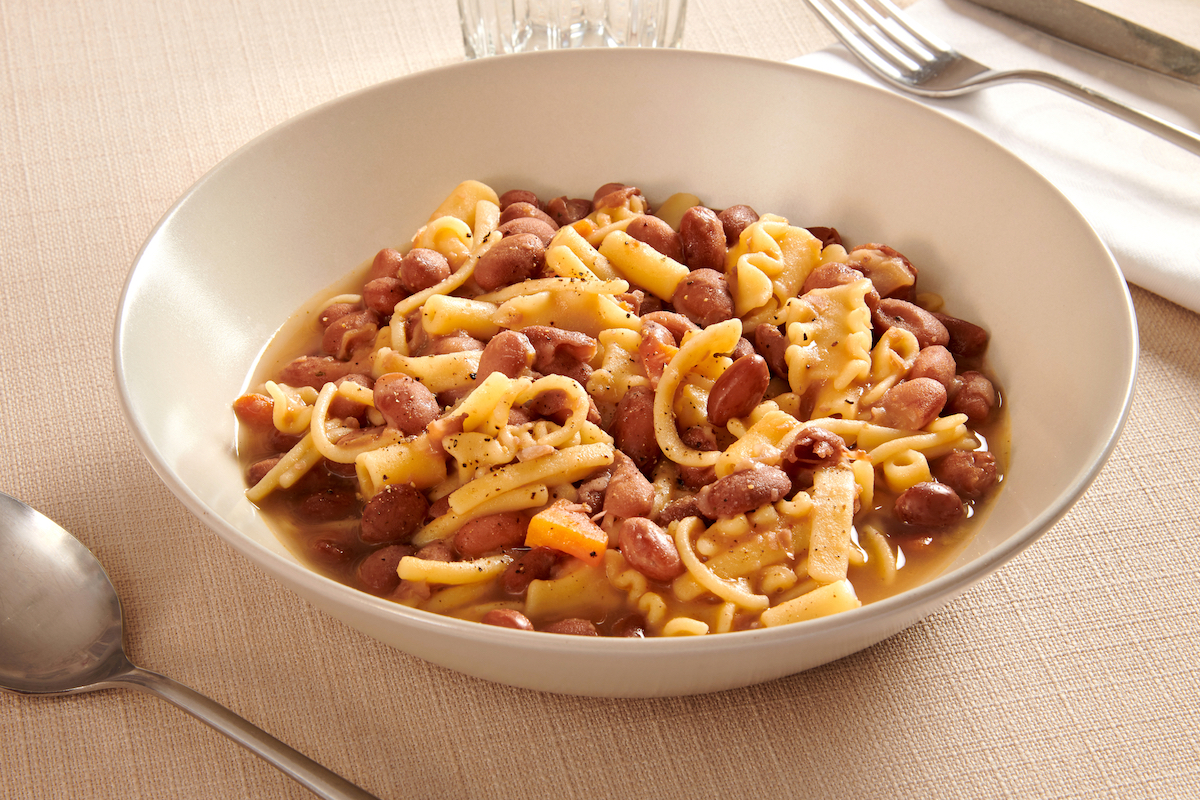 Pasta e fagioli is a vegan, healthy, balanced, tasty and smart meal (can you tell we have a favorite here?!). Legumes and cereals complement each other in terms of protein, as the amino acids that are missing in legumes are found in abundance in cereals (nutritionists recommend combining cereals and legumes in the same meal). If you want to keep it vegan, don't add pork rinds as some do, lard, or, in some southern variations, mussel, and use wheat pasta (preferably short), not maltagliati, which is an egg pasta often used to make this dish. 
Pizza margherita  
Pizza Margherita is to many the true Italian flag. According to popular tradition, in 1889, 28 years after the unification of Italy, during a visit to Naples of Queen Margherita of Savoy, wife of King Umberto I, chef Raffaele Esposito of Pizzeria Brandi and his wife created a pizza resembling the colors of the Italian flag: red (tomato), white (mozzarella) and green (basil). They named it after the Queen - Pizza Margherita.
Since 2009, Pizza Margherita has been one of the three Neapolitan pizzas with an STG EU label (Specialità Tradizionali Garantite - Traditional Guaranteed Specialty), together with the marinara (garlic and oregano) and the margherita extra (mozzarella di Bufala Campana DOP, fresh basil and tomatoes) - all of them vegetarian-friendly. 
Ribollita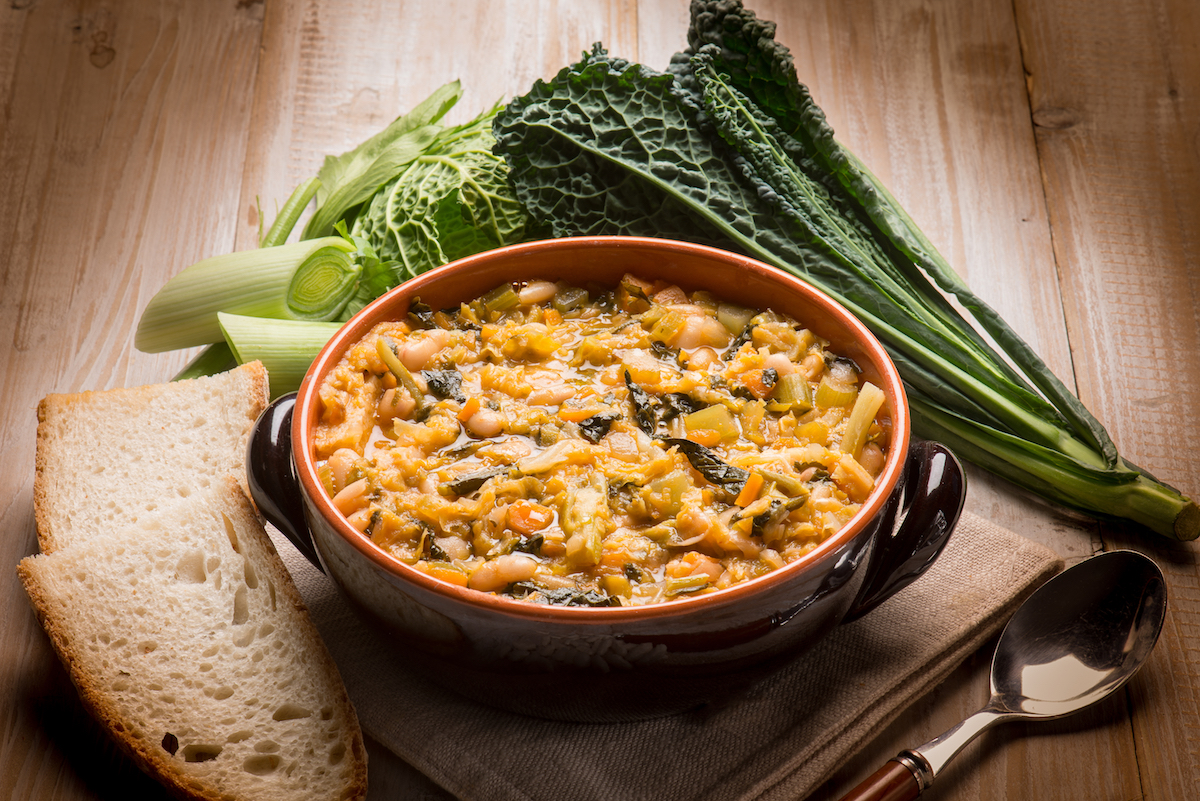 Tuscan ribollita soup rightly fits into Italy's great foods. Ribollita falls within the tradition of the so-called cucina povera, peasant cooking that made use of whatever ingredient was easily and cheaply available. The main ingredients of ribollita are potatoes, black cabbage, savoy cabbage and cannellini beans. The perfect bread for ribollita is Tuscan bread. Ribollita can be kept in the refrigerator for several days and actually gets better every time you re-heat it. 
Caponata
Sicilian cuisine has gifted us with wonderful dishes, often plant-based, making use of ingredients such as eggplants, tomatoes and basil. These are indeed the undisputed protagonists of caponata, a side dish that is made by cutting the vegetables into cubes and cooking them in extra virgin olive oil. The traditional recipe includes eggplants, olives, tomatoes, celery, capers, onions, cut into pieces and cooked over low heat and seasoned with oil, salt, vinegar, pepper and lots of basil. An ode to summer!
Bruschetta al pomodoro 
Bruschetta al pomodoro is a popular appetizer consisting of sliced, toasted bread rubbed with garlic, topped with finely chopped tomatoes, drizzled with high-quality olive oil, a sprinkle of sea salt, and fresh basil leaves. Simple, elegant, flavorful, it is perfect start to a meal and is often prepared for parties and celebrations or offered in restaurants before courses are served.