Train travel in Italy is relatively easy, but may pose some challenges if you have never been to the country or if you are not used to this mode of transportation. This is why we have created this ultimate guide to traveling by train in Italy, which you can also print out and carry with you during your trip as a reference. 
Let's look at the main points to consider. 
What is the Best Way to Get Around Italy?
The train is one of the easiest and most convenient ways to travel around Italy, however this does not mean you have to do it all by train. Whether you use the train for all or part of your Italian trip depends on the itinerary that you are planning. If you do the classic Rome-Florence-Venice tour, then you can do it all easily by train, and it is the recommended option because the train stations in these cities are conveniently located in the city centers and you do not need a car to tour them. If you plan to visit the countryside or the mountains, you should consider renting a car as it gives you more freedom and flexibility. You can also combine different modes of transport: train between major art cities, a rental car for an on the road and to reach smaller towns and hilltop towns that may not be as well connected, plane if you need to go from the north to the south of Italy or vice versa. 
Most train stations in Italy are located in or very close to the city center (hence why many have 'centrale' in their name), so they're very easy to reach, sometimes even on foot from your centrally located hotel. 
Where Italian trains are the best or only choice:
Rome, Florence, Venice, Naples, Milan, Cinque Terre
Where Italian trains are better avoided:
Amalfi Coast, Sicily, Sardinia, remote countryside
Where a car is a good option, but you can also get by with trains and buses:
Tuscany, Umbria, the Dolomites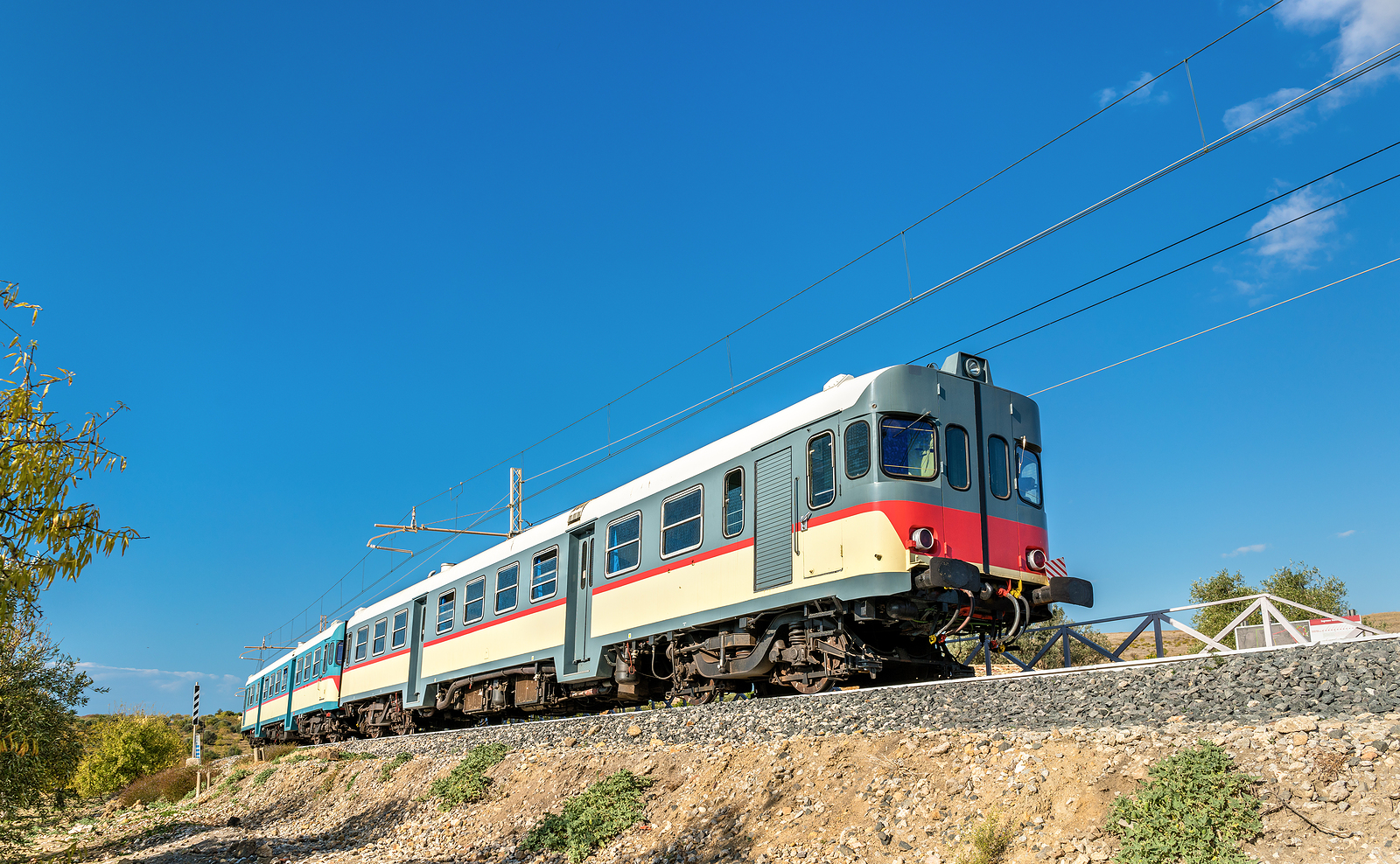 Buying an Italian Train Ticket
You have two options to buy train tickets for your Italian trip:
Buy your ticket online in advance via the train company's website (Trenitalia and Italo), an intermediary like Italian train travel specialists ItaliaRail, or through your travel agent;
Directly at the train station in Italy, either at the ticketing window or using the self-serve ticket machines (instructions are available in English and the machines accept credit cards).
We recommend buying your tickets in advance whenever possible so that you do not have to wait in line, deal with a machine if you're in a hurry, you have more seat options, plus having your trip mapped out beforehand can save you precious time while in Italy.
As a general rule of thumb, the sooner you book, the cheaper the fare. Seniors and children (or family packages) generally have reduced fares on Trenitalia's Frecce and Italo. 
*For more information about buying train tickets in Italy, see our dedicated feature.
Arriving at the Train Station in Italy
First of all, always arrive early (at least 20 minutes before your train's departure time). Train stations in major cities like Rome, Milan and Bologna are very big and you may have to walk five to ten minutes to reach your track (binario in Italian). 
The first thing you want to do when you get to the train station in Italy is to find the electronic board with the trains departure information. There are several throughout the stations, with the bigger one in the main hall and ticketing area, and smaller ones on each platform, in underground passages and waiting areas.
The board has the following information:
Type of train and train number (treno)
Train's final destination (destinazione)
Departure time (orario)
Delay (ritardo) - expect a 5-10 minute delay as standard in Italy
Information (informazioni) - this usually displays the intermediate stops of the train with arrival times and where the different classes are located scrolling by
Platform number (binario)
To identify your train, look for the train number on your ticket, as the destination shown on the board is the final one, but your destination may be an intermediate stop (which you will see in the part of the display that scrolls by). 
If your train does not have a specific train number, date and time printed on it, you must validate it before boarding . Look for a green, white or yellow electronic box and insert your ticket into it to get it timestamped (ie validated) before getting on your train (the validation lasts for six hours). This mostly applies to regional trains. You do not need to validate your ticket if you are taking a Freccia high-speed train or Italo train (see below for specifics). 
When at the platform, double-check that the train you are about to board is the right one by looking at one of the several boards positioned overhead along the track, it specifies train number and destination.
Also, make sure to board the correct carriage; the number is visible on the side of the train, on an electronic sign on the door, and before boarding, on a screen overhead. This way you will avoid creating more confusion and blocking aisles as you walk through carriages to reach your seat.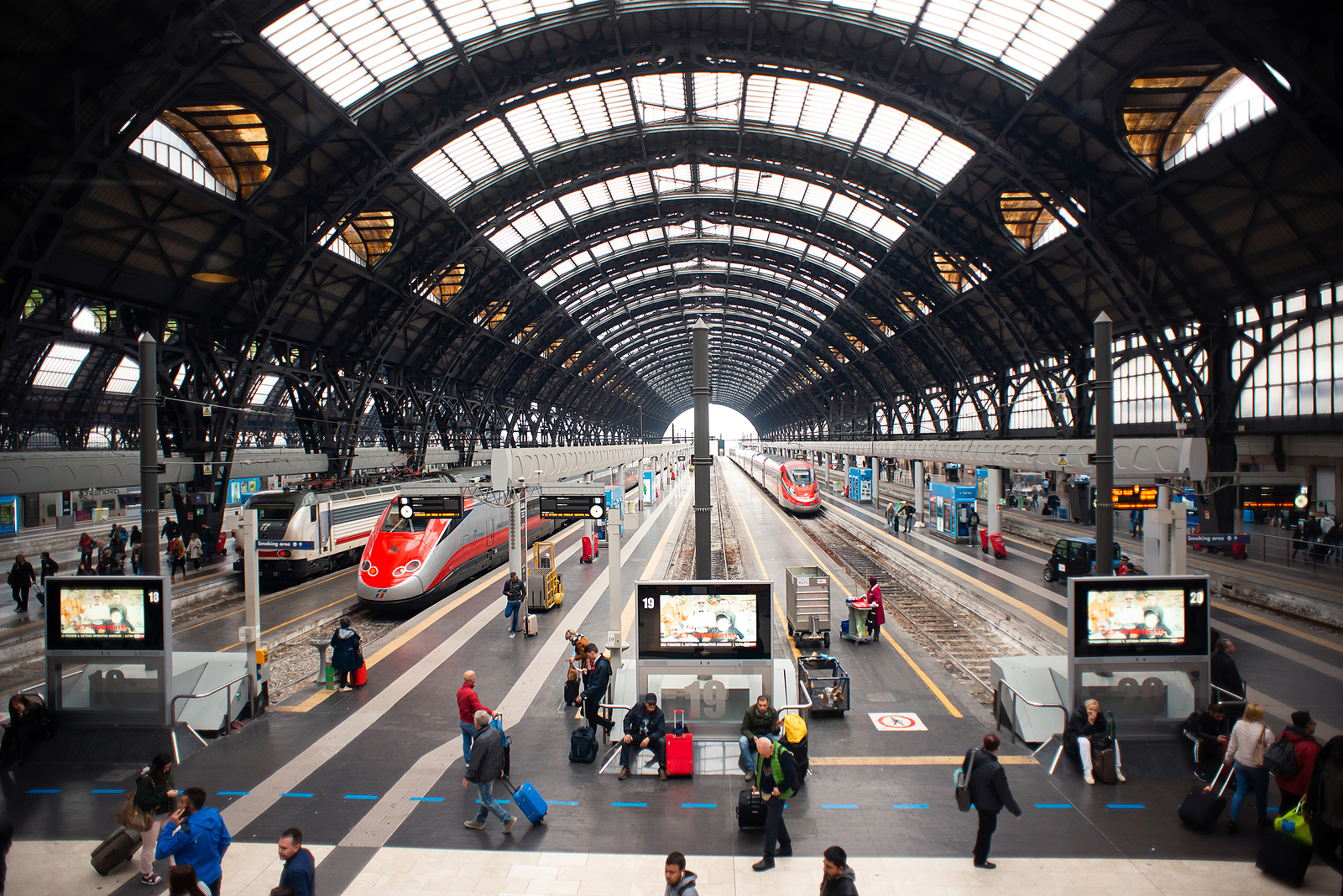 Safety at the Train Station
Generally speaking, traveling by train in Italy is safe, but be vigilant of pickpockets and other petty criminals that may target disoriented travelers intent on finding their way through the station. Always carry your bag in the front, and consider investing in a money belt to place your passport, credit card, money and important documents. 
If your luggage on the train is not close to you (ie if it's big you're going to have to place it in the luggage area at the front or end of the carriage), take a look at it when the train stops at intermediate stations.
Do not accept help from strangers who may offer to carry your luggage or help you get a ticket at the ticketing machine. They may insist on getting a 'tip' from you once their 'service' is done and not leave until you do. Just send them away as soon as they approach you. 
Types of Italian Trains 
Two companies run trains in Italy: Trenitalia and Italo. For a long time, Trenitalia has been the only railway company in Italy and to this day it has the widest network and routes. Italo began operating in 2012, and offers high-speed service between major Italian cities. 
When traveling on Trenitalia, you have three different types of train to choose from which differ based on speed and price. 
Le Frecce - they are Trenitalia's most modern, comfortable and fastest trains, which also means they cost more. They require advance reservation, have seat assignment, and provide most of the high-speed service on the main lines between Turin, Milan, Venice, Bologna, Florence, Rome, Naples, and Bari. 
There are three types of Frecce: 
Frecciarossa: the fastest and most expensive trains, traveling up to 300 km/h. They connect Italy's biggest cities (Turin, Milan, Bologna, Florence, Rome, and Naples), but not Venice. Frecciargento: these trains use both the high-speed and traditional lines; they are not as fast as the Frecciarossa and take you to main cities such as Florence, Bologna, Rome, and Naples, but not to Milan or Turin. They go to Venice and southern regions like Apulia and Calabria.
Frecciabianca: the slowest among the Frecce, they run on traditional lines and connect large and medium-sized cities in 14 of the 20 Italian regions (Valle d'Aosta, Trentino Alto Adige, Umbria, Basilicata, Sicily and Sardinia are not covered).
Intercity - these trains are less expensive than the Frecce; they operate outside of the high speed line, therefore your trip will take longer. They connect medium to large cities across Italy, making few intermediate stops. It is not always possible to reserve your seat in advance. These trains are usually quite old and don't have amenities like wi-fi and restaurant service, available on the Frecce.
Regional trains  - the cheapest option, these trains are used by locals to get to and from work and school, connecting minor towns and villages. You cannot reserve a seat in advance, therefore if you need to take a regional train, try to avoid rush hours. Coaches are mostly second class, with only one or two reserved for first (which in this case you may want to get). These are the trains you would take for example if you were going to the Cinque Terre or to Assisi.
General tip: use the Frecce to reach the biggest cities, then use regionali to move around the region to smaller centers (when possible - sometimes you will need to take a bus instead; sometimes renting a car will be the easiest option).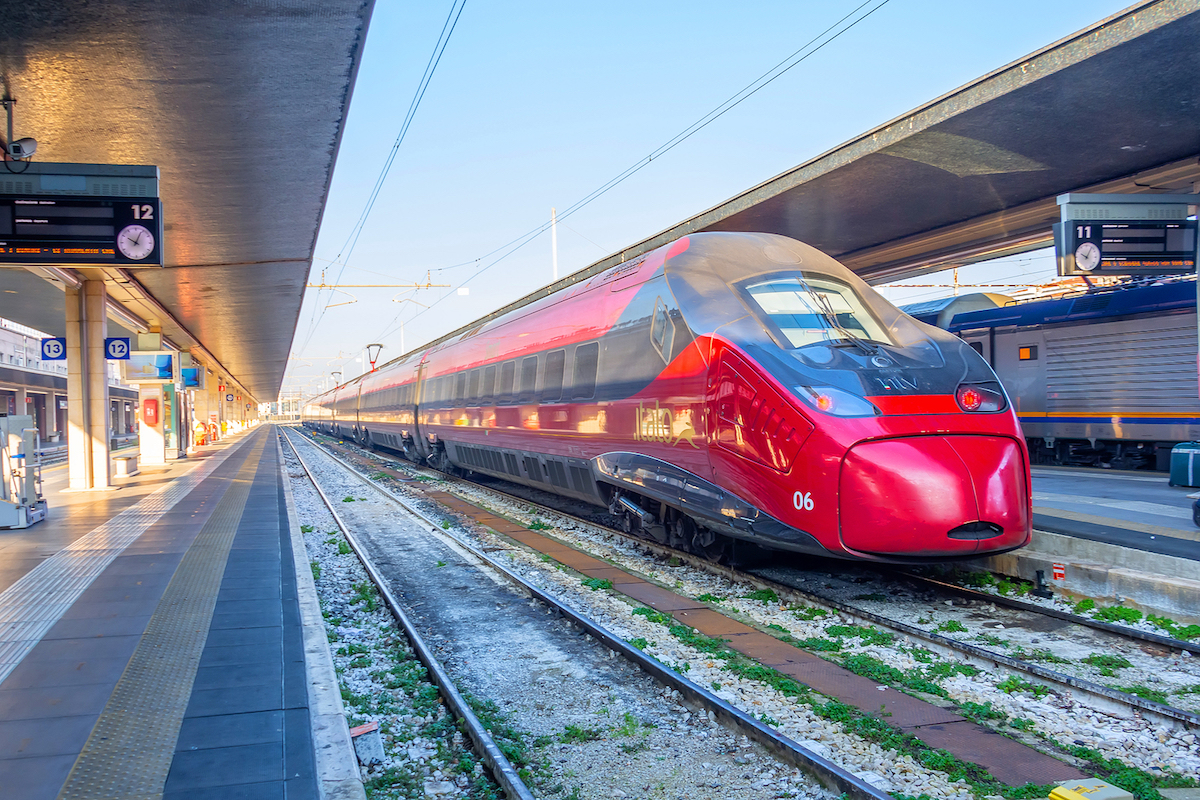 Should I Book a First Class Ticket or a Second Class Ticket? 
All trains generally offer first class and second class, or, in the most modern trains, 'standard', 'premium', 'business', 'executive' (the most expensive, the less seats available and the less people around you). What corresponds to second class (or standard) on the Frecce and Italo is absolutely decent, but obviously more crowded, so if you wish for tranquility and silence, go for an upper class of service. You may want to step up to first class on the Intercity and regional trains.  
What To Do If Your Train is Canceled or Delayed 
When you travel by train in Italy, you should be aware that things don't always go as smoothly as you may expect in countries such as, say, Switzerland or Germany. Try to remain patient as your train may be canceled or delayed because of a strike, an accident or repairs on the line. 
As reported on the Trenitalia website:
- if your Freccia train is delayed by 30 to 59 minutes, Trenitalia will issue a bonus equal to 25% of the ticket price that you can use for future purchases.  
- If your Freccia train is over an hour late when you get to your destination, you are entitled to a compensation equal to: 25% of the ticket price for a delay ranging from 60 to 119 minutes; 50% of the ticket price for a delay of more than 120 minutes. The compensation may be issued in the form of a bonus for a new ticket to be purchased within 12 months; cash if the ticket was paid cash or refund on the card that you used for payment.
You can request your bonus after 24 hours from the date of travel and up to 12 months, at the ticket office of any train station, online on the Trenitalia website, at the travel agency that issued the ticket, or by calling the Call Center. 
How to Pack for Train Travel in Italy 
Pack light! You don't want to have to carry around a huge suitcase that is hard to lift and lower when you get on and off the train. Remember, there are a few steep steps up (and down) the train, there may be stairs to the platforms, especially in the older stations where you won't find the automatic ones, and you may have to walk the distance in large train stations like Rome Termini or Bologna Centrale. 
Go for a light carry-on or even a backpack, this will be helpful in general as you may decide to also walk between your hotel and the train station. 
We have a great feature with general tips on how to pack for travel to Italy by Sarah Murdoch, a Rick Steves tour guide and Italy expert. 
Train Travel Times for the Most Common Italian Routes  
Rome – Florence 
1 hour 31 minutes (Frecciarossa – Trenitalia)  
1 hour 23 minutes (Italo)
Rome – Venice 
3 hours 45 minutes (Frecciargento – Trenitalia)
3 hours 45 minutes (Italo)
Rome – Milan 
2 hours 55 minutes / 3 hours 20 minutes (Frecciarossa – Trenitalia) 
3 hours 14 minutes (Italo)
Rome – Naples 
1 hour 10 minutes (Frecciarossa – Trenitalia) 
1 hour 20 minutes (Italo)
Florence – Milan 
1 hour 40 minutes (Frecciarossa – Trenitalia) 
1 hour 50 minutes (Italo)
Florence – Venice 
2 hours 5 minutes (Frecciargento – Trenitalia) 
2 hours 5 minutes (Italo)
Milan – Venice 
2 hours 23 minutes / 2 hours 35 minutes (Frecciabianca – Trenitalia) 
Milan – Naples 
4 hours 40 minutes (Frecciarossa – Trenitalia)
4 hours 31 minutes (Italo)
The Most Important Train Stations in Italy
Rome: Roma Termini
Florence: Firenze Santa Maria Novella
Venice: Venezia Santa Lucia
Milan: Milano Centrale
Naples: Napoli Centrale
Turin: Torino Porta Nuova
Bologna: Bologna Centrale 
Now that you know everything you need to know about train travel in Italy, enjoy the ride as you watch Italy's beautiful scenery roll by!
For more Italian train travel, check our dedicated section, Italy by Train.