[The lot Erin Lewis bought on the border between Tuscany and Umbria where she's building her dream home. This is how it looked before construction began.]
Erin Lewis likes to describe herself as "American by blood, Italian by heart." She felt called to Italy for many years before finally deciding to make the move six years ago. She settled in Florence, where she had already lived before. There, she rented an apartment; as time went by, she gravitated more and more towards the countryside, until she decided she wanted to own real estate in Italy. But not just any real estate; it had to be her own project. And so the project turned out to be, "building a house, from scratch, in an empty field, on the border of Tuscany and Umbria," as she herself writes on Agra Dolce, the blog she set up to document her house-building journey in Italy. In the interview below, Erin shares useful insights into her experience as she still works through it, and provides some great points to ponder for anyone interested in doing something similar.  
[This interview is part of ITALY Magazine's series True Stories of Buying Property in Italy.]
- Erin, why did you decide to buy a house in Italy and why did you choose the Tuscany/Umbria area specifically? 
When I initially moved back to Italy, I had an apartment in Florence which I kept for many years, but gradually I made the transition to living in the countryside where my partner owns a large restored farmhouse where he runs art retreats. I finally gave up my city apartment at the end of 2019 which was when I was already in the process of this new house project. The new house is less than 10 minutes away from where we are living now, so it's very convenient to be on-site when needed.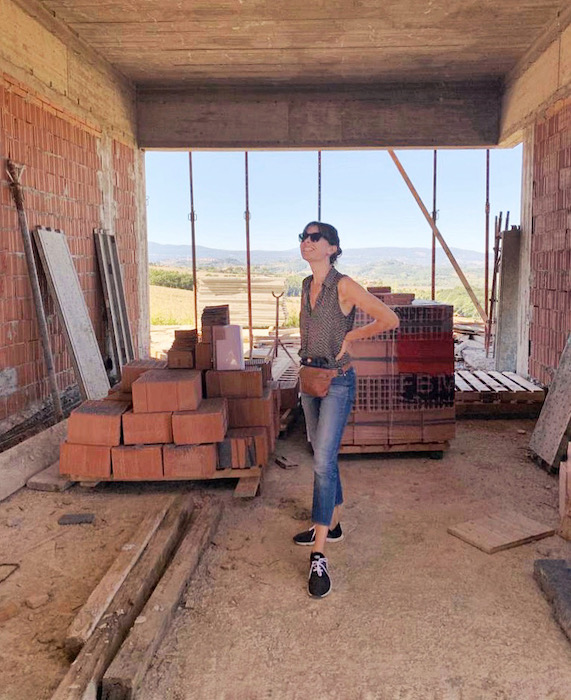 [Erin checking on construction works.]
It sits on the border of Tuscany and Umbria, but the actual property lies within a couple hundred meters from the border on the Umbrian side. I think this may have been advantageous from what I've heard as the building restrictions can sometimes be even more strict in Tuscany. (Although it took a lot of work to have everything approved here in Umbria as well). And although the house is in Umbria, the entire view is of Tuscany - Chiusi, Chianciano Terme and Montepulciano are just on the hillsides.
When I initially started to think about buying a property in Italy, my partner and I had a serious conversation about where that would be. But the location where I'd been living with my partner had become very much like a home to me, and there are so many 'pros' about this area - it's very central and right in the middle between Florence and Rome, with a train station on the major line just 15 minutes away, as well as an entry to the Autostrada 15 minutes away as well. The longer I've explored throughout Italy, the more I've found that there are so many beautiful villages, but the majority of them are a long, inconvenient drive to be connected to other places. I'd rather not have to drive 40 minutes through windy hilly roads to reach the highway. So the convenience was another big factor that attracted me to settling down here.
- Great point there. How did you get started looking for a property?
After selling property in the U.S. a few years after being back in Italy, and for the first time in my adult life not having real estate that I owed, I began to think about where I'd like to invest again. I was feeling more and more settled here and like it would be my main home-base, so the idea popped up initially as just a small project and purchase where I could buy something outright without taking on any debt. But I knew that I'd want it to be an interesting project, even if it was small.
I looked at an abandoned industrial barn as a restructuring project, then at another piece of land nearby - both of these I'd discussed with my architect, Claudio Nardi, who I'm very grateful is also a friend and was interested in designing the project from the beginning. Then as the ideas progressed, I felt that this may be more of an involved project than I initially expected, and one that I wouldn't want to rush through or settle for something less than what I truly wanted. This made me ask myself where my favorite pieces of land were in the area, and then I began to just ask around if anyone knew of any "terreni edificabili" (buildable lots) nearby, as many don't have 'for sale' signs on them. Our local winemaker mentioned a lot next door to them that may be for sale, which was a complete surprise to me as it was agricultural and so beautiful that we'd stopped there many times in the past just to take photos outside of the car window. Finding this piece of land solidified my determination to move forward with the project - and knowing it would be an 'all-in' project instead of just a small one like my original idea had been. The final idea is based on the idea of a 'deconstructed farmhouse' and a mix of modern and traditional.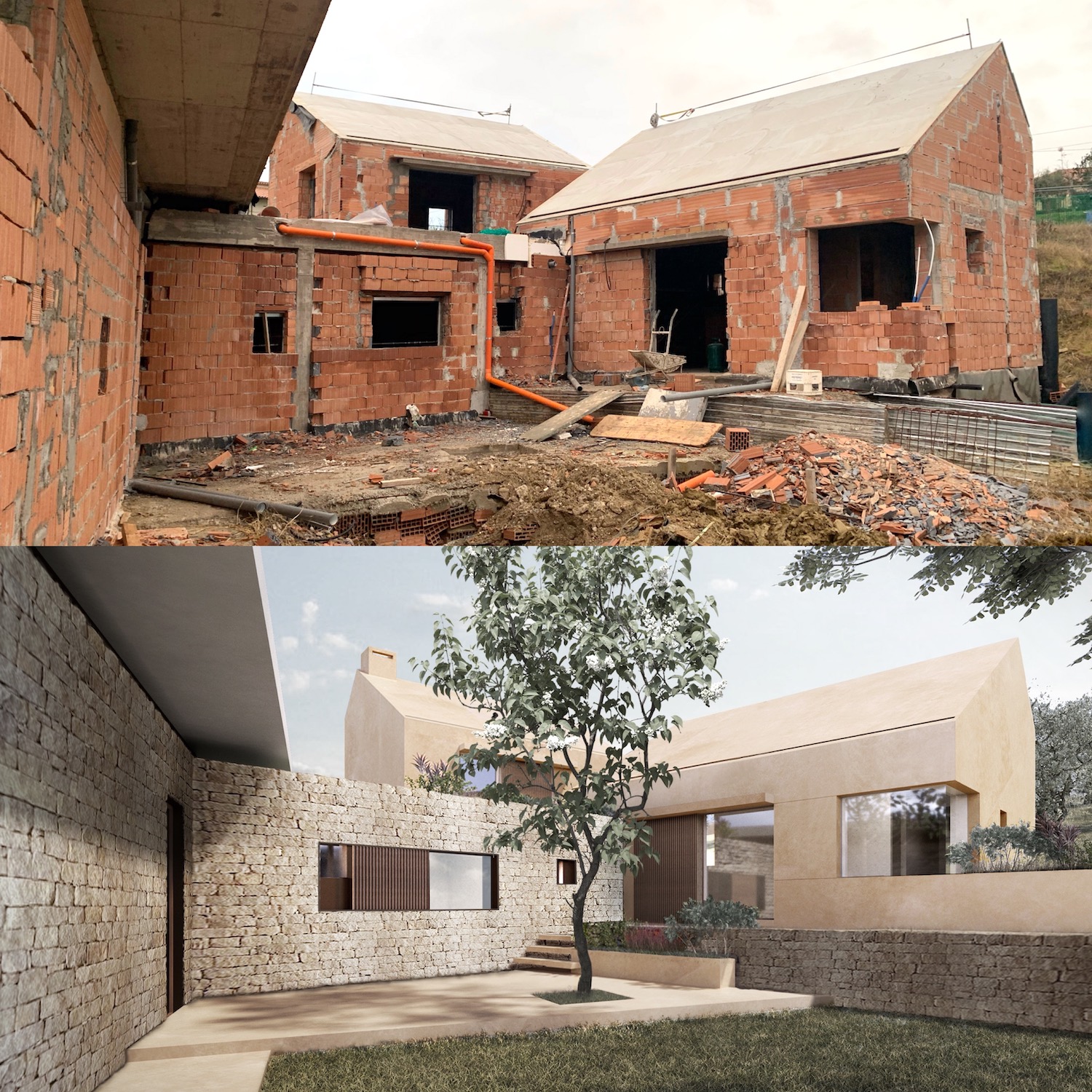 [What Erin's house should look like once it's finished.]
- What were the main difficulties during the research/purchasing phase?
Since it was a new, non-traditional build on originally non-buildable land, the main difficulties were during the approval process. I had to go through several steps of purchases through a third party, as I essentially had to buy the volume of a torn-down barn about a kilometer away, then purchase the non-buildable agricultural plot from another owner, then receive the re-zoning approval for the land use. Next was a full transaction to sell the footprint of the old barn back to that owner since it was on his land a kilometer away (and all of these transactions have their own legal fees which I had to pay). Then to increase the volume allowance of the barn to make the square-meterage that I needed, I had to go through another approval process with the regional eco-certification committee, as applying for a high eco-rating on the future house allowed for a percentage increase in the buildable volume allowance.
Within this entire process, I was also working back and forth with the city and architect to get the approval to build a non-traditional designed building as well - which is not easy! All this took just over 2 years of paperwork, meetings, and money. But with patience, it is all worth it!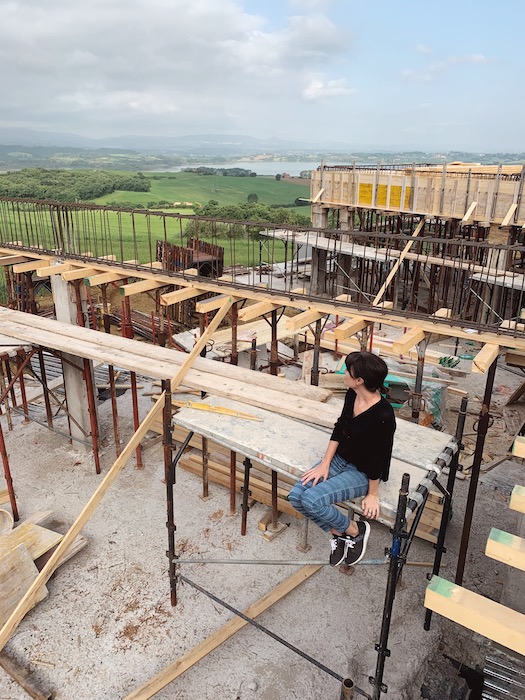 [Erin enjoying the view from the construction site of her future home.]
- Sounds like a lot of patience was needed indeed. What have been the main difficulties during the building process? 
Luckily, I'm very happy with my team of builders, engineers, and architects and although I do my research before signing contracts to be sure I'm choosing the right people, I do consider myself quite lucky that I feel I can trust in the word and the work of the full team. This is such an important part of the process because so much is done on trust in a way. After breaking ground in late February just weeks before our first lockdown, I will say that the biggest challenge has just been the Covid crisis. Not only did my work completely halt which has created financial strains, but it's created more months to the timeline of the build. Also there are always the unexpected weather delays which can also add weeks (sometimes months) to the project.
- Have you made friends where you live now? Overall, what was the transition like?
Yes, since the new house is in the same area where I've been living for years now and my partner has lived here for over 14 years, we have relationships with a lot of friends here and around Italy. Plus one of my best friends from the U.S. actually moved to Florence with her husband a few years ago so our lives have converged again and that's something I'm so thankful for. However, I feel that I'm continually trying to integrate more and more into the community and culture here and for a foreigner I think it will always be a process - but it's a process I embrace and enjoy.
[Large glass windows will be placed here to enjoy a wonderful countryside view.]
- What are your tips for someone interested in buying a house in Italy?
I know many people say this same thing, but I'd definitely recommend living here in some capacity before deciding to buy. Both to know if actually living here is for you, and also to know the ins-and-outs of the location that you're interested in. I would also recommend to have lived or stayed here during all seasons - the extreme heat of summer and the sometimes frigid winters. These change some people's perceptions of either the location or the actual house that they're considering.
Perhaps one of the bigger pieces of advice is that you should look at a purchase in Italy not so much as a financial investment (as the markets here are much different from at least what I'm used to in the States), but as an investment in your own lifestyle and daily pleasure. I am putting in my heart, soul, and all of my savings into this house and may never make it back if I ever decided to sell, but that hasn't mattered to me so much as I'm not going into this project planning on selling it. I'm planning on it being my dream home in my dream location.
Also, things will more than likely cost more than you were expecting - whether it is the legal fees, taxes, closing costs, city fees, or the unexpected issues of a renovation. So if you go into it accepting this, then it will save you from a lot of added stress.
Finally, my advice is after weighing your options and considering all of the decisions, if you feel like your heart is pulling you to Italy (and you're ready to immerse yourself in the culture and language), then absolutely follow it!
- Thank you, Erin, for sharing your experience and for the great tips. Best of luck with your project!
Erin hopes to be able to move into her new home by summer. To follow her progress, check out her blog Agra Dolce or her Instagram account.