Probably the first thing people think about when Valentine's Day is mentioned is a loving couple, and Italy has the most famous couple of all, Romeo and Juliet. The city of the 'star crossed lovers', Verona, makes a romantic destination, but this most obvious of romantic places in Italy is actually rather disappointing. 'Juliet's house' (she never existed) is in an attractive courtyard and dates back to the 13th century apart from the addition of a balcony added in the 1930s. The tackiness comes from the thousands of notes, letters and graffiti left there by tourists. This unsightly mess has now been tidied a little with boards for messages instead of defacing the walls. In front of the house is a statue of Juliet: it's considered good luck to stroke her right breast which has become very shiny as a result. The lovers' story, whilst romantic, isn't exactly uplifting as they both ended up dead, thanks to long-standing feuds between their families. The only good thing to come out of their tragic end was the reconciliation of their two families, the Montagues and the Capulets.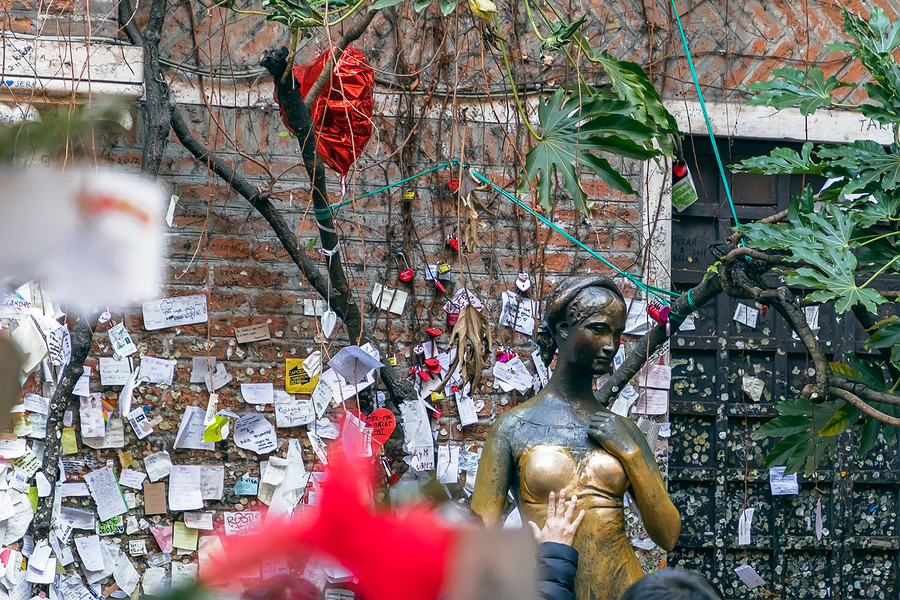 [Statue of Juliet (symbol of love and romance) and wall with love notes in her house backyard in Verona]
Other Italian stories of couples are perhaps more romantic and present more intriguing venues for today's lovers.
Take Dante and Beatrice for instance. They first met as children growing up in Florence, but he was instantly smitten and never forgot her, even though he married someone else. Dante's house in Florence no longer exists, but the location of the Aligheri family home was known, and a Dante House Museum was built there in 1994. Despite its modernity, it is nevertheless atmospheric, taking the visitor back in time with documents, furnishings and even costumes. On the top floor are paintings which include the meeting of Dante and Beatrice on the bridge of Santa Trinita. Beatrice was the inspiration for his great work 'The Divine Comedy', his guide and muse through the inferno and purgatory to paradise. 
[Henry Holiday - Dante and Beatrice, photo credit: Walker Art Gallery [Public domain]
People believed that she was imaginary, but she really existed. Her name was Beatrice Portinari, and was only 24 when she died, but she remains immortal because of the poetry she inspired. 
The relationship between Petrarch and Laura was another platonic love affair, the inspiration for a new kind of poetry, the Petrarchan sonnet. The small village of Arqua Petrarca in the Euganean Hills of the Veneto, where Petrarch ended his days, is the perfect romantic destination with its lovely views and sense that time has stood still. His house - amazingly -  is still there, and it contains murals depicting some of the sonnets, including images of Laura. She died in 1348 but he then found his grief as difficult to bear as his previous despair for his pure unattainable love. The pair are commemorated everywhere in the village, often in pictures where their profiles face each other on plates, wine labels and other souvenirs.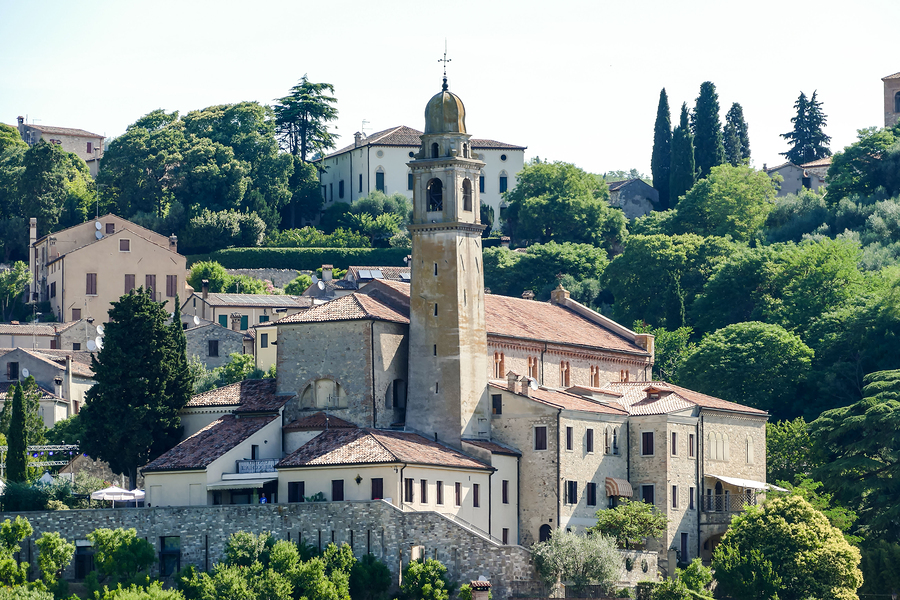 [View of the village of Arquà Petrarca, Padua Italy]
Just down the road from Arqua Petrarca is the town of Monselice, the secret destination of all lovers in the know when it comes to St Valentine's Day. In the little chapel half way up the hill, next to the Villa Duodo, is the last resting place of St Valentine himself. His bones are permanently on display behind glass under the main altar, giving the impression of a tiny man or even a child. When I asked the verger the reason for this, he replied that it was important for local gentry to secure a place in heaven by venerating the remains of saints. At the time of the clearance of Rome's catacombs, all the human remains were considered Christian martyrs and were bought in bulk by landowners wishing to acquire as many as possible to guarantee their place in heaven. In order to fit in the maximum number of skeletons in his small chapel, our local landowner removed the thigh bones, so that what you see today is several shelves of very short skeletons wearing 17th century clothing to disguise the absence of key bones. St Valentine occupies pride of place. To add to the very special atmosphere of the chapel, a recent addition is a model head of the Saint himself, created using his skull, so that we can now tell exactly what he looked like.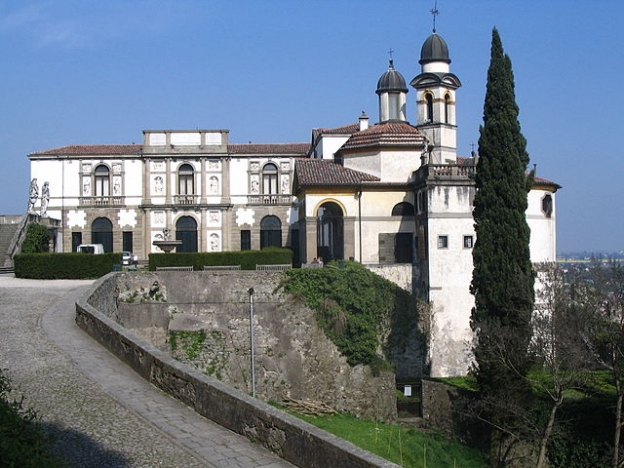 [The town of Monselice]
This is perhaps a rather macabre place to celebrate St Valentine's Day, but what could be more appropriate? (Just avoid the town's entire population of schoolchildren who process to the chapel on 14th February in the afternoon!)
'I Promessi Sposi' (The Betrothed) is a 3 volume novel virtually unknown outside Italy, but all Italians know it well, having studied it in secondary school. It is the story of a young couple, Renzo and Lucia, and their enduring love through adversity. A priest refused to marry them because he dared not disobey the local baron who had his eye on Lucia. Now the book is considered so important that Pope Francis has recommended that all engaged couples should read it before they are married. In terms of a romantic destination, you can visit the house of the author, Alessandro Manzoni, near Lecco on Lake Como. What could be more romantic than to take a boat trip across Italy's most beautiful lake to see the inspiration for the story of a couple who struggled to meet again when the odds seemed stacked against them?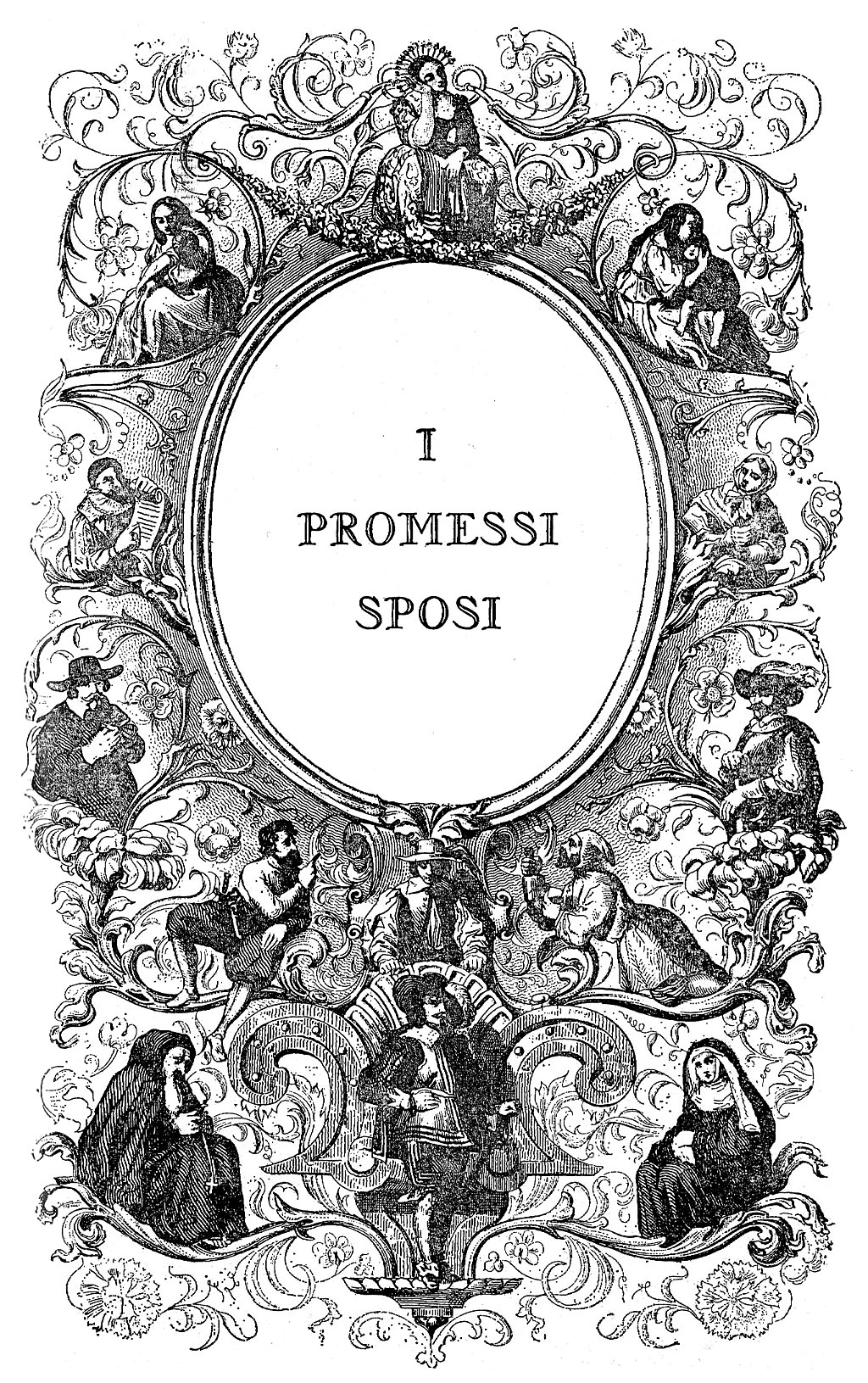 [By Francesco Gonin (1808-1889) - 1840-edition of "I promessi sposi", Public Domain]
All these places are associated directly or indirectly with romance, but you could be imaginative, and find a street name such as via Amore where you could stroll and have a coffee. Place names too can offer the right setting even without a specific story:  Innamorata ('in love') Bay on the island of Elba, for instance, or the Via dell'Amore in Cinque Terre, a walking path with dramatic scenery.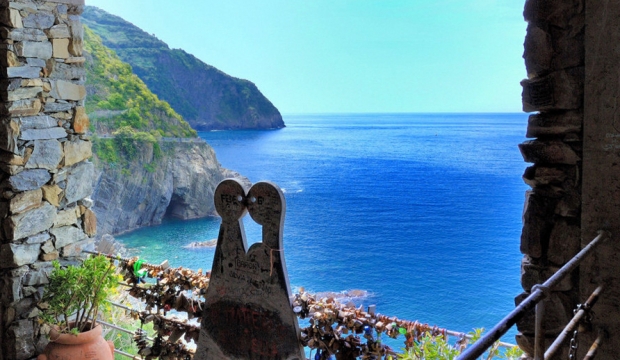 [The famous Via dell'amore path in Cinque Terre]
And moving on from love to marriage....the crypt of the Santuario della Madonna Del Divino Amore in Rome contains the only married couple beatified together, Luigi Quattrocchi and Maria Corsini. They founded an organisation which promotes marriage and helps married couples to cement their relationship. 
The idea of this piece is to inspire couples to demonstrate their special love by being thoughtful and original, and there is no better place than Italy for that to happen!