"It takes time to know a place and have the chance to capture the spirit of it as well as provide practical information on what to see and do, how to get around, and tips for organizing an Amalfi Coast vacation," says Laura Thayer, the author of "Moon Amalfi Coast – With Capri, Naples and Pompeii," a newly released guidebook by Moon Travel Guides (2019).
Laura knows the Amalfi Coast well, having lived there for the past 12 years. Originally from Omaha, Nebraska, Laura studied Art History at the University of St. Thomas in Minnesota.
"Moving to the Amalfi Coast was certainly an unexpected twist in my life," Laura recalls. "I visited for the first time in 2007 with my mother. During that week-long holiday, I fell in love with the Amalfi Coast – and my tour guide! He is now my husband and I have dual American and Italian citizenship."
A full-time freelance writer and editor since 2008, and the author of the blog Ciao Amalfi, Laura lived in Scala, a "peaceful little town" in the mountains between Amalfi and Ravello until this year, when she moved to the historic center of Amalfi, which, she says, absolutely loves.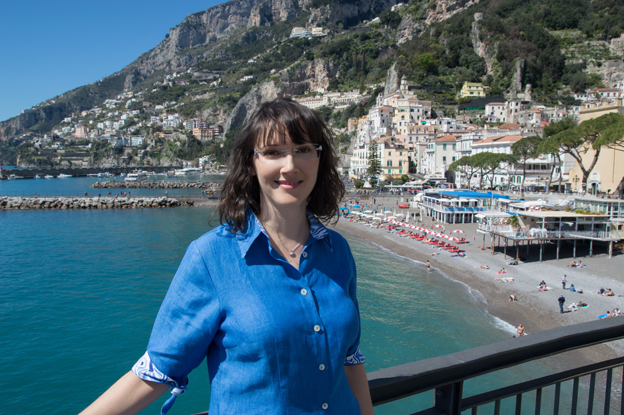 [Laura Thayer, the author of the recently released Moon Amalfi Coast guidebook and of the Ciao Amalfi blog.]
We asked Laura to share some of her favorite experiences and buys on the Amalfi Coast, where to walk, eat, and go to the beach, and how to lessen your impact on one of Italy's most popular destinations.
How is your "Moon Amalfi Coast" guidebook different from others on the Amalfi Coast?
Moon Amalfi Coast: With Capri, Naples & Pompeii really stands apart because I live here full time. It was a pleasure to work with Moon Travel Guides since they are selective about their authors and look for them to be based in the destination they cover. Not only do I live here year-round, but I've been here for 12 years. I approached writing this book with over a decade of experience not just living on the Amalfi Coast, but writing about it on my website Ciao Amalfi, for a variety of travel guidebooks, publications, and magazines. It takes time to know a place and have the chance to capture the spirit of it as well as provide practical information on what to see and do, how to get around, and tips for organizing your Amalfi Coast vacation. Even with that experience, I learned a tremendous amount writing Moon Amalfi Coast, and enjoyed seeing that discovering a place is a lifelong endeavor. I've put my passion for the Amalfi Coast into this book and hope it will serve as a roadmap to guide travelers to discover the Amalfi Coast on their own journeys.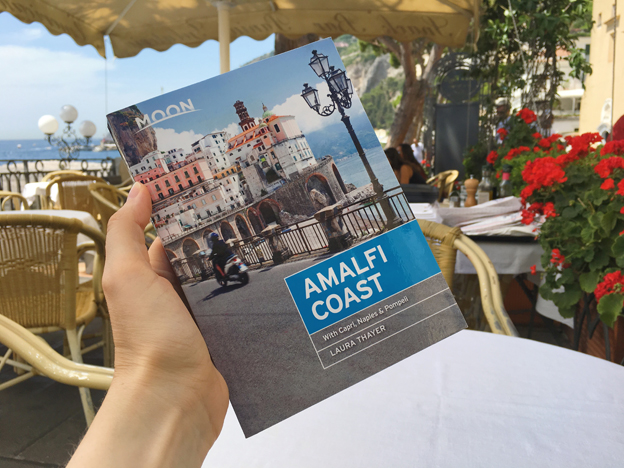 In the age of overtourism, and with the Amalfi Coast being one of the most popular destination in Italy for foreign tourists, what are ways that travelers can be more responsible when visiting the area, impact positively on the local economy, while being light on the environment?
This is a big and important topic to tackle for the Amalfi Coast and one I am passionate about since I call Amalfi home. As is often discussed with overtourism, one of the best things you can do is stay longer. This area is ideal for relaxation and yet so many travelers zoom through in a day or two. I'm a big fan of traveling deeper and really exploring a place rather than ticking off as many boxes as possible. Come and stay longer to really enjoy the natural beauty by swimming in the sea or hiking the mountain paths.
Given the narrow roads and limited parking, do take advantage of the public transportation while visiting the Amalfi Coast. The ferries are an excellent service and run during the tourist season from Easter through October. During that time, please don't bring a car! Truly I understand that the local buses are an exercise in patience. Yet the single best way to help with overtourism is to not bring more vehicles onto the very limited Amalfi Coast Road.
Can you recommend any walking trails that are easy enough for most people to do (reasonably fit, no mobility issues) and at the same time afford great views of the coast?  
Steps are the name of the game on the Amalfi Coast. It's hard to walk just about anywhere without having to navigate a good number of them. As long as you take them nice and slow like the locals, you'll enjoy gorgeous views as you walk or hike along the Amalfi Coast. One of the most fascinating walks is the Valle delle Ferriere that leads deep into the valley above Amalfi. You'll pass ruins of the town's once churning paper mills and follow the mountain stream to a lush forested area with waterfalls that feels worlds away from the busy beach scene below. One of my favorite walks leads from Ravello through the tiny hamlet of Torello, olive groves, and peaceful scenery down to the seaside village of Minori far below. It's a quiet and very local walk compared to the better known Sentiero degli Dei (Pathway of the Gods) above Positano, which is also an Amalfi Coast highlight.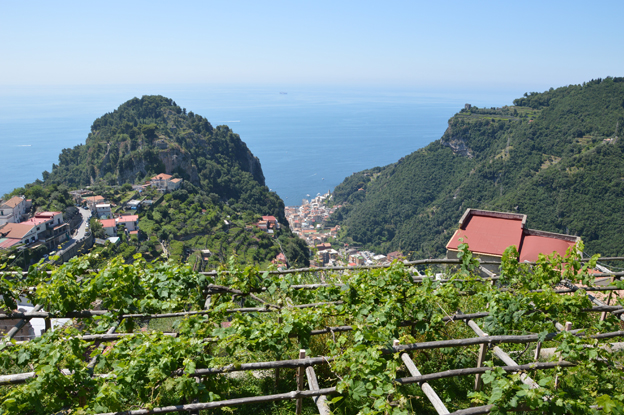 [The view to Amalfi from the village of Scala.]
Can you recommend a place on the Amalfi Coast most visitors tend to miss but really shouldn't?
Take time to visit Cetara. This seaside village is located on the eastern end of the Amalfi Coast, but is easily reachable by ferry or bus. Besides being one of the most picturesque spots on the coastline, Cetara is a foodie haven. That is, as long as you're not afraid of anchovies! The village is noted for its alici (anchovies) that are prepared in a variety of ways. They're also used to create colatura di alici, an anchovy infused oil made by preserving the tiny fish in barrels with salt and extracting the liquid. This method harkens back to the garum fish sauce created by ancient Romans. Besides anchovies, the locally caught tuna and seafood are also highlights in the local restaurants.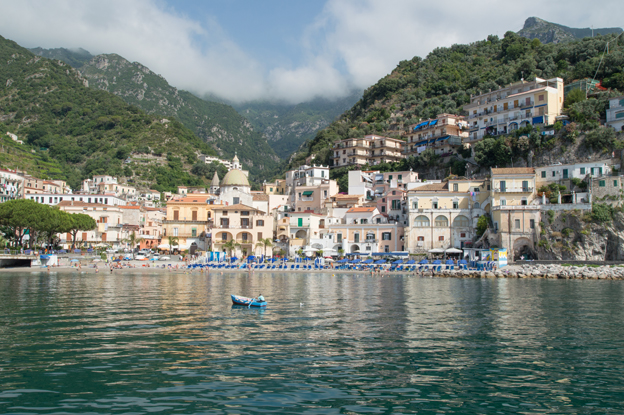 [The seaside village of Cetara, on the eastern end of the Amalfi Coast.]
Your three favorite places to eat and why, what are their specialties? 
In Amalfi I love Ristorante Marina Grande for its relaxed setting overlooking the harbor and excellent seafood. Every time I go to Positano, I stop in Casa e Bottega for one of their fresh juices or healthy choices on the menu. Not always easy to find around here! They also have a tempting angle with home décor, ceramics, and linens for sale that is hard to resist. On Capri, my go to place is Ristorante Michel'angelo for Capri classics likes Ravioli Capresi and pasta with seafood or the best Insalata Caprese made with fresh mozzarella.
Your favorite beach and why.
When I want to escape for a day, I head to the Santa Croce beach just a short boat ride west of Amalfi. It's a rocky beach set far below the Amalfi Coast Road and it's only accessible by boat. Even I feel like I'm on holiday when I go to Santa Croce! To top it off, I enjoy lunch at Ristorante Da Teresa where they prepare freshly caught seafood in beautiful ways accompanied by local white wine with peaches.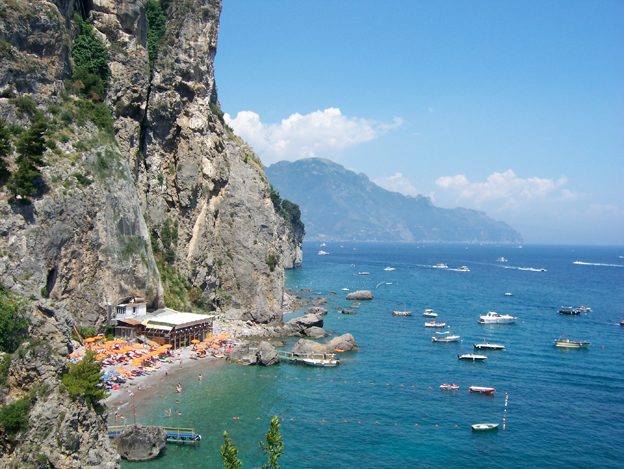 [Santa Croce beach on the Amalfi Coast.]
What are some quality, artisan-made souvenirs and foods to bring home from the Amalfi Coast? 
The artisan tradition is going strong on the Amalfi Coast with the handmade paper in Amalfi top of my list. Personally, I adore paper and the fact that Amalfi has a tradition dating back to the Middle Ages. It is still produced in Amalfi and can be found at several shops in town, including the beautiful La Scuderia del Duca (Largo Cesareo Console 8, Amalfi; tel. 089/872-976; www.carta-amalfi.com). Look for handmade stationary, cards, and journals.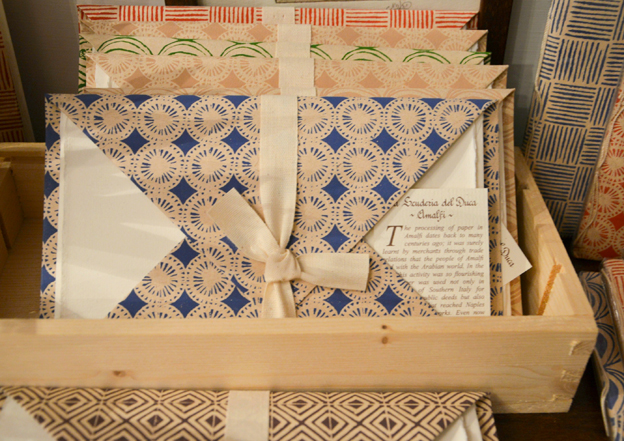 [Stationary from La Scuderia del Duca in Amalfi.]
Limoncello is the iconic liqueur made with the locally grown lemons. In Amalfi, stop by La Valle dei Mulini (Via Lorenzo d'Amalfi 11; tel. 089/872-603; www.amalfilemon.it) for limoncello and other gastronomic specialties made with organic lemons tended by the Aceto family in the valley above Amalfi for six generations.
Colorful ceramics will greet you wherever you go on the Amalfi Coast, which has a long tradition with ceramics. The town of Vietri sul Mare is the hub of ceramic production and the streets of town are lined with shops to choose from. If you can't make it to Vietri sul Mare, check out my favorite ceramic shop Milleunaceramica (Via Pietro Capuano 36, Amalfi; tel. 089/872-670; www.milleunaceramica.com) in the center of Amalfi or stop by Ceramiche Tavassi (Via Giuseppe Orlandi 129, Anacapri; tel. 081/838-2067) in Anacapri for hand painted creations still made on the island of Capri. 
Is there any new interesting opening you'd recommend to include as people plan their Amalfi Coast trip in 2020?
Right in Amalfi, Dalla Carta alla Cartolina (Via Cardinale Marino del Giudice, Amalfi; tel. 089/872-976) is a fascinating blend that's part museum, part gallery, and part paper store located in a historic paper mill. Inside you can learn more about Amalfi's paper making history and appeal to travelers through the centuries thanks to an engaging multimedia experience. Original pieces from the mill are on display as well as the handmade paper products from the Scuderia del Duca store. While not as in depth in the history as the nearby Museo della Carta (Paper Museum), which is also a must while visiting Amalfi, it is a beautiful new spot to shop in a historic paper mill.
Finally, what do you love the most about the Amalfi Coast? 
I love that is has become home. For me this means watching the seasons change, enjoying the busy season as it comes and goes, celebrating holidays and learning local traditions, winter walks with only the locals, and all those little moments that become a life. Even though that life can become quite busy just as it does anywhere, I don't take for granted that I am fortunate enough to call this beautiful place in the world home.
Thank you, Laura, for taking the time to answer our questions.
Moon Amalfi Coast is available for purchase online through this link or in bookstores across America, Canada, the UK and Europe.
Check out Laura's website Ciao Amalfi and follow her on Facebook.
All photos courtesy of Laura Thayer.