Alchermes, a spicy-sweet liqueur with a lovely floral aroma and distinctive bright red color, was created in Tuscany and has been popular throughout Italy since the Renaissance. Pope Clemente VII considered it healthful going so far as to call it "the elixir of long life." Alchermes was supposedly brought to France by Maria de' Medici where it was called "liquore de' Medici." Today it is still made by the Santa Maria Novella Pharmacy in Florence using the same recipe they created back in the early 1700s combining spirits with various spices, rosewater and kermes, a small insect that gives the drink both it's color and name. Dye made from kermes was used to color cloth in ancient Greece and Rome and today it is also used to color Campari and to flavor and color Prato Mortadella, a cooked cured meat specialty of Prato and Pistoia but is most famed as a dessert ingredient.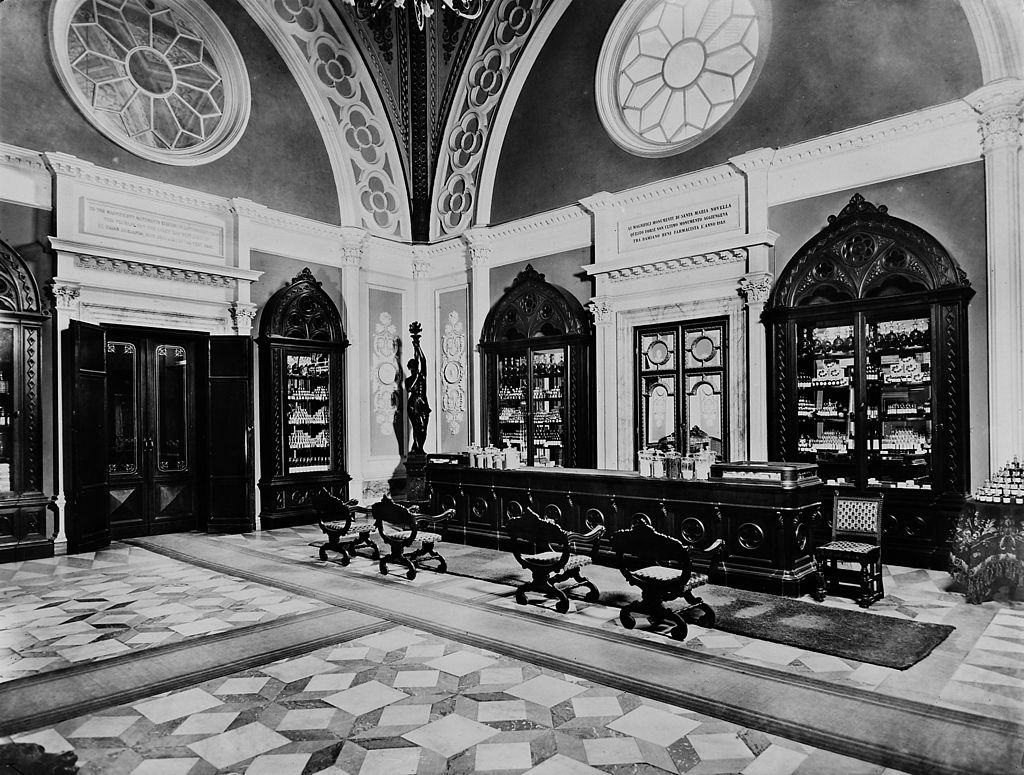 Santa Maria Novella Pharmacy via wikimedia commons
Alchermes is key to making dozens of Italian desserts such as Zuppa Inglese and many classic Tuscan desserts including:
Zuccotto, (RECIPE BELOW) is a dome-shaped semi-freddo specialty dessert of Florence. Zuccotto is made by lining a bowl with slices of cake, filling the center, and closing the bottom with more cake. Thanks to the magical gluing properties of sugar, the slices of cake meld together to form a solid outer crust. It's a terrific dessert to learn—pretty and very versatile.
Pesche di Prato, (RECIPE BELOW) peach-shaped cookies made by joining together two rounded cookies with a creamy filling, then dipping them in alchermes and rolling them in sugar. The cookies absorb the filling and liqueur, and acquire the moist, dense texture of summer-ripe fruit. There's even a faux peach pit in the center—a whole almond—the final touch to this culinary trompe l'oeil.
Despite that fact that alchermes is listed as an ingredient in dozens and dozens of recipes in Italian dessert cookbooks it is difficult to find outside of Italy.  But luckily it is simple to make, using ingredients you probably already have in your pantry.  The hardest part is waiting the 2 weeks to allow the flavors to meld. (RECIPE BELOW)
Alchermes: Tuscany's Liqueur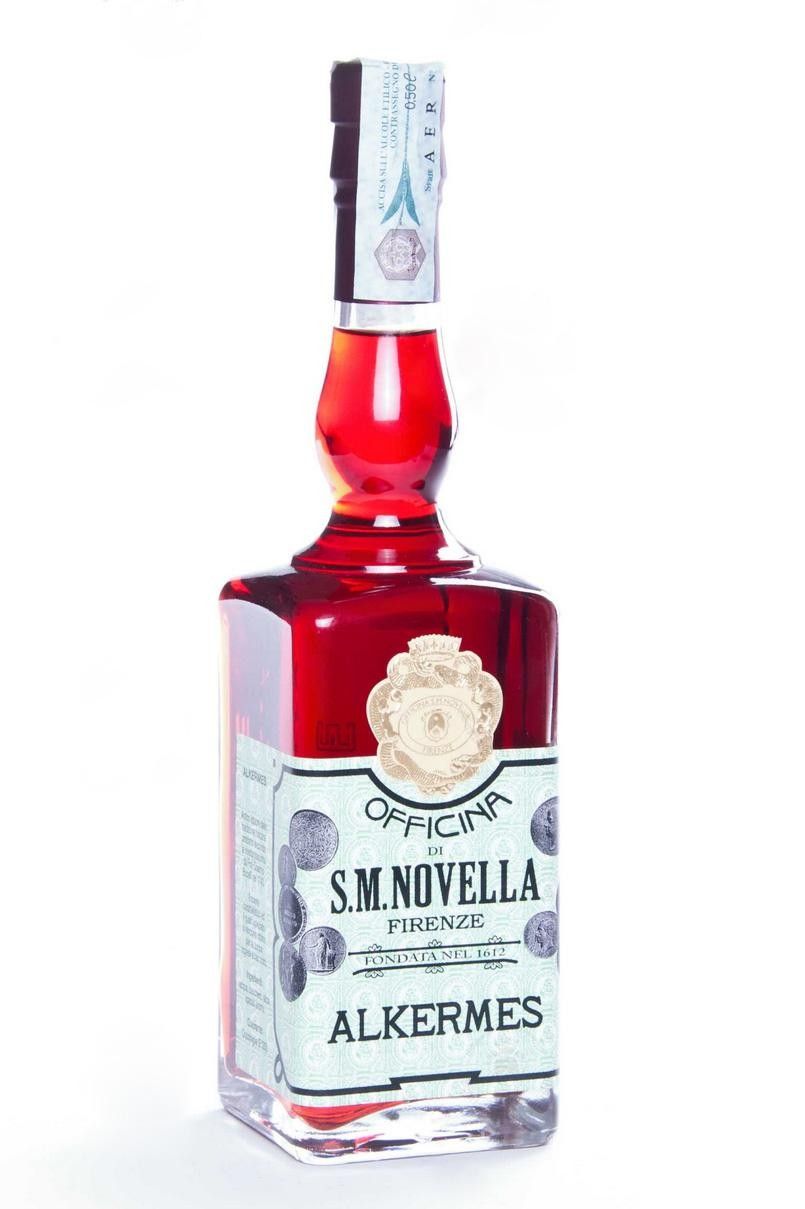 Makes about 1 1/2 quarts
2 1/3 cups pure grain alcohol or vodka
1 2-inch cinnamon stick
1/2 teaspoon ground coriander
1 to 2 blades whole mace or 1/4 teaspoon ground mace
1/4 teaspoon ground cardamom
4 whole cloves
3 tablespoons candied orange peel
3 whole star anise
1/2 vanilla pod, cut into small pieces
2 1/2 cups sugar, plus more to taste
3 1/2 ounces rose water
Red food coloring
Combine the alcohol with 1 1/4 cups of water in a sealable glass container such as a mason jar. Add the cinnamon, coriander, mace, cardamom, cloves, orange peel, star anise, vanilla, and stir to combine. Leave the container, sealed, at room temperature for two weeks, shaking the container daily to combine the ingredients.
After two weeks, combine the sugar in 2 cups of warm water and stir until the sugar dissolves. Add it to the alcohol and seal the container. Let it rest for another day or two, then taste, and add more sugar or water if you like. Strain it into a clean sealable glass container and stir in the rose water and enough red food coloring to get a bright red color. 
Zuccotto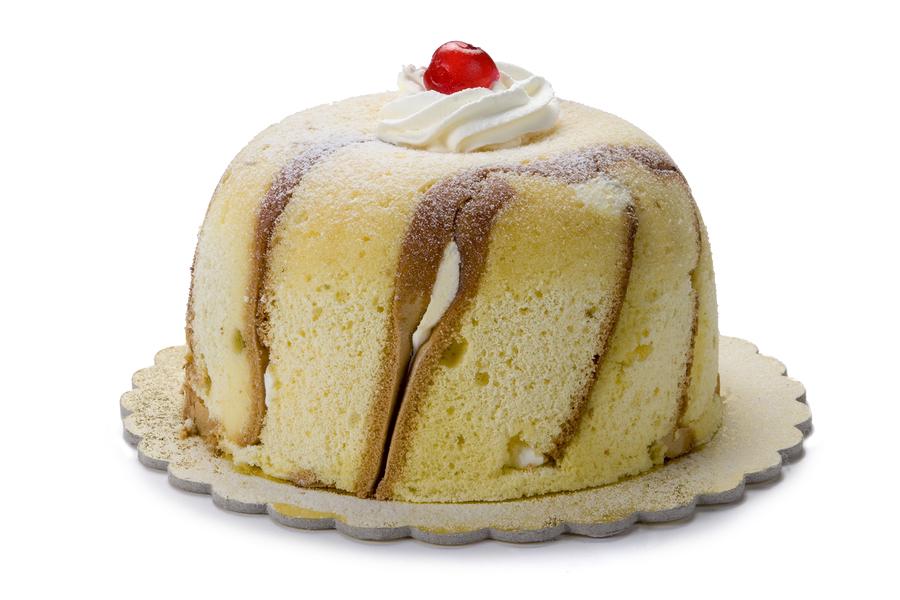 Serves 8 to 10
A fun recipe to play with.
The fillings can include anything creamy like whipped sweetened ricotta, chocolate mousse, or even ice cream. The liquid to moisten the cake can vary too, from sweet liqueurs to diluted jam. You can even add fresh, brandied or cooked fruit. 
You'll like the basic technique, because depending solely on the size bowl you choose, you can make a small or large zuccotto.
1/2 cup sugar
1/4 cup Alchermes
12-15 ounces pandoro cake, pan di Spagna or sponge cake, thinly sliced
1 1/4 cups heavy cream or 2 pints you favorite flavor ice cream, softened
2/3 cup confectioners' sugar, plus more for garnish
2 1/2 cups ricotta
3 1/2 ounces milk or dark chocolate
2/3 cup chopped candied orange peel or candied fruit
3 ounces mascarpone cheese
Put the sugar in a small bowl and add 1/2 cup boiling water. Stir until the sugar dissolves, then stir in the liqueur.
Line a 2-quart bowl with plastic wrap and brush with the liqueur mixture. Line the bottom and sides of the bowl with most of the cake slices. Fill in any gaps with small pieces of cake.
In a large bowl, using a whisk or electric mixer, whip the cream until it soft peaks form, then add the confectioners' sugar and whip until stiff. (If you're using ice cream, just let it soften a little, then follow the rest of the directions here) Fold in the ricotta. Divide the mixture into two roughly equal parts, between two different bowls.
Grate 1 ounce of the chocolate and blend it and the candied fruit into one mixture.
Combine the mascarpone with the remaining chocolate in a small bowl and heat, either in a microwave or over a double boiler, until the chocolate melts. Blend the chocolate-mascarpone mixture into the second ricotta mixture.
Brush most of the diluted liqueur mixture over the cake. The cake should be almost saturated. Reserve the rest of the liqueur mixture for the final bottom layer of cake.
Spread the chocolate-mascarpone mixture, over the cake slices. Next, fill in the remaining area with the ricotta-candied fruit mixture.
Brush the remaining cake slices with the remaining liqueur and arrange them, liqueur side down, over the cake, then brush the bottom of the slices. Cover the filling completely and trim to fit, if necessary. Cover the cake with plastic wrap and refrigerate (or freeze if using ice cream) at least 3 hours and up to 1 day.
Invert the cake onto a platter. Remove the bowl and the plastic wrap. Sprinkle with confectioners' sugar and serve.
Prato "Peaches"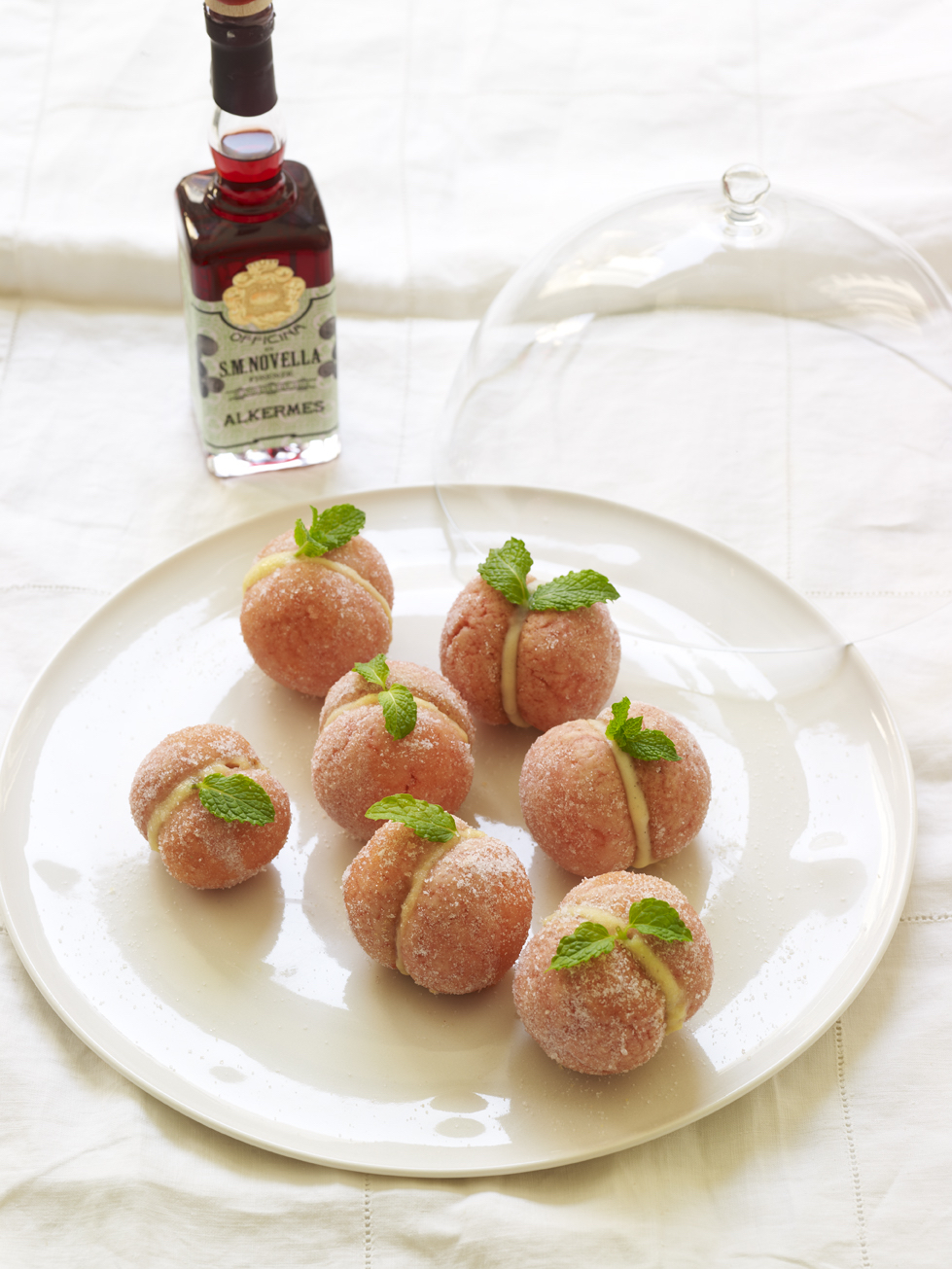 Pesche di Prato
Makes about 36
This is the sort of show-stopping stunning dessert Martha Stewart would have come up with if she were Italian!    
For the cookies:
16 ounces, about 4 cups, all-purpose flour
1 cup, granulated sugar, plus more as needed
2 large eggs
6 tablespoons butter, room temperature
1/3 cup whole milk, plus more as needed
1/2 grated vanilla bean or 2 teaspoons vanilla extract
2 teaspoons baking powder
For the filling and assembly:
1 1/2 cups pastry cream or lemon curd or vanilla pudding
36 to 40 whole unblanched almonds
1/4 cup Alchermes
Sugar
Mint leaves, optional
Preheat the oven to 350 degrees F. Line two large baking sheets with parchment paper.
Sift the flour and sugar together onto a clean work surface. Make a well in the center of the flour mixture. Add the eggs, butter, milk, vanilla, and baking powder to the well and slowly mix in the flour until dough forms. If the dough is too dry add a little more milk, if it is too wet add a little more flour. Knead until well combined. Pinch off a small portion of the dough and roll it into a small ball, about 1 inch in diameter. Press the ball onto the prepared baking sheet, so it is flattened to a half dome.  Be sure not to make the balls too big, as they It will puff up while baking. Each ball will become half of the peach. Continue until all the dough is used up. You should have about 80 balls.  Bake, about 25 minutes, until light golden.
Remove the baking pan from the oven, and while still warm, scrape out a wide hallow in each ball from the side that was touching the pan. You can use a grapefruit or espresso spoon or tip of a knife.
(If you like, save the crumbs from the center of the cookies to use as ice cream topping or to make chocolate truffles).
To assemble: Pour the alchermes, diluted with 1/4 cup water, into a small bowl. If you are using a different liqueur, add red food coloring or the juice from marachino cherries so the "peaches" have the right peachy blush.
Pour some granulated sugar into a small plate.
Divide up the hallowed out cookies into pairs of roughly the same size.  Take a pair and pread each cookie with lots of crema pasticcierra being sure to fill the center hallow generously. Put an almond into the center of one of the cookies and gently press them together. Ideally, you'll have put enough pastry cream into the center so that there's at least 1/2 inch of pastry cream between the two. Add a generous amount of filling!Some of the cream will ooze out. That's normal. It'll all absorb into the cookie and solidify by the time you are ready to serve them. 
Next, along the line where the halves joined, slowly roll the peach in the liqueur. Be sure they are well moistened. Then roll them in the sugar.    
Repeat until you've joined all the cookies.  
Put the "peaches" onto a platter, cover with plastic wrap, and refrigerate for at least 12 hours, and up to 36, before serving.
They are best served at room temperature, so be sure to remove them from the refrigerator at least an hour before serving them. If you like, insert little mint leaves in some of the peaches and, for fun, arrange them on a platter with a few real peaches mixed in.