An ambitious, nearly three-year restoration and consolidation plan for Florence's Accademia Gallery — "plagued" by myriad pandemic-related interruptions — is at last coming to fruition. The reopened gipsoteca (plaster cast gallery) and a new lighting system for Michelangelo's David are two of the major renovations that were recently unveiled at the museum.
The new gipsoteca
The gipsoteca's collection comprises some 400 plaster casts — including busts, bas-reliefs and monumental sculptures, created mostly at the hands of noted 19th century sculptor Lorenzo Bartolini.
The updated layout of this once under-visited section of the museum includes long shelves mounted with alabaster casts set against powder-blue walls, giving the space the feel of a delicately carved cameo. Window closures and other upgrades to the climatic conditions have expanded the exhibition area, allowing some models that were previously in storage to see the light again. 
The previous layout, conceived by the late art historian Sandra Pinto in 1985, took inspiration from photographs of Bartolini's Florentine studio and aimed to recreate the feeling of similar 19th-century spaces. The new design largely remains true to this vision, with mostly technical upgrades. 19th-century art expert Carlo Sisi, who assisted Pinto with the original project, also consulted with the Accademia Gallery's current director Cecilie Hollberg on the renovation. 
In addition to its revamped layout, the gipsoteca has also just been digitized for the first time.
David's beaming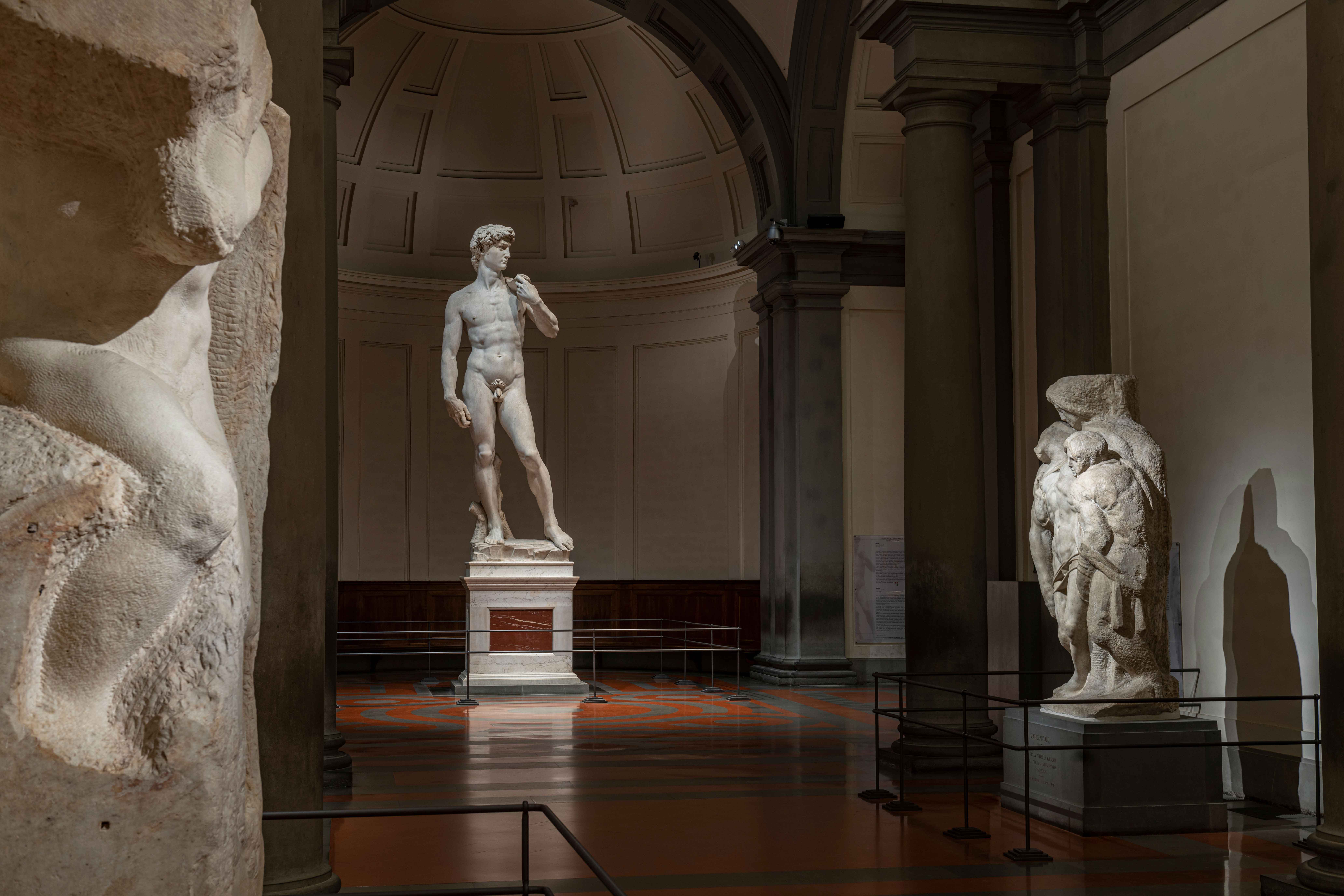 David — the world's most famous sculpture, and the Accademia's piece de resistance — was once only bathed in natural, indirect light filtered through the skylight above. But as part of the gallery's overhaul, David's gotten a new lease on "light," with a LED-based system engineered by Enel, Italy's multinational electricity and gas company. High-tech individual beams are also set to shine on Michelangelo's four unfinished slabs, known as the Prigioneri (Prisoners) or Schiavi (Slaves), which line the hallway that leads to David's dedicated tribune.
About the Accademia
Founded in 1784, the Accademia Gallery is a treasure trove of Italian Renaissance masterpieces by Botticelli, Fra Bartolomeo, Filippino Lippi, Bronzino, Ridolfo del Ghirlandaio and, most famously, Michelangelo. The pivotal moment in the gallery's history came in 1873, with the transfer of Michelangelo's sculpture of David from its perch on Piazza della Signoria.
Although stored in a crate in the bowels of the museum for some nine years, at the completion of the Tribuna del David (Tribune of David) in 1882, the 17-foot white marble figure took his place in history, helping solidify the Accademia's status as a world-class institution. Famously carved from Carrara marble, David is visited by more than a million people each year.
If you go
Accademia Gallery
Via Ricasoli 58/60, Florence 
Tel. +39 055 0987100
Open: 8.15am-6.50pm Tue-Sun. Closed Jan 1, Dec 25
Tickets: Full price 12€; reduced (EU citizens and 18-25) 2€; free admission for those under
18
Website