Where to Eat, Drink and Stay in Alto Adige: Merano and Termeno
Wednesday, December 7, 2016 - 17:30
by Helen Farrell
Snow-capped mountains, wooden chalets and canederli: think of the north and these three attributes spring to mind. But Alto Adige offers far more than the traditional perception of Italy's German-speaking highlands. Contemporary architecture, the finest of wines – both red and white – and stellar cuisine puts the distant Dolomites firmly on the map.
Must-visit Merano
The stuff of dreams, picturesque Merano (Meran in German) is famous for its spa centre and annual wine festival. Once home to the likes of Ezra Pound and Franz Kafka, today the town continues its cultural pursuits with the popular art gallery Arte Merano, always surprising with its rotating exhibitions. Stroll beside the river's perfectly maintained promenade as far as the Poets' Way, where each park bench is carved with phrases by world and local philosophers alike. Walk beneath the arches in the town centre lined with stores, new and old. Stock up on speck, a lightly smoked ham, from historic delicatessen G. Siebenförcher, grab a hand-stitched hat at Hutstuebele or pick up reading matter at international magazine Monocle's pop-up store.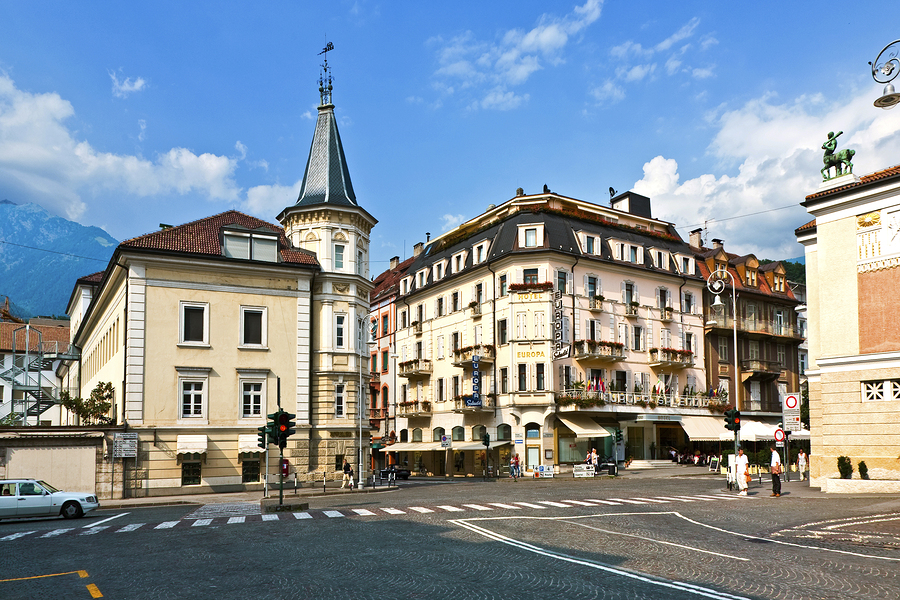 Where to eat in Merano
Café Darling (Passeggiata d'Inverno 5-9): Where locals stop for an espresso or sit by river and sip a Veneziano aperitif, a hunger-inducing Campari, prosecco and sparkling water drink.
Forsterbräu (Corso Libertà 90): The flagship pub of the famous Forst brewery. Try a Kronen beer, low on hops, or decadently caramel-flavoured Sixtus. Indulge in local specialty canederli dumplings, beef goulash and the fried potatoes with chives and speck.
Sissi (via G. Galilei 44): the one-Michelin-star restaurant by Chef Andrea Fenoglio. A jewel of a restaurant, the cuisine never stops evolving, from the Piedmont-born chef's roots (deconstructed vitello tonnato, veal in tuna sauce) to local inspiration (asparagus with hard-boiled eggs, vinegar and olive oil).
Where to stay in Merano
Stay central at Hotel Terme Merano (Piazza Terme 1), a four-star modern hotel with stylish, spacious rooms. Unique factor? The hotel is actually connected to the town's spa, so you never have to leave the building to get your wellness fix.
Cheap but comfortable, Hotel S'Rössl Cavallino (Via Palade 105) is a 30-minute walk from the middle of Merano, near the racecourse. But a warm welcome is guaranteed, as too are delicious local dishes in the downstairs restaurant. 
For gourmet cuisine and a spa experience, you can't go wrong at Hotel Dorner (Via Josef Weingartner 40, Lagundo), 5 minutes by car from Merano, 30 minutes on foot. The cuisine is exceptional, as too are the wine pairings recommended by the skilled staff. The Forst brewery (Via Val Venosta, 9) is based in Lagundo and is well worth a visit for a factory tour and lunch in its beer garden.
Where to wine around Merano
A 10-minute drive from Merano brings wine lovers to the famous Cantina Merano Burggräfler (Via Cantina, 9). Actually a cooperative of more than 400 smaller wineries, the white cube building is as striking as the wines proudly displayed inside. (Must taste: Sauvignon Graf Von Meran Sudtirol-Alto Adige Doc 2014 Burggrafler.)
A taste of Termeno
Wine is the raison d'être of postcard-pretty Termeno (Tramin in German). Nestled along the Strada del Vino, wine road, even its place name derives from a grape, the Traminer variety, tricky to grow elsewhere, here it enjoys its natural home. Award-winning cantina Hofstätter is located right on the village piazza, complete with a fine dining restaurant and a staircase that leads you to an outdoor "vine nursery", where you can touch the vines and learn about how the winery's outstanding Pinot Nero is made. (Must taste: single-vineyard Pinot Noir Barthenau Vigna San Urbano 2014.)
A five-minute walk and you're at Elena Walch, whose fine white Beyond The Clouds consistently wows critics' and wine lovers alike. The family-owned winery is now focusing on its red production, with an all-new automated vinification room. (Must taste: Gewürztraminer "Vigna Kastelaz" 2014.)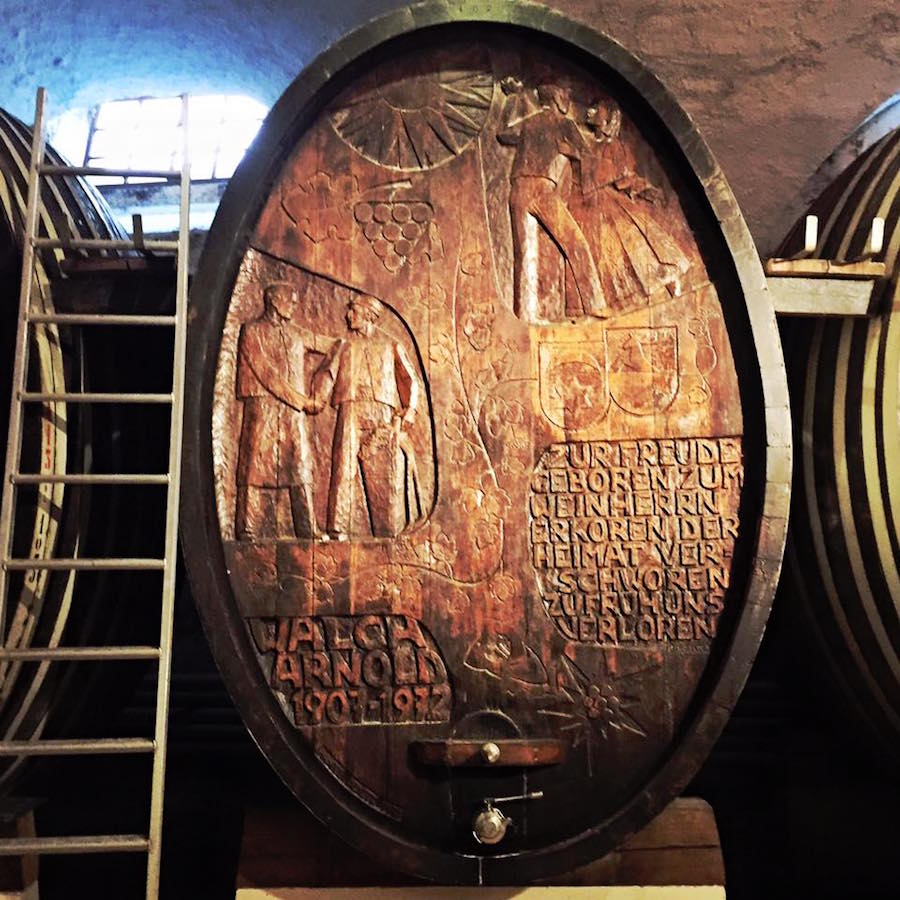 Elena Walch Photo by Helen Farrell
Driving out of the village towards Lake Caldero, Cantina Tramin is unmissable. A curious-looking green vine-like structure dominating its surrounding vineyards, Tramin is the local cooperative par excellence, putting out exceptional vintages year after year and celebrating local native grape varieties. (Must taste: Nussbaumer Gewürztraminer 2014).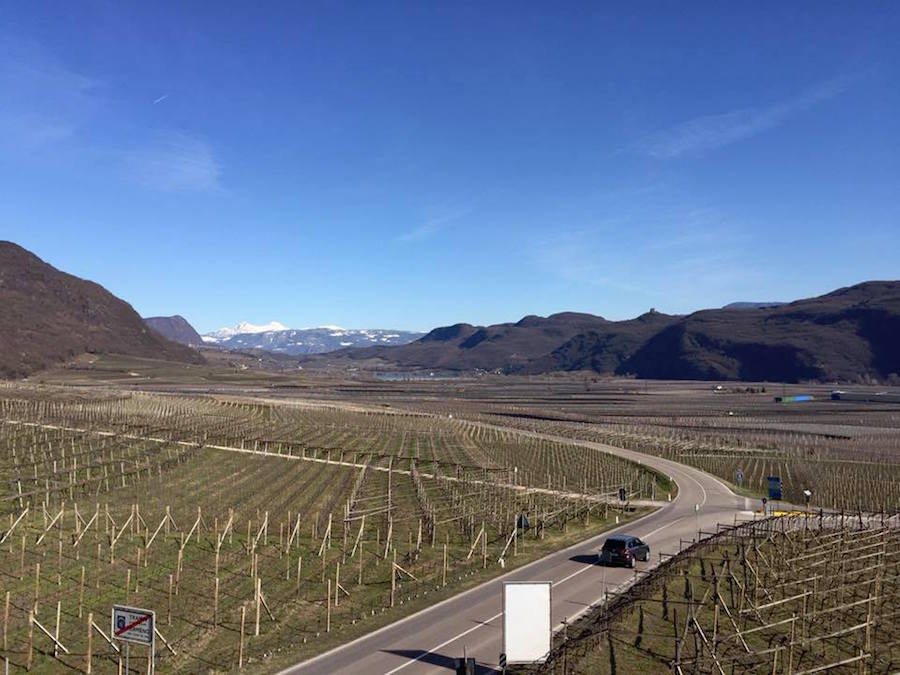 Cantina Tramin, photo by: Helen Farrell 
Where to eat in and around Termeno
Hofstätter Garten (Piazza Municipio 7, Termeno): Design-led with wood finishes, cylindrical bottle-like lamps for every table and shelves lined with wine books, the winery's restaurant serves contemporary cuisine and its own labels by the glass.
G'wuerzerkeller (Josef Von Zallinger Straße, 24): Classic Dolomite food at its most soul nourishing. Try the eggy pancake in broth, traditional speck canederli (dumplings) or the veal cutlet with pan-fried potatoes. They serve astonishingly elegant Lagrein produced by neighbouring winery Hofkellerei.
Ritterhof (Strada del Vino 1a, Caldero): Ideal for special occasions, this gourmet Mediterranean-meets-mountains restaurant is also a hotel and a winery, plus it affords spectacular views of the surrounding countryside.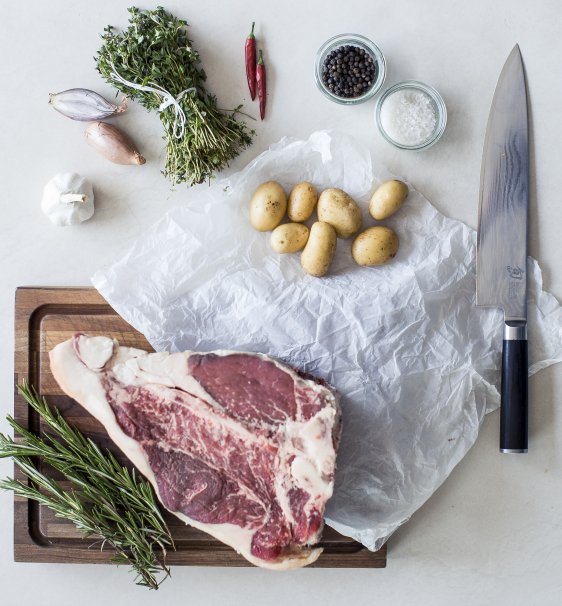 Photo credit: http://www.restaurant-ritterhof.it
Where to stay in and around Termeno
A bike hotel but perfect for all, Hotel Traminer Hof (Strada del Vino, 43) is a 10-minute walk from all of Termeno's must-visit winery. The on-site saunas and pools offer total relaxation.
Hotel Winzerhof (Rechtentalstraße 6) serves up "wine and wellness" half-board packages at its chalet-style accommodation with views over vineyards and mountains.
The two-star Gartenheim (Rathausplatz, 4) offers a cosy stay in rooms or apartments with wooden furnishings and balconies with mountain views. Plus, there's an outdoor pool open during the summer.
BIO
Helen Farrell is editor-in-chief of The Florentine, the news magazine for Florence lovers. When she's not sipping Vermentino and eating pappa al pomodoro in Tuscany, she broadens her food and wine research to other regions in Italy and beyond.
You may also be interested in...