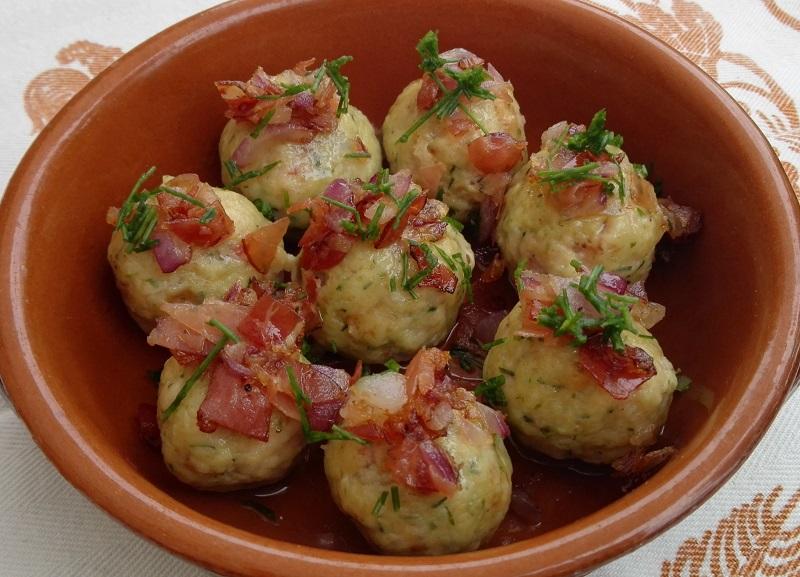 Canederli are a dumpling-like dish popular in South Tyrol, otherwise known in Italy as Alto-Adige, where German-speaking Italians know them as Knödel. Variations throughout central Europe include potato Knödel; plum-stuffed dumplings that can be served as a dessert; and canederli neri ('black' dumplings) made with dark brown bread. This version uses stale white bread and a celebrated specialty item of the Alto-Adige: speck.
The recipe is for 4-5 generous servings.
Ingredients
stale bread
250 grams stale white bread (about 10 small slices or ½ a ciabatta-style loaf)
speck
150 grams (2 loosely-packed cups), cubed or sliced
all purpose flour
130-150 grams (1 cup circa
Fresh parsley
1 small handful
speck
50 grams (¼ cup) cubed or sliced
Instructions
Whisk the eggs and milk together with a pinch of salt and nutmeg. Tear the bread into small pieces and soak in the liquid mixture for about 15 minutes, moving it around periodically to make sure all the pieces are moistened. Cut the speck into small cubes, or, if you are using deli-sliced speck, cut it into small strips and then dice. You should end up with approximately 1 & ½ to 2 cups of loosely-packed meat. Finely chop the fresh herbs. Add the herbs and speck to the mixture, salt and pepper to taste, and combine. Add the flour and continue stirring until well combined. You will have a thick, sticky paste.
With floured hands, form balls about the size of a walnut. Don't use too much flour—just enough to keep the mixture from sticking to your hands. Rest the canederli on a lightly-floured surface as you proceed.
Cook the canederli for 10-12 minutes in low-boiling broth (a beef broth would be most traditional, but this is really a matter of taste). Serve in a small amount of broth (do not completely submerge them). Another way to serve them is in a sauce made from chopped onion and speck sautéed in butter until soft (pictured). When the sauce is ready, scoop the canederli from the broth and transfer them to the sauce pan and gently combine. Garnish with any leftover herbs (optional).