Despite their amazing achievements and lasting influence, the Etruscans remain one of Italy's great mysteries. Fleur Kinson sheds a little light.
For most of us, 'Etruscan' is one of those words we've met many times but, if pressed, couldn't precisely explain. We might know the word has some connection with Tuscany. We might even know that the Etruscans were a people, and that they did impressive things of some kind. But like 'Phoenicians' and 'Carthaginians', they tend to be a name with no picture – another obscure, long-dead ethnic group only familiar perhaps to people with a classical education. If you plan to visit anywhere in central Italy, it's really worth sharpening up your hazy understanding. You're going to meet that word 'Etruscan' everywhere you go; a lot of irritation can be saved by clearing it up here. A word of warning, though: it's a well-founded cliché that anyone who starts learning about the Etruscans quickly becomes hooked on the subject. If you can't bear to acquire a new interest, look away now.
Etruscan Legacy
For half a millennium or more, the Etruscans were Europe's most advanced civilisation outside Greece. Made wealthy by international trade, they spent their time making wine, building roads, draining marshes, painting vases, founding cities, creating sculptures, and constructing aqueducts. Hmmm... sounds a bit like the Romans, doesn't it? Well it should. Consider three facts: i) at least two of Rome's earliest kings were Etruscans; ii) most Romans had some Etruscan ancestors; and iii) the Romans took many of their ideas on art, law, religion, public institutions, water management and road-building directly from the Etruscans. You owe more to these unfamiliar ancient people than you probably imagine.
So why haven't you heard more about them? Because they were completely overshadowed by the Romans. And because so much of what they did was lost before historians could grasp it and imprint it on our popular map of the past. Building in wood and plaster, materials totally consumed over the centuries, the Etruscans left behind no temples, amphitheatres or triumphal arches to stamp their civilisation on our minds.
They don't speak to us from the page, either. While early Roman schoolboys studied Etruscan literature as part of their curriculum, modern-day scholars can only understand a few hundred words of the language (it's not part of the Indo-European family). Most Etruscan writing that could have helped linguists was burnt to ashes by Christian Roman Emperors eager to stamp out paganism; what survived was torched by devout early Muslims in North Africa.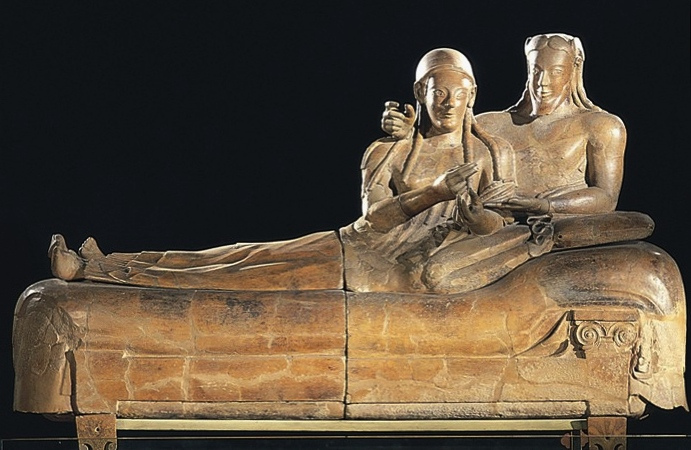 Laid-back Lifestyle
The Etruscans themselves, keen on living for the moment, didn't seem to care whether or not they preserved their glory for posterity. When their civilisation was subsumed into Roman, they didn't bother asserting a self-consciously distinct ethnicity and melded with the newcomers. Thus an artistic and fun-loving culture was half erased from history – a culture in which banquets were eaten in bed while dancers pranced about and wine-throwing games were played. A culture with strong erotic sensibilities, but also with rudimentary sexual equality – something lost, alas, on the Romans.
With so little testament to the particularities of Etruscan existence and so much testament to the spectacular existence of the Romans, popular and academic attention has understandably always concentrated on the latter. Indeed, scholarship on things Etruscan only really started in the last century or two – and studies still abound with words like 'mysterious' and 'enigmatic'. Etruscan civilization might have been rescued from historical oblivion, but only just.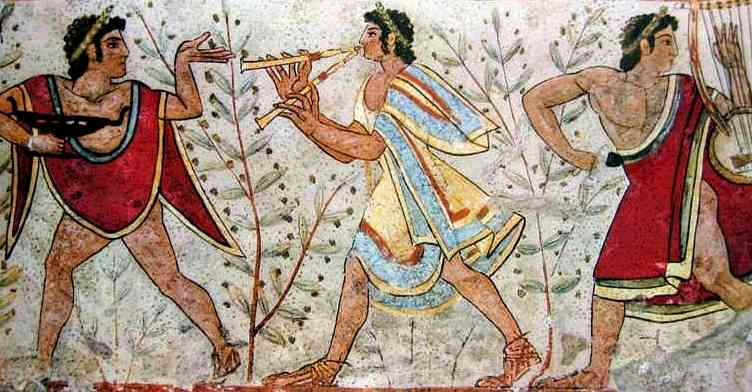 Fast Learners
What is known is that the Etruscans lived across a large swathe of central Italy encompassing modern-day Tuscany, western Umbria, and northern Lazio. Their civilisation had its roots in what we now call 'Villanovan' culture, which existed across and beyond the same area from the 9th century BC (and was distinguished by its funerary practices). Wily Greeks, exploring Italy for minerals in the 8th century, encountered these comparatively primitive Villanovans and began filling their heads with ideas. They traded with them, showed them various technologies, and taught them to write. (Thus the Etruscans wrote in Greek letters, which they reshaped and passed to the Romans, who modified them and gave us our current alphabet. The characters you're reading here have their roots in Etruscan).
Put simply, the Greeks galvanised the Villanovans they met – so much so that the people became something else. They became a recognisably new civilisation worthy of a new name: the Etruscans. In Greek-style ships, these Etruscans were soon whisking raw materials across the Med to Greece, Sardinia, Spain and Egypt, and getting rich enough on the proceeds to support a great civilisation – innovating technologies and commanding far-flung political power. The intimate relationship with Greece would weather the centuries, however, as is attested by two stray facts: more Greek pottery has been found in Etruscan tombs than in Greece itself; and, in a coals-to-Newcastle coup, Etruscan potters eventually supplied Greece's domestic market with perfect Greek-style pots.
What's in a Name?
Fittingly, it was the Greeks who christened them, calling these new people the Tyrsenoi or Tyrrhenoi – names which Latin fiddled with to give us 'Etruscan', 'Tyrrhenian', 'Etruria', and 'Tuscany'. The key element in these terms is probably the very ancient word tir or tur meaning 'tower' or 'tall rocky hill' (which has planted versions of itself in many languages – Glastonbury Tor is a venerable English example). The Greeks and Romans seemed to think of the Etruscans as a tower-people, and indeed most of their settlements were on high places or included tall defensive structures. The Etruscans, by the way, called themselves the Rasna or Rasenna – which, like Cymru to the Welsh, might just mean 'the people'.
Whatever names given to them, they got on with being who they were from around the 8th century BC until the advent of the Christian era. The beginning of the end came when a little town called Rome started to get ideas above its station. From the 4th century BC, Romans began a slow, systematic conquest of Etruria. Their policy wasn't slash and burn, but colonise and control. While many Etruscan cities resisted, others meekly allied themselves with the awesomely-organised newcomers. The last to fall to Roman control, in 264 BC, was Velzna (modern-day Orvieto).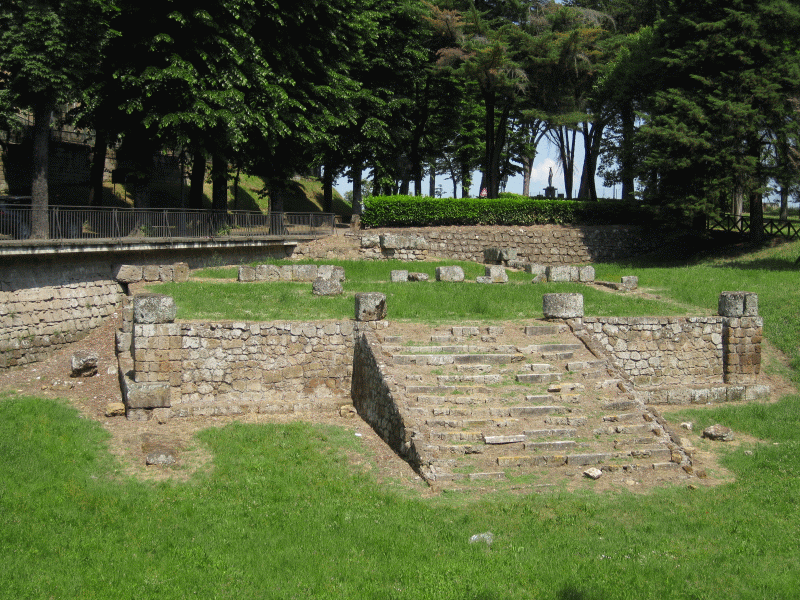 The Romans were relatively benign masters to the Etruscans, charmed as they were by their achievements and recognising that they could learn things from them. But a mutual esteem between the two cultures hastened the loss of a distinct, exclusively 'Etruscan' people. In 89 BC, all Etruscans were granted Roman citizenship. They had literally been turned into Romans.
It can be useful to think of the Etruscans occupying a key position in an over-simplified genealogy of modern European civilisation. Imagine the ancient Egyptians shooting the spark of organised, creative life to the Minoans (and others), who passed it to the Greeks, who shared it with the Etruscans, who stoked up the Romans, who spread a fire across the rest of Europe. The full evolution of European civilisation is, of course, a bit more complicated. But the Etruscans certainly deserve a place among its most influential players.