For visitors to Tuscany in winter, there are some very nice benefits to make up for the chilly temps—fewer tourists, reduced hotel rates, and even the opportunity to mix in a few slalom runs after all the museum hopping. Although Tuscan ski spots are smaller and lesser-known than their counterparts to the north like Cortina D'Ampezzo and Courmayer, they offer easy access (often just a one-and-a-half hour drive) from Florence, Siena and Lucca so are ideal for day trips. While these resorts may not provide the dramatic downhill runs of Courmayer's Mont Blanc, consider that Olympic ski gold medalists Zeno Colo and Alberto Tomba mastered their sport in the Tuscan-Emilian Apennines.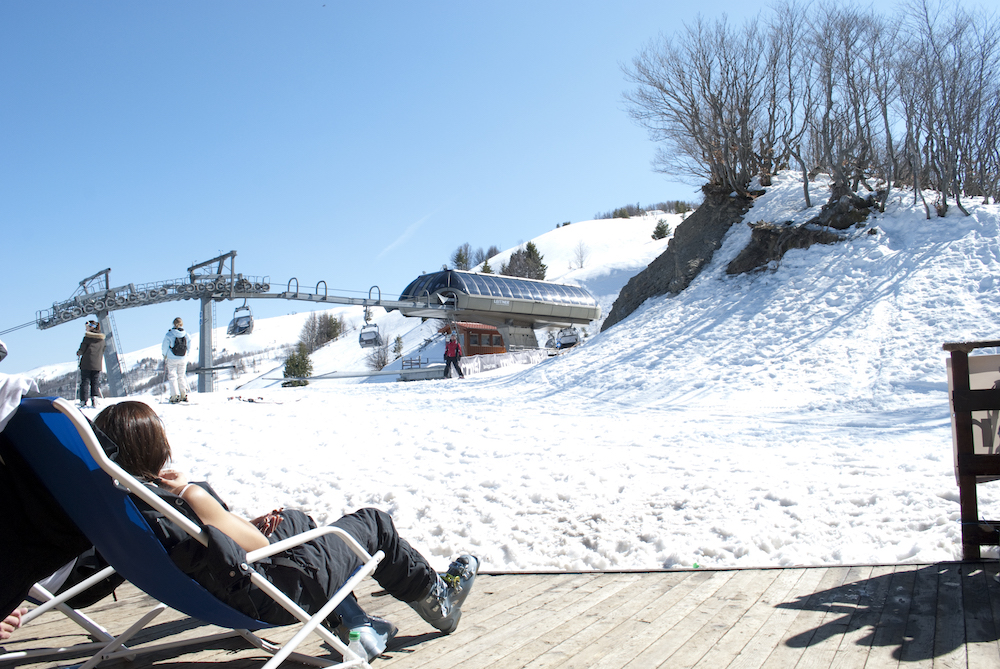 Toscana Promozione Turistica
These spots are less expensive, too—day ski passes can be almost half of what you'd pay at big-name resorts and are blissfully uncrowded during the week. Other bonuses—you'll be sharing lifts with a largely Italian crowd—and when it comes time for lunch, you can sample a range of lesser-known Tuscan dishes, the hearty offerings served mostly in these mountain regions. Plus high-altitude Tuscany has exquisite towns for apres-ski visits, a few of which are listed below. For information about snow conditions at the resorts, go to: OnTheSnow.com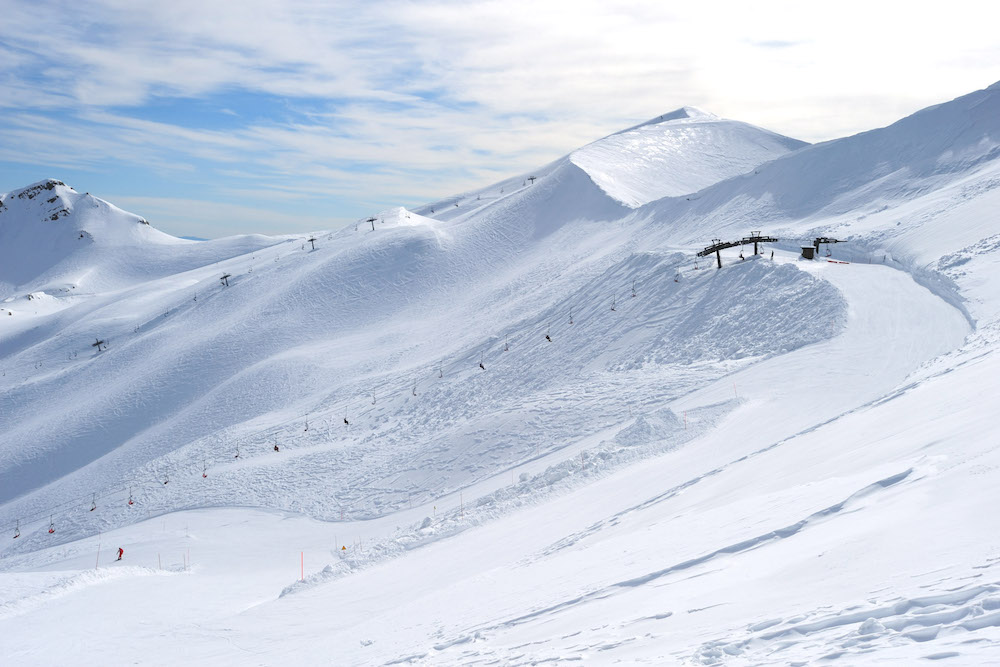 Abetone's Val di Luce, photo credit: Fototeca ENIT Gino Cianci.
SKI RUNS DESIGNED BY AN OLYMPIC GOLD MEDALIST
The closest ski resorts to Florence are Abetone and Dognaccia di Cutigliano, roughly 91 kilometers away. Abetone is the larger of the two with nearly 80 kilometers of Alpine and Nordic skiing over 26 slopes at heights ranging from 1200 to 1950 meters. Spread over four interconnected valleys (Luce, Scoltenna, Sestaione Lima), the runs are mostly geared to beginner and intermediate-level skiers, although there is one Black Diamond piste, called Zeno One, on  Monte Gomito, designed by Zeno Colo, who won the gold medal in downhill racing in the 1952 Olympics. Colo also helped develop the Abetone resort after he stopped racing competitively and taught skiing here for many years. Dognaccia di Cutigliano, 22 kilometers from Abetone, is a popular family destination (there's a snow-tubing slope) with 10 kilometers of Alpine pistes. Plans are in the works (for the winter season 2019-2020) to link the resort with Corno Alla Scale over the border in Emilia Romagna, an apt connection, considering that Colo was born in Cutigliano and another Italian Olympic great, three-time gold medalist Alberto Tomba, trained on these slopes.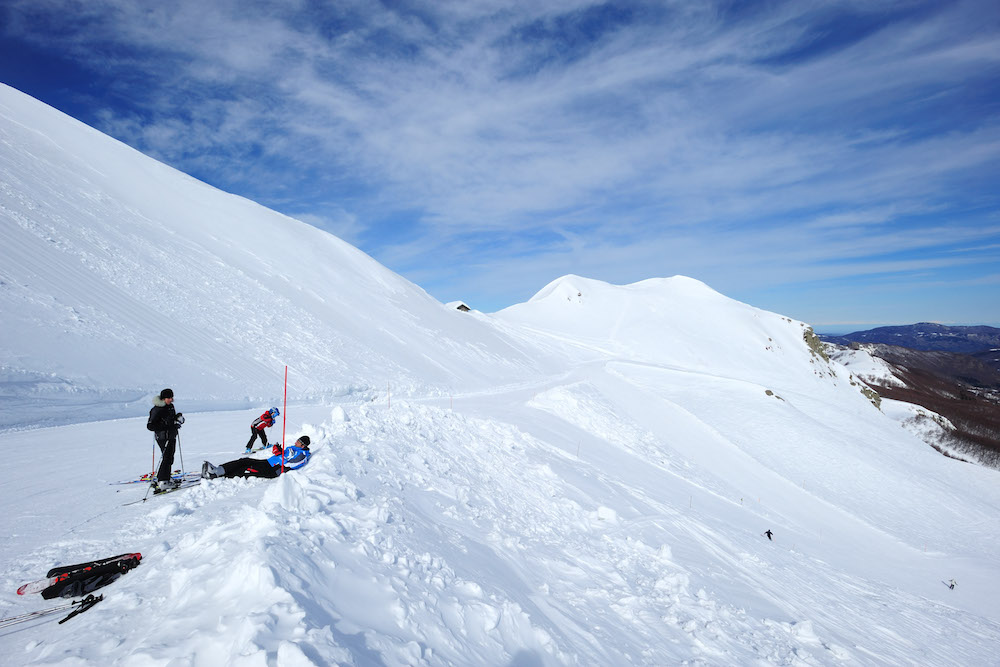 Abetone, photo credit:Fototeca ENIT Gino Cianci.
Apres-ski: Visit the medieval hamlet of Cutigliano with its Palazzo Pretorio, which is covered with terra-cotta and stone coats of arms from the families and magistrates who held sway in the area.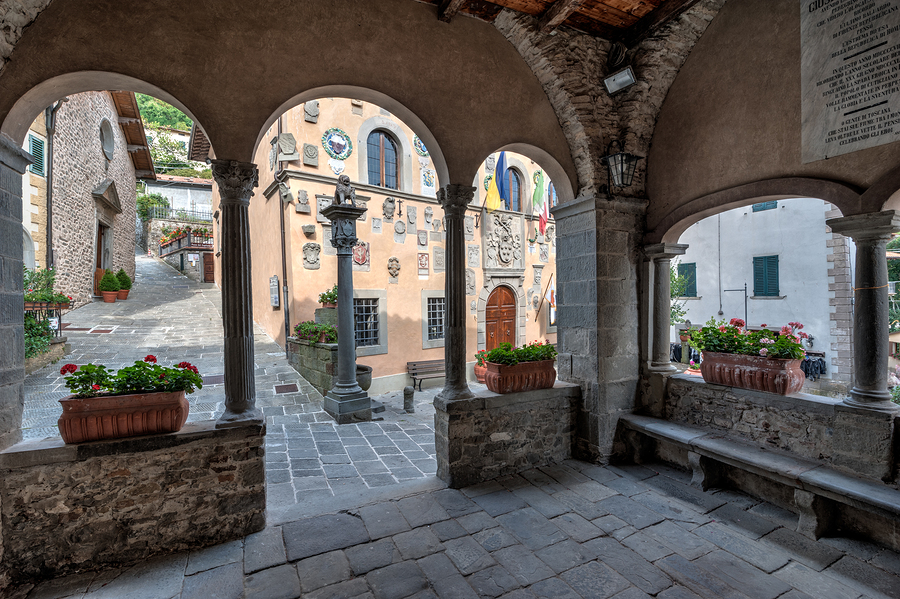 The medieval village of Cutigliano the Palazzo di Giustizia and the little lodge in front of it
VOLCANO SKIING ON MOUNT AMIATA
Monte Amiata is labeled an "extinct" volcano which means there hasn't been a flare-up in hundreds of thousands of years (unlike Mt. Etna, classified as an active volcano, which erupts frequently), so you're good to go. Southern Tuscany's highest peak (1732 meters), Monte Amiata, is 80 kilometers from Siena. Like Abetone, most of the Alpine runs (10 kilometers) cater to intermediate and beginning skiiers (there are six Black Diamond pistes). The Marsiliana—Macinaie cross-country route, is a particularly photogenic one, weaving through a gorgeous beechwood forest. The resort also offers snow-shoe trekking during the day and at night.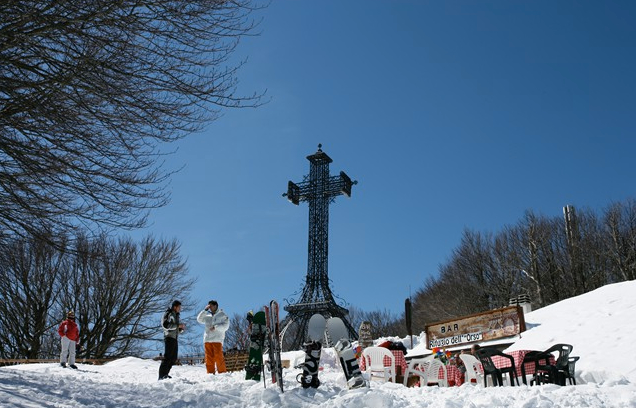 The croce amiata
Apres-ski: If you'd like to experience Tuscan medieval villages with an Alpine twist, head to such nearby borghi as Abbadia San Salvatore with an eighth-century abbey and Castiglione d'Orcia known for its castle, the Rocca di Tentennano, and Romanesque churches.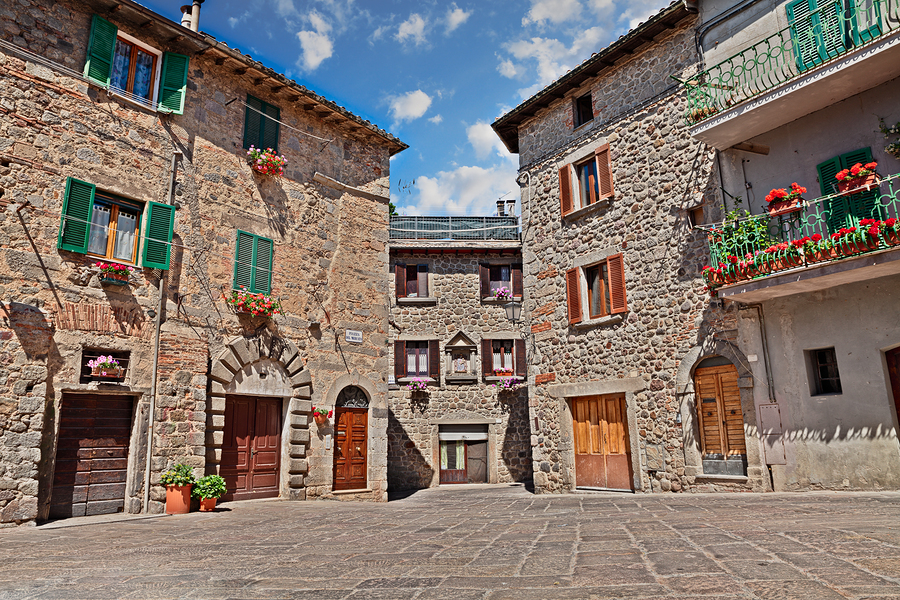 Abbadia San Salvatore, Siena, Tuscany, Italy: view of the ancient Piazza del mercato (market Square) in the medieval village
INCREDIBLE VIEWS IN ZUM ZERI
Before you schuss down Monte Fabei (altitude 1584 meters) take in the airplane-like views that reach from the islands of Cinque Terre to Corsica. A small resort 64 kilometers from La Spezia in the Lunigiana mountain region bordering Emilia Romagna, Zum Zeri-Passo Due Santi offers mostly beginning and intermediate level slopes, although there are two Black Diamond runs. 
Apres-ski: Visit the castelli of the Lunigiana, like the the Castle of the Piagnaro in Pontremoli (24 kilometers from Zum Zeri), or the nearby ghost (abandoned) village of Formentera, once a haven for the area's shepherds and their flocks. 
A RUGGED TUSCANY PERFECT FOR ADVENTURE SPORTS
The mountainous region of the Garfagnana in northwest Tuscany, off the radar for most international travelers, is a year-round adventure sports destination with opportunities for mountain climbing and biking and in winter skiing at three small resorts: Careggine, Passo delle Radici and Casone di Profecchia (62, 65 and 69 kilometers from Lucca respectively). Careggine has 4 kilometers of Alpine slopes, over half for intermediate skiers; Passo delle Radici near the Emilia Romagna border offers 8 kilometers of wooded cross-country runs and easy to intermediate slopes, and Casone di Profecchia, a nice mix of runs for beginners to expert-level. For die-hard ski fans, there's also the opportunity to ski in summer—on grass—in Casone.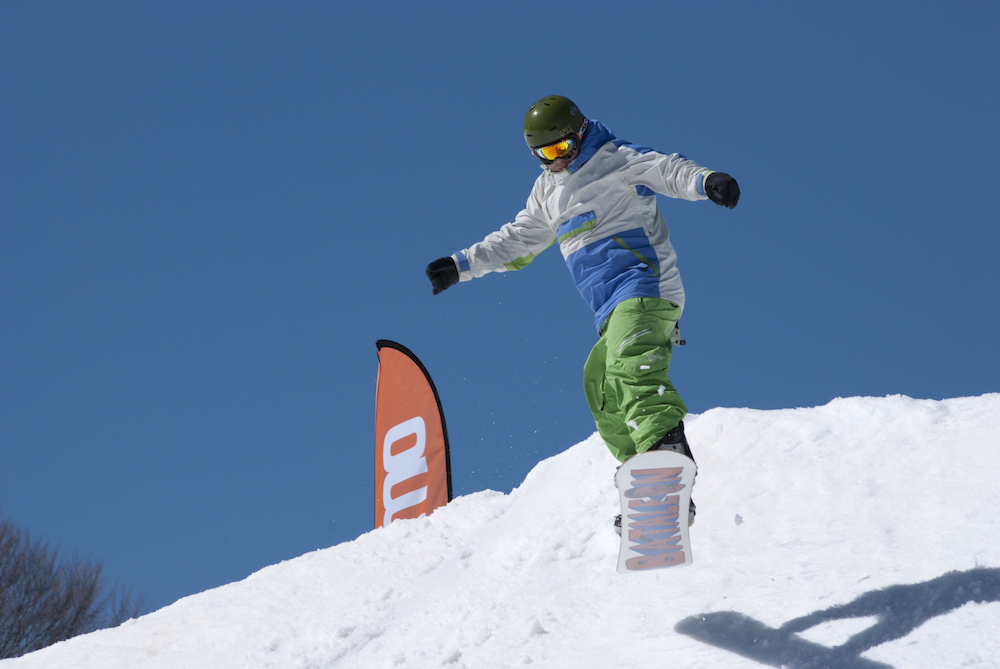 Toscana Promozione Turistica
Apres-ski: Barga, one of the "piu belli borghi di Italia," has another designation—because of its hilly, ethereal landscape, it was voted the most "Scottish" town in Italy. In Castelnuovo di Garfagnana there's an 11th-century castle, Rocca Ariostesca, later named for one of Italy's best-known poets, Ludovico Ariosto, author of the renowned epic/romantic poem,Orlando Furioso.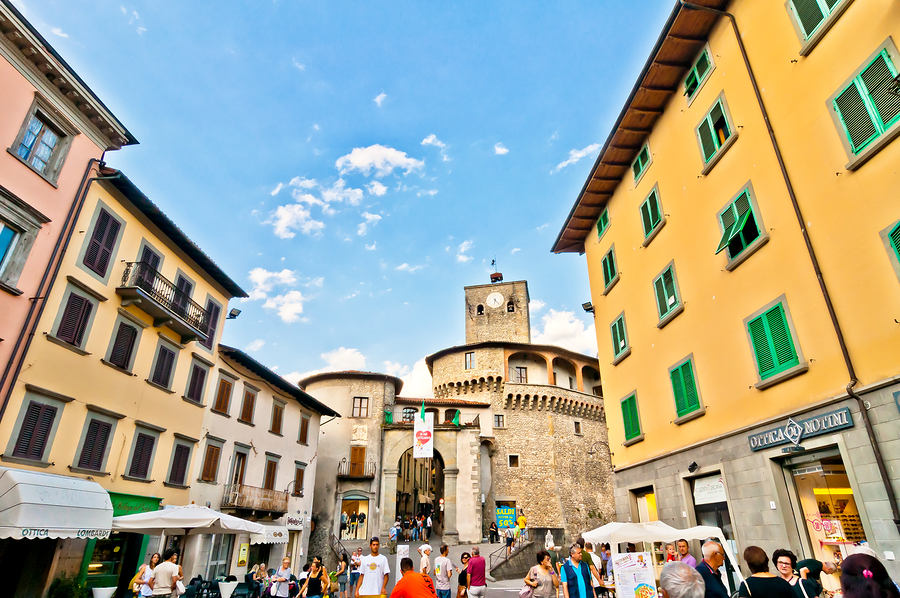 The main square of Castelnovo Garfagnana, Italy.
WHAT TO EAT: Tuscan mountain cooking, like the cuisine of the region, began as a form of cucina povera, relying on what was seasonal, inexpensive, and abundant. In the Tuscan Alps that meant produce like chestnuts, spelt, mushrooms, wild herbs, and lamb, which formed the basis of the rural cooking style whose recipes survive to this day. For example, necci, sweet crepes filled with ricotta or chocolate, are made from chestnut flour here.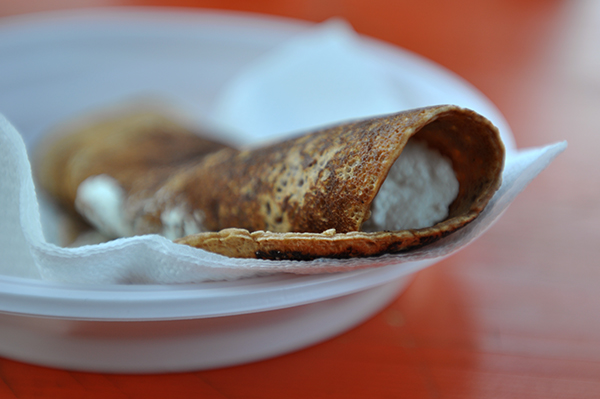 Necci filled with ricotta cheese. Photo via creative commons by By Sara Varlani
The ancient grain spelt, which grows well at high altitudes, was a vital crop used for soups and breads, like focaccia. In the Garfagnana you'll find delicious spelt soups cooked with the grain along with potatoes, beans, swiss chard and bacon. Try it with a portion of the Garfagnana's famous potato bread. In these high-altitude communities you'll also see wild herb frittatas and grilled porcini mushrooms, which turn up in localized versions of polenta and tagliatelle. If you're in Abbadia San Salvatore try the hometown dessert, ricciolina, made with meringue, chocolate and hazelnuts. In summer the mountains provide a bounty of berries used to make jams and fruit torta.
Looking to get there by train? For Abetone, you can find fares for 6€ from Florence to Pistoia and then you will hop on bus #54 which stops in Abetone.