The legend Behind Milan's Saffron Risotto
ITA:
La leggenda del risotto milanese allo zafferano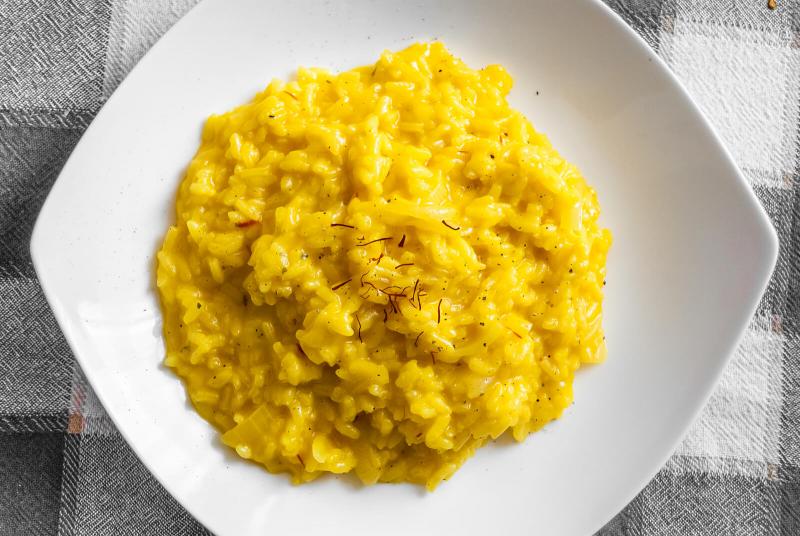 Use player to listen to Italian version
English
Saffron risotto is no doubt one of Milan's most famous culinary symbols, along with panettone.
His origins are linked to the Veneranda Fabbrica del Duomo di Milano, a 600-year-old organization established to supervise the construction of the Cathedral of Milan. In 1574, the Flemish Mastro Valerio was in charge of the construction of the glass windows. His young assistant was so enamored of saffron that he added it to whatever hue he was using; he claimed adding a bit of this powder produced wonderful effects; his passion for saffron earned him the nickname of Zafferano.
His master Valerio often joked that Zafferano would eventually end up adding saffron even to risotto. At the time, butter was the most common dressing; in the most sumptuous banquets, a thin gold leaf was added to dishes as decoration (medicine even prescribed it for heart health).
The day the daughter of Mastro Valerio was to be married, Zafferano decided to surprise the wedding's guests upon the serving of the risotto; acting upon Mastro Valerio's playful prediction, he added saffron in it. The risotto acquired both a better taste and a cheerful, gold yellow look that everybody loved.
Some say that Zafferano's real intention, by inserting saffron in the risotto, was actually to boycott the wedding reception because he was secretly in love with his master's daughter; but his action ended up turning against him because the new dish was an instant success. 
Italian
Il risotto allo zafferano è senza dubbio uno dei simboli culinari più famosi di Milano, insieme al panettone.
Le sue origini sono legate alla Veneranda Fabbrica del Duomo di Milano, un'organizzazione che esiste da 600 anni, fondata per gestire la costruzione della Cattedrale di Milano. Nel 1574, il fiammingo Mastro Valerio era responsabile della costruzione delle vetrate. Il suo giovane assistente era così appassionato dello zafferano che lo aggiungeva a qualsiasi tonalità stesse usando; diceva che aggiungere un po' di questa polvere produceva effetti meravigliosi; venne addirittura soprannominato Zafferano per questa sua passione.
Il suo maestro Valerio spesso scherzava che Zafferano avrebbe finito per aggiungere lo zafferano anche al risotto. All'epoca, il burro era il condimento più comune; nei banchetti più sontuosi, una sottile foglia d'oro veniva aggiunta ai piatti come decorazione (la medicina lo prescriveva per la salute del cuore).
Il giorno in cui la figlia di Mastro Valerio doveva sposarsi, Zafferano decise di sorprendere gli invitati al matrimonio al momento di servire il risotto; prese in parola la previsione scherzosa di Mastro Valerio, e vi aggiunse dello zafferano. Il risotto acquisì sia un sapore migliore che un brioso aspetto giallo oro che conquistò tutti.
Alcuni sostengono che la vera intenzione del giovane assistente, inserendo lo zafferano nel risotto, era stata quella di boicottare il ricevimento di nozze perché in segreto era innamorato della figlia del padrone; ma la sua azione finì per ritorcersi contro di lui perché il nuovo piatto fu un successo immediato.
More Dual Language Articles...