A former island off the coast of Tuscany, now connected to the mainland via three narrow sandbars, Monte Argentario is quite a special rugged spot for those looking to mingle sea and mountain fun, all in one place. I personally got the chance to go last year, a weekend spent in a place where you can only imagine the Italian elite seeking out a hidden getaway the hidden groves of Argentario's coastline.
In fact this promontory has attracted people as far back as the 3rd century BC, with the arrival of the Etruscans and later the Roman Emperor Traiano, followed by the King of Naples and the Spaniards, who ruled for 150 years before it became under the control of the Duchy of Tuscany. It is said that Michelangelo Merisi, known as Caravaggio died in Porto Ercole in the early 1600's.
It is located about 150 kilometers from Pisa and Rome respectively, in the Maremma region of Southern Tuscany. Nearby are the islands of Giannutri and Giglio. There are plenty of reasons to fall in love with the area, even for its very un-Tuscan feel. There is so much to see and do here, nature-lovers would delight in the plethora of fauna in preserved lagoons, while those seeking a golf course by the sea would be surprised to note that one already exists here. Yes my friends, this is the sort of place that surprises. There are two main towns on the peninsula itself, Porto Ercole, a sleepy, yet elegant fishing village that comes alive in the summer months to the buzz of the busier Porto Santo Stefano.
In order to get the best out of your next trip to Monte Argentario, here are 29 hand-picked suggestions from yours truly. I only ask if I can possibly hop in your hand luggage.
1.  Acquaint yourself with Monte Argentario by driving around the very appropriately-named  road that wraps around the promontory, Via Panoramica
2. Visit the WWF nature reserve of the "Laguna di Orbetello" a stretch of marshland that is home to a variety of sea and bird fauna, including the pink flamingo and white heron. Entrance at SS Aurelia km 147, Località Ceriolo, Albinia.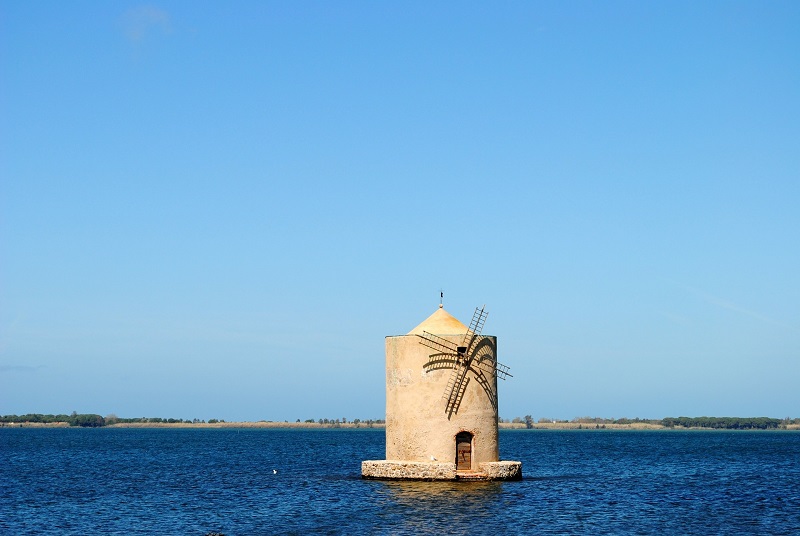 3. Follow a road on Monte Argentario towards the "Convento Frati Passionisti" for the best view over the island. From here, you can see the sandbars connecting Argentario to the mainland quite clearly.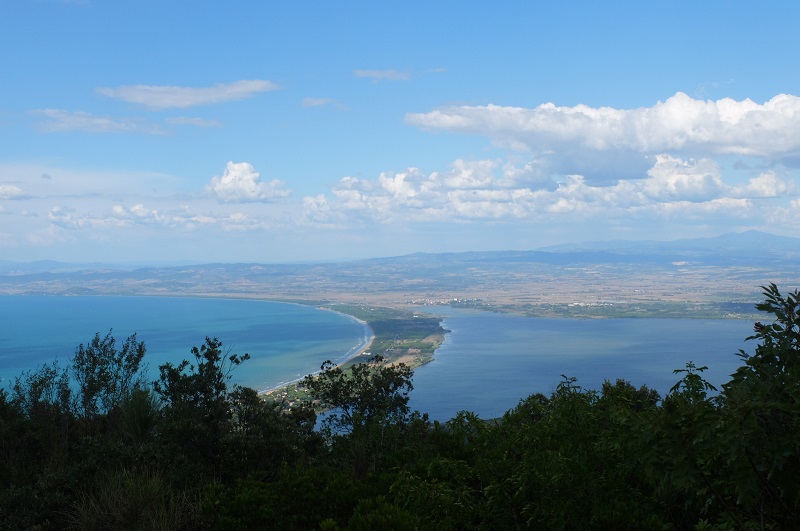 One of Argentario's 'Tombolo' sand bar connecting the peninsula to the mainland. Photoby Georgette Jupe-Pradier 
4. Head to 16th century  Forte Stella at Porto Ercole, built in the shape of a star and a remnant from the island's former Spanish invaders
5. Take a walk along the high-end boutiques of Porto Ercole towards the 'borgo antico' or old part of the village, continue towards the 'la rocca' fortress for amazing views. For more gastronomic tips, read this article by local food writer/journalist Emiko Davies. 
6. Have a spritz by the sea at Porto Ercole, where you can spot kids queuing up for gelato and you can savor the last of the morning light. There are several bars to choose from by the small bay.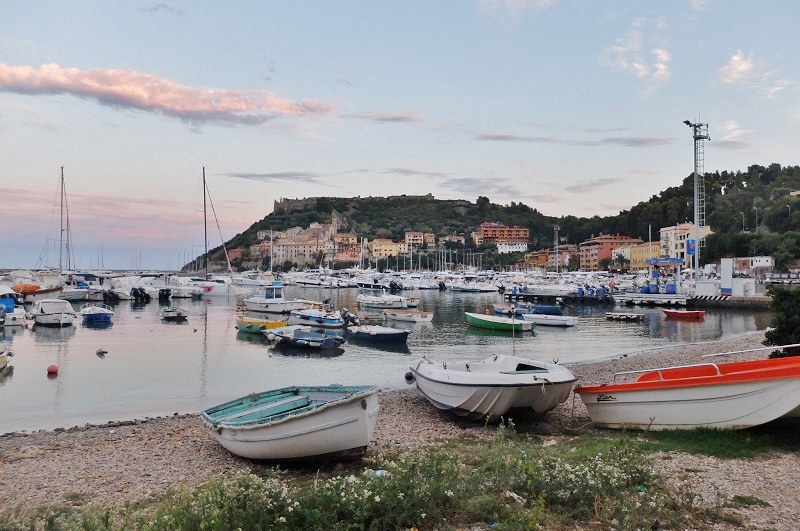 Porto Ercole at dusk, Photo by: Georgette Jupe-Pradier 
7. Get in your car and head in-land to visit Antica Fattoria La Parrina, a beautiful farm selling produce, excellent cheese and local wine, and there are even some animals to look at. Address: Tenuta La Parrina, via Aurelia km 146, Località Parrina, Albinia.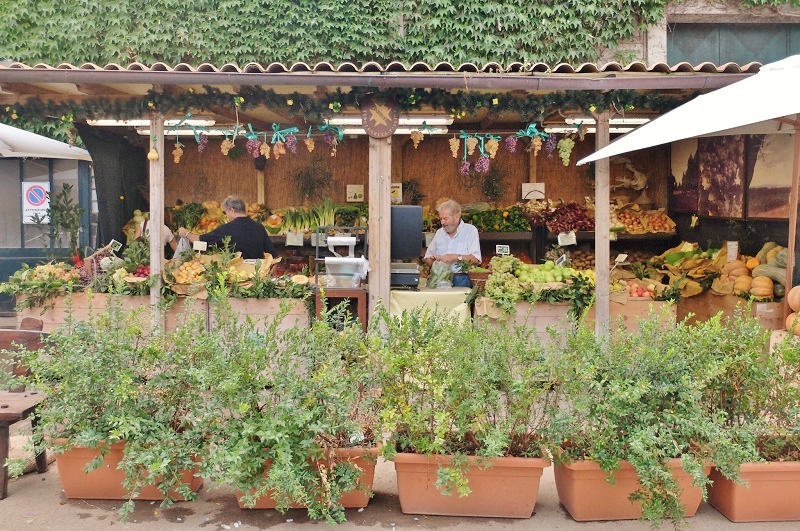 Tenuta La Parrina, Photo By: Georgette Jupe-Pradier 
8. Eat the "spaghetti alla bottarga" (dried mullet or tuna eggs grated over pasta) and fresh fish at the restaurant 'I Pescatori di Orbetello' open only on weekends and run by a local fish cooperative. Address: Via G. Leopardi, 9 – Orbetello.
9. Relax at the Argentario Golf Resort spa where you can indulge in a relaxing massage or get a personalized visit with a local nutritionist.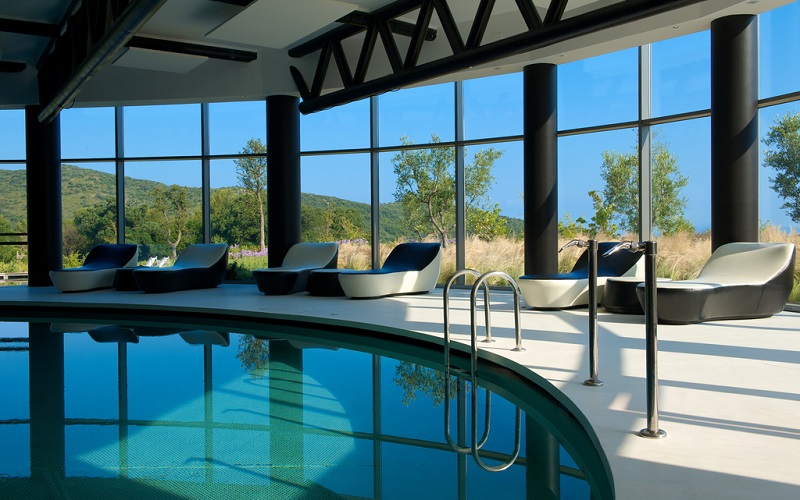 10. Dig into mountain fare from Maremma like wild boar or roasted pork wrapped in bacon at the Ristoro La Sorgente, named after the local spring where they get their water. on Strada Provinciale Del Convento (same road as the one to "convent Frati Passionisti" and that amazing view mentioned earlier.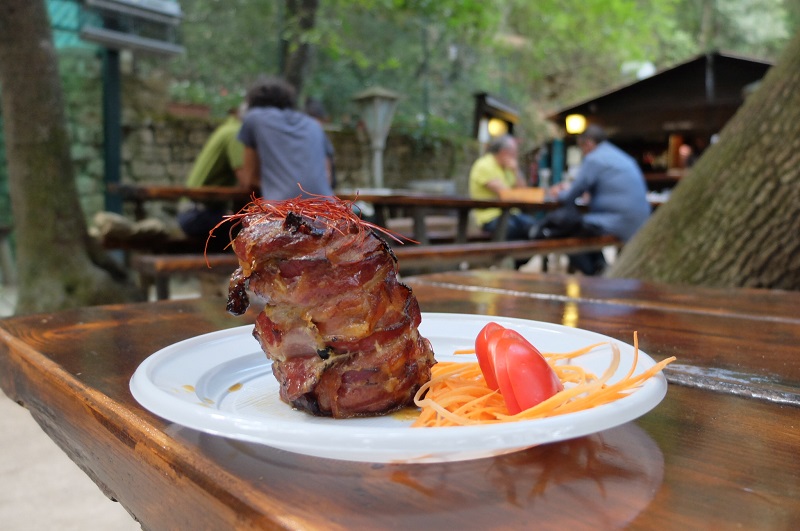 Pancetta tower! Photo by: Georgette Jupe-Pradier 
11. Hire a boat or hop onto a ferry from Porto Santo Stefano to visit Giglio island (50 minutes) and Giannutri , both unspoiled and breathtaking. Note that during the summer months, only 300 visitors per day can visit Giannutri so it is best to reserve in advance.
12. Visit the "fortezza spagnola" or majestic Spanish Fortress from the 17th century in Porto Santo Stefano which offers some spectacular views.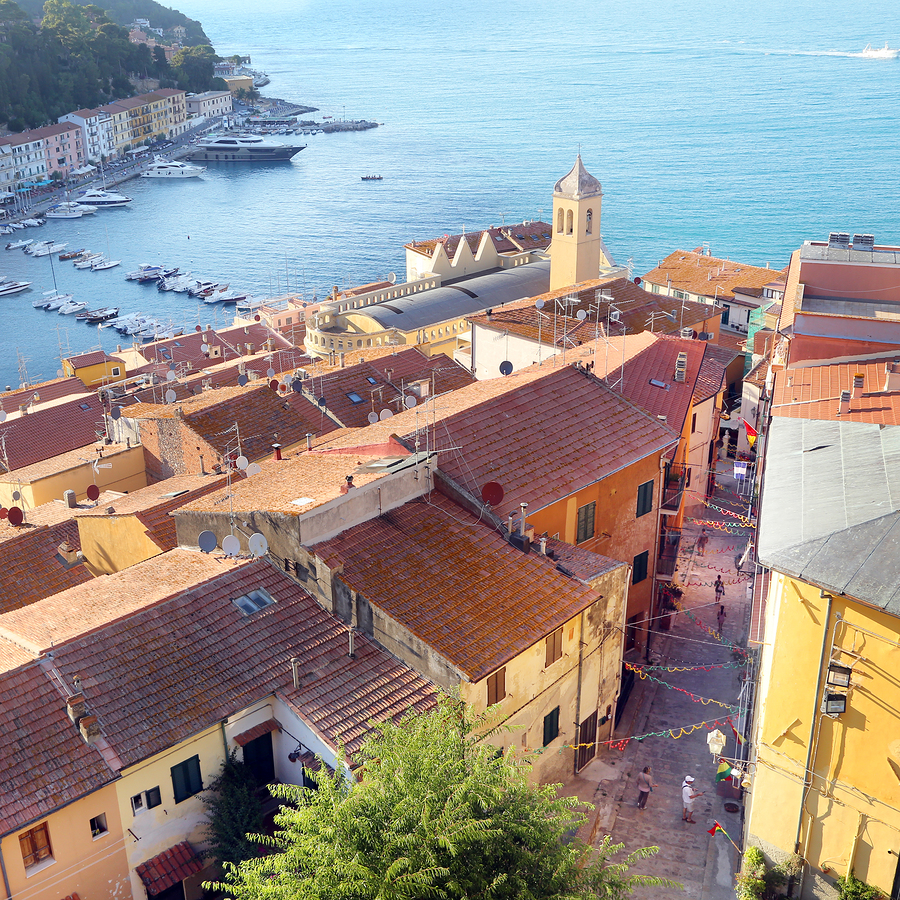 13. Head to the pristine 10-km Feniglia beach located in the Duna Feniglia Nature Reserve on one of the sand lagoons that connects the mainland to Argentario. Only reachable on foot (10-15 minutes) or by bike.
14. Rent a boat from Porto Santo Stefano or Porto Ercole to discover the hidden bays and hard-to-reach beaches around Argentario, recommended stops include the cala grande  "Big Cove", cala piccola 'little cove' (our favorite) with stunning aquamarine water, last but not least is the Isola rossa.
15. On Giglio island (off the coast of Argentario) visit the township of the hilltop hamlet Giglio Castello, from here you can taste the local wine made only here, Ansonaco or Ansonico.
16. Head to Porto Ercole May 6-9th to witness the 'Night of the Pirates,' a unique local event with (yes) pirates invading from all over Italy – this includes parades and fireworks on the sea. Typically there is a treasure hunt among teams and a 'best dressed' pirate award.
17. Have a morning stroll in the elegant town of Orbetello, with a cheeky gelato stop at the local favorite, Le Logge on Corso Italia 78.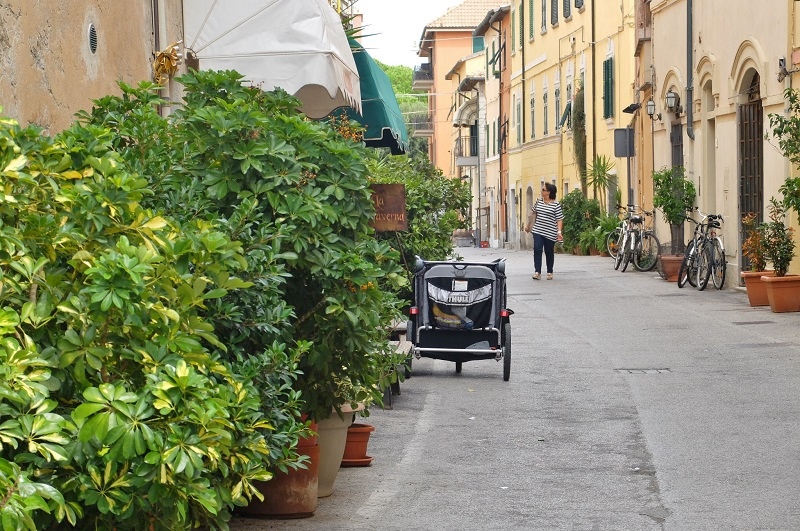 Orbetello, Photo by: Georgette Jupe-Pradier
18. In Porto Ercole, a must-visit is the Palazzo dei Governanti 'palace of the governers' constructed in the second half of the 16th century by the Spanish rulers. It's a great spot for a prime view of the village.
19. Come for the Palio Marinaro dell'Argentario on Ferragosto (August 15th) when the whole island gathers for an annual boat race that pits four boats that each represent an ancient district of Porto Santo Stefano, against each other.
20. Go to Cannelle beach and rent a kayak or canoe to explore the beautiful coastline.
21. Hit a few balls out of the park at the Golf Club Argentario, which has a full 18-hole golf course and driving range maintained with all-natural organic products.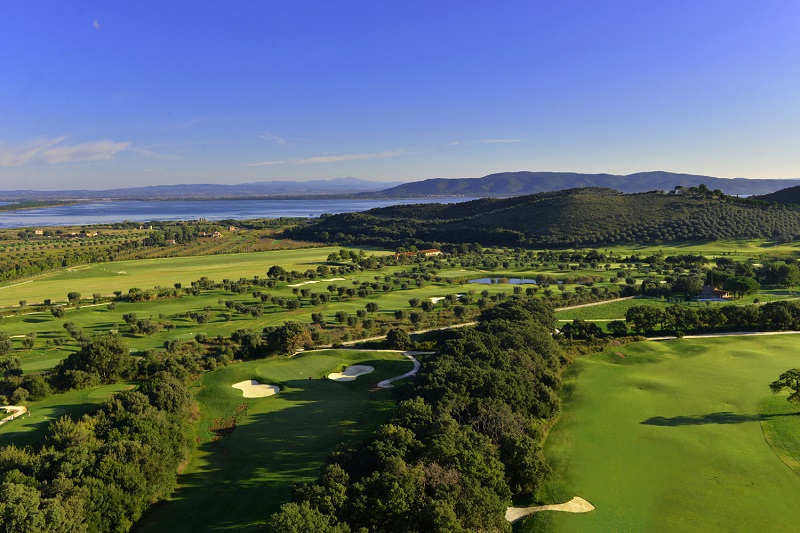 22. Buy fresh fish from Pescheria Da Ledo at Porto Ercole, caught fresh on the daily for a meal like a local.
23. If you're in Monte Argentario in July, head to the 'sagra della sardella' of food festival  in Porto Ercole celebrating sardines serving up typical local dishes from July 22-31rst.
24. Have a full fish dinner at the understated restaurant of L'Osteria del Porto Le Chicche in Porto Santo Stefano, ask for what's been caught that day.
25. If you're into diving, make sure to arrange an excursion near the rocky shores of the main peninsula, we recommend La Feniglia or even better, Giglio island off the coast.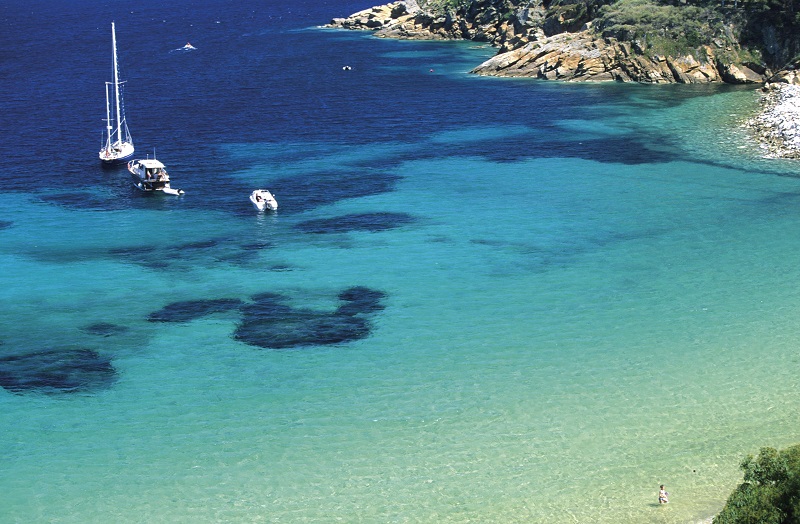 26. Have a fresh fish dinner with local specialties (we recommend calling the night before to ask for the fish stew) at Dama Dama Restaurant at Argentario Golf Resort, overlooking a spectacular sunset.
27. Enjoy the private beach of I Due Pini after a sumptuous seaside fish lunch. Address: Localita' La Soda - Porto Santo Stefano.
28. Rent a mountain bike to ride through the beautiful Feniglia Pine forest which runs along the coastline of the same name.
29. Take a day-trip to the Tarot Garden known locally as the Giardino dei Tarocchi, a fascinating and whimsical sculpture park created by the international artist Niki de Saint Phalle, we also recommend a stop at the charming nearby town of Capalbio.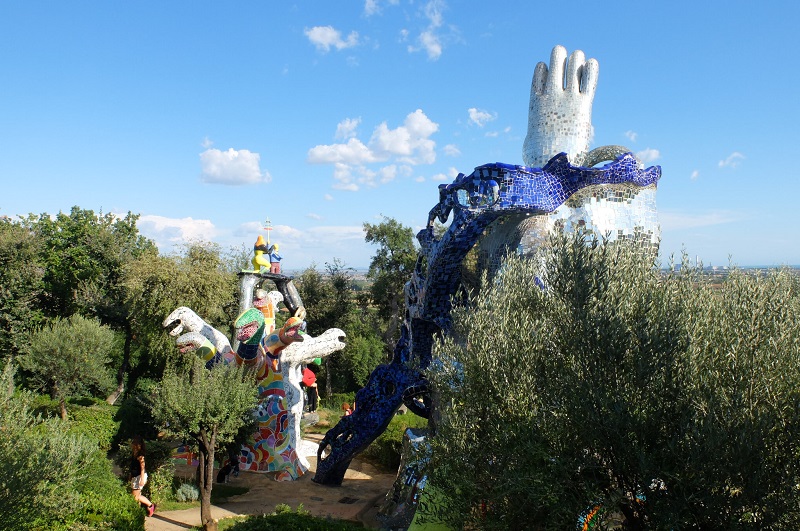 Tarot Garden, Photo by Georgette Jupe-Pradier
---
When to go?
July and August constitute high season when city dwellers from Tuscany and Lazio make their way to Argentario in droves, however the vive is eclectic and there are more festivals during this time period. Off season in fall and spring can be surprisingly plenty as you'll have this rugged beauty all to yourself.
Where to Stay?
Argentario Golf Resort & Spa, Located 5 km from Porto Ercole, Argentario Golf Resort and Spa features a free organic wellness center, a panoramic 18-hole golf course and a gourmet restaurant. All rooms come with a private terrace and free Wi-Fi. address: Via Acquedotto Leopoldino, 58018 Porto Ercole GR. website. From 226 euros a night. Website. 
How to get there?
Monte Argentario is about a one and a half hour drive from Rome Fiumicino with about double that distance and time wise from Florence, Italy. Trains do come to the island, but we recommend taking a car.