Travel can be a paradox - we want to experience somewhere new, but we want to experience it as though it isn't new at all.  We spend countless hours curating the contents of our suitcase in hopes that our outfit choices blend seamlessly with the local style. We get lost in the weeds of travel forums searching for authentic eateries. And we pray we can figure out the train system without having to ask for help. Traveling somewhere new for the first, second and even third time can be intimidating, and attempting to experience that place with the ease of a local can actually be quite difficult. That's why the consultants at Well Traveled, all current residents in Italy, are serving up a starter pack of travel hacks that will take the "tourist" target off of your back, and allow you to enjoy the country like the locals do. 
1. Know the coffee culture. Although cafes in major tourist centers have begun to offer coffees to go, a true Italian wouldn't dream of multi-tasking while enjoying their freshly foamed cappuccino. Instead, order your coffee with the cashier first, hand your receipt over to the barista, and enjoy your coffee while standing at the bar. While we're on the topic, don't order a latte - unless you would like a cup of warm milk. - Abbie, Rome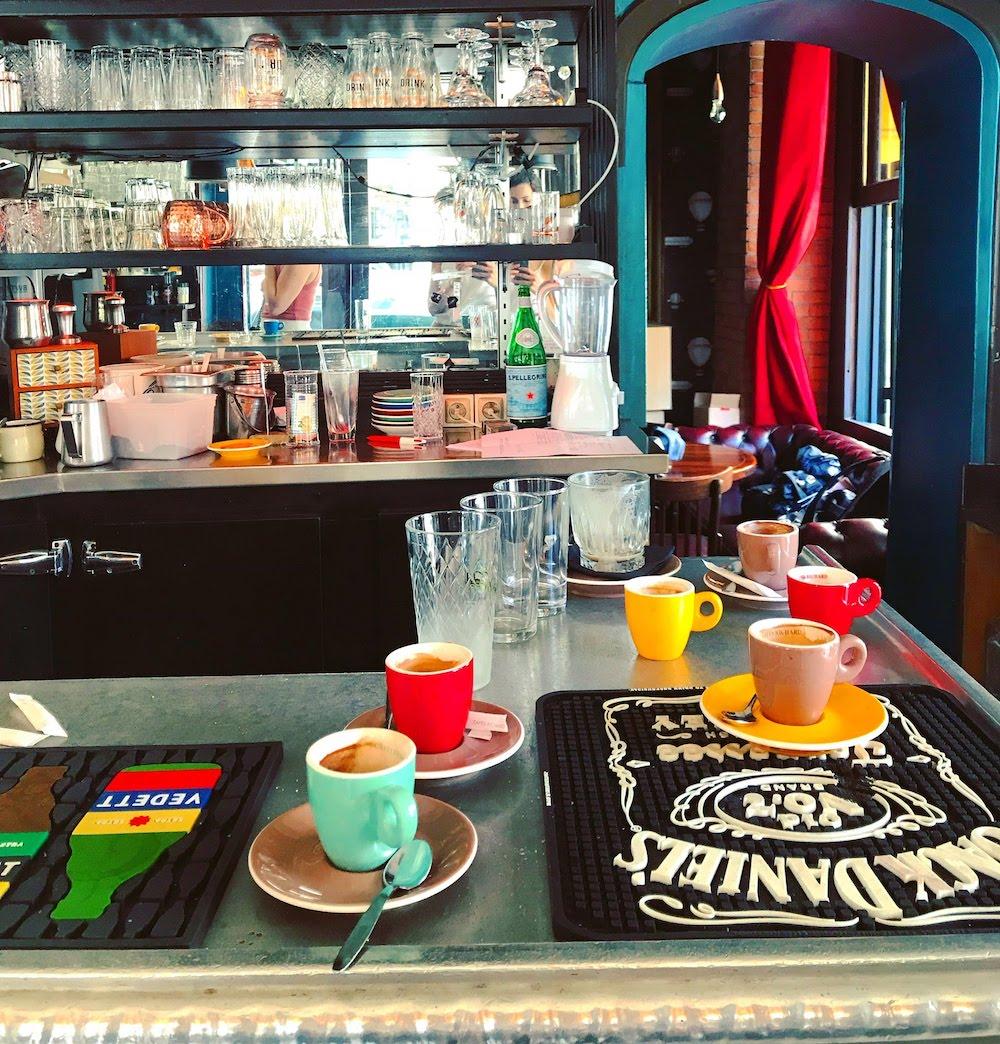 2. Please don't splash in the fountains. Yes, people actually do this, and they are never Italians. While you may scoff now, the abundance of gurgling fountains can be a cruel tease while dodging sweaty crowds in Rome mid-July. Rome, in particular, has more fountains than any other city in the world. Fifty of these are considered monuments and even some of the smaller decorative ones were designed by notable artists. Under Rome's new urban police regulations, this behaviour is also subject to fine. - Tanya, Rome
3. Download offline google maps. Perhaps the most practical of hacks, downloading an offline google map will allow you to navigate the winding streets of Italy  from the palm of your hand, and without a wifi connection. Take it a step further and flag restaurants, museums, and sights you want to see prior to your trip. No one will suspect you're a first timer. - Evelyn, Turin
4. Avoid the tourist trap restaurants. Yes, but how? Just remember a few cardinal rules. 
Restaurants off of main piazze in the city center are almost always a trap - high prices for frozen food. 
A good restaurant does not need a hype man out front. If there is hired help outside the front door cajoling tourists to come in, run the other way. 
The menu should not remind you of the Cheesecake Factory. It should be simple. And don't fret if you can't find fried artichoke on the menu - this means that the restaurant respects nature's rules of seasonality.
 Look for menus that are only in Italian. This can be challenging in city centers and while not always possible, you know you've struck gold if you can find one. - Kim, Siena
5. Consider traveling off season or at least off peak hours. Major tourist sights are popular for a reason, but can be really challenging to enjoy amidst throngs of tourists. Instead, make like the locals and enjoy the sights like they do - off season (roughly October to March) or off peak hours. Crowds start to thin around 5 PM when the cruise crowds head back to their ships and day trippers have departed, and they don't return until about 9 AM. - Sally, Florence
6. Reconsider meal times. Find a mid-morning snack to tide you over because most restaurants do not open for lunch until 12:30 or 1 PM. Likewise, restaurants don't open for dinner until 7 or 7:30 PM. However, the locals won't be eating until 8 PM or later. Instead, enjoy an evening stroll prior to dinner or socialize at a local aperitivo. Low blood sugar have you worried about this one (me too I get it)? Aperitivo, which typically serves bar snacks with drinks, can absolutely turn into an apericena (small dinner) at many bars/cafes if you need to eat earlier, or aren't craving a heavy and late dinner. - Mary, Florence
7. Sagra you say? Sagre are small town food festivals that bring together people in celebration of their local fares.  The small town of Ariccia, just outside Rome, for example, hosts a Porchetta festival to celebrate their traditional roast pork. Around Florence, there are "sagre" almost every weekend in the fall and spring: the Certaldo onion festival, the chestnut festival, the Tortello festival, etc. Beyond the culinary delight of a sagra, you'll also have the privilege of sampling a true local tradition . - Tanya, Rome
8. Opt for neighborhood exploration over conquering your "top sights" to do list. Top sights in Italy are popular for a reason and I get that they're important to see. But to experience the city like a true local, explore the neighborhoods that make up the fabric of the city. Shop in markets, try local cafes, or (my favorite) grab a gelato and a church step and let the neighborhood pulse around you.  Try Trastevere in Rome, Sant' Ambrogio in Florence, or Ranzini Vini in Turin. - Michelle, Florence  
While you may never know it all before your trip to Italy, bringing a few tips in your back pocket can save you time, money, and mistakes while traveling. Not to mention, you'll feel less like a tourist and more like a townie. 
Looking for more advice before your take off? Well Traveled has locals in Rome, Florence, Siena, and Turin who are happy to share authentic advice on how to maximize your experience in Italy. To get started, visit welltraveled.io, tell us a little bit about yourself in the online booking form, and we'll match you with the perfect consultant within 48 hours. You and your consultant can then find a good time to connect and chat face to face (via video chat) about your upcoming trip. Consider us your BFF abroad. Ask us anything you want and need to know about your travel, your move, your upcoming study abroad. More interested in food than museums? We'll put you in touch with Abbie, who curates food tours as a full time job, to tell you exactly where and what to eat in Rome (you can ask her how to steal that job while you're at it). Thinking about a week in Tuscany with your kids in tow? Kim in Siena, a mom herself, can help you map every playground and changing station in the city. And don't forget – our model is kick-back free, meaning that you are guaranteed honest advice. Our consultants are real people with real jobs, who just so happen to live in Italy, and are eager to share with you how to love their hometowns as much as they do.