For people like me with a passion for traditional cultures, Abruzzo and Molise are among Italy's most interesting regions. These rural communities—cut off from the rest of the Italian peninsula by formidable mountains—remain a secret for most international visitors. Travelers intrepid enough to veer off the beaten path are rewarded with a rich tapestry of traditional Italian crafts: lace, wrought iron, gold, ceramics, and most surprising of all—bagpipes.
The Ceramics of Castelli in Abruzzo
Castelli is considered one of Italy's grand ceramic traditions, and examples of these colorful wares are prized in the collections of the Metropolitan Museum in New York, the Louvre in Paris, and other international museums.
It all began during the Middle Ages, when the Benedictine monks of San Salvatore of Castelli began teaching locals how to pull clay from the mountains, and turn it into decorated pottery. By the 1500s, Castelli was producing a large volume of maiolica, ceramics bathed in a tin-based, opaque white glaze and then painted with bright colors. Some of these early ceramic artisans used the whole town as their canvas. The ceiling of the church of San Donato in Castelli is paved with ceramic bricks from the fifteenth and sixteenth centuries. Ceramic altarpieces, fonts, and street-side ex votos display saints and Madonnas painted by artisans of Castelli's most important ceramic dynasties: the Pompei, Grue, Gentili, Cappelletti, de Martinis, and Fuina.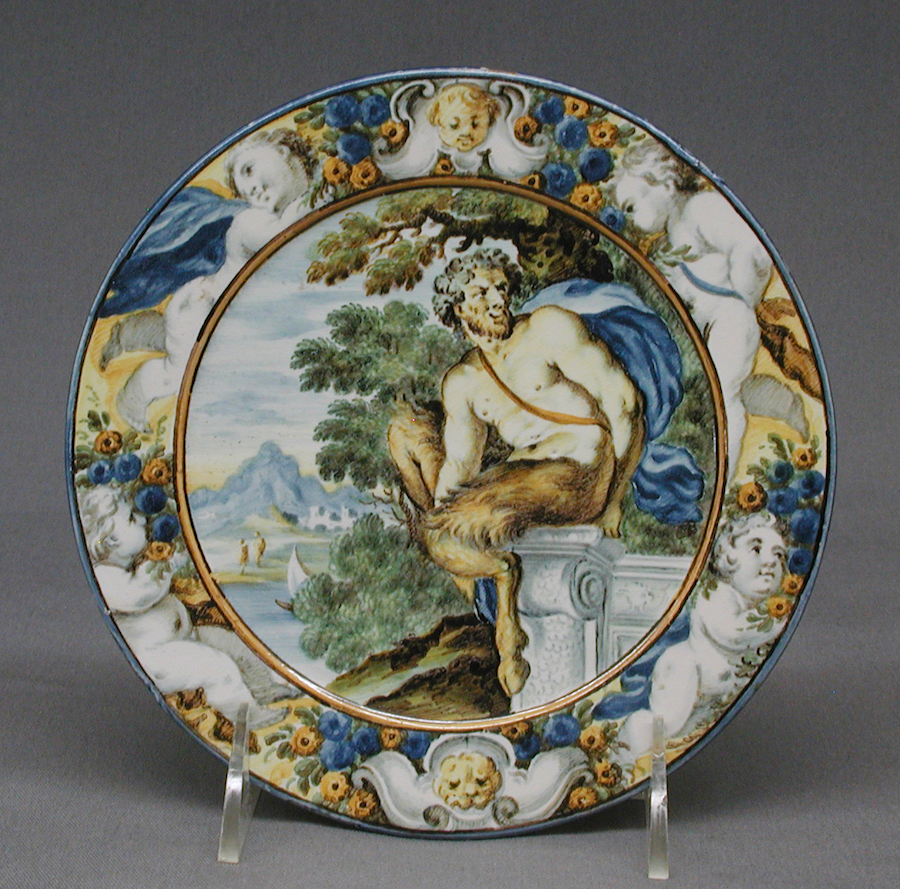 [18th century Maiolica (tin-glazed earthenware) from Castelli, photo: The Met]
In the 1500s, Castelli's artisans were commissioned to create a set of maiolica vessels to celebrate peace between the Orisini and Colonna families. These wares—bulbous vases and jars with handles, and busts of noblemen and women—inspired many imitators. Their bell-shaped vases, pot-bellied jugs, and flasks with large handles stood alongside those of other Italian ceramics centers like Deruta and Faenza. The ceramics of Castelli began to be widely exported outside of the Italian peninsula as luxury items.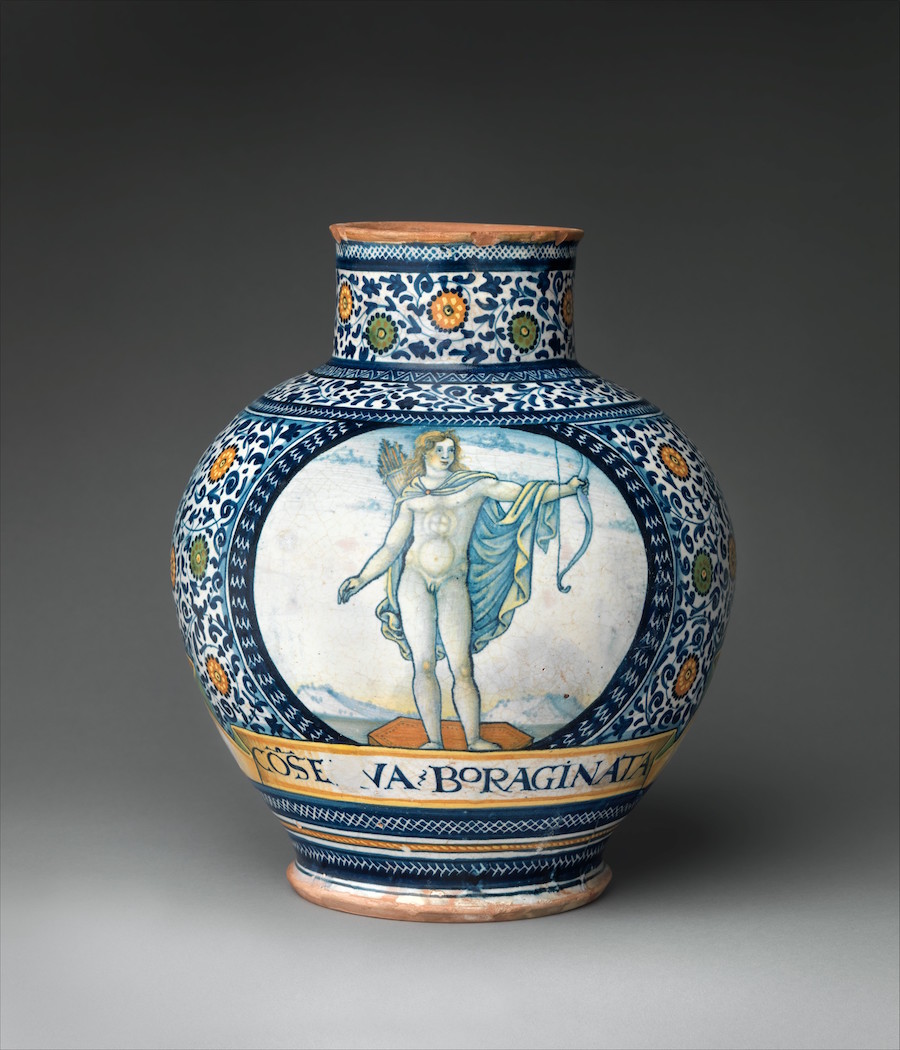 [Figure of Apollo Belvedere based on an engraving by Nicoletto da Modena (Italian, Modena, active ca. 1500–ca. 1520). photo by The Met]
Some time in the 1600s, Castelli departed from the traditional patterns and styles that made other ceramics towns famous, and the town made a name for itself with "historiated," or story-telling ceramics decorated with popular scenes from religion and mythology. Watercolor-like landscapes that treated the white glaze like a blank canvas also delighted the noble classes who consumed these pieces. Today, several dozen artisan enterprises in Castelli continue the centuries-old tradition of making these colorful wares.
Bagpipes of Scapoli
Bagpipes? It's not what you'd expect to find in Italy, but some argue that the zampogna made in Scapoli—a mountain village of rural Molise--is the ancient ancestor of the Scottish instrument, allegedly introduced to Scotland by Roman soldiers. Centuries ago, bagpipes filled the air across Italy with their eerie, solemn cries, but today, Scapoli is one of the only towns in the country that preserves this ancient tradition.
No one knows when locals began making these strange instruments, but their origins surely reach back into antiquity. Just a half-century ago, nearly 20,000 sheep grazed the mountain grasslands outside of Scapoli, providing skins for making bagpipes. They formed a quiet audience for the shepherd who heard his own haunting melodies repeated back to him as echoes off the mountain walls. Today, few herds dot the verdant hillsides, and the zampogna is played mostly at festival times.
The Scapoli bagpipe is a type known as a double-chanter, with two sets of finger holes for producing its distinctive sounds. The instrument is a complicated contraption made of sheepskin bags, pipes of cherry or olive wood, and reeds made of cane. A handful of artisans residing in the Fontecostanza section of Scapoli preserve and pass on the ancient tradition and techniques for making these instruments.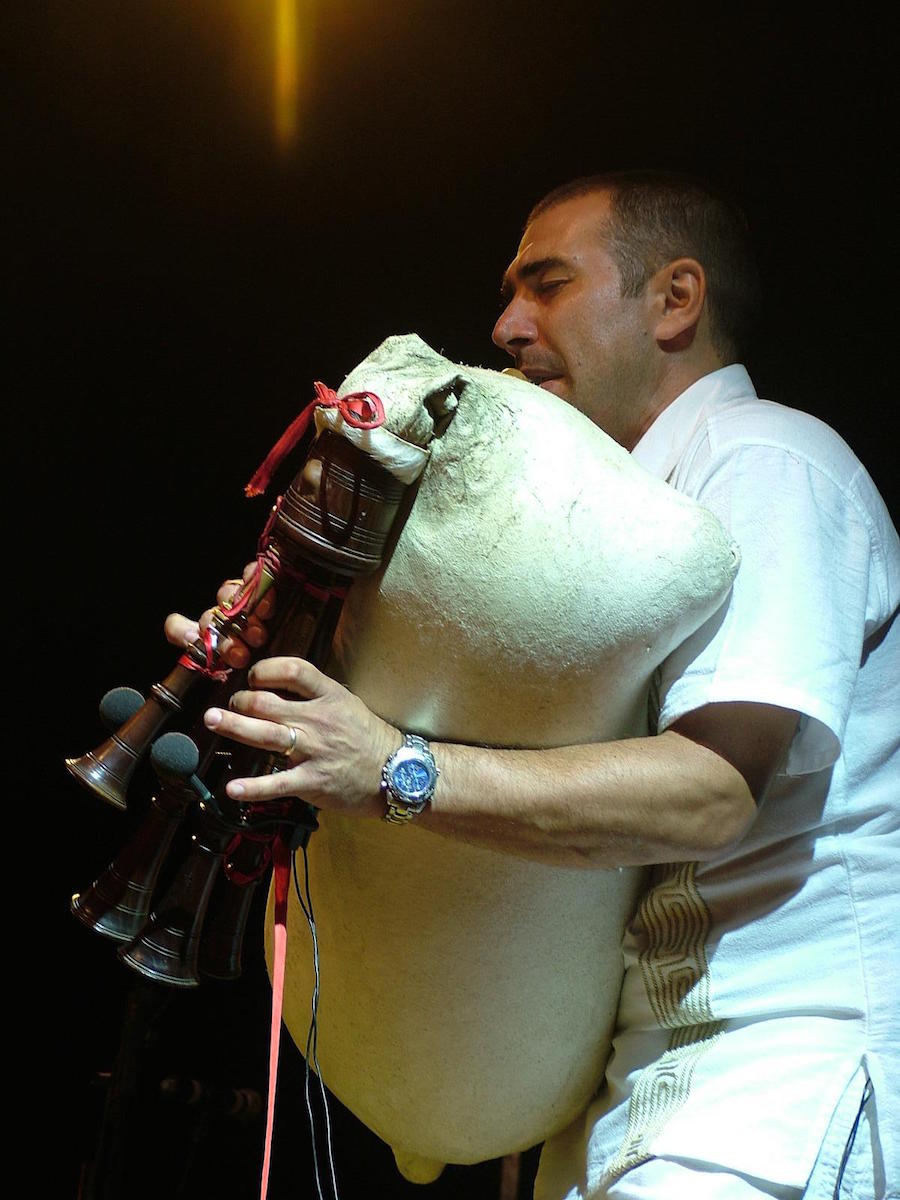 [Scapoli Bagpipes, creative commons, Lucio Musacchio via flickr]
Where to Find Authentic Crafts in Abruzzo and Molise
CASTELLI (Abruzzo)
Today, many of Castelli's some fifty ceramic enterprises snake along the Via Scesa del Borgo and cluster around the artisan district known as the Villaggio Artigiano. Electric potters' wheels and gas-fired kilns have replaced the manual tasks that were central to Castelli's ceramic techniques for centuries, but the best artisans still capture the historical styles and spirit that characterize this grand tradition. The Ceramics Museum is a great place to start your visit, and if you want to learn how to make Castelli ceramics yourself, check out the school dedicated to the town's craft:
Ceramics Museum/Museo delle Ceramiche
Salita Paradiso, 64041 Castelli (TE), 0861/970725
Ceramics School/Istituto d'Arte per la Ceramica "Grue"
Via Convento, 64041 Castelli (TE), 0861/979221
SCAPOLI (Molise)
Three days in late July transform the normally quiet town of Scapoli into a noisy cacophony of sound with an international bagpipe festival. The eerie sounds of the zampognari playing these wind instruments--combining wood, sheepskin, and metal—fill the air, and demonstrations of artisanal techniques provide a unique look at this ancient craft. Local culinary specialties, like goat's cheese and black olives, complete the event.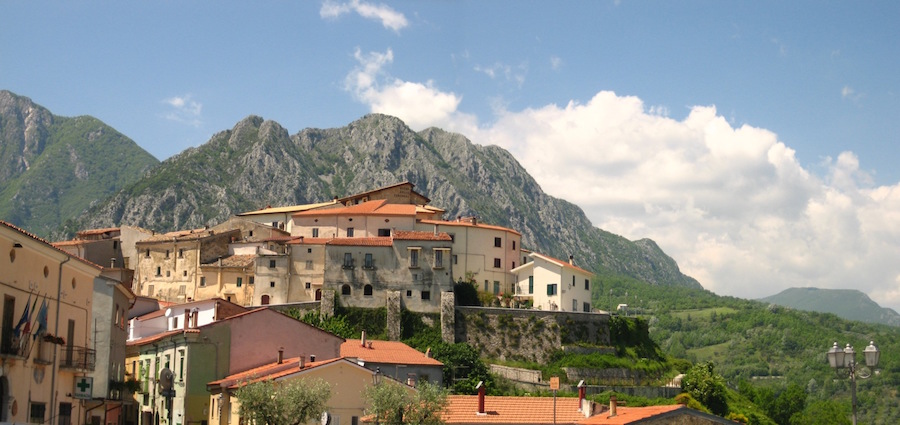 [Scapoli, photo from Flickr creative commons]
At other times of the year, start your visit at the Museo della Zampogna in Scapoli to learn more about this ancient instrument. If you want to take one home, prices for Scapoli bagpipes run between 200 and 1000 Euro, depending on how they are outfitted, what types of wood are utilized, and their decoration.
Festival Internazionale della Zampogna
Vico Santa Maria, 1, 86070 Scapoli (IS), 0865/954270.
Laura Morelli is an art historian and historical novelist with a passion for Italy. You can find her guidebook series, including Made in Venice and Made in Italy, as well as her Venice-inspired historical novel, The Gondola Maker, in the Italy Magazine shop.