[Photo: the Bronski family in a Neapolitan pizzeria.]
Having been diagnosed with celiac disease in 2007, Peter Bronski didn't want to lose the beloved food traditions he grew up with as a member of an Italian American family. With his wife Kelli, they began exploring ways to convert family recipes to be gluten free. In 2008, they founded 'No Gluten, No Problem', a food blog which provides gluten-free recipes and tips to lead a healthy and active gluten-free lifestyle. The husband-and-wife team recently published the "No Gluten No Problem Pizza" cookbook, which contains more than 75 recipes "for every craving, from thin crust to deep dish, New York to Naples." 
"We baked more than 1,000 pizzas here in our home kitchen in 2018 developing recipes for this cookbook," Bronski tells Italy Magazine. "We even packed up our three children and took them on a tour-de-force of Italy's best gluten-free pizza last year, visiting 21 pizzerias from the foothills of the Italian Alps all the way down to the Amalfi Coast." 
At ITALY Magazine, we're all pizza fans, so we were intrigued to learn more about this gluten-free pizza adventure and endeavor. Read on to hear directly from Bronski about the recipes in the book and how you don't have to sacrifice great tasting pizza anymore.
Can you talk a little bit about your Italian heritage? 
My maternal grandfather's family immigrated to the United States through Ellis Island in the early 1900s from Aragona, Sicily. My grandfather and two siblings were born here, but older siblings were born in Sicily and came over to the U.S. as children with my great-grandparents. The family initially settled in Brooklyn and Queens (New York City), before moving east out onto Long Island, where I was born. The early 1900s were a time of great migration out of southern Italy—including Sicily and Calabria—and to this day you see a strong southern Italian influence in the Italian-American culture of the greater NYC area.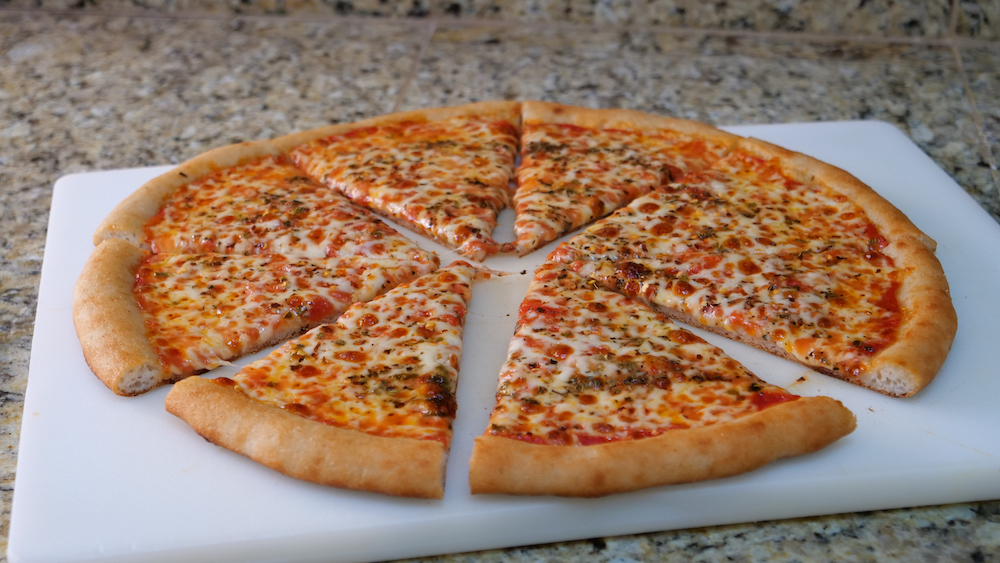 [New York style gluten-free pizza. Photo courtesy of Peter and Kelli Bronski.]
Your background is in writing. How did you get involved in the world of cooking/recipe books?
After several years of sickness, in early 2007 I was diagnosed with celiac disease. It is an autoimmune disease for which there is currently no cure, and the only successful treatment is strict adherence to a gluten-free diet. My wife, Kelli, and I converted our kitchen and our house to be 100% gluten-free. There were two reasons behind the switch: a) to ensure I'd always have a safe place to eat where nothing was off limits and b) we wanted to cook and enjoy the same food together at the table.
Also, having grown up in a NY Italian-American family with life centered around food tradition, I didn't want to lose the beloved foods of my childhood. (Meanwhile, Kelli has worked in restaurants and hotels and is a passionate baker.) The two of us went back into the kitchen with fresh eyes and new-to-us ingredients, such as a spectrum of gluten-free flours and starches. And so we started developing new recipes and converting old heritage family recipes to be gluten-free.
There can be a steep learning curve to adopting a gluten-free diet, especially when you're just starting out. We wanted to help others in the celiac and broader gluten-free community get over their own learning curves faster, easier, better. That prompted us to launch our website in 2008, and our first cookbook followed the year after.
[Drooling over this Neapolitan cacio e pepe gluten-free pizza. Photo courtesy of Peter and Kelli Bronski.]
Do you think there's a bit of a fad regarding gluten free diet and many people doing it just because it's trendy or because they think it will help them lose weight? Until a few years ago, no menus (at least in Italy) had gluten free options, now every place does. Is there a real increase in people who can't eat gluten?  Who really needs to eat gluten free foods?
From the beginning circa 2007/08, we have always focused on serving what I call the 'medically gluten-free community.' That includes anyone who needs to be on a gluten-free diet for medical reasons, which includes celiac disease, non-celiac gluten sensitivity, wheat allergy, and other conditions. In the U.S., about 1% of the population is affected by celiac disease. When you add in other conditions, it pushes the estimate of the broader gluten-free family up to about 15%, so it's a pretty sizable group. The number of people who can't eat gluten has increased in recent decades. Celiac disease is more prevalent than it used to be. But that doesn't nearly account for all the people who are going gluten-free these days.
There's undoubtedly a fad component to the gluten-free diet right now. Far more people are 'trying out' the diet because of perceived health benefits vs. those who doctors would recommend go gluten-free for clear medical reasons. This has been a double-edged sword. On one hand, this has created more market demand, so you're seeing more gluten-free packaged goods on supermarket shelves and gluten-free options on restaurant menus than ever before. On the other hand, I see some restaurants who no longer take it seriously; they're trying to capitalize on a market trend, but might not take necessary precautions to prevent cross-contamination with gluten (which in turn causes someone like me to get sick after eating there).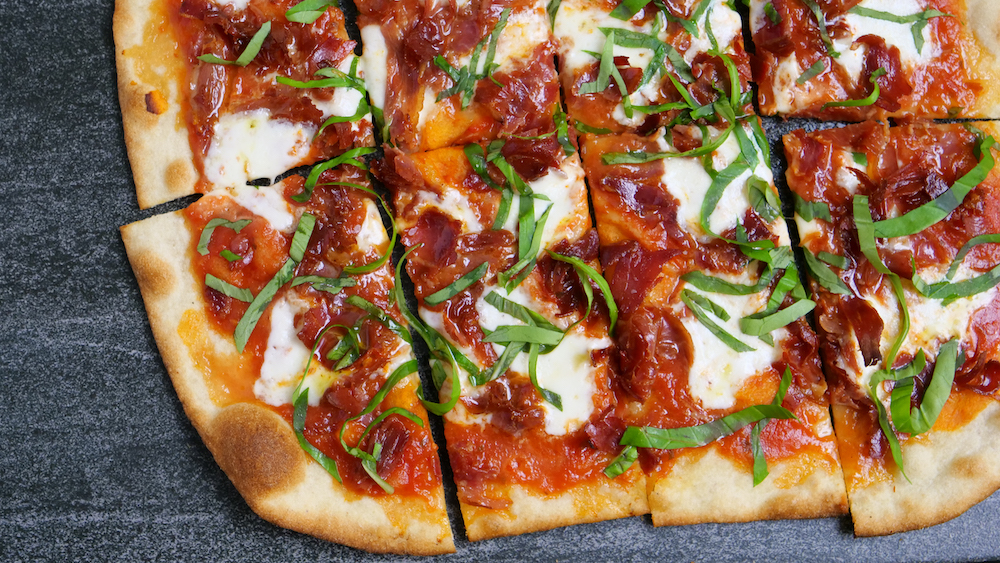 [Roman-style thin gluten-free pizza with prosciutto. Photo courtesy of Peter and Kelli Bronski.]
We find that on the whole, Italy is a much more enlightened country when it comes to celiac disease and the gluten-free diet. Among the American celiac community, it has a justifiable reputation as gluten-free traveler's paradise. They have a prominent national celiac association (the AIC), and it's generally easy to find gluten-free options safely and knowledgeably prepared at restaurants throughout the country. With pizza in particular, we visited many pizzerias who not only offered great gluten-free pizza, but did so in dedicated gluten-free ovens and dedicated gluten-free kitchens. That kind of care and, frankly, investment is harder to find in the U.S.
What is most challenging about gluten-free pizza, what makes it unappealing? How do your gluten-free pizzas differ from all others? 
There's a lot of mediocre gluten-free pizza to be found. The stereotype (often backed up by reality) is that it's bland, tastes like cardboard, is thin like a cracker, cracks. The recipes in our cookbook are part of a renaissance for gluten-free pizza to shatter the old stereotype and offer people genuinely delicious pizza and not just a gluten-free alternative. As we like to say: What we're doing isn't gluten-free pizza. This is pizza, gluten-free. It's an important distinction.
The biggest difference is, of course, the dough. That's where the gluten usually is, since you'd normally make pizza dough with wheat flour. Moreover, unlike other gluten-free cookbooks that offer a token pizza recipe, we comprehensively cover all the major styles: New York, Neapolitan, Roman, Detroit, Sicilian, etc. It adds up to about 15 different doughs and 75 total recipes for finished pizzas.
To both make a better gluten-free dough and cover the major styles, we set aside the common practice of using a single, all-purpose gluten-free flour blend for every recipe. Instead, we customized blends of gluten-free flours and starches per the pizza style, and paired that with new techniques adapted for the wetter, stickier gluten-free doughs we created. The end result? You can achieve a gluten-free Neapolitan pizza with a light, airy, puffy cornicione after just 5 minutes in a home oven. Or a hold-and-fold slice of New York-style pizza after 9 minutes in the oven.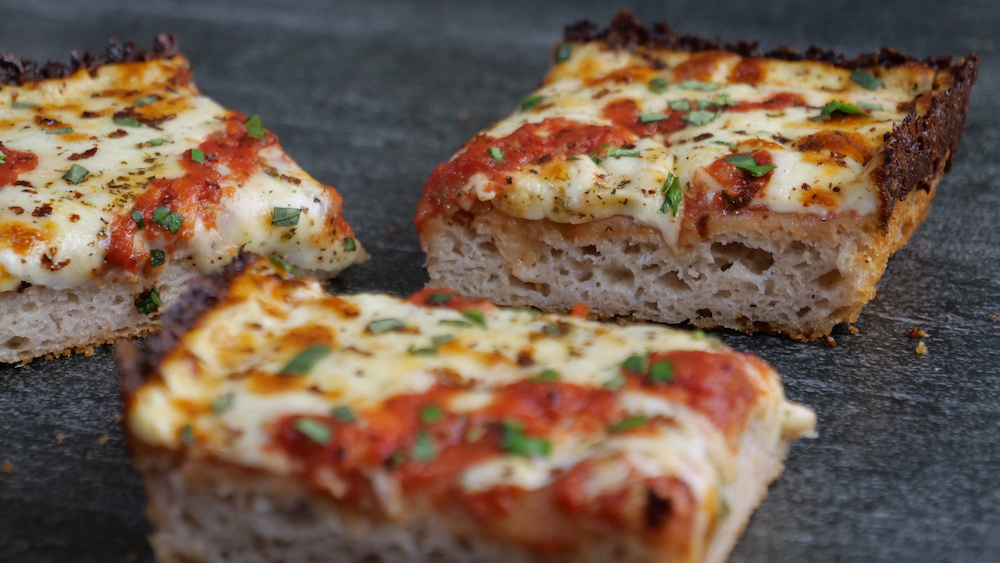 [Detroit-style gluten-free pizza. Photo courtesy of Peter and Kelli Bronski.]
What was/were the inspiration for the recipes in the book? 
For starters, we began with the pizza styles and toppings that we as a family like to make here at our home in Colorado. For us, every Sunday night is pizza night, so our tried-and-true favorites were first.
We also packed up our three kids and took them to Italy and New York during the summer of 2018, benchmarking and getting inspiration from the best gluten-free pizzas we found across dozens of pizzerias. Across a few weeks, we visited more than 20 pizzerias from northern Italy all the way south through the Amalfi Coast. So, for example, we have a Roman-style pizza topped with pancetta, potato, and rosemary inspired by a spot in Rome. We have a montanara fried pizza inspired by our travels in Naples. We have a dessert pizza inspired by world champion pizzaiolo Federico De Silvestri. And the list goes on.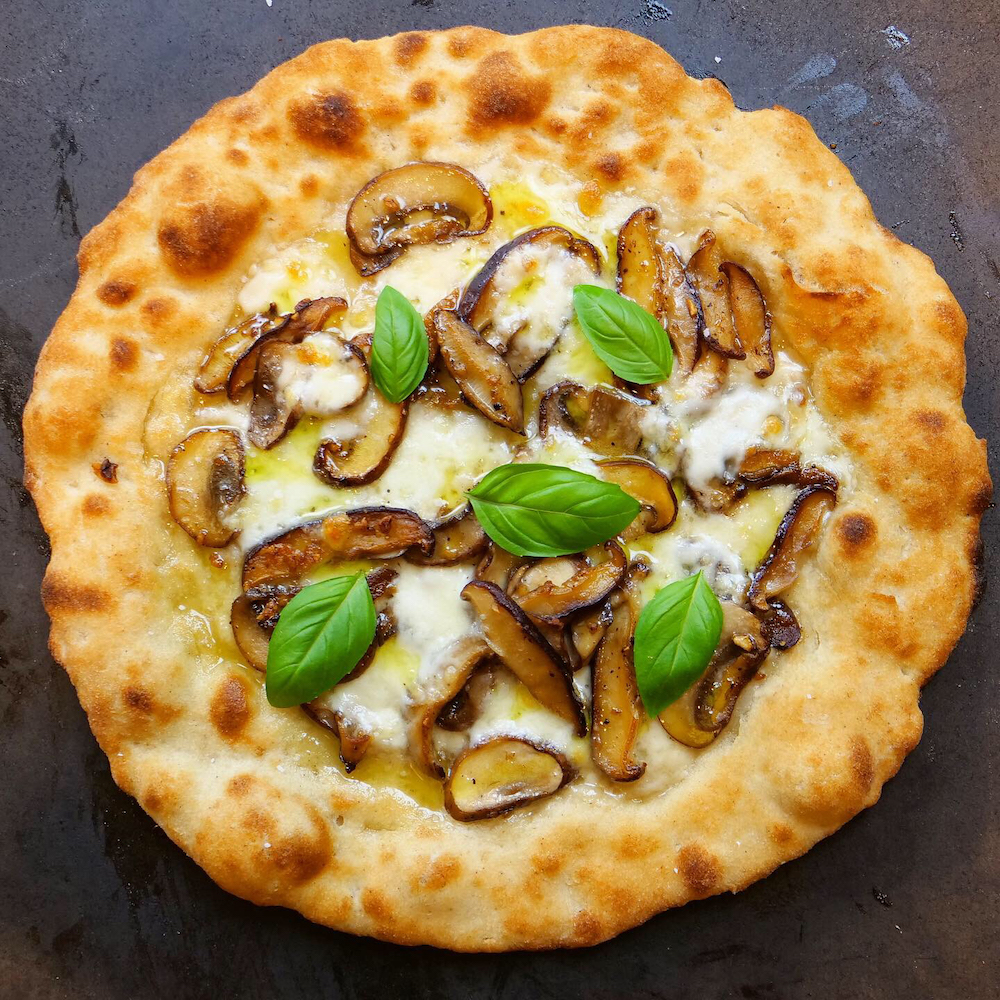 [Neapolitan-style wild mushroom gluten-free pizza. Photo courtesy of Peter and Kelli Bronski.]
Can you talk a little bit about recipe development? What went on in your kitchen as you and your wife were working to make this book?
We started working on No Gluten, No Problem Pizza with a decade of recipe-development and cookbook-writing experience under our belts. That gave us a running start, especially in terms of being familiar with the range of gluten-free flours and starches. But we also wanted to challenge our own assumptions about gluten-free baking, while also holding the pizza recipes to an unwaveringly high standard. That meant aiming for a bullseye with three criteria: every style of pizza had to achieve the look, the taste, and the texture of the 'real' thing. In practice, we cranked out easily more than 1,000 pizzas from our home kitchen in 2018 while developing and testing the recipes for the cookbook.
You said you and your family went on a "tour-de-force of Italy's best gluten-free pizza" last year - what did you learn that impressed you?
We put together a 'best of the best' pizza itinerary for our Italy trip. Several takeaways really struck us.
First, the overwhelming majority of the pizzerias we visited really cared about the quality of the gluten-free pizza they were serving. They weren't outsourcing a pre-made, frozen gluten-free crust. They weren't just offering an alternative gluten-free option to 'check the box.' Instead, they were making their dough in-house from scratch, preparing gluten-free pizzas with as much attention to detail as their conventional pizzas.
Second, we were very impressed with the care they took to minimize the potential for gluten cross-contamination. Many pizzerias had dedicated ovens that were only used to cook the gluten-free pizzas. Many also had dedicated gluten-free kitchens where the gluten-free pizza doughs were prepped and topped. In a few cases, the entire establishment was dedicated gluten-free.
Finally, the sheer graciousness and welcome we received at the pizzerias was above and beyond anything we would have expected. This even translated down to offering gluten-free pizzas for the same price as conventional pizzas on the menu (unlike the gluten-free surcharge common at many restaurants in the U.S.).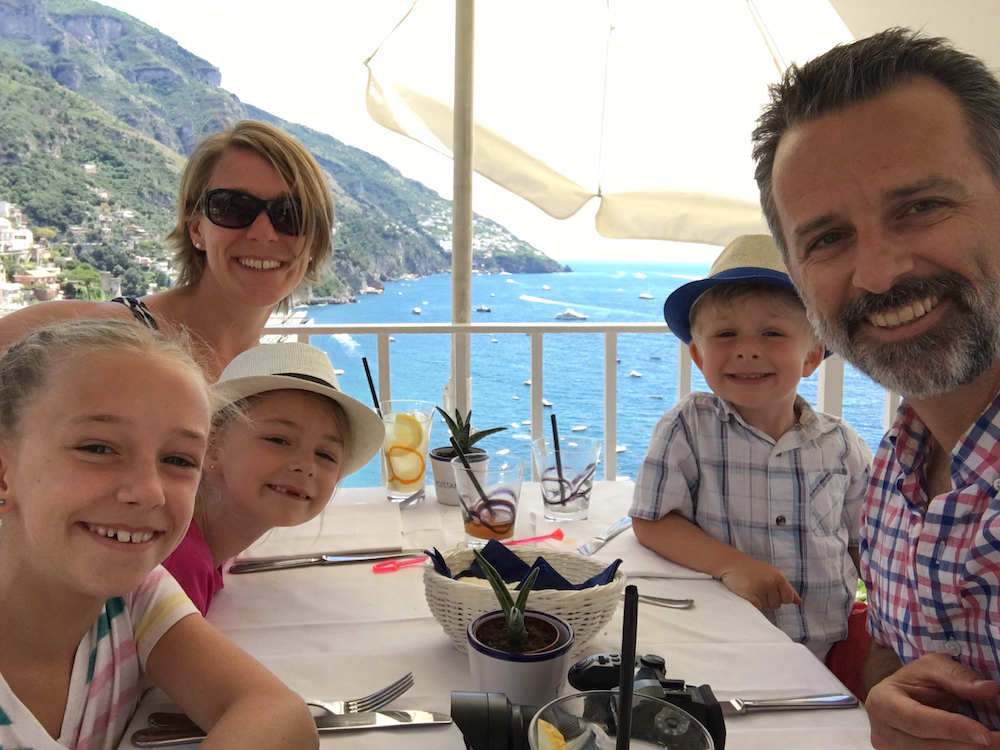 [The Bronski family trying pizza on the Amalfi Coast.]
If you had to pick one favorite pizza from the book, what would it be and why?
The book's recipes have become like children to us. We love them equally, if for different reasons! Kelli and I are both New York natives, so a good slice never disappoints. Lately, I've really been enjoying the Detroit-style pizza. But for our family as a whole in the long average, our single favorite pizza has to come back to the simple, classic margherita Neapolitan. It hits the spot, every single time. We can easily fire off 5 of those on any given Sunday night.
Anything you'd like to add?
These days we live in Colorado. We're so passionate about our weekly pizza night that we even make pizza in the backcountry wilderness of the Rocky Mountains, using the sauce, cheese, and flour we carry in our backpacks, cooking over a camp stove or an open fire. :)
That sounds amazing. Can we sign up for that?!  
Do you love pizza and need to stick to a gluten-free diet? Then check out Peter and Kelly Bronski's new "No Gluten No Problem Pizza".