The hilltop village of Caltagirone rises like a mirage above the parched landscape of central Sicily. Scrubby plants and olive trees eke out their existence in the sand-colored earth, along with the hardy residents of this town. When the heat reaches toward triple digits Fahrenheit on a typical summer afternoon, the dozens of Caltagirone's artisans retreat beneath the awnings of their shops, quietly painting colorful designs on ceramic pots, waiting for the town to come alive again as the sun goes down.
Take one look at the landscape around Caltagirone, and you'll understand why ceramics became the destiny of this hilltop town. For two millennia, the clay has meant a living for the people of Caltagirone. The word Caltagirone itself derives from the Arabic phrase Qal'at al Ghiran, or Rock of the Vases, which, according to legend, is the name its medieval inhabitants gave it.
Today, Caltagirone is the center of an uncomplicated, exuberant ceramics tradition. The designs are bold and brash, with a palette dominated by blues, greens and yellows and big, bold designs. This pottery exudes a sense of warmth and cheer that feel as if they could only exist on Sicily.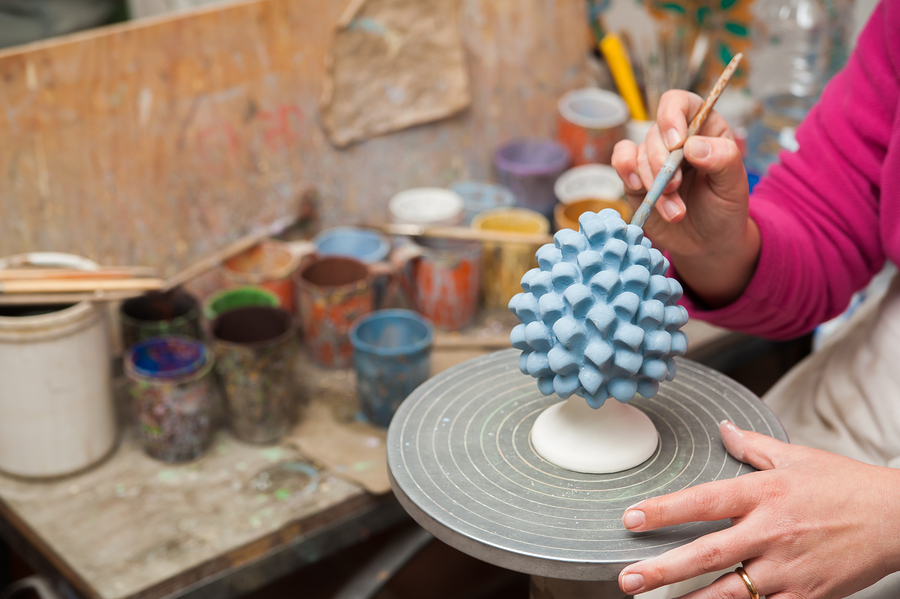 It's a Long Story… 
On Sicily, ceramic art is deeply rooted in time. The ancient Phoenicians and Greeks brought their artisanal traditions to the island, creating amphorae, kraters, kylixes, and other typical ancient wares using the ruddy earth and painted with styled black and red figures. The technique of laying bright, saturated colors against a white tin oxide background developed in the Middle Ages, and may have been introduced into Sicily during the Muslim conquest of the ninth through the eleventh centuries. These early artists left their masterpieces to bake in the hot Sicilian sun, and then left them behind, where they continue to inspire Sicily's artisans today. 
The term "maiolica" refers to earthenware painted with tin oxide glazing enamels before firing at a low temperature to reach a reflective, hard finish. On Sicily, you won't find the refined Renaissance elegance so embodied by pieces from the ceramics towns of central Italy, such as Deruta and Faenza. Instead, you'll find bold patterns, bright colors, and brash, splashy decorations that capture the vigorous Sicilian spirit. 
Caltagirone Style
Today, ceramics are made and sold all over Sicily. The towns of Santo Stefano di Camastra and Monreale, just outside Palermo, also boast important and distinct ceramics traditions of their own. But it's in Caltagirone, with its famous seventeenth-century ceramic staircase, the Scala di Santa Maria del Monte, that these colorfully decorated wares are most closely associated with the spirit of the place itself.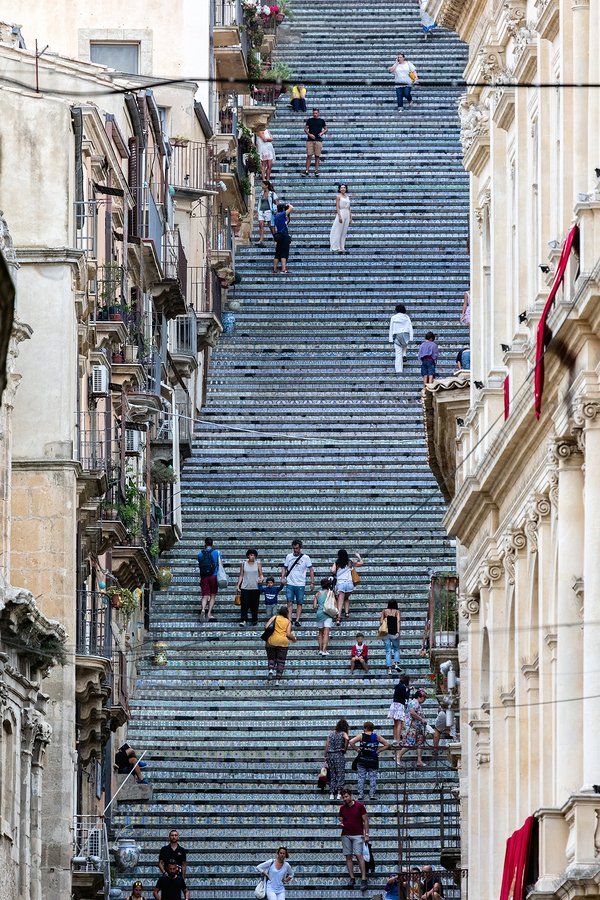 The distinctive Caltagirone style of ceramics is characterized by a white background and limited color palette, focused on bright blues, greens, and yellows. Today, most of the artisans crafting ceramics in Caltagirone reproduce pieces from the town's heyday, the seventeenth and eighteenth centuries. Caltagirone is also known for large jars in the shape of human heads, popular in the nineteenth century. As you stroll the town's narrow streets, crowned heads of queens and kings peer out at you from shop windows, along with traditional depictions of Moors, recalling Sicily's history. 
The most traditional forms include lidded pharmacy jars decorated with saints and nobles; ancient-looking amphorae; plates with vegetal motifs; tiles painted with fruit and animals; heads of queens and kings; and decorative forms like pinecones. More modern inventions include planters and lamps.
Shopping in Caltagirone
More than a hundred ceramic studios make their home in Caltagirone, and a ceramics shopping excursion can prove overwhelming. Here are a few tips to help you navigate the experience:
The best way to work the town is to park along the Via Roma as you enter the town coming from Catania. 

Make the ceramics museum your first stop. If you're serious about ceramics, plan to spend some time here training your eye with the traditional colors and forms of Caltagirone. This small but nicely displayed collection chronicles the history of ceramic production in the Caltagirone region from the seventeenth century BCE through the nineteenth century CE.

When you're ready to hit the town, browse your way from the museum to the impressive grand stairway in the center of town, paved with colorful tiles. Many ceramics studios are located along this main artery and on side streets branching from it.

Realize that you're only seeing a fraction of the town's production. There is tremendous variety in quality and quantity of production among the artisans of Caltagirone. Many of the ceramicists you see throwing pots and painting designs in the shops that cover the town are there just for show. Many of the artisans maintain private workshops full of assistants on the flank of the hill.

Keep your eye out for traditional forms. In the shops, you'll find large-scale vases that resemble the heads of kings, queens, and nobles. Historical reproductions of Caltagirone ceramics of the 1700s and 1800s include pharmacy jars, plates with religious and mythological scenes, and decorative tiles. Some artisans use criseled pigments and antiqued varnishes to give ceramic surfaces a rich, old-world appearance that bring a taste of old Europe to any decor.

Also look for more modern creations: table settings, napkin rings, lamps, smaller souvenirs turned out with the historical color palette of the 1600s, 1700s, and 1800s. I particularly like the tiles, executed with crisp, clean designs and bright colors.

Take advantage of the opportunity to see artisans in action. Several of the shops allow visitors to watch artisans covering wares in messy white slip, firing pieces in the kiln, and decorating them with pigments. 

Buy what you love. In general, Sicilian ceramics represent exceptional quality for a fair price, especially if you buy traditional wares directly from the maker. The chance to get to know the maker of the piece you take (or ship) back home? Priceless!
Festivals
Mid-May to early June
Don't miss the famous Infiorata, when the grand ceramic staircase of Caltagirone is carpeted in an overflowing display of thousands of flowers.
End of July and mid-August
On balmy summer evenings, stroll the streets and enjoy a magical display of flickering candles during the festival of the Illuminata.
Ceramics Museum
Museo Regionale della Ceramica
0933/58418
0933/58423
Artisans
Principe Amadeo, 9
0933/221967
Ceramiche Artistiche Besnik Harizi
Via Gueli, I
0933/24999
Ceramiche Artistiche di Martino
Via Roma, 88
0933/57729
Via SS. Salvatore, 17
0933/58472
Ignazio Scarlatella
Scala Santa Maria Santissima del Monte, 2
338/920 9668
Piazza Umberto I, 19
0933/55707
Laura Morelli is an art historian and historical novelist with a passion for Italy. You can find much more about what to bring home from Italy in her guidebook series, including Made in Florenceand Made in Italy. These books, along with Laura's Venice-inspired historical novels, including The Gondola Maker, are available in the Italy Magazine shop.