Italy is a magical country all on its own, but there are some special places that make it even more amazing. Enchanted gardens created by visionary artists, enigmatic hamlets resembling works of art, underground treasures and surprising natural phenomena are scattered along the boot: sometimes they are famous attractions, sometimes yet to be discovered by tourists. From the beautiful to the bizarre, add these to your 2016 travel list.
The Garden of Daniel Spoerri in Tuscany 
In the middle of the Southern Tuscan countryside, near Seggiano and the Monte Amiata - the highest mountain of the region - a wide estate (about 16 ha), made up by some rural buildings and several gardens enclosed by hedges and dry-stone walls, hosts a beguiling open-air exhibition. The eclectic Swiss artist Daniel Spoerri created it at the beginning of the Nineties, establishing a sculpture garden and an eponymous Foundation - Il Giardino di Daniel Spoerri-Hic Terminus Haeret - in the land once called "Il Paradiso", that is to say "Garden of Eden".
From that moment on, Spoerri invited fellow artists to create and install their works too, interlacing with nature and with human artefacts. At present, the Garden – open to public from Easter until October, admission 10 euros - displays over 100 installations by 50 different artists such as Nam June Paik, Jean Tinguely, Arman and Ursi Luginbühl. Visiting the Garden in different seasons, watching the artistic installations change according to the nature surrounding (or being part of) them, definitely is a touching experience. Amongst the most interesting pieces there is the one created by Jewish artist Dani Karavan in 2002, Adam and Eve: an olive tree, still alive despite having been cut into two halves by a lightning, whose inner surface has been painted in gold on both sides.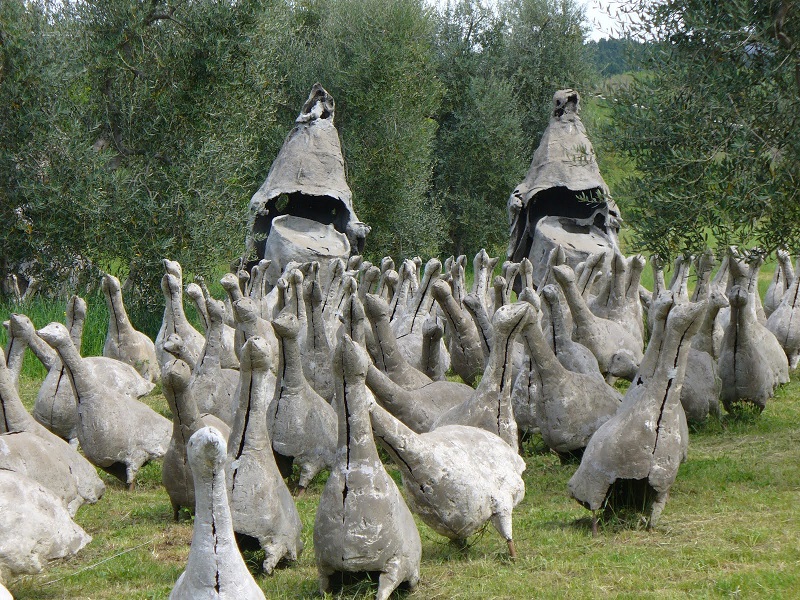 Photo credit: http://www.comune.modena.it/
The Garden also hosts a botanic path, and one olive tree of the local variety Olivastra Seggianese has been planted for each featured artist. From their olives comes the extra virgin olive oil used by chef Roberto Rossi at the Michelin star restaurant Il Silene in Pescina.
Niki de St. Phalle's Tarots Garden in Maremma
In South Tuscany again, in the area called Maremma Toscana near the lovely Capalbio hamlet and the sandy dunes of the beautiful Feniglia beach Natural Reserve, as well as from the relaxing Saturnia thermal waters and Spa – also the French artist Niki de St. Phalle created her own esoteric and visionary sculpture garden based on the Tarot cards, now generally open for visits from April 1 to October 15. She started the project in the late Seventies when she used to live in Tuscany with her husband, the artist Jean Tinguely.
Helped by him and other friends and fellow artists, and inspired by Gaudi's creations in Spain, by Simon Rodia's Watts Towers in the US and by the nearby Bomarzo garden, she projected and created – paying herself for all the expenses –  twenty-two monumental figures representing the Mysteries of the tarots, such as the Sphinx, The High Priestress and the Magician. She created a colourful and dreamlike scenario made of bizarre figures decorated by mirrors and mosaics, where visitors can walk through, entering the bigger figures (one of them is a proper, fully equipped house where the artist lived) or sitting on others. The Garden's building process only ended when Niki passed away, in 2002.
Average admission ticket is 12 euro but from November to December and January to March, the first Saturday in the month from 9am to 1pm, entry is free following Niki de Saint Phalle's wish, to share her own astonishment for Art and Nature.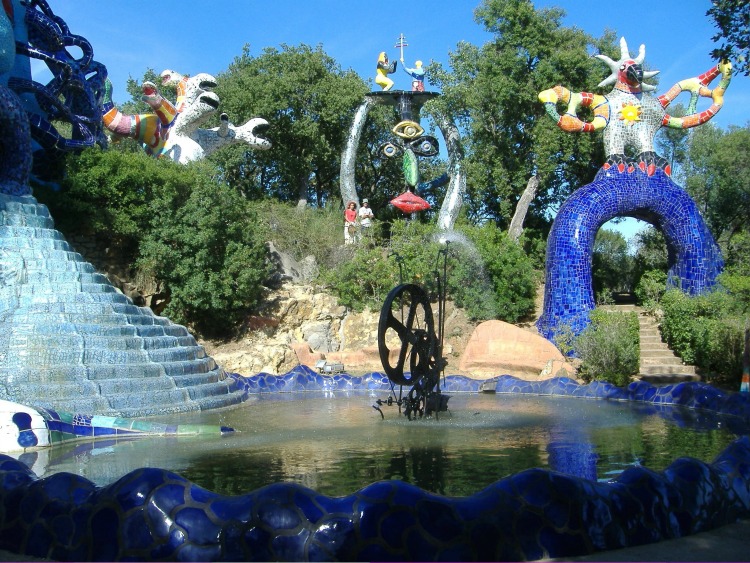 La Scarzuola in Umbria
Mystic events, medieval history, "ideal city" utopia and the visionary project of Milan-born architect Tommaso Buzzi overlap in La Scarzuola theatre-town built in the XX century near Montegabbione, in the Umbrian province of Terni where the stunning Marmore Waterfall is located. Here stands an ancient Franciscan convent that is said to have been founded by San Francis of Assisi himself in 1218. According to legend, the saint planted a laurel and rose bush here; a water spring gushed and he used a marsh plant, the scarza, to build a hut as a shelter, which then became a proper convent. In 1956 Tomaso Buzzi (1900-1981) bought the complex to restore it following his plan of an "ideal city" inspired by Francesco Colonna's allegorical novel Hypnerotomachia Poliphili (1499).
At his death, Marco Solari, the current owner, completed his project. Intended as a theatrical machine created  by Buzzi beside the original convent, establishing an esoteric relationship between the convent (the holy city) and the pagan city, La Scarzuola culminates in the Acropolis. There is an incredible array of architectonic elements creating a bewitching, and sometimes disturbing, frame of impossible perspectives, esoteric symbols, deliberate disproportions and geometrical effects recalling Escher's works.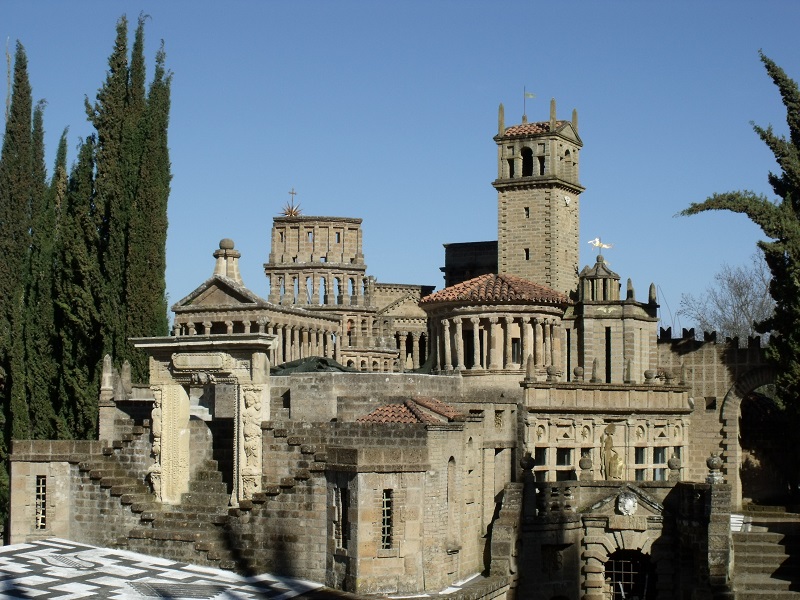 Photo credit: Wikimedia Commons
The overall result is a surreal and evocative place which can be visited with guided tours on request (phone +39.0763.837463 info@lascarzuola.com, ticket 10 euro, min. 10 people). La Scarzuola is like a medicine – Buzzi warned – it can have side effects, even serious ones. 
Bomarzo Monsters Garden in Lazio
XVI century's architect Pirro Ligorio is – more or less – known for completing Saint Peter's church in Rome after Michelangelo's death, and for the beautiful Villa d'Este in Tivoli. But he also created, upon Prince Pier Francesco Orsini's request, the Sacred Grove in Bomarzo, near Viterbo. Also called the Park of the Monsters, Bomarzo park – which is also said to have been designed by Michelangelo – was intended by Orsini as an oniric fairyland in memory of his young wife Giulia Farnese, prematurely dead.
Heartbroken, the prince wanted to create an astonishing place full of arcane symbolism where classical and grotesque statues made by Simone Moschino, and surreal figures and installations – such as the Leaning House ot the Ogre House, whose door is a wide open mouth, create a fascinating and slightly unsetting view (and an ideal set for Fantasy movies). Apparently the result of a casual arrangement, contrasting with the traditional symmetry of the Italian Renaissance gardens. Was the park really created 'sol per sfogare il Core' ("just to let the heart pour out its feelings") after Giulia's death, as an inscription says, or there was a different, obscure and esoteric purpose under its "unplanned" pattern of grotesque and sublime?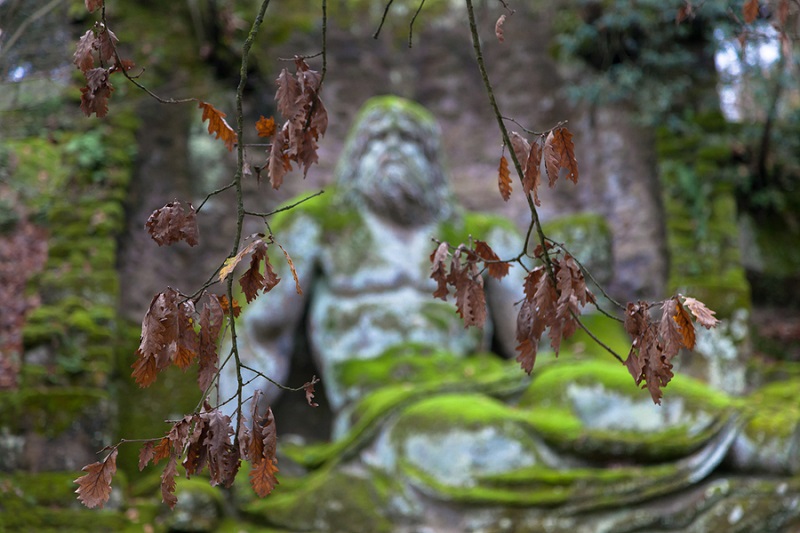 Find out by yourself visiting the park, privately owned but open for visits every day of the year without reservation (ticket 10 euro).
La Solfatara in Pozzuoli
Naples probably is the most magical and theatrical city of the entire country, full of treasures both among its streets and surroundings and underground. One of her main, iconic figure is the Vesuvius, the volcano whose shape frames the Naples Gulf. Right at the other side of the city, though, facing the Pozzuoli gulf, there is another volcanic area called Campi Flegrei.
Here stands the Solfatara (sulfur earth), a shallow volcanic crater still emitting jets of steam with sulfurous fumes, which in Roman times was believed to be the underworld entrance, home to the god of fire Volcanus.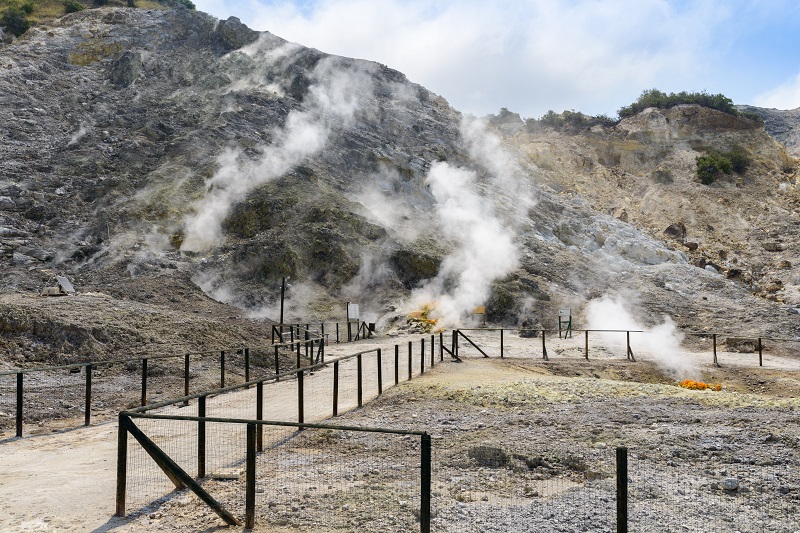 Photo credit: Wikimedia Commons
Having been used for medical (and other) purposes since Roman times, its vapours – which can be easily detected by far, due to the typical sulfur smell – are a precious "relief valve" for the underlying magma. Today the Solfatara – set inside a Natural Park – hosts a Camping, a bookshop and a children's area, and can be visited daily (ticket 7 euro) or on the occasion of the evocative guided tours at night.
The Bourbon Tunnel in  Naples
The whole city of Naples lays on multiple levels and historical stratifications, hiding precious treasures such as vessels and aqueducts, and evocative underground paths. Probably the most astonishing one is represented by the Bourbon Tunnel: around 800 meters of winding large tunnels, huge caves and narrow culverts which were originally excavated – on the preexisting tracks of the city's water system -  in 1853 by order of Ferdinand II of Bourbon, to connect the Royal Palace to the barracks in Via della Pace (now Via Morelli, where the main entrance is).
The excavation, though, was soon abandoned due to the different composition of the soil which made impossible to create wide galleries. Throughout the centuries, instead, the caves continued to be used as water tanks for the city's supply, landfills, warehouses, judicial storage, air-raid shelters and smugglers' hideaways.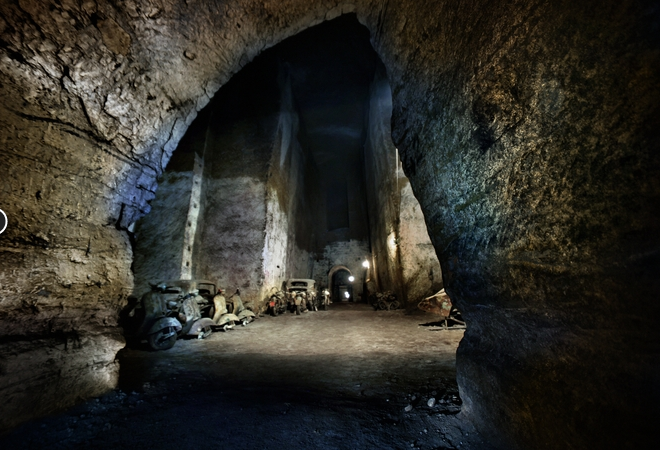 Photo by Yvonne de Rosa for http://www.galleriaborbonica.com/
When, in 2007, geologist Gianluca Minin and his colleagues, while completing an inspection in the town centre, found the evidences of the existing tunnel and decided to excavate the site by themselves, they found an incredible layering of remains dating back to different ages, from the 17th century to the post-war period. They founded a non –profit association to preserve the place and make it accessible. Thanks to a team of volunteers, excavations are still ongoing unearthing more sections of the ancient path and reconstructing its complex history.
Today there are 4 possible guided tours, including a "speleo" tour, and also a tour for disabled people. The site also hosts special events and private parties. Standard tour are on Friday, Saturday, Sunday and on holiday (tour hours: 10:00 - 12:00 - 15:30 – 17:30), tickets 10 euro.