On the 500th anniversary of Leonardo da Vinci's death (1519-2019), why not pay homage to the Renaissance genius by going on a trip to the area of Tuscany where he grew up close to nature, observing birds, rocks, flowers, rivers, thus acquiring that curiosity for the natural world that turned him into the artist and scientist well ahead of his times. 
Leonardo was born in Vinci, a small town 45 km from Florence, on the slopes of the Montalbano mountain chain, an area covered with chestnut forests interspersed with terraced vineyards and olive groves, old country houses and parish churches, pilgrim's trails and rustic trattorias.
The best way to immerse yourself in the sights and flavors of this idyllic corner of Tuscany is on a bike, which is what I recently did on a three-day cycling tour. Consider renting an e-bike because the area is hilly – lots of ups and downs!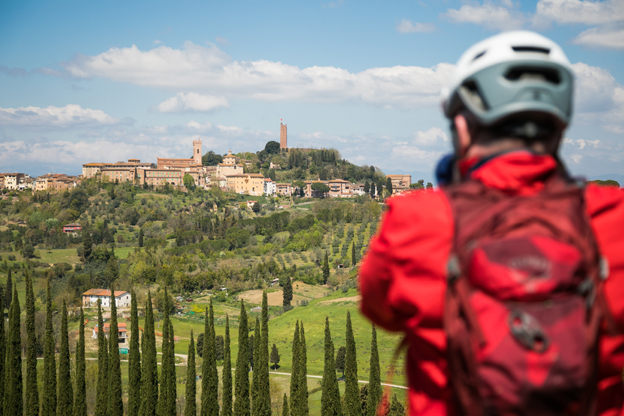 [Looking toward San Miniano while riding the Via Francigena in Tuscany.]
My travel companions and I were based at Casa Carbonaia (http://www.casacarbonaia.com/en/), a restored farmhouse with seven apartments, positioned on a hill 3 km from Vinci, with beautiful views of the countryside, an outdoor pool and barbecue area.
We were led in our tours by local MBT guide Marco Tani, who lives in Vinci and has recently quit his office job to dedicate himself fully to taking visitors on bike rides across the Montalbano and beyond (www.leonardodavincibiketour.com). He can tailor the rides according to clients' interests and fitness level. On the first day, we embarked on a 50-km ride from Gambassi Terme back to Vinci, along the Via Francigena, one of the main pilgrimage routes to Rome in the Middle Ages.
Our starting point was Ostello Sigerico, a hostel for modern-day pilgrims, located in the historic spaces of a former convent annexed to the Romanesque parish church of Santa Maria Assunta a Chianni, which dates from at least the 10th century. The hostel is named in honor of the bishop of Canterbury, Sigeric, the first to write down the itinerary for what would become the popular Via Francigena pilgrimage route.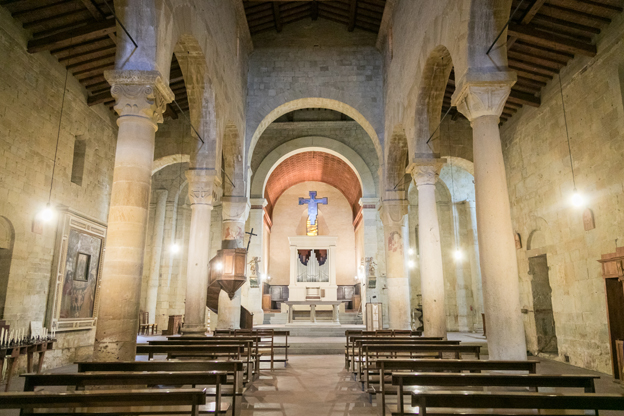 [The Romanesque pieve of Santa Maria Assunta a Chianni.]
After a guided visit of the pieve by the friendly hostel keeper, off we went for the ride along rugged trails with views of the Tuscan countryside, enhanced by spring's blooming flowers, with the quintessential-Tuscan cypress trees here and there,  passing the occasional farm where locals greeted us curious to know where we were directed.
Lunch was at the landmark macelleria/norcineria Sergio Falaschi (http://www.sergiofalaschi.com/web/), a family-run butcher's shop in San Miniato open since 1925. The descendants of the founder work and age the meats in a workshop nearby immersed in the countryside to then offer their patrons such Tuscan staples as Vitello Chianina IGP, Cinta Senese DOP, Finocchiona toscana IGP. We were treated to a wonderful lunch with a view, complete with many of the local delicacies, including crostini, pappa al pomodoro, cheeses and local Chianti wine of the Montalbano hills, on their outdoor terrace, before hopping back on our bikes for the return ride to Vinci.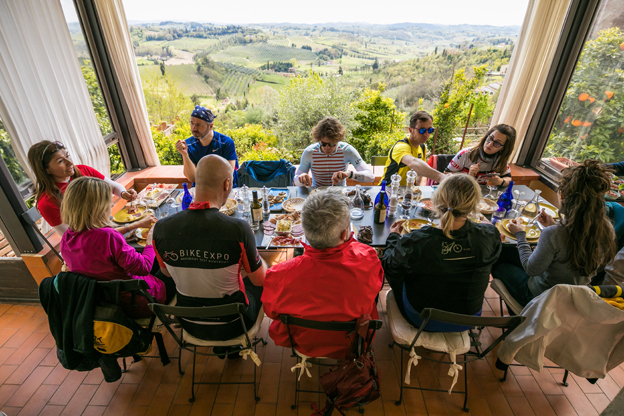 [Enjoying lunch with a Tuscan view at Macelleria Falaschi.]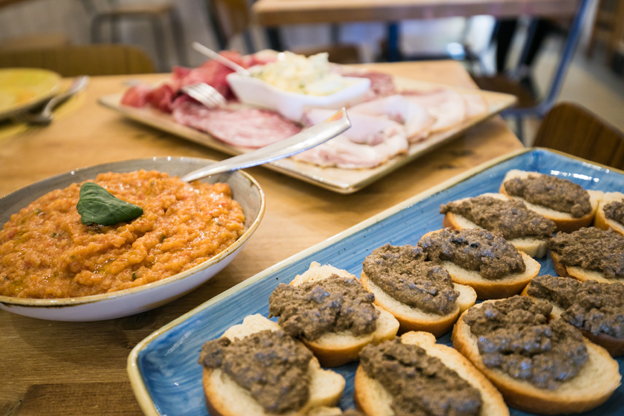 [Crostini, pappa al pomodoro, cured meats from Macelleria Falaschi in San Miniato.]
My favorite bike tour was the one right around Vinci, which passed through quiet villages in the hills, a favorite route of cyclists who use it for their training (even two-time Giro d'Italia champion Vincenzo Nibali who lives nearby).
Before riding right out of Vinci, I recommend a stop in Anchiano, to see the house where Leonardo was born, then in Vinci, to visit to some of the sites connected to Leonardo, starting with the church of Santa Croce, where he was baptized. Then head inside the Museo Leonardiano (http://www.museoleonardiano.it/), which houses one of the most comprehensive collections of machines that refer to the part of Leonardo's activity as a scientist and engineer, complete with drawings and sketches. In front of the museum is the tridimensional wooden sculpture L'Uomo di Vinci, which reproduces the famous Vitruvian Man. Climb up the tower of the Castle for an encompassing view of Montalbano's forests, cultivated fields, vineyards and olive groves.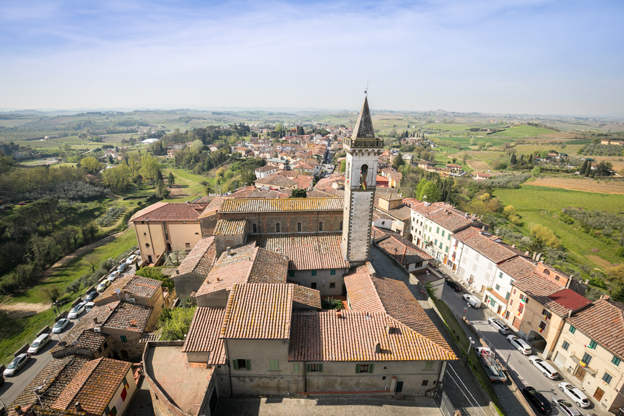 [View of Vinci and surrounding landscape from the tower of Castle Conti Guidi, home to the Museo Leonardiano.]
Part of the pleasure of the 'slow travel' way comes from unplanned stops along the way - in the case of Tuscany, this may happen at one of the numerous farms and trattorias, the best places to sample Tuscan cuisine. I was lucky to be welcomed in the restored farmhouse of Marco Bettazzi and Valentina De Pamphilis who hosted our group of riders for a homemade, al fresco lunch under the pergola in their yard, surrounded by the olive grove that they use for their small production of extra virgin olive oil, Il Cassero (https://www.il-cassero.it/), strictly made following a non-intensive, organic method, on terraced slopes at 200 meters of altitude. The best way to taste it? Generously pour it onto slices of Tuscan bread (pane toscano) to make a Tuscan favorite: bruschetta.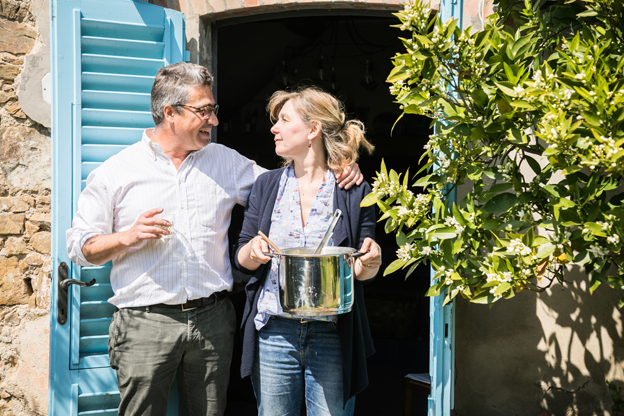 [Marco Bettazzi and Valentina De Pamphilis make all-natural, high-quality extra virgin olive oil in the heart of Montalbano. Also, excellent homemade pasta!] 
One of the highlights of this tour was the wine tasting followed by dinner at the magnificent Tenuta di Artimino (https://www.artimino.com/en/), an estate comprising Villa La Ferdinanda, a former Medici villa dating from 1596, now part of Unesco's 'Medici Villas in Tuscany' site; a 4-star 37-room hotel; 60 rental apartments in the medieval village of Artimino; and the top-notch Biagio Pignatta restaurant, named after the butler of Ferdinando, helmed by chef Michela Bottasso, who uses local, in season ingredients (vegetables come from the estate's own orto) in season products to whip up such specialties as fried sage, pappa al pomodoro tortelli on a basil and pesto sauce and ricotta cheese, poached egg with asparagus and spring truffle, and the nicest buttery homemade almond cantucci with Carmignano Vin Santo. The estate also produces its own wines, including Carmignano and Chianti, which you can sample on a guided tasting in the villa's cellar.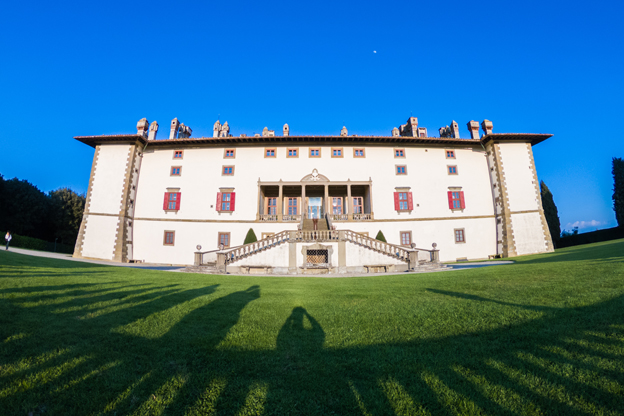 [Villa La Ferdinanda, a former Medici villa from 1596, now part of Tenuta di Artimino estate.]
From Vinci, it's a 30-km ride to Florence along the Ciclovia dell'Arno (Arno Cycling Route). The first hilly part of the itinerary flattens out along the Arno river to finally enter the historic center of Florence, where Leonardo trained as a young artist at the workshop of Verrocchio, and where today you can admire some his masterpieces.
But before you do, reward yourself with a meal and the fantastic views of Florence's rooftops at B Roof (https://www.hotelbaglioni.it/en/bars-restaurants/b-roof), the restaurant of the 4-star Hotel Baglioni, right near the train station. The ideal end to a great bike & food tour, as it ended up to be. 
This tour was organized by Toscana Promozione Turistica, of which the writer was a guest.
All photo credits to Ciclica/Matteo Dunchi.