Our blogger of the week is the fashionable Fabio Attanasio from The Bespoke Dudes, which comes at the perfect time as the huge fashion fair Pitti Uomo in Florence celebrates its 87th edition. He is the young Italian voice of the art of bespoke tailoring and Made in Italy craftsmanship, spending countless hours in the workshops of tailors and sharing their stories. Fabio was also shortlisted for "Best Fashion Blog" in our 2013 Blogger Awards and shares with us his passion for tailoring. 
Fabio, where are you from originally? 
Napoli.
How would you say your hometown has influenced your ideas on fashion?
A lot. Napoli is the capital of bespoke tailoring and has influenced me since I was a teenager.
We want to know more about The Bespoke Dudes. When did you start and why?
I was simply passionate about menswear and men's elegance. I started visiting tailoring houses in 2012. In the beginning the owners used to frown at me at first, since they did not understand what I actually wanted. I Interviewed tailors in Milan, Florence, Rome, Napoli, Bari and Palermo. I just wanted to learn more of their enchanting craft and let my readers know about it too. After a while I noticed that I was the only one in Italy to speak on the web about bespoke tailoring and my young age has helped me to demonstrate that this industry is not only for an older generation, but can also be appealing for the youngsters. Now, tailors and Italian brands ask me to be reviewed, I contribute to several magazines (GQ Italy, Fashion Illustrated, Vedomosti and RBK Daily) and also work as a menswear consultant.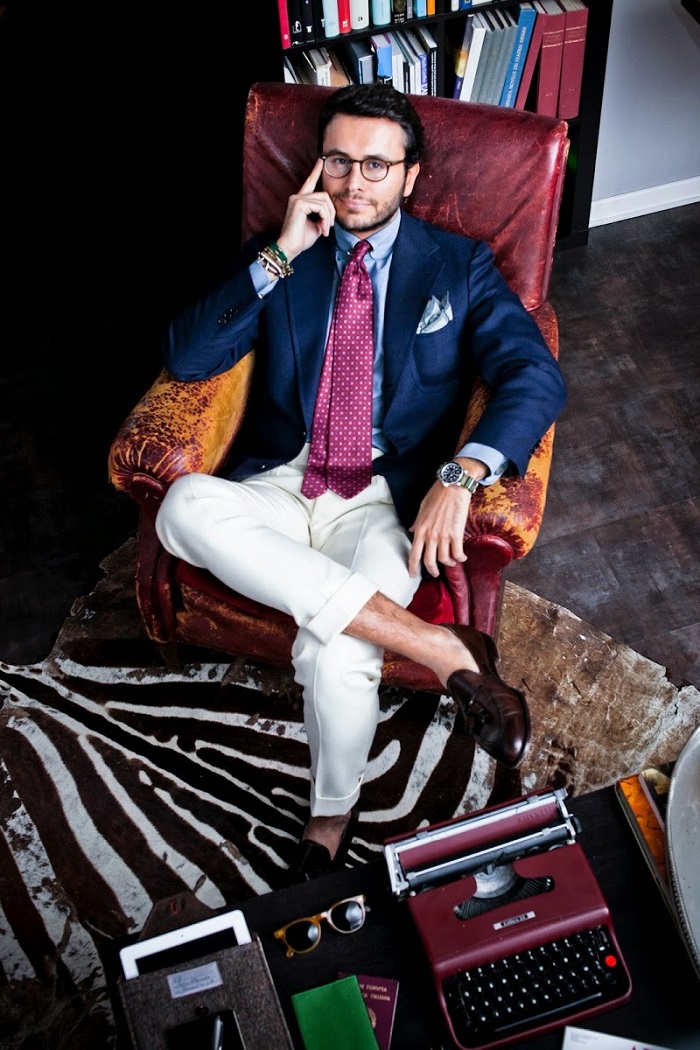 Ph: Edoardo Moruzzi
We think it's great that your blog posts are both in Italian and English, did you do that intentionally?  
Yes, I did. If I had written only in Italian, I would have been self-referential and I would have not reached the same amount of readers. My goal is to spread the word about the beauty of Made in Italy products and craftsmanship in menswear.
You were nominated in our 2013 Blog Awards for 'Best Fashion and Design Blog', congrats! Of course this means we have to ask you what think about Italy's fashion trends today. Favorites, stand out stars to watch?
Thank you very much for the nomination, I really appreciate it. I think that, slowly, Italian men are starting to appreciate quality over quantity, preferring to spend less but better and looking for the best quality rather than the best brand.
Who follows your blog, tell us about your readers?
My readers are very well-educated and know what quality is. Sometimes I receive questions via email which I really can't answer because they are too technical. This of course is a great satisfaction and achievement for me, like my conference at Bocconi University, my former college, where I was invited to speak of my blog. I even extended the invitation to some artisans so that they could tell their story, too.
Many people want to know how to dress when visiting Italy, what fashion advice can you offer our ITALY readers?
Elegance means forgetting what you're wearing. Always keep a balance between colours, fabrics and textures. Never show off. Feel comfortable with what you are wearing. And visit the bespoke dudes ;)
All your blog posts are interesting, but can you recommend one or two especially for Italy Magazine readers?
My interview with Nino Cerruti where he narrates his experience with the cinema industry. Really enchanting.
Thank you for talking to Italy Magazine! Happy blogging.
Thank you.
Keep in touch with Fabio of The Bespoke Dudes via his blog, Twitter and Facebook.