As classics of Italian cinema, Visconti's 'The Leopard' and Fellini's 'La Dolce Vita' are perennially quoted… an equally evergreen movie, which is perhaps not fully cherished, is 'Cinema Paradiso', a magical film about the magic of film, first love and friendship, celebrating its 25th anniversary this year. 
From chequered beginnings on Italian home territory, it fast became a critical and box-office success, a classic of its kind. Acquired for the US by Miramax, it was a hit across the globe for other distributors. Worldwide awards ensued: Best Foreign Language Film Oscar; the Grand Prize of the Jury at the Cannes Film Festival, and five BAFTA Awards including Best Actor, Original Screenplay and Score. An achievement made all the more remarkable for its launch in 1988 from 'left-field' into a movie world still much ruled by Hollywood; commercialism over artistic merit. Yet charming 'Euro-curio' 'Cinema Paradiso' proved a breath of fresh air  - and that sentiment can sell as well as special effects.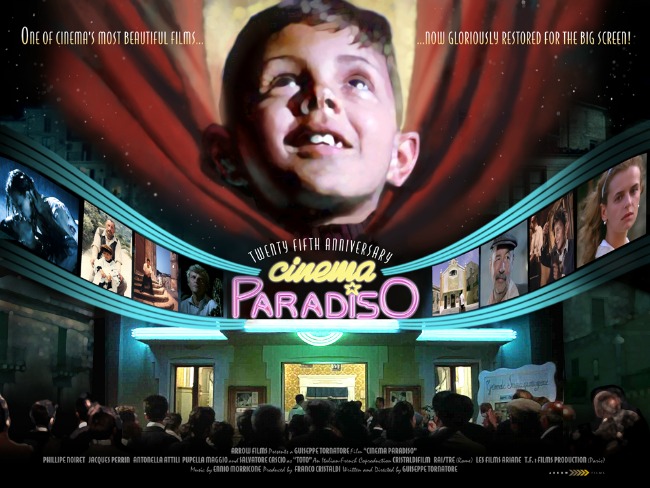 Termed 'nostalgic post-modernism' by critics, 'Cinema Paradiso' is considered by many to be responsible for the renaissance of the Italian film industry, paving the way for other popular productions including 1991's 'Mediterraneo', and '97's 'Life is Beautiful'. In British book 'Cinema: The Whole Story', author Phillip Kemp explains that directors post 'Cinema Paradiso' drew on similar Neo-Realism narratives to echo its success: hence 'Il Postino' (1994) and 'La Vita e Bella' (1997). Paradiso's winning formula could be seen to follow the sentimental reality of Vittorio de Sica's 1948 masterpiece, 'Bicycle Thieves'; itself award-laden and in the Vatican's Best Film List 'for portraying humanistic values'. Now, via British film distributors Arrow Films, to celebrate Cinema Paradiso's 25th anniversary, a special commemorative edition is available.  From mid-December, the original version of the film will also enjoy nationwide cinematic release.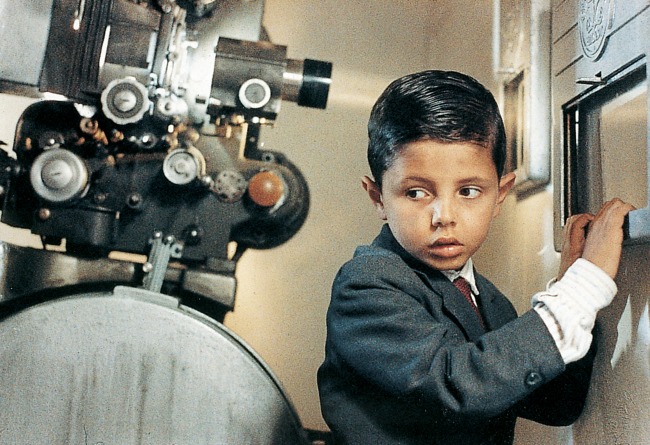 Arrow Films' marketing director, Jon Sadler, describes Cinema Paradiso's UK re-release as his 'dream project' as it's his 'favourite film of all time. One that still resonates and needs no translation in its timeless themes,' he says, adding, 'Despite being available on DVD and video, it is really a film to be savoured on a movie theatre's big screen. The 25th anniversary of its first release in Italy provided us with the perfect timing for a restoration and a full-scale national re-release.'  Surprisingly, the cult film has not yet been picked up for re-release in its home country. 
Made when he was aged just 32, 'Cinema Paradiso' was only writer/director Giuseppe Tonatore's second film. His film debut, 'Il Camorrista' in 1985 earned him the 'Silver Ribbon' for best new director, while previously he had worked for RAI and initially, as a freelance photographer. Set in Sicily and largely semi-autobiographical, the story's themes - told in picturesque flashback - span rites of passage to religion. Bagheria-born director Tornatore was clearly inspired by his own life, and an early love of the moving image.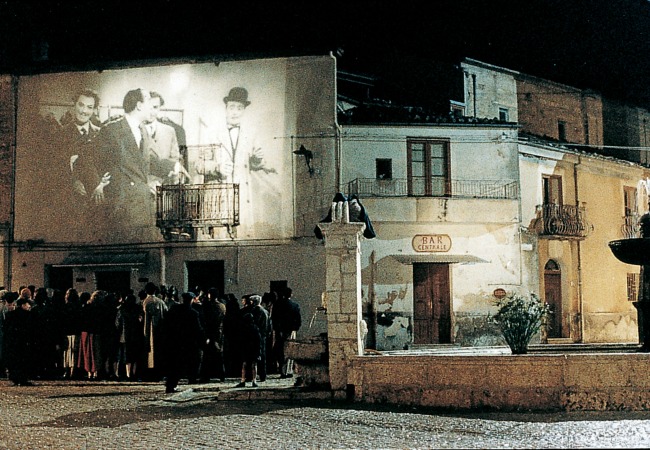 In interview with 'Screen International' during his award-winning 1989 Cannes Film Festival, Tornatore said, 'With 'Cinema Paradiso' I wanted to make a fantasy about the times when movie-making was an excitement. I had to create everything as a period film. I didn't want to be realistic.' 
'Cinema Paradiso' centres on protagonist Salvatore, nicknamed Totò; a young boy who grew up fatherless in a small Sicilian village in the aftermath of World War II. Now a successful film director, thirty years on, he returns to his hometown, Giancaldo. The reason is the funeral of Alfredo, the fatherly friend and mentor of his childhood. As the projectionist at the local cinema, he is seen to inspire Salvatore. Their friendship is set against the flickering backdrop of 'unfulfilled' films – thanks to the local priest 'censoring' any 'kiss and caress' scenes, literally cut out of the film negatives and stockpiled by Alfredo.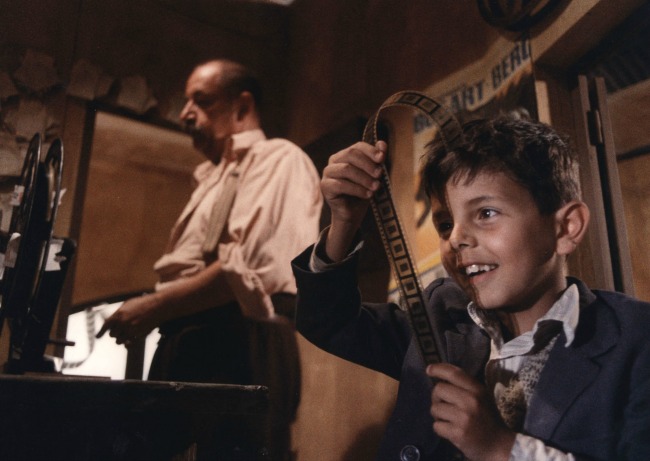 As an adolescent, Salvatore looks to Alfredo for advice, which Alfredo offers by quoting classic films. As Salvatore's first love affair doesn't work out due to the disapproval of the girl's father and her subsequent move away, Alfredo counsels Salvatore that his small town life will stifle his dreams, and that he must travel further afield to pursue them, never to return. Salvatore duly leaves and indeed becomes a famous film director in Rome. On his only return in the wake of Alfredo's passing, reconnecting with the community he left behind awakes mixed memories. Though his beloved Cinema Paradiso is to be demolished, Alfredo's widow gifts Salvatore with an old film reel.  The finale features Alfredo's poignant montage of all the kissing scenes the local priest cut from the films the pair screened over the years. As Salvatore comes full circle with his past, Alfredo's words hold deep resonance: what he thinks of as art imitating life is art as a compensation for life. As Alfredo says to the young Totò: 'Life is not film, it's harder.'
Though Tornatore's edited 'Cannes version' was well-received and honoured, some critics labelled its sentiment 'syrupy.' The irony was that the director's unseen cut - known as Nuovo or New, 'Cinema Paradiso' – darker, more complex, and unedited at 50 minutes longer - is arguably the superior version. Extra scenes show Salvatore reuniting with his now-married first love, and discovering that in fact it was his friend Alfredo who thwarted their early path together, in the belief that romantic fulfillment would lessen his grand movie-making destiny. As the kiss montage plays out, Alfredo is thus remembered as a source of both love and loss. More real and bitter-sweet in lasting impression, its 1988 release in Italy left audience reaction crucially muted, leading producer Franco Cristaldi to demand that cuts be made. To Tornatore's credit, and much to his frustration, he obliged, and the rest is sublime cinematic history. 
The net result was a truly Italian - if not wholly Sicilian - film, with wonderful largely Italian cast. Top performance honours to Salvatore Cascio as Salvatore the child, and French actor Phillipe Noiret (also seen in 'Il Postino') as Alfredo. A stirring soundtrack by father and son maestros Ennio and Andrea Morricone further enhanced the film's lyrical feel. Unusually, Tornatore asked for the music to be composed before the film was shot, in order for the cast and crew to absorb ahead. Morricone senior,  quoted in sleeve notes to the UK film release said: 'It reflects how I was inspired by the story of a boy, in love with a beautiful woman and coming of age in a small town in Sicily. After reading the script, I attempted to write music that would aid the film in its slow transformation from comedic and ironic to heavily dramatic.' Tornatore considered the result 'an inspiration to everyone.'
As for fast-changing cinema, he explained to the UK's 'Guardian' in 1993: 'The young kid playing Totò had never been to see a movie in a cinema. So one Sunday I arranged for a screening of 'ET' in our Paradiso for him and the other kids working on the film. None of them showed up. They'd all seen it on pirated cassettes. That's today's cinema. But even a 30-year-old like me can be nostalgic.'
Tornatore has, of course, made several notable films since – 'Everybody's Fine', 1990; 'The Star Maker', 1995; 'Legend of 1900', 1998; 'Baaria', 2009; 'Malena', 2000; 'The Unknown Woman', 2006, (winning the Silver George for best director at the 29th Moscow International Film Festival) to 2012's 'The Best Offer' and his latest, 'Leningrad,' still to be announced. Yet 'Paradiso' is that rare movie gem; it taps into the real emotion of cinema. In the best Italian cultural tradition, it provides an emotionally charged experience still able to connect with any audience, any time, anywhere. No translation needed.
Cinema Paradiso is now available on Arrow Films' special edition DVD or Blue-ray, featuring two newly restored versions – the 124 minute Cannes Festival theatrical version and the 170 minute Director's Cut. Also featured – Giuseppe Tornatore's 'A Dream of Sicily' documentary - and the famous kissing sequence.
See also www.miramax.com/movie/cinema-paradiso