My first visit to Italy took place on Saturday 3rd September 1988, and since then I visited countless times, before coming to live here. I did my utmost to experience as much of the 'real' Italy as possible, from visiting towns mostly overlooked by tourists to hand-picking olives during a chilly November and learning how to make gnocchi in a tiny apartment in Naples. In fact, I thought I had a rounded understanding of all things Italian, until I experienced my first Ferragosto.
Everyone who knows Italy is aware that August is festival time. It seems that almost every town and village has its own festa or sagra, where the businesses have shut up shop and the workers are heading for the coast. This may appear to be an over-exaggerated description of August in Italy, but it's startlingly true.
Celebrated on 15th August, Ferragosto, deriving from the Latin feriae Augusti (Augustus' rest), is an ancient celebration dating back to 18 BC during the reign of the Roman emperor Augustus. Created to be a time of relaxation, it was an addition to the already busy schedule of festivals that celebrated the harvest and the toil of the year; even the farm animals were given a rest and would be adorned with floral garlands.
The Fascist regime in the late 1920s emphasised the importance of Ferragosto by organising the People's Trains of Ferragosto. Heavily discounted trips were offered to the less wealthy citizens, giving many of them the opportunity to enjoy the beaches, the mountains and other cities for the first time.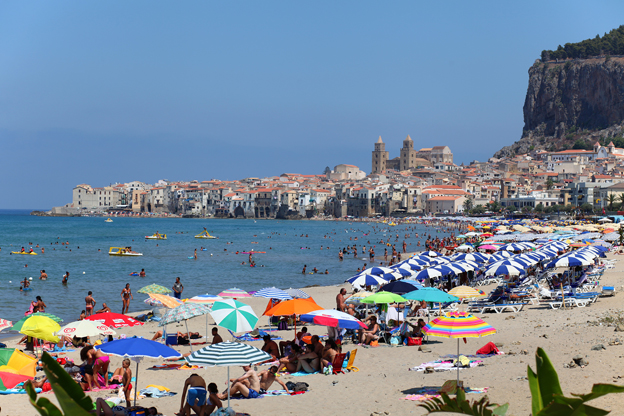 Today, Ferragosto is still an important holiday with the theme of togetherness being prevalent. Aunts and uncles, nieces and nephews, grandparents and great-grandparents gather together for multi-generational parties, the most popular being la scampagnata (the picnic).
My first summer of living in Italy was punctuated with festivals, many that went unadvertised that we only heard about while taking coffee in the local bar. I spent a wonderful evening watching a torch-lit procession of people descending in darkness down the mountain at Fara San Martino, I listened to minstrels playing as I sampled delicious morsels in Torino di Sangro and, following dinner al fresco, danced the night away in a school playground with over 350 locals.
August 15 arrived and knowing that the beaches would be crowded, we decided to pack a lunch and head off to a park we often visit in Francavilla al Mare. We had set off relatively early, but upon arrival had difficulty finding a parking space in the normally under-used car park.
It was only 10 am and the park was already filled with families, the picnic benches were laden with baskets and cool-boxes and the sound of children playing filled the air.
We wandered around the park, occasionally stopping to pass the time of day with people we had never met before; there was an air of bonhomie all around and everyone appeared relaxed.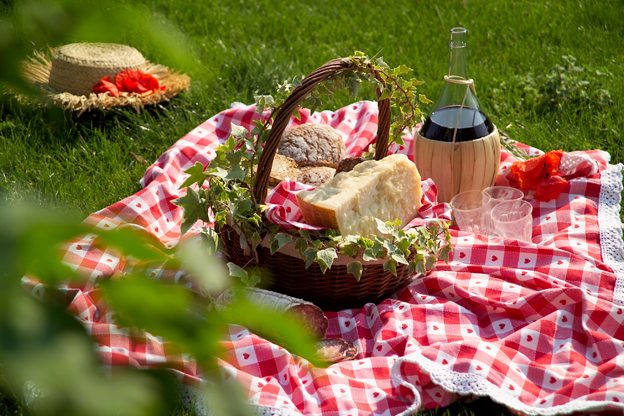 Eventually, we found a spot under a tree and sat down to watch as the men rolled up their shirt-sleeves and played football with the boys, while the girls helped the women unpack their packed lunches. This wasn't an exercise gender-stereotyping, to this bystander it appeared customary, and when a man nearby removed a bottle of Prosecco from a cool box at one table, he was ushered away with a flick of a tea-towel by the woman in charge.
By 1 pm, the picnics were unpacked and the tables surrounded by people and the park was swollen with that noisy abandon that Italians seem to exude during large luncheon parties. Laughter rose above friendly disagreements and well-versed family tales were exchanged as people feasted.
We were opening our packed lunch when a man at a nearby picnic table beckoned us over. Joining the group and after telling them that I'm English, not German (a perpetual question I'm asked due to having blond hair), I was handed a plastic cup filled to the brim with Montepulciano d'Abruzzo and we became part of the festivities.
We enjoyed bruschetta topped with sun-dried tomatoes and peppery olive oil: "This is our own oil from last year's harvest," Domenico told me, and as I was handed a thick slice of torta verde, Alessandra explained that the spinach and eggs used to make it came from her grandmother's orto.
The afternoon passed with people moving from table to table, dishes were swapped and hands shaken as new friendships were forged, even if they did only last for the length of Ferragosto.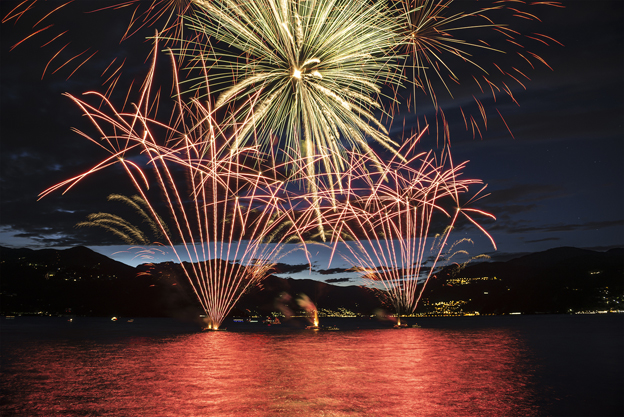 And in the evening, as I ate salsiccia piccante, made from the pork from Domenico's pigs, we watched as the skies were illuminated by fireworks and we all felt part of one group of people united in friendship.
That evening, after the final firework had exploded and I was driving home, it finally sank in, the reason why the Italian people still practice Ferragosto. It isn't only because of the sense of community and it's not solely down to tradition, it is simply because it's enjoyable - and what other reason do you need?