Cover image credit: Faenza ceramics festival CC via Flickr (c) Argilla Italia.jpg
Faenza, located in the heart of Emilia-Romagna halfway between Bologna and the Adriatic Sea, is one of Italy's most important centers of ceramic heritage. In fact, the term faience is just a Frenchified version of Faenza, bearing witness to the importance of the town's ceramic history. Today, Faenza's quiet streets and idyllic squares give little witness to the powerful influence this market town once wielded. Instead, it offers a delightful, off-the-beaten-track diversion for fans of authentic Italy and ceramic tradition.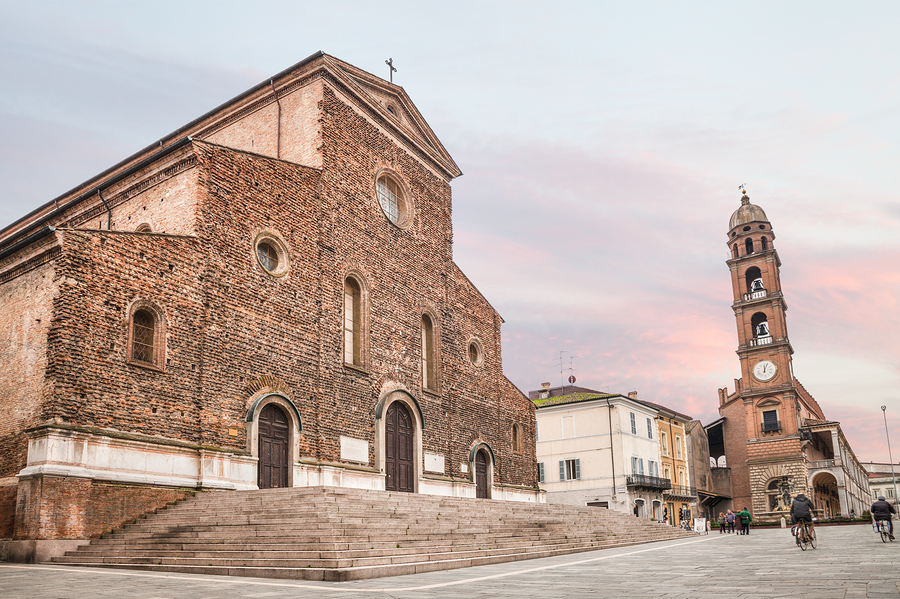 When most people think of Italian pottery, they think of maiolica, the rich, colorful tin-glazed earthenware that flourished in the fourteenth, fifteenth, and sixteenth centuries in ceramics towns across the Italian peninsula. In Faenza, however, ceramics represented much more than objects of aesthetic value. Clay vessels formed an economic backbone for the region for some five centuries.
Maiolica refers to the technique of painting with ceramic pigments against a white glaze background over terra-cotta. Making maiolica involves layering colored pigments on top of a white glaze achieved with tin oxide. When fired in a kiln, this technique imparts brightly colored, shiny colors that pop from a creamy, opaque background. This bold contrast of color against the white, along with characteristic stylistic conventions based on a visual vocabulary of the Italian Renaissance, first propelled this type of ceramic ware to fame and keeps it popular even by today's standards of taste.
In Faenza, the maiolica tradition began during the Middle Ages. By the 1500s, Faenza was famous for its annual weeklong fiera, which drew merchants and crowds from across Europe to trade everything from sheep to the region's famous cheeses and cured ham. By that time, ceramicists in Faenza were already major producers and exporters of colorful ceramic wares.  
Maiolica was popular with the noble classes for decorating fine homes throughout Italy during the Renaissance and Baroque periods. Pieces of maiolica were exchanged between acquaintances, and special pieces were commissioned to mark engagements, important political or business alliances between families, and other special occasions. Wealthy patrons tasked ceramics masters with creating "his-and-hers" plates depicting the elegant profiles of a bride and groom. They covered their tables with brightly painted wares depicting themes of hunting, mythology, and heraldry.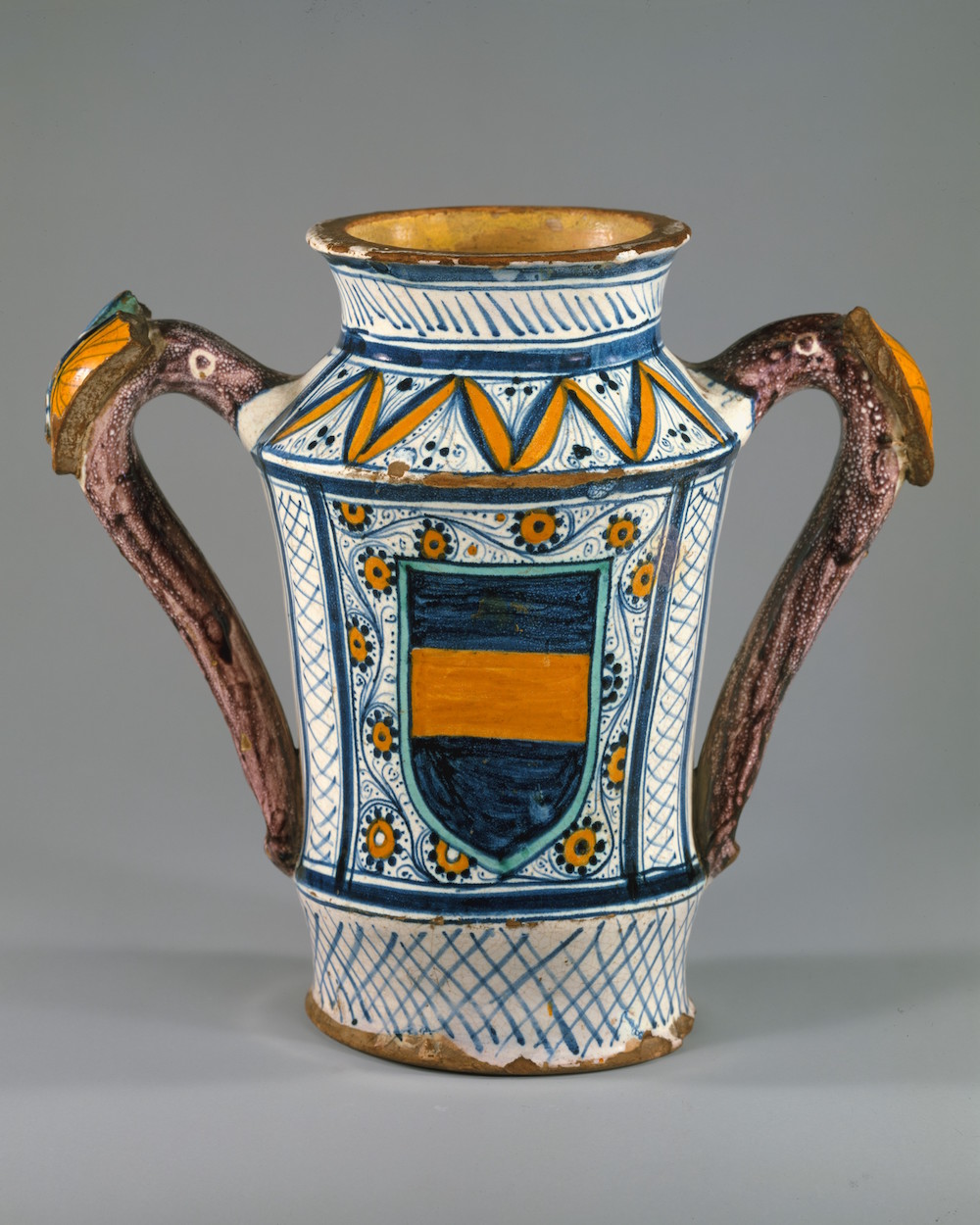 Albarello from Faenza CC via Metropolitan Museum ca 1480 1975.1.1060.jpg
Faenza became known for its "beautiful lady" plates, popular in the Renaissance as engagement and marriage gifts. Alongside a profile of a lovely female, the name of the lady—Bella Giulia for example—would be paint­ed on a scroll.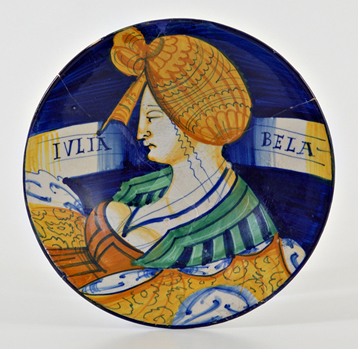 Today's Faenza's artisans make lovely reproductions of these beautiful lady plates, along with many other works— bells shaped like women with long dresses, small plates, pharmacy jars, eggs, Christmas ornaments, oil and vinegar jars, and many other small treasures.
Faenza's Ceramic Styles 
There's no single style of Faenza ceramics, but today artisans who follow historical tra­dition take their inspiration from one or more of the main ceramic periods of Faenza:
stile arcaico

(archaic style): This is the monochromatic style of the Middle Ages, with dark blue geometric patterns against a white ground.

stile severo (severe style): This is the quintessential Renaissance style, with noblewomen shown in profile and symmetrical decorative motifs in the form of leaves and peacock feathers. Blue, gold, and ochre predominate
stile bello (beautiful style): Storytelling or "historiated" pottery became all the rage in the 1500s, with religious and mythological scenes covering an entire plate or vessel.
stile compendiario (abbreviated style): Not much painted decoration here, it's true, but the artisans more than make up for it with elaborate basket patterns and pierced effects through the white glaze.
stile Berettino (Berettino style): This refers to a rich decoration of white scroll­work against a dark blue ground.
stile a garofano (carnation style): Carnations and other flowers characterize this type of decoration, and blues, greens, and ochres predominate. The style was influenced by French and Asian pottery popular in the eighteenth and nineteenth centuries.
Shopping in Faenza
Today Faenza is home to several dozen working ceramics firms whose artisans quietly turn out small master­pieces. Quality and price vary tremendously in Faenza, but in general, you can find good values on ceramics given that the town is off the beaten tourist track. You can purchase a high-quality, authentic work directly from one of Faenza's ceramic masters for less than a hundred Euro. These pieces hold their value over time; authentic works produced in Faenza between 1500 and 1530 often command six figures at auction.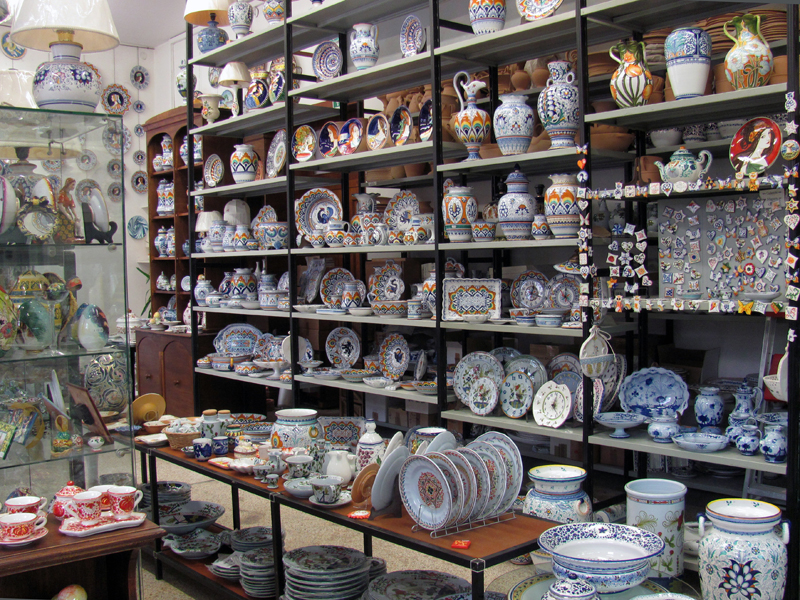 Photo credit: La Vecchia Faenza negozio
In recent years the Italian Association of Ceramic Cities (the Associazione Italiana Città Ceramiche, or AICC) has invented trademarks to designate ceramics that adhere to certain historical standards, much as the term D.O.C. is given to wines that follow standards for a particular region. In Faenza, this "ceramic D.O.C." is a trademark with an image of a handshake, one of the traditional decorative motifs of Faenza ceramics. Look for it prominently displayed at the entrance to the town's ceramic merchants that have earned this designation.
If you want to shop Faenza like the locals, rent or borrow a bicycle; it's the way most people get around this small, flat town. Start with the ceramics museum—one of the best in Italy—to get an overview of Faenza's impressive heritage of working clay.
Ceramics Museum, 

Museo Internazionale della Ceramica address: 

Viale Baccarini, 19, Tel: 

0546/697311, 

www.micfaenza.org. 
Carla Lega, address: Corso Mazzini, 74, Tel: 331/6685134, www.ceramichelega.it.
Laura Silvagni, La Vecchia Faenza, address: Corso Garibaldi, 12/A, Tel: 0546/26907, www.lavecchiafaenza.it
Gatti, Via Pompignoli, 2/4, Tel: 0546/634301, www.ceramicagatti.it
Mirta Morigi, address: Via Barbavara, 19/4, Tel: 0546/29940, www.mirtamorigiceramista.it
Vittoria Monti, address: Via Cavina, 22, Tel: 0546/25264, www.ceramicavittoriamonti.it
Finally, don't miss out on two opportunities to take part in Faenza's more unique celebrations:
La Nott de Bisò
First Saturday in January, Roughly translated from the local dialect as "wine night," this rowdy event culminates in the liberal pouring of local wines from pitchers made of Faenza ceramics.
Festa della Ceramica
June, Faenza's summer ceramics festival showcases the city's best artisans. The first week of the festival kicks off Niballo, a medieval jousting tournament in which the winner receives a ceramic trophy.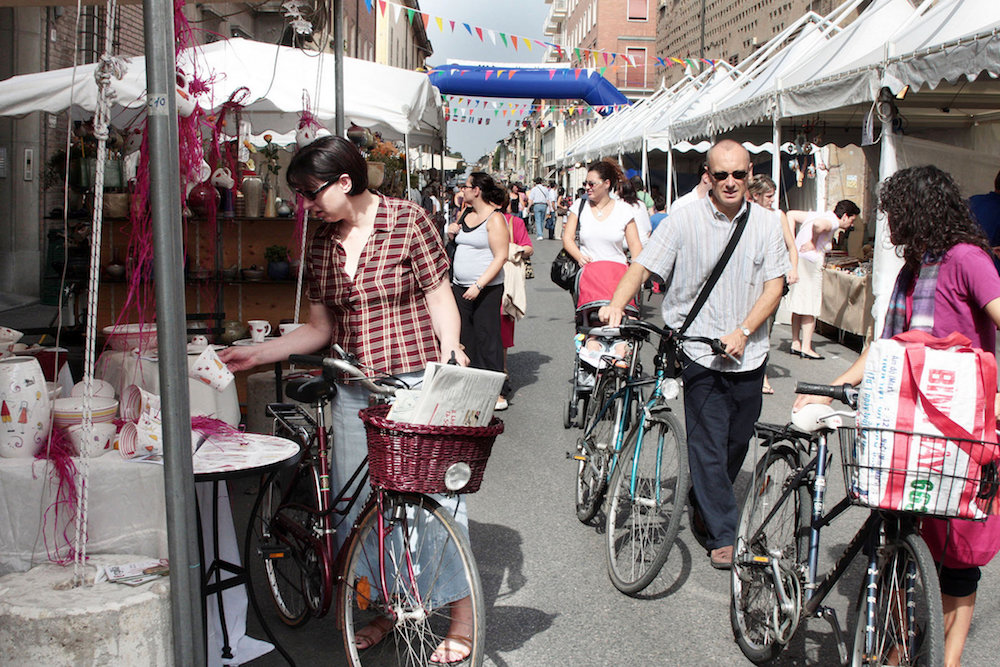 Faenza ceramics festival with bikes CC via Flickr (c) Argilla Italia.jpg
Laura Morelli is an art historian and historical novelist with a passion for Italy. You can find her guidebook series, including Made in Florence and Made in Italy, as well as her IPPY-award-winning historical novel, The Gondola Maker, in the Italy Magazine shop. Explore more of Laura Morelli's work at www.lauramorelli.com.