Quintessential Tuscany, the phrase itself conjures up a memorable scene of idyllic tranquillity, one of rosemary plants slowly swaying in the breeze, vineyards with a view, and cypress trees lining dusty white roads snaking down towards steadfast stone farmhouses. 
Nothing encompasses this reality more than the Val d'Orcia area, which according to Unesco, is an exceptional example of the landscape redesign that characterized the Renaissance. One that reflects the ideals of good governance of the Italian city-state in the 14th and 15th centuries and to create an aesthetically pleasing picture. 
It can be hard to know the perfect base in which to discover the wonders that exist in this area but arguably the area around Montepulciano and Pienza has proved to be a crowd-pleaser for centuries. 
One place that should be on your radar once it's safe to travel is the lovely Relais Ortaglia – featured in the 'all new' 2020/21 Rick Steve's ITALY & FLORENCE and TUSCANY guide books as a recommended hotel. The charm and stunning location of this 17th farmhouse are just as described as you can read from one recent testimonial below.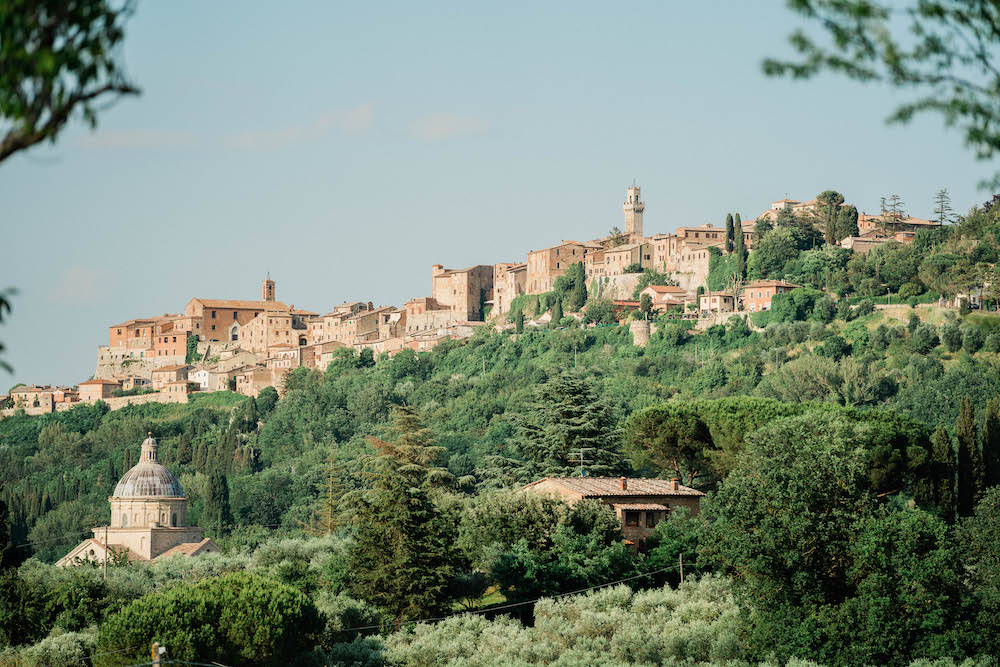 Full of anticipation, we pull off the asphalt road and head slowly down the lane towards the house. 
I have to stop the car to take in the amazing vista in front of our eyes. The Tuscan countryside is breath-taking and seductive, an especially welcome sight after the hustle and bustle of the flight. Arriving at Relais Ortaglia, a fully restored 17th-century farmhouse, we feel like we've arrived in heaven. The first thing we notice is the intoxicating aroma of local wild herbs, mint or wild fennel?  I am not sure but I inhale deeply and to my surprise, the air tastes impeccably clean and pure.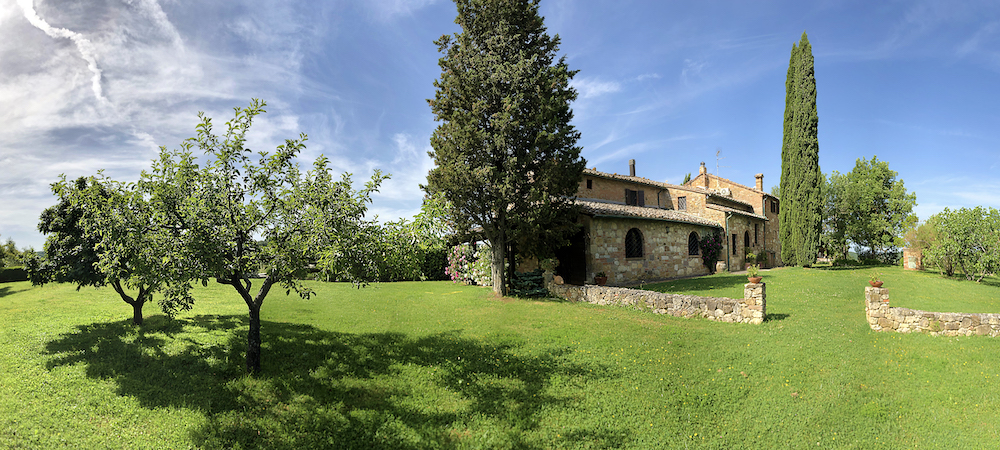 The farmhouse is surrounded by rows of vines and neatly-pruned olive trees in true Tuscan flair. 
Bunches of grapes hanging down from the vines, green ripening to blue and I can almost taste the strong red Montepulciano, a locally grown wine with a robust fruity flavour.
There in front of us is the villa which will be our home for the next two weeks.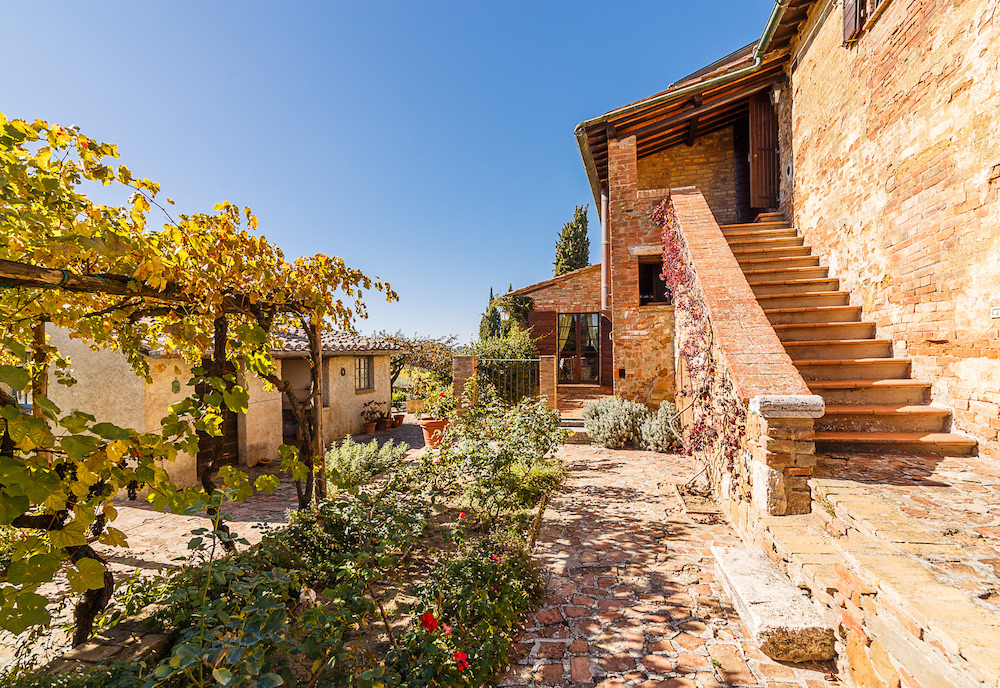 Our attention is drawn to the first stone building we approach, cloaked by a green garden with the contrasting azure blue of the swimming pool, which looks so cool and inviting.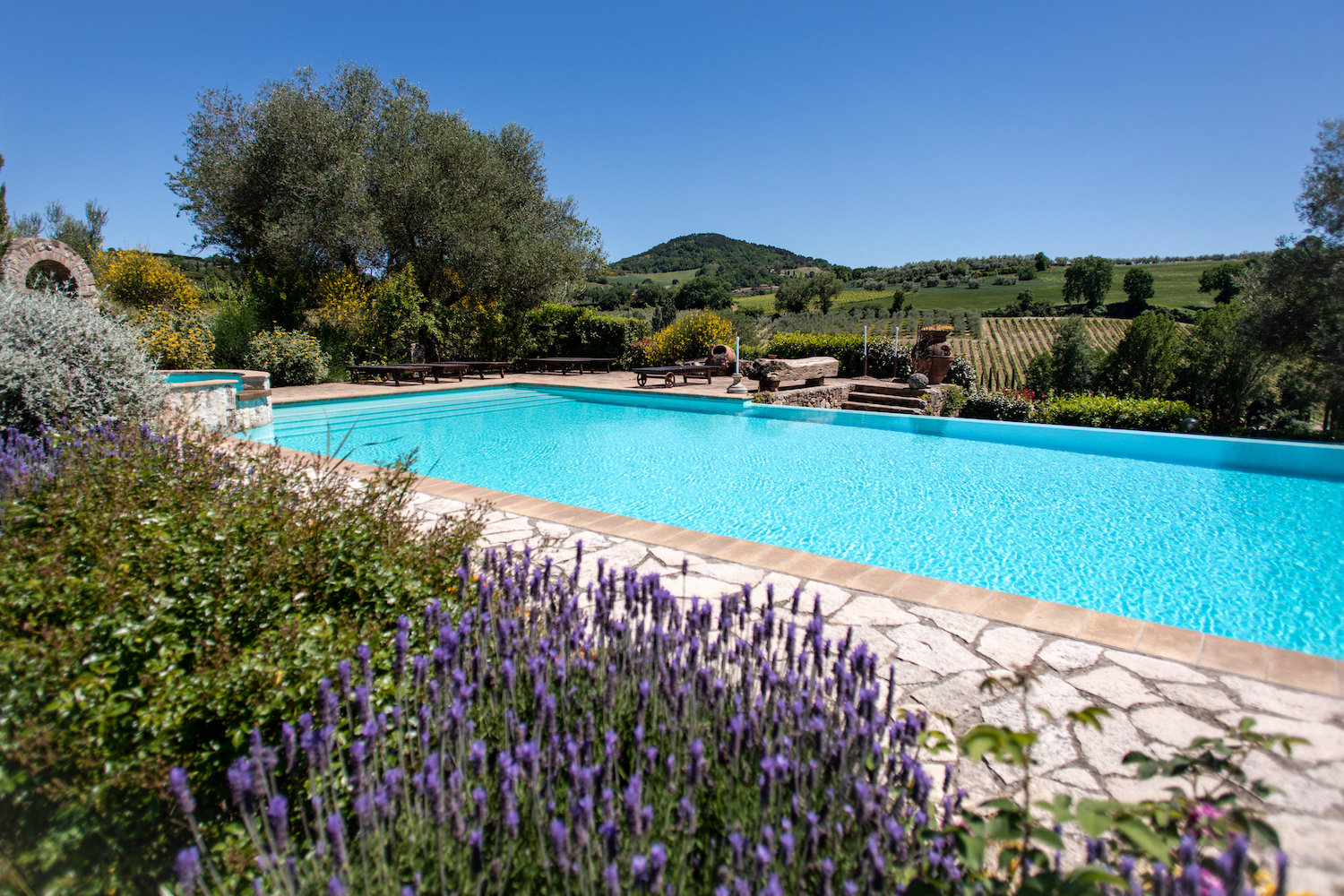 The walls are solid irregular stone and brick; some parts are two stories and roofed in half-round terracotta tiles. Cypress trees overlook the whole area, like soldiers on guard duty.
The only neighbours are fields of vines or carpets of golden yellow sunflowers. It is easy to be transfixed with such beauty yet it is the quiet that holds my attention.  
The area itself resembles a painting when gazing upon Ortaglia. If I had to put a name on this image I would call it 'The art of nature' after surveying the colours and tones, seeing how they combine and contrast with one another. 
This is a house that has been home and residence to countless generations. A house that has provided shelter and security through political upheaval and wars. I make a mental note to ask the owners about the history of the house.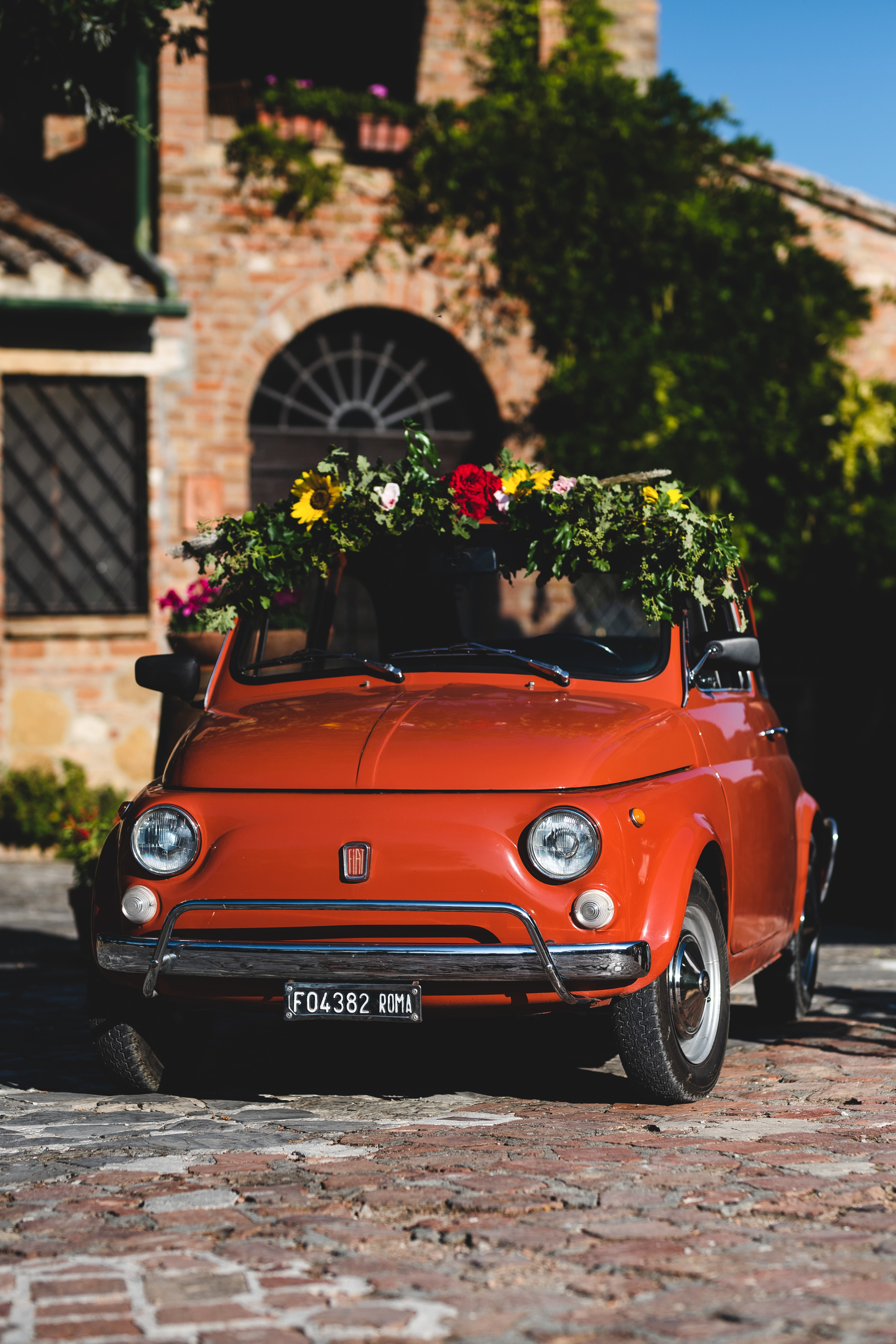 Transfixed, we stand hand in hand soaking up the vista, as all the stress of modern life departs our existence. I want to hold onto that moment for as long as it is possible, as they rarely come along in life. Dragging ourselves away from the spot, we head towards the villa and a giant red poodle dances his way to the gate, claiming he is in charge, but 'I am a friend too', is his true message.  
"Answers to the name of Cooper " we are informed, as he welcomes us in the only way a giant poodle can. 
The hearty greeting came from owners Sandy and Phil Ferretti, who lead us upstairs to our very well-appointed room, a large ensuite, named Talosa.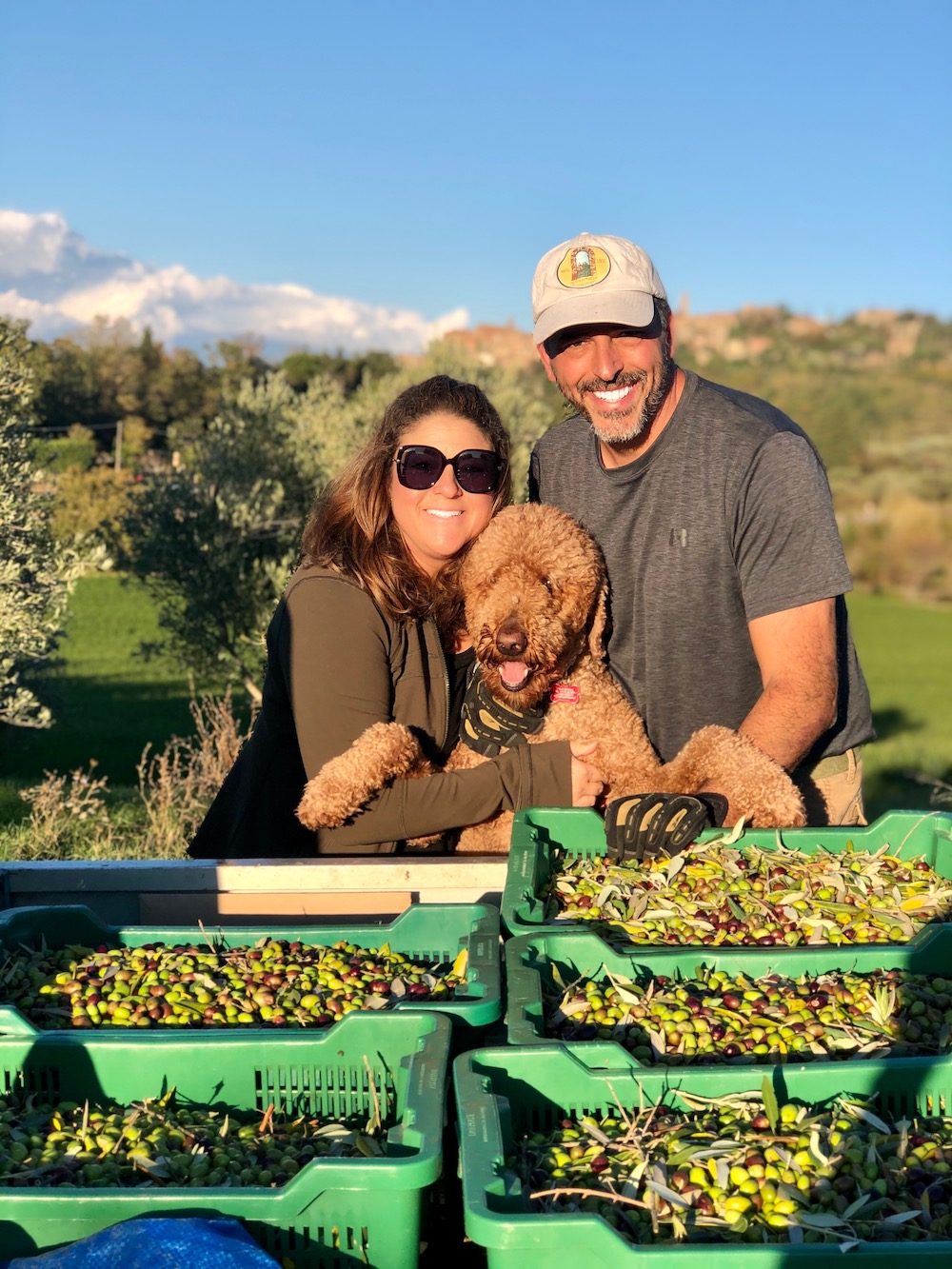 Crisp white bedlinen with blue cushions and accessories gives the room a sense of inviting calm. A wood-beamed terracotta vaulted ceiling compliments the pale cream terracotta floor tiles.
The sun streams through the voile drapes hanging either side of the gothic-style windows. The glass panes frame the ultimate view of a patchwork of small fields, harvest colours dominate, golds and yellows, light browns, contrasting with one hundred different shades of green. "This room has the most magical views of the sunset! Tramonto bello" Our hosts promise us. I do not believe we will be disappointed. 
In a friendly yet professional way, Sandy and Phil explain a few things about housekeeping. A buffet breakfast is served outside on the garden terrace under a pergola of vines at a time of our choice, a typical Tuscan offering of sweet and savoury treats. 
They also tell us about some of the activities they can book for us.  A personalised daily itinerary from sightseeing excursions to local fine dining. 
Sandy's attention to detail is flawless. 
It will be lovely to see something of Tuscany while we are here and check out the main highlights. Yet, Sandy and Phil's offering of in-house activities are even more impressive. We can choose from horse riding through the vineyards or going up in a hot air balloon to survey the Tuscan countryside.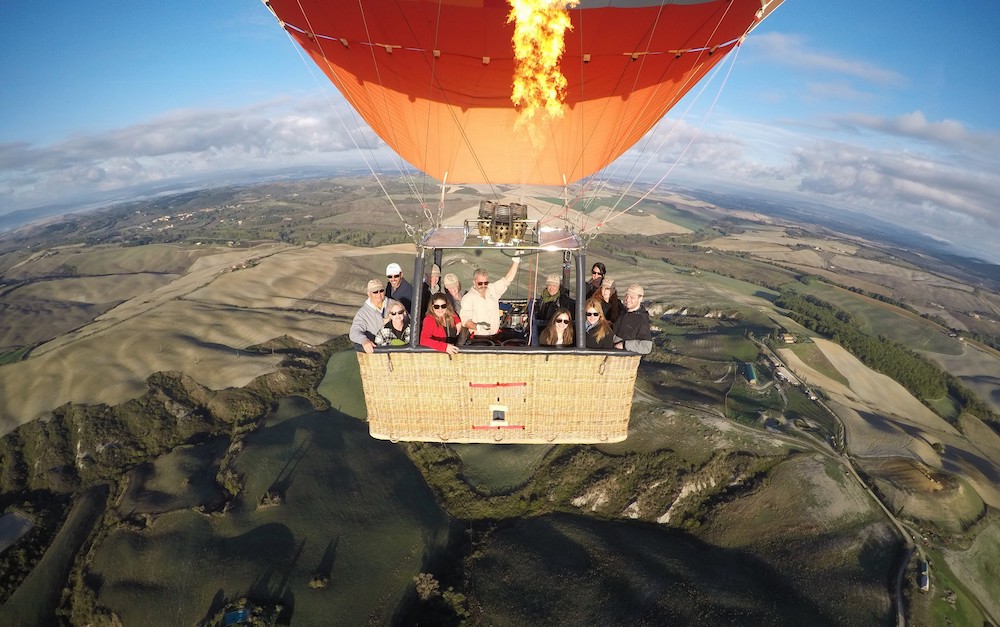 Any event would not be complete without culinary delights and in typical Italian fashion, Sandy and Phil offer a Tuscan BBQ or a private dinner served in the olive grove. Not just any food but home-cooked with ingredients from their organic vegetable garden or sourced from nearby markets.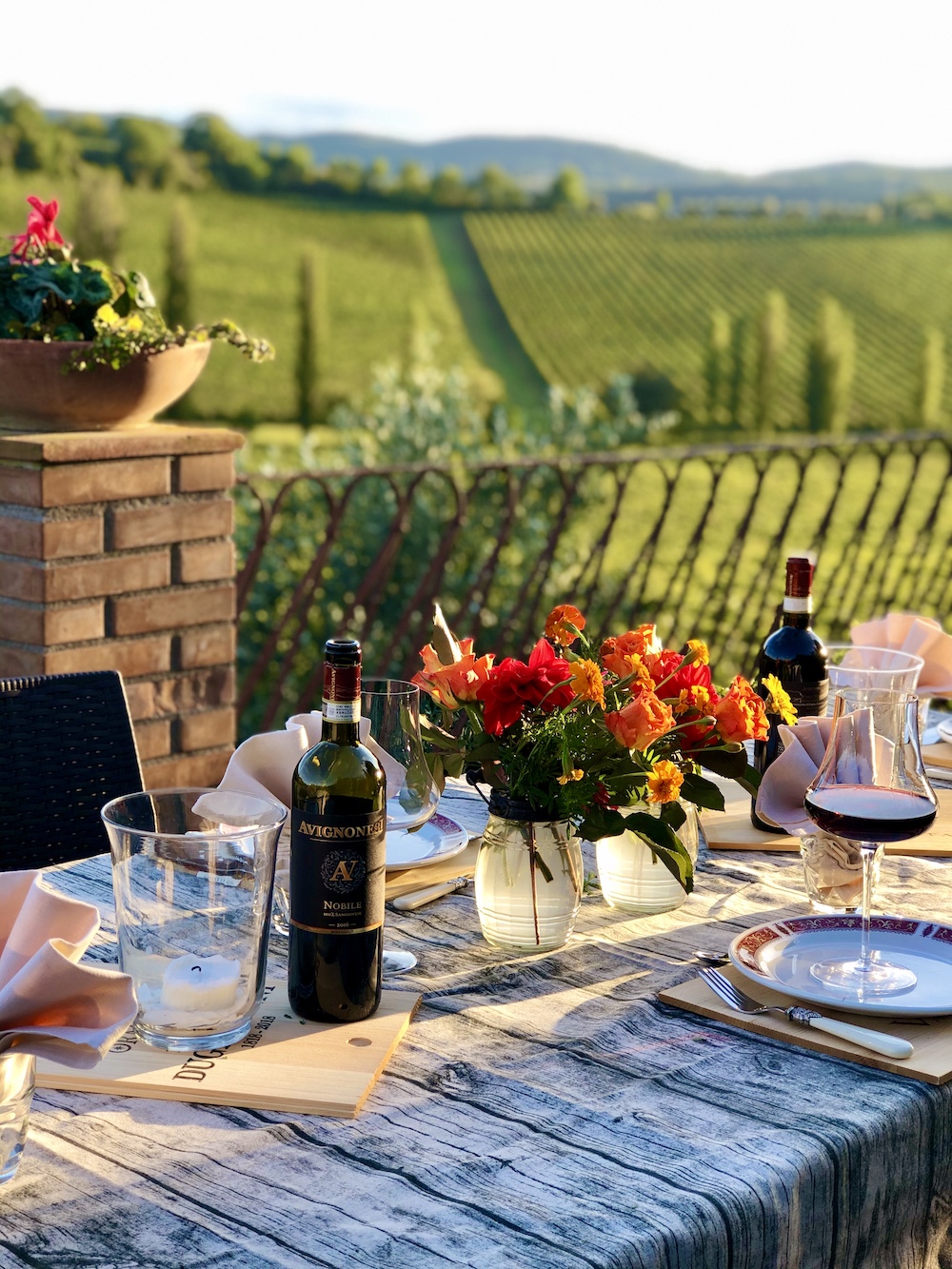 For those wanting to learn how to cook the perfect pasta, they offer a four-course traditional cooking class. Sandy and Phil's passion for 'La Dolce Vita' is evident and they want nothing more than to share this with their guests. These carefully chosen, hand-picked experiences will create memories that last a lifetime. 
Left alone to explore our surroundings, we enjoy a cool drink on the terrace followed by an amble through the gardens.  
We walk past the infinity pool where the sweet smell of rosemary and lavender permeate along the paths before arriving at a beautiful old stone archway. 
The arch frames a stunning view of the 500-year-old Temple of San Biagio with its cream stone and distinctive grey dome built between 1518 and 1548 by Antonio da Sangallo the Elder who used the model of the Basilica of Santa Maria delle Carceri in Prato, with its Greek cross plan by Brunelleschi.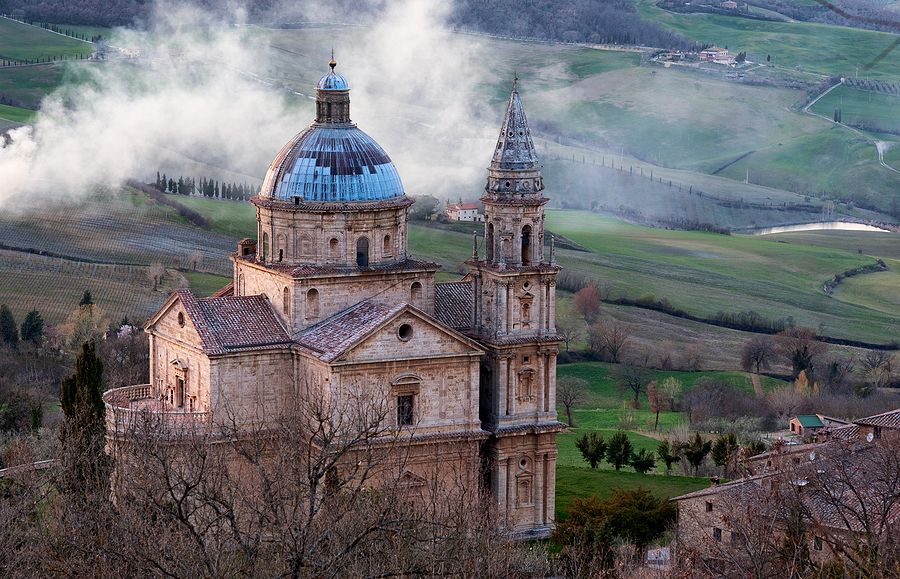 My eye gazes at the vines and trees which cover the hillside behind this religious iconic structure until the medieval hilltop village of Montepulciano comes into view. This is the perfect place for our holiday, to re-charge our batteries and enjoy the tranquil beauty of this place. 
Relais Ortaglia fast facts 
The Relais features a pool with a small waterfall and is less than 2 km from Montepulciano's town centre.
All of the rooms have been furnished with great attention to detail, including original wooden beam terra-cotta vaulted ceilings and antique furniture. Some of them come with a spa bath and all rooms have a minibar that comes complete with a local wine selection (+€). 
A breakfast buffet is served every day at the Relais Ortaglia. Guests can also enjoy a walk in the garden and pick juicy fruit from the orchard. Free Wi-Fi and free parking are also provided.
Keep in mind that the area is well-known for the production of the famous Vino Nobile di Montepulciano. Castiglione del Lago, on the margin of the Trasimeno Lake, is 34 km away. Arezzo is 55 km away, whilst Siena is 63 km away.
Prices start from €240 per night for a double room and they also offer full villa rentals and are available for weddings and events. For more information, visit Relais Ortaglia's website, or follow them on Facebook or Instagram.