Nowadays, when Michelin-starred chefs garnish a dish with delicate nasturtium flowers or wild fennel, it's difficult to imagine these foraged goodies in any other context. From Rene Redzepi's Noma in Sweden to Massimo Bottura's Osteria Francescana in Emilia Romana, foraged herbs and leaves are synonymous with fine dining. 
But as we set out into the depths of the Tuscan hills with local forager Franco Lodini one morning, he reminds us it hasn't always been this way. For a long time, living off the land was a way of survival in rural Tuscany. "Foraging was the domain of the women, and their knowledge was remarkable." Franco is able to identify 120 edible wild plants, but there are over 200. "Outside big cities like Florence and Siena, life was hard, and things like dandelion leaves, mallows, sea beet and wild asparagus were an important part of people's diets," he tells ITALY Magazine.
"After the second world war, many villagers left the countryside and moved to Florence to find work, and these ancient traditions disappeared. Groceries became cheaper, and people forgot how to identify and use the foods growing on their doorstep. It's a shame because they are packed with much more interesting flavour than anything you can buy in shops, and they're free."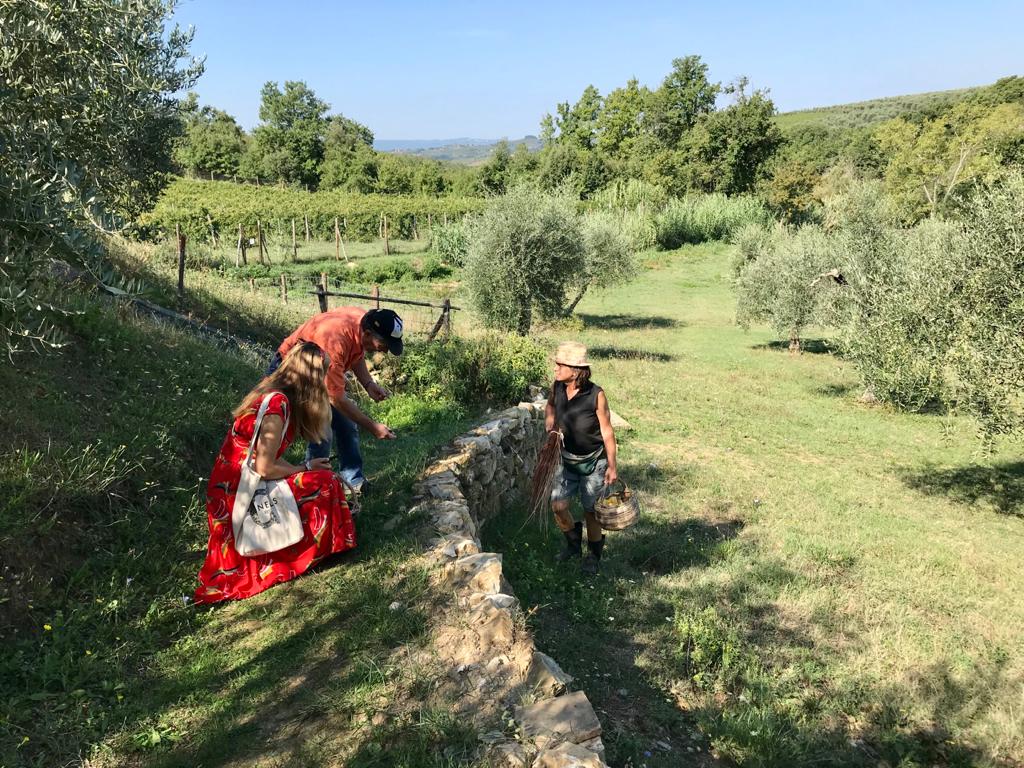 Fortunately, when Franco left his job in tourism to become a full-time forager in 2013, wild ingredients were coming into vogue once more. He begun working with ArtViva to organise local excursions, teaching guests about the myriad edible plants, fruits and vegetables on offer throughout the seasons, and how to cook with them. "You don't need to go to the jungle or up a mountain," Franco tells us. "Wild herbs naturally grow among humans." Indeed, before we've even left the carpark that morning, he's pointed out wild chicory, common thyme, wood violets, cinquefoil and mallow flowers. Of course, the further you can get from pollution the better, but edible plants don't always need to be glamorous.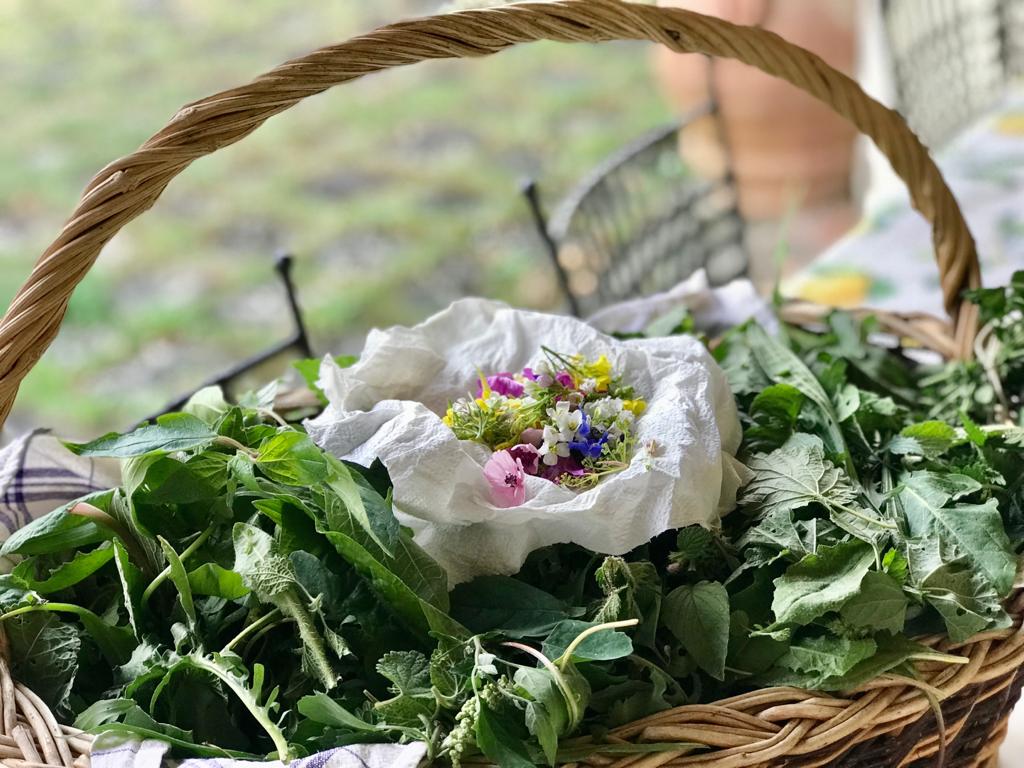 As we head along a dirt track to a local agriturismo near San Donato, Franco reveals shrubs and edible weeds with infectious pleasure, feeding us pearls of wisdom as he goes. "Finely chopped mallow leaves are great for thickening a soup," he insists, while the bitter, perfumed leaves of the curry plant are apparently a beautiful match for white meat. Further into the wilderness we chance upon some nepitella, translated as calamint, which Franco suggests grilling with the head of porcini mushrooms in November and December. Sometimes Franco points out their Latin name or an English translation, but often he shifts back to the local Tuscan used by mammas and nonnas of yesteryear.
Franco supplies herbs to a number of fine restaurants across Florence, including Gucci Osteria da Massimo Bottura in Piazza della Signoria. "For me, foraged herbs can be more of a luxury than truffles, because you might only get them once or twice a year," says Head Chef Karime Lopez. Their popularity is growing as people become more interested in the origin of their food. "We've had a wild leaf green salad on the menu called "Franco's Dream of Salad" at Gucci Osteria since we opened, which is a sort of homage to him. It changes week by week depending on what he brings: sometimes he'll find caper fruits, edible leaves, beautiful purple malva flowers. We might only have things like agretti, or friar's beard, for a week or two then they're gone."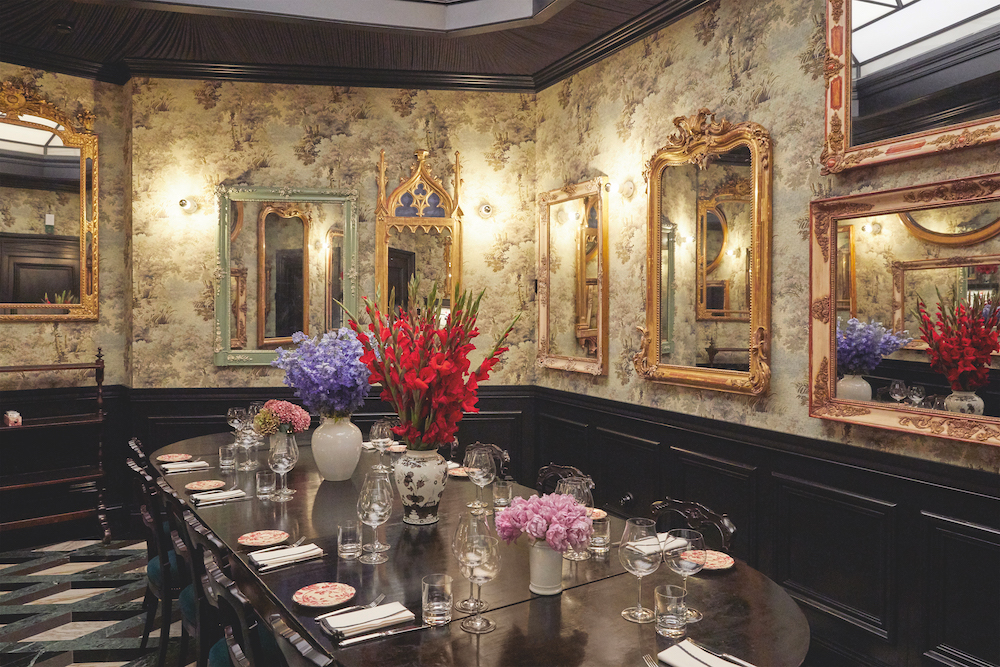 Under Karime's helm and the guidance of chef Massimo Bottura, Gucci Osteria was awarded a Michelin Star last year. Karime shares the recipe for Franco's salad to make at home with ITALY Magazine. "By the nature of foraging, it's not so much recipe as a source of inspiration," she tells us. "The key is to get the balance right between base leaves, aromatic and sour herbs and wild flowers." Buon Appetito!
Gucci Osteria's Foraged Leaf Salad, by Karime Lopez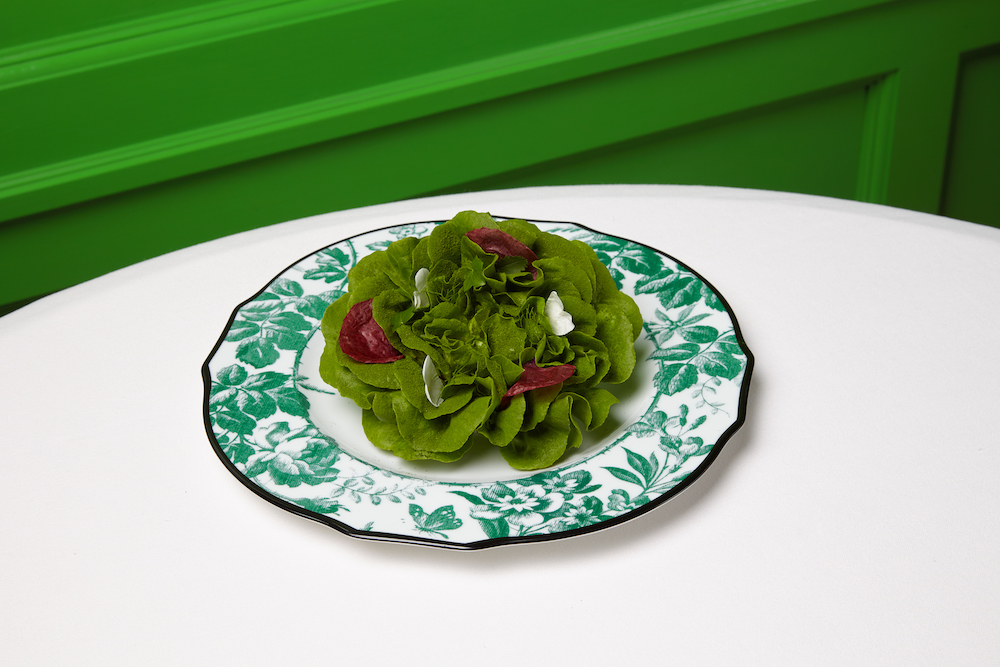 Serves 4 
Ingredients:
For the salad: 
4 Salanova lettuce heads
A handful of foraged herbs, including but not limited to wild fennel, sorrel, mint, purslane, cinquefoil common mallow flowers, malva flowers, wood violets
6 Confit cherry tomatoes 
1 Zucchini
Crunchy bread croutons – homemade or shop bought
200g spinach 
For the dressing: 
1kg fermented plums (see recipe below)
50ml mild olive oil 
50ml sunflower oil
For the cashew cream: 
200g cashew nuts 
30ml olive oil
Salt
For the pickled carrots:
1kg carrots
250g orange juice 
20g salt 
Method:
1.    To make fermented plums, chop them in half and weigh them. Add 2% of their weight in salt (approx. 20g), and pack into a Kilner jar to ferment. 
2.    After a week, check on their acidity level – they should be sour and salty. 
3.    Use this simple salt brine process to ferment the carrots, too: peel and chop them into long thin slices, either with a knife or julienne. 
4.    Weigh the carrots and add 2% of their weight in salt (approx. 20g). 
5.    Next, add 25% of their weight (250g) orange juice, pack into a Kilner jar and leave to ferment. After a week, check the acidity level.
6.    To make the cashew cream, simply blend the cashews with the olive oil until you get a smooth cream. Season with a little salt and set aside.
7.    To make the plum dressing, blend 200g fermented plums, then slowly add about 100ml oil (a mixture of of mild olive oil and sunflower oil works best) until it emulsifies. Be careful not to overdo it, or it will split. 
8.    Slice the zucchini and sauté with a little olive oil, then repeat with the spinach. 
9.    Clean the Salanova lettuce and herbs and set aside. 
10.    To assemble, first place a spoonful of cashew cream onto the plate, then top with the sautéed zucchini and spinach.
11.    Fill the inside of the salanova lettuce with the pickled carrots, confit tomatoes, sautéed zucchini and spinach, croutons and the rest of the cashew cream and plate on top of the cashew cream and spinach. 
12.    Garnish with your foraged herbs and flowers and enjoy straight away. 
Easy plants to forage and cook with: 
•    Purslane, or Portulaca, is a favourite of Karime Lopez, who loves to use it in Gucci Osteria's modern twist on panzanella. Purslane has red stems and small green leaves. Its full of omega-3, and has a delicious saltiness when paired with sliced tomatoes. 
•    Fig leaves can be infused into custards, compotes and liqueurs for an unmistakably fig-like flavour.
•    From October onwards, porcini mushrooms are abundant in fields and forests. Head out with an experienced guide to make sure you're identifying the right funghi.
•    Once all the wild roses have died back, rosehips can be harvested and used for tonics and cordials, packed with vitamin C. 
•    In Spring, small wild asparagus sprouts are a delightful alternative to the farmed stuff, and are best simmered quickly to preserve the freshness, and served with butter.
•    Fragrant elderflower, or sambuca, makes delicious cordials and can be found in gardens and roadsides through Tuscany in May and June.
•    Dandelions are one of the most familiar weeds to forage, and can be tossed into a salad or sautéed with garlic and olive oil. In summer, their yellow flowers can be dipped in tempura batter and deep fried, or simmered with sugar to make a vegan honey alternative.  
NOTE: Always go foraging with a guide until you're experienced enough to be sure you're identifying the right edible plants, and that you're not trespassing on private land.