Following last month's successful festival, John Bensalhia investigates the history and local attractions of Franciacorta. Photo credit: Wikimedia Commons.
Last month, the fabulous Franciacorta Festival took place – as reported in Silvia Donati's piece here.
Franciacorta sparkling wine is one of the best of its kind – with its spicy, crisp and delicious taste. In fact, the area has long been known for its best known export. Tracing the first instances of grape growing, the history books take us back to the Middle Ages and even Roman times.
The enduring properties of Franciacorta wine are due in part to two key natural elements. One of these is the good climate: the weather is generally constant and mild. The other factor is the strong soil conditions. The soil is unique – partly as a result of glacial action that left glacial debris in the earth, including sand and gravel. This very special soil means that it drains excellently, which makes it a perfect choice for grape cultivation and wine making.
Records indicate that Franciacorta has been populated since the Palaeolithic era. The archaeological records are said to have been left by the Cenomani of Brixia – an ancient tribe of Cisalpine Gauls, Romans and Lombards. Meanwhile, the name Franciacorta is thought to come from curtes francae, which were fortified courts of the Frankish empire that had been introduced in the eighth century. The name is said to have been introduced in 1277. It is said to have appeared in a municipal statute of Brescia, referring to the area south of Lake Iseo which was located between the rivers Oglio and Mella.
If there's one notable connection with Franciacorta apart from wine, then it's the long history that it has with various monastic institutions through the years. One of the most notable examples is the female monastery of San Salvatore (also known as Santa Giulia of Brescia) which was set up in 753 by Lombard king Desiderius and his wife Ansa. The monastery marked the first mention of recorded property in Franciacorta.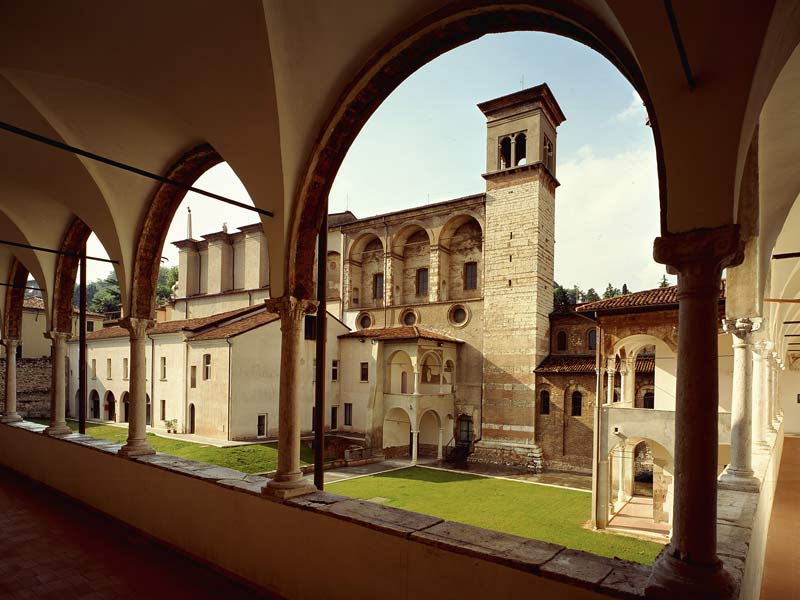 Santa Giulia of Brescia, photo credit, italia.it
A document, a diploma of Desiderius' son, Adelchi, mentioned the monastery in 766.
In Rodengo Saiano, the Abbey of St Nicholas was built as a home for the Cluniac religious order. Cluniac reforms were changes made in the medieval period, relating to monasticism in the Western church. The essential crux of these changes was a return to traditional monastic life and an emphasis on looking after the poor.
Other religious buildings and monastic courts in and around Franciacorta include Clusane (a Cluniac priory), the monastery of San Pietro, and Timoline (a court of Santa Giulia). 
But it's not just the wine that makes Franciacorta so special. There are many places to visits, including nature locations, museums, abbeys, and of course, wineries! It's an area rich in history and nature, so let's go exploring the wonders in and around Franciacorta!
NATURAL SPOTS
Lake Iseo
You can't beat the breathtaking beauty of Lake Iseo – the sixth biggest lake in Italy is surrounded by natural wonder. See the snow-capped mountains and green hills north of the lake while feeling the cool breeze play upon your face. Turn south and you'll experience a milder climate, bright skies and the flora of the Mediterranean.
Formed by excavating action of withdrawal of the alpine glacier, Lake Iseo is definitely worth a visit, and a great way to sample the best of two worlds.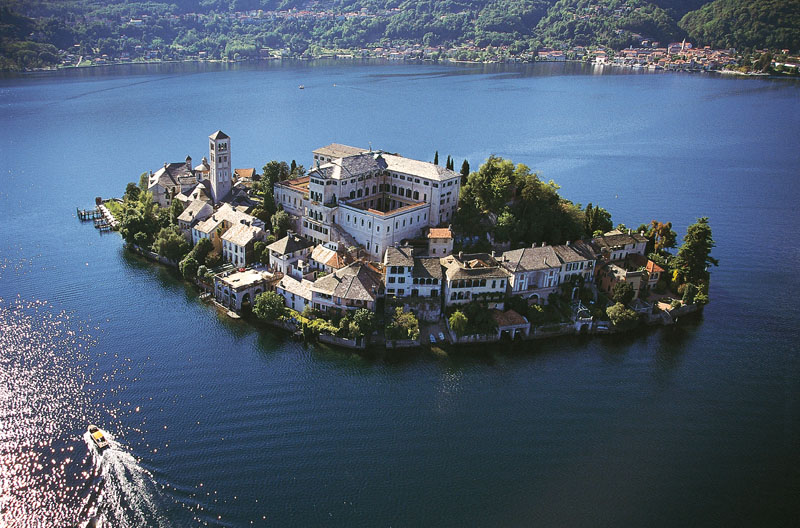 Monticelli Brusati waterfalls
The waterfalls of Monticelli Brusati are a natural sight to behold, running alongside a stream in Val Gaina. It's a spot that's accessible by two routes, although which one you choose is up to you.
The easy path offers much charm, beauty, and of course, accessibility for all! But if you're up for more of a challenging walk, then the other route is more of a challenge (as a result of rigged passages on the way), but still equally rewarding.
Peat bogs of Sebino
The Peat Bogs of Sebino have formed a nature reserve since 1983 and are located on the outskirts of Franciacorta. The reserve includes a myriad of ponds and marsh vegetation – you can access the area by well designed paths and walkways that mesh well with the scenery. The natural wonders include reeds, rushes and ponds covered with water lilies.
If you're a keen birdwatcher, then this is the place for you. The area is a natural habitat for birds including herons, cormorants and black kites.
RELIGIOUS BUILDINGS
Convento dell'Annunciata
The history of this convent and church dates back to the early 16th century. After two brothers from the congregation of the Servi di Maria began work on the construction of a convent and church, the end result was completed in 1503.
Convento Dell'Annunciata became a popular destination for pilgrims and remained so until its suppression in 1772. However, in 1963, the Servi di Maria re-introduced the religious community.
The building is to be found on the eastern slopes of Monte Orfano and includes a number of artistic works, cloister and a central well.
Monastery of San Pictro, Lamosa
Titled after the marshes (Lame) that the Cluniac monks cleaned up, the Monastery of San Pictro was a popular resting place for pilgrims in the Middle Ages, as well as merchants and travellers.
The monastery was the property of the Benedictine Nuns of Santa Giulia who were in charge between 1536 and the 18th century. Following this, the monastery became the property of the Bergomi-Bonini family, who gave it to the parish of Provaglio in 1983.
If you're looking to look up the monastery, then it's well worth the visit. It has been recently restored, but with a faithful eye to the past. It still has its original appearance, including medieval lapse, nave and bell tower.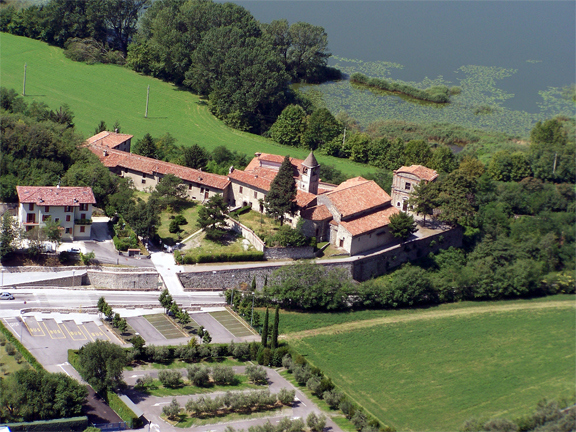 Monastery of San Pictro, Photo credit: baronepizziniblog
Olivetana abbey of San Nicola
Another property to undergo extensive restoration is the Olivetana Abbey of San Nicola. The abbey was originally founded in the 10th century, and was recently renovated to an impressively high standard. Restoration work has been carried out on the late 16th century cloister, refectory and gallery.
Visitors can admire some original art pieces from the Brescia region which date back to the 16th and 17th centuries. There is also a special workshop that is devoted to restoring books.
STATELY HOMES
Palazzo Torri
In the late 19th and early 20th centuries, Paolina Calegari Torri and her husband Alessandro opened the doors of their impressive home to the public.
Palazzo Torri is recorded as becoming a "cultural salon", welcoming a number of distinguished guests to attend events, meetings, debates and parties. The guest list would boast writers and poets (for example, Carducci or Fogazzaro), painters and sculptors (Lenbach or Salvetti) composers and musicians (Chimeri), men of the church and the state (Bishop Geremia), intellectuals, thinkers, scientists, and aristocrats.
Today, you can sample a piece of this life as there are rooms available to rent on a B&B basis. Alternatively, you can hire a room for a meeting or event, and if you're looking for a suitably sumptuous place to hold a wedding, then Palazzo Torri will more than satisfy.
Palazzo Monti della Corte
For more than four centuries, Palazzo Monti Della Corte has invited guests into this magnificent environment. It boasts a wealth of expansive rooms and beautiful gardens. Today, it belongs to Marie-Jose and Alessandro d'Ansembourg.
It's another ideal place to hold a wedding (events and meetings are also possible to hold here) and visitors can check out some finely detailed rooms and pieces such as the 17th century Sarnico stone staircase, a huge gallery (that features original 18th century friezes and rich gilt mirrors) and the Blue Room (that includes a beautiful Murano glass chandelier and an eye-catching fireplace).
Villa Fanti (Sisters' House)
Spanning around 1000 square metres, Villa Fanti is a splendid place to stay if you're in the area and want that extra touch of style.
One of the real plus points of Villa Fanti is the spectacular view that you get. It overlooks a massive garden that contains many old trees that date back centuries. The Villa Fanti experience also includes a fully equipped kitchen, one single and five double bedrooms, as well as a large outdoor swimming pool. As well as being a stylish place to stay, Villa Fanti is also another perfect location to hold conferences, meetings and weddings.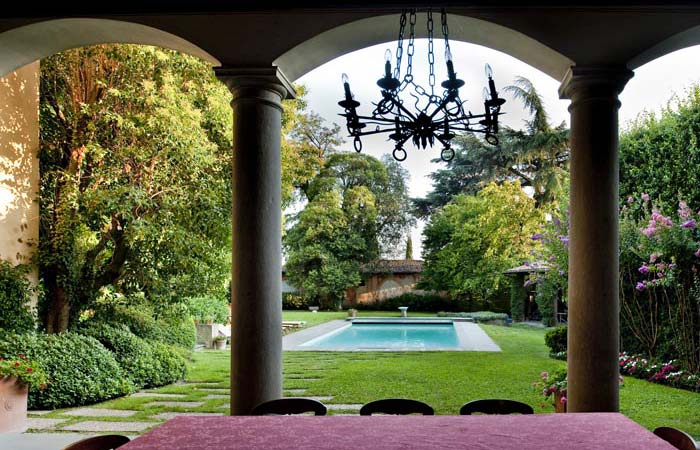 MUSEUMS
Museum of contemporary art Remo Bianco c/o La Montina
The principal focus of this museum is on contemporary artist Remo Bianco, who brought his own unique take on the genre in the 20th century. The museum spotlights his works which were created using a variety of different techniques and materials.
From time to time, the museum also hosts solo exhibitions devoted to other talented contemporary artists. The pieces are showcased in innovative style. Visitors can take a quirky but highly effective path that allows them to see the works on a route that winds through the cellars, barrels and grand rooms that make up the museum.
Ricci Curbastro Agricultural and wine museum
The agricultural and wine museum opened in 1986 and was the result of 30 years' research by Gualberto Ricci Curbastro. The building contains thousands of objects that are dedicated to the agricultural work of the past.
If you would like to pay a visit to this interesting and informative museum, then it's open all year round. The tour takes you through the four themed rooms with a detailed guide as to the history of the objects on display.
Musil (Museum of industry and Labour) 
This is a fun one if you're a cinema buff – in particular, if you're interested in the mechanics of the cinema and also, industrial machines, then you'll be like a kid in a sweet shop!
The museum boasts an exhibition that twins cinema and industry, with several pieces of machinery on display. A specially arranged cinema room screens a number of key films and cartoons from Italy. A further eye catching item on display is a Cinemobile Fiat 618 that dates back to 1936. Back then, if a region didn't have a cinema of its own, then the Cinemobile would drive there. As a result, people could actually watch the film thanks to its own screen that was used for rear projection.
MUSIL also includes  a large warehouse that is packed with industrial machines used for sectors such as media, food and textiles. These include an old lithographic press, an Ansaldo Tank and two large scale models of nuclear power plants.
WINERIES
Ca del vent
In 1994, Ca Del Vent was established as a winery as a way of making its own wine, as opposed to the previous method of taking the grapes to the local collective winery.
At present, this winery spans 7.5 hectares with a collection of up to 45,000 bottles. The wines include Cellatica Red, Ubiqua White and a choice of sparkling Franciacorta wines.
Al Rocol
If you're looking for a farmhouse holiday that includes a fine winery, then a stay at Al Rocol is just the drop.
The farmhouse includes a fabulous winery. A spacious room can be found in the cellar. It's been renovated to cater for special wine tastings, meetings and conventions. The tastings include information about the methods and grape phases involved in Franciacorta wine production.
It's possible to enjoy the tastings in conjunction with two alternatives opportunities to eat. You can either plump for the snack option which combines wine tastings with a selection of light bites such as cheeses, sausages and local cakes. Or you can choose to enjoy the tasting and also a delicious sit down meal!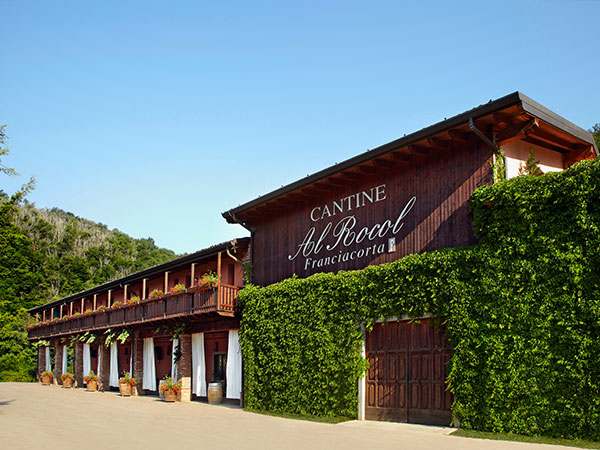 Vezzoli Ugo
Farm Ugo Vezzoli provides its own guided tour of its winery. In 2005, restoration work was carried out on the farm's barn that became the home of a special tasting room. It's a cosy, spacious environment to enjoy the tasting that also offers a fine view of the vineyard and courtyard.
The wine selection includes Franciacorta DOCG Brut, DOCG Millesimato and DOCG Saten.
Barone Pizzini
Barone Pizzini prides itself of being a pioneer of "natural farming in Franciacorta". It was one of the first wineries to be registered in DOCG in 1967.
What Barone Pizzini offers is an environmentally-friendly approach to wine making. Because two thirds of the building is underground, this allows for eco-friendly solutions such as a natural cooling system and phyro-purification of the water. Delicious wines and an environmentally sound process: a winning combination!
The tour explains the principles and processes involved and also includes visits to the wine making and ageing rooms, not to mention a tasting of the wines made!
Lantieri de Paratico 
The family tree of Lantieri De Paratico has roots in Franciacorta that date all the way back to 930 AD. The family was well known for wine production in the 16th century, supplying wines to the the courts of Milan and Ferrara and the court of the Ganzagas in Mantua.
Today, Lantieri De Paratico produces in the region of 160,000 bottles of wine a year (with around 120,000 of these being Franciacorta DOCG). Cultivation takes place in vineyards that span 20 hectares.
The farm house awaits guests for guided tours and tastings and an unforgettable wine sampling experience!
Majolini
Arriving in Ome in the 15th century, the Majolini family quickly made a name for itself in quality wine making. That strong reputation continues to the present day. In recent years, the family has developed and grown the business in a number of ways. For example, in the late 1960s, Valentino Majolini renovated the family winery and commenced cultivation of Ruc di Gnoc.
The new winery stands tall since its initiation in 1995. It spans 4000m and as well as the wines, plays host to some fabulous art works from Giuseppe Bergomi and Aligi Sassni.