Tuscan cuisine is all about simplicity; there's no need for elaborate dishes when the raw ingredients are so good to start with. In fact, a classic way to begin a meal in Tuscany couldn't be any simpler: bruschetta, fragrant, unsalted Tuscan bread drizzled with delicious Tuscan extra virgin olive oil, some of the best in Italy, which has been produced here for centuries; or the variety of fett'unta, grilled bread seasoned with olive oil and salt and rubbed with fresh garlic.
Another classic way to start a meal in Tuscany is with a variety of tasty crostini; they include those topped with fagioli al fiasco, an ancient way of cooking beans deriving from the peasant tradition. The method consists in putting the beans, previously soaked for 8-10 hours, into a flask, adding aromatic herbs (usually sage leaves), a little water, pepper, garlic, and then sealing the flask. The flask is then inserted into an ash and embers pile next to the fire all night long. The flavors from the garlic and sage stay inside the flask making the beans particularly tasty, even if you use simple cannellini. In the morning, the beans are ready; all they need is a drizzle of extra virgin olive oil, another example of the simplicity and tastiness of Tuscan cuisine.
For meat lovers, crostini are also flavored with more robust toppings, for example liver or wild game sauce.
Bread is revered in Tuscany, and it has long been tradition not to waste any of it; thus, the locals have implemented ways to enhance it even when stale, as shown in many traditional recipes: panzanella (made with stale bread, red onion, basil, seasoned with oil, vinegar and salt); ribollita (the typical dish of peasant tradition, whose basic ingredients are beans and black cabbage, and whose name derives from the practice of re-heating it several times); pappa al pomodoro (homemade, unsalted Tuscan bread, tomatoes, garlic cloves, basil, extra virgin olive oil, salt and pepper).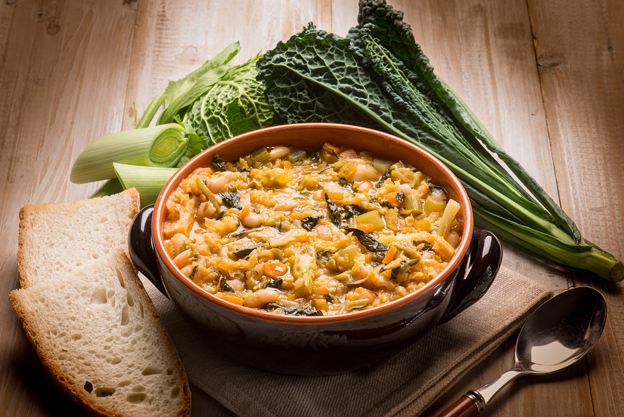 Other products regularly found on the tables of the Toscani are cheeses, chief among them pecorino, also known as cacio, made with sheep's milk and served after at least eight months of aging (among the most famous are pecorino di Pienza and pecorino maremmano). Prosciutto crudo is also widely used, as well as finocchiona, a type of salame seasoned with wild fennel seeds.
Tuscan cuisine also makes large use of white meat and game. Animals like chickens, turkeys, geese, pharaohs and pigeons, rabbits, and wild game such as hare and wild boar, have been a staple of festive occasions for a long time. Pork is also widely used.
Of course the most famous meat dish of all is bistecca alla fiorentina, or simply 'la fiorentina': traditionally sourced from either the Chianina or Maremmana breeds of cattle, it is thickly cut including the bone, very large, and it is grilled or broiled, preferably rare, seasoned with salt, sometimes with black pepper, and olive oil, applied immediately after the meat is removed from the heat.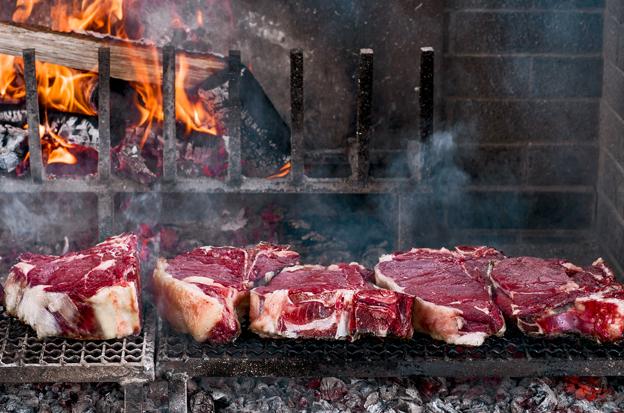 Among primi (first courses), pappardelle al sugo di lepre (broad and flat pasta similar to fettuccine seasoned with hare sauce) need a mention; pici cacio e pepe are another classic, quick and easy to make, using, as the name suggests, black pepper, medium aged pecorino and salt.
Among secondi, besides the fiorentina, there is trippa alla Toscana (not for everyone because of its strong flavor!): tripe, which is made with offal, has been popular in Tuscany, and especially Florence, since ancient times, and is still much appreciated today.
Fritti are also popular among secondi: fried foods such as lamb, chicken, eel. From the coast, seafood-based dishes have spread to the rest of the region, especially the cheaper varieties, which often serve as a base for tasty soups, such as the popular caciucco alla livornese.
Tuscan desserts and sweets don't disappoint either; from the simple cantucci, dry cookies flavored with almonds, dipped into Vin Santo, to castagnaccio, made with chestnut flour, to the panforte di Siena, a recipe that has been passed down since the 13th century. Other favorites include the sweet ricciarelli, another typical treat from Siena made with almond, sugar, and egg white, and now traditionally enjoyed at Christmas time; buccellatto, which originates in Lucca, is very simple, and, again, makes good use of bread; it has a soft interior filled with gooseberry and anise.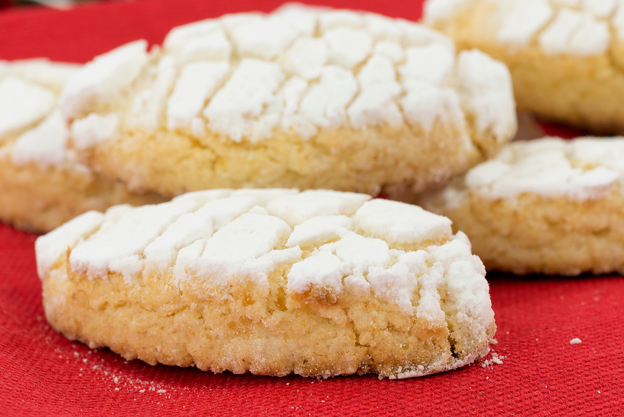 Wine production in Tuscany deserves a dedicated article, here it will suffice to mention such worldwide stars as Chianti wines, Tignanello and Sassicaia, Brunello di Montalcino, Nobile di Montepulciano and, among whites, Vernaccia di San Gimignano.