In this half-day cycle starting from central Bologna and ending at the small town of Sasso Marconi, you can take in hilly scenery of Bologna's back country, see where history was made at the villa of radio pioneer Guglielmo Marconi and sample some local delicacies in one of the province's best osterias. The route is entirely flat, mostly along cycle paths and can be done by even the most beginner cyclist. With no tourists around, it offers a chance to see Italian life in all of its ordinariness, away from the sometimes twee environs of the centro storico.
In total, the ride from Bologna to Sasso Marconi should take you one hour at a leisurely pace, not counting stops along the way. Rent a bicycle from Dynamo, a bike co-op on Via dell'Indipendenza near the bus station - a half day rental will cost you 13 euros. 
Starting in Bologna's Piazza Maggiore, cycle down Via Ugo Bassi and then Via del Pratello. At the end of Pratello, turn right and cross the ring road onto Via Sabotino. A signpost marks the cycle route to Casalecchio di Reno, which will take you about 20 minutes (or use this map). Much of that journey follows the picturesque surroundings of the Reno canal.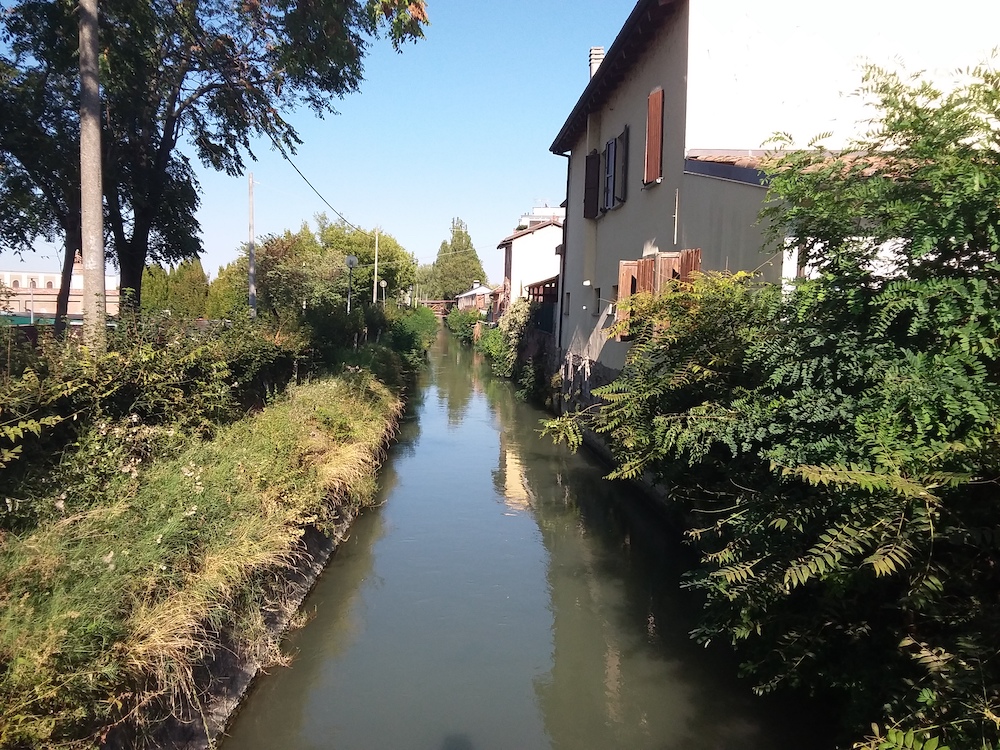 Certosa (10-minute cycle from Piazza Maggiore)
Bologna's vast, monumental cemetery – known as Certosa – is an expedition in itself. The cemetery contains the tombs of all Bologna's great and good, including Giosue Carducci, Giorgio Morandi and Lucio Dalla. The sheer scale of the cemetery – the first time I visited, I got lost and had to navigate my way out using google maps – as well as the diversity of the tombs, which range from Baroque to Neoclassical to 1930s Rationalist curiosities, make it a rewarding visit. Don't miss the cemetery's creepy, often candlelit catacombs while you're there.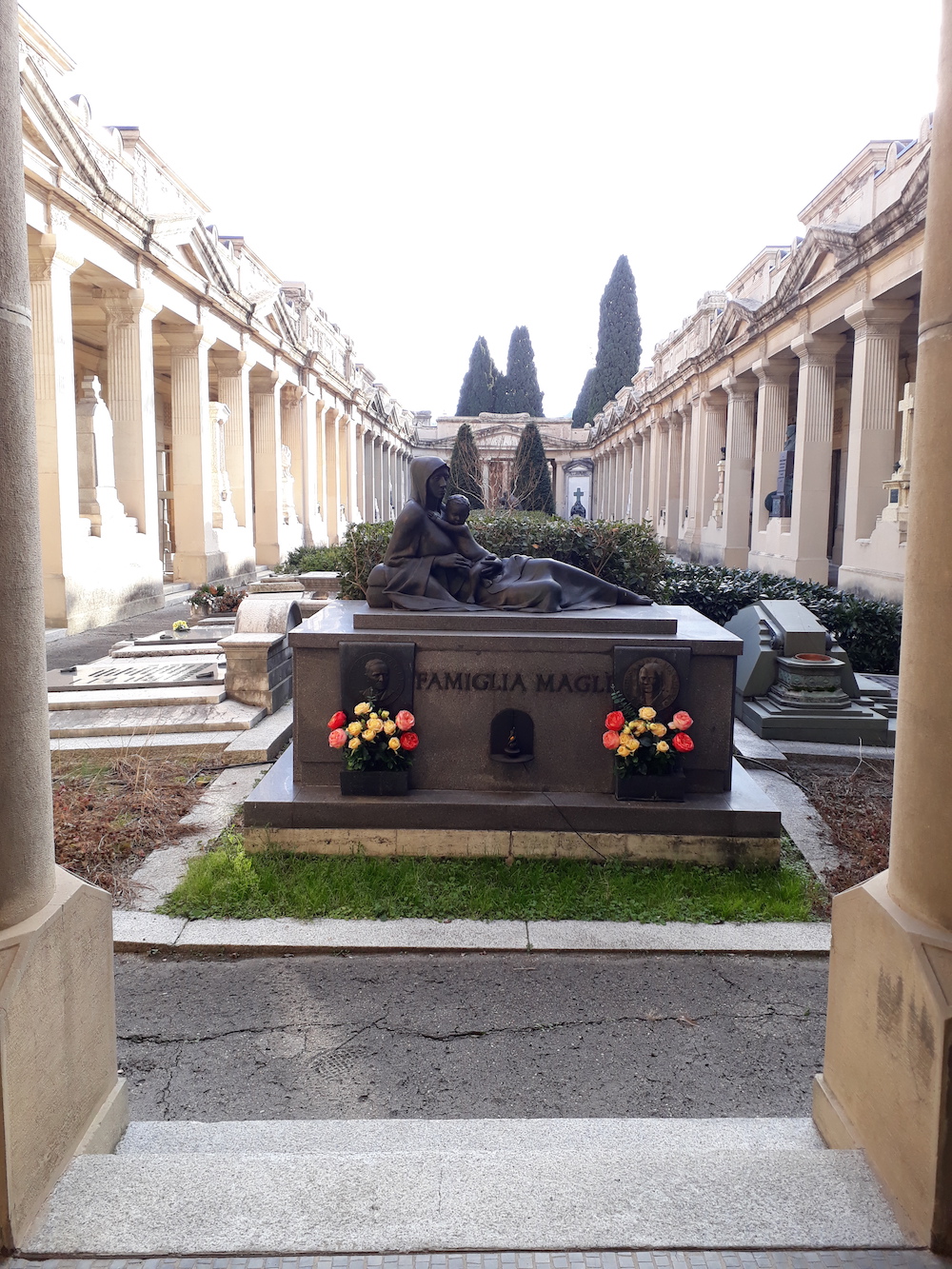 Casalecchio di Reno (20-minute cycle from Piazza Maggiore)
The awesome sight of the expansive Reno river greets you as you enter Casalecchio di Reno. A fairly non-descript satellite town, Casalecchio's best asset is Parco Della Chiusa (also known as Parco Talon), a vast forest and nature reserve full of crumbling old mansions, hiking trails and great views of the river and undulating hills. The park is a popular spot for picnics and makes a worthwhile destination on its own.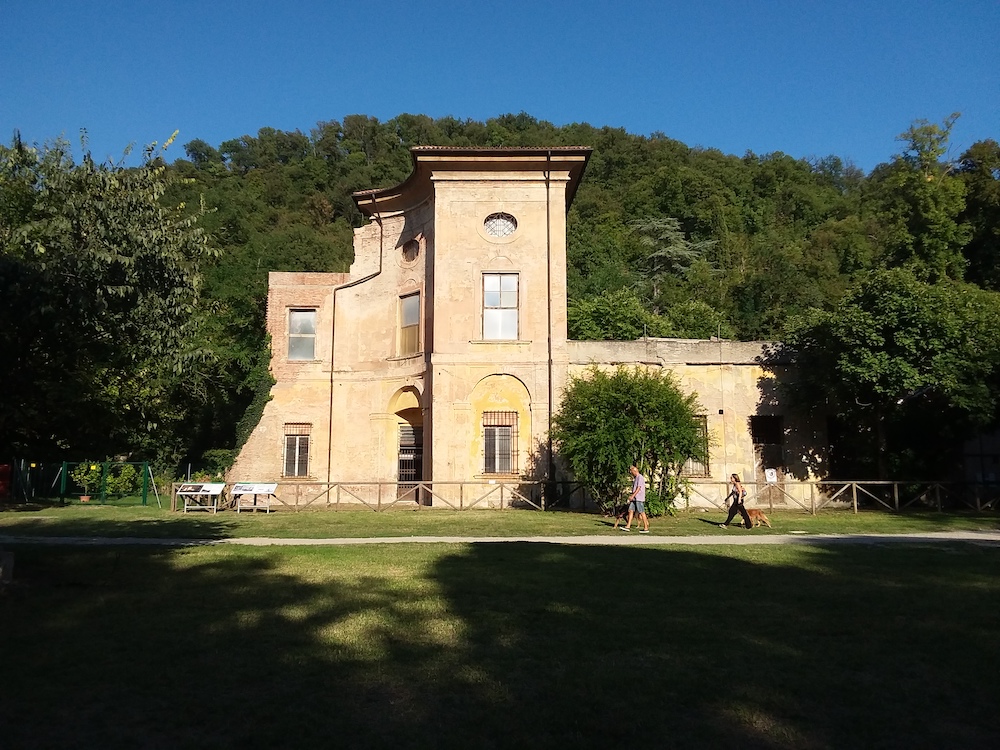 From Casalecchio, you can shimmy your way onto Via Porrettana which continues until Sasso Marconi. Though parts of the trip require you to share the road with cars, most of it is along convenient red-brick cycle paths.
Villa Griffone and the Mausoleum of Guglielmo Marconi (40-minute cycle from Piazza Maggiore)
Villa Griffone was the ancestral home of the Marconi family and its most famous member, Guglielmo, who is credited as the inventor of radio for which he shared the 1909 Nobel Prize with Karl Ferdinand Braun. Born in Bologna and raised partially in England, Marconi began experimenting with radio waves in his early 20s at Villa Griffone. It was here, in 1895, that Marconi managed to send the first ever long-distance, wireless radio transmission using a specially built monopole antenna.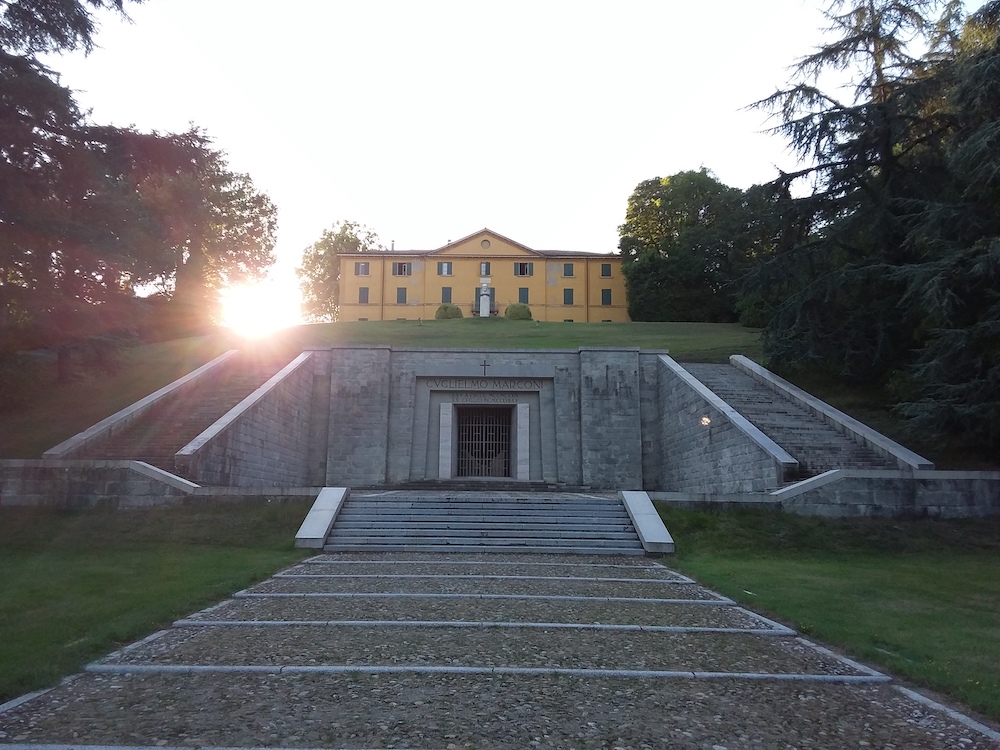 Today Villa Griffone is the seat of the Guglielmo Marconi Foundation and contains an interesting museum devoted to his life and work. Even if you skip the museum, it's worth popping into the gardens (free) to see a replica of Marconi's revolutionary radio transmitter as well as an 8-metre tall statue of the man himself.
When Marconi died in 1937, Mussolini ordered him to be buried in a specially designed mausoleum beneath the villa. The resulting structure, designed by Marcello Piacentini, is typical of the bombastic style of 1930s Fascist architecture, albeit with some interesting neo-Etruscan ornaments which make it worth a look.
Colle Ameno (45-minute cycle from Piazza Maggiore)
The mini-borgo of Colle Ameno is one of the stranger sights in the province of Bologna. Having the appearance of an army barracks, it is in fact a village where all residents live communally, complete with workshops and an osteria. Built in the 18th century, it also became known for its trompe l'oeil artwork, which is still partially visible on the walls and in the old Villa Ghislieri.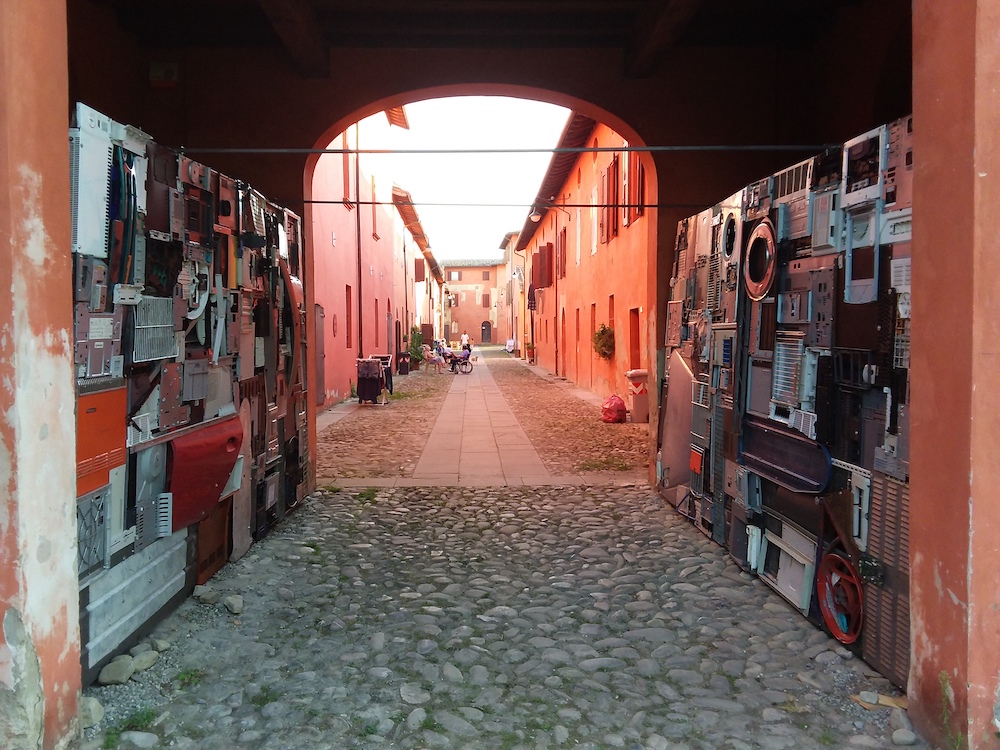 Sadly, the village also has a tragic history. During WW2, the village's unique architecture led the Nazis to requisition it as a prisoner of war camp. Thousands of Italian men from the surrounding area found themselves doing forced labour here or being sent to work camps in Germany. After the village was liberated in 1945, a grave was discovered containing the bodies of 21 Italian men who had been executed for resistance.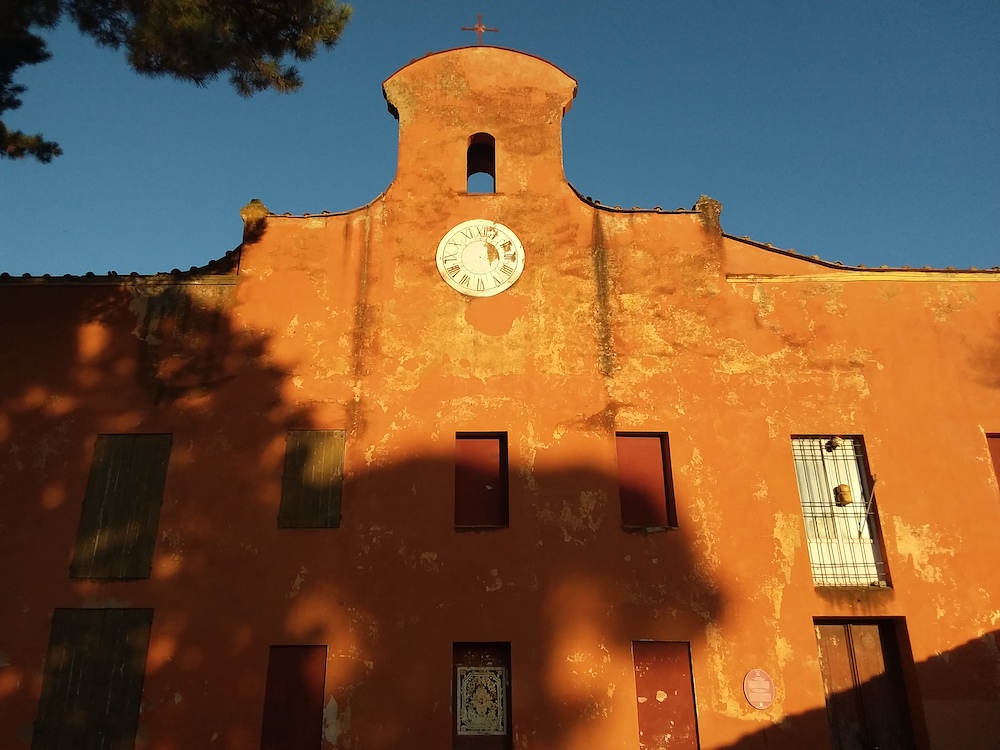 Palazzo De Rossi (50-minute cycle from Piazza Maggiore)
From Colle Ameno, you can glimpse the surreal sight of Palazzo de Rossi emerging mirage-like from the wooded hills across the river. Built in the 16th Century by wealthy aristocrat Bartolomeo de Rossi, it surrounds the small village of the same name. Though the castle is mainly used for events these days, the pocket-sized village is still very much alive and a small detour here will land you in fantasy postcard territory.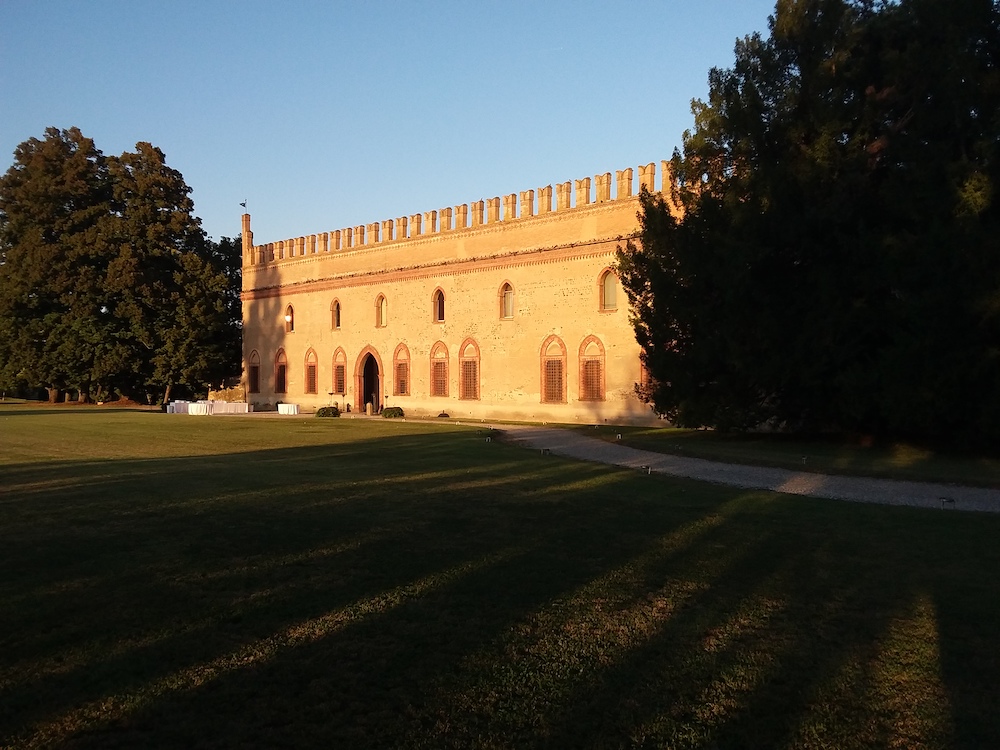 Sasso Marconi (60-minute cycle from Piazza Maggiore)
Like most towns along this stretch of valley, heavy WW2 bombing took its toll on the small town of Sasso Marconi, which is fairly bland in appearance. It does have a reliably attractive piazza though, with a well restored church. The main reason to come here however, is for lunch at Osteria dei Sani, one of the best restaurants in the province, and often stuffed with locals on weekday afternoons.
From Sasso Marconi, it's the end of the line for easy cycling (though further adventures into the Apennines are possible). If you don't feel like cycling back to Bologna, regular trains run from Sasso Marconi station on the eastern edge of town.