Northern European destinations tend to monopolize the lists of top spots for a fairytale white Christmas. It's hard to argue with snow-capped mountains and mulled wine. But if you prefer pasta to goulash and hope to stroll glittering streets without your toes going numb, then Rome makes a perfect holiday season mini-break.
After a few less-than-cheerful Christmases due to the pandemic, Italy's capital city — and my home base! — has come back in full force, delighting residents and tourists with seasonal activities. If you're ready to pile on the holiday cheer, Italian-style, here's a quick guide to spending a few festive days in the Eternal City — all suggestions that have my local's seal of approval. 
Things to do during the Christmas season in Rome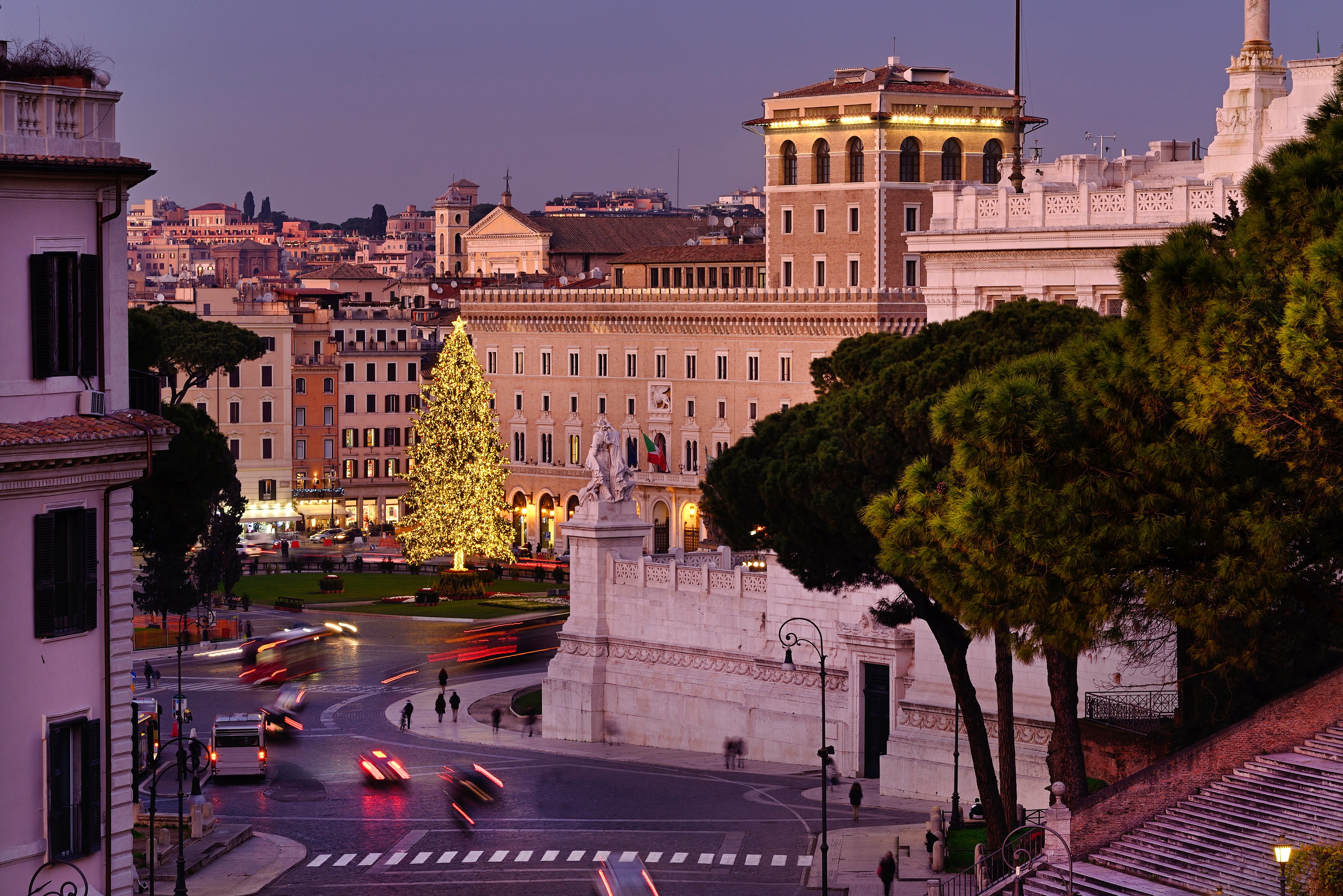 Keeping to tradition, December 8 marked the official kickoff of the Italian holiday season as the country celebrated La Festa dell'Immacolata, formally known as the Feast of the Immaculate Conception of the Blessed Virgin Mary. Now that Rome has officially moved into Christmas mode, there's no shortage of ways to embrace the holiday joy.
Explore the Christmas market in Piazza Navona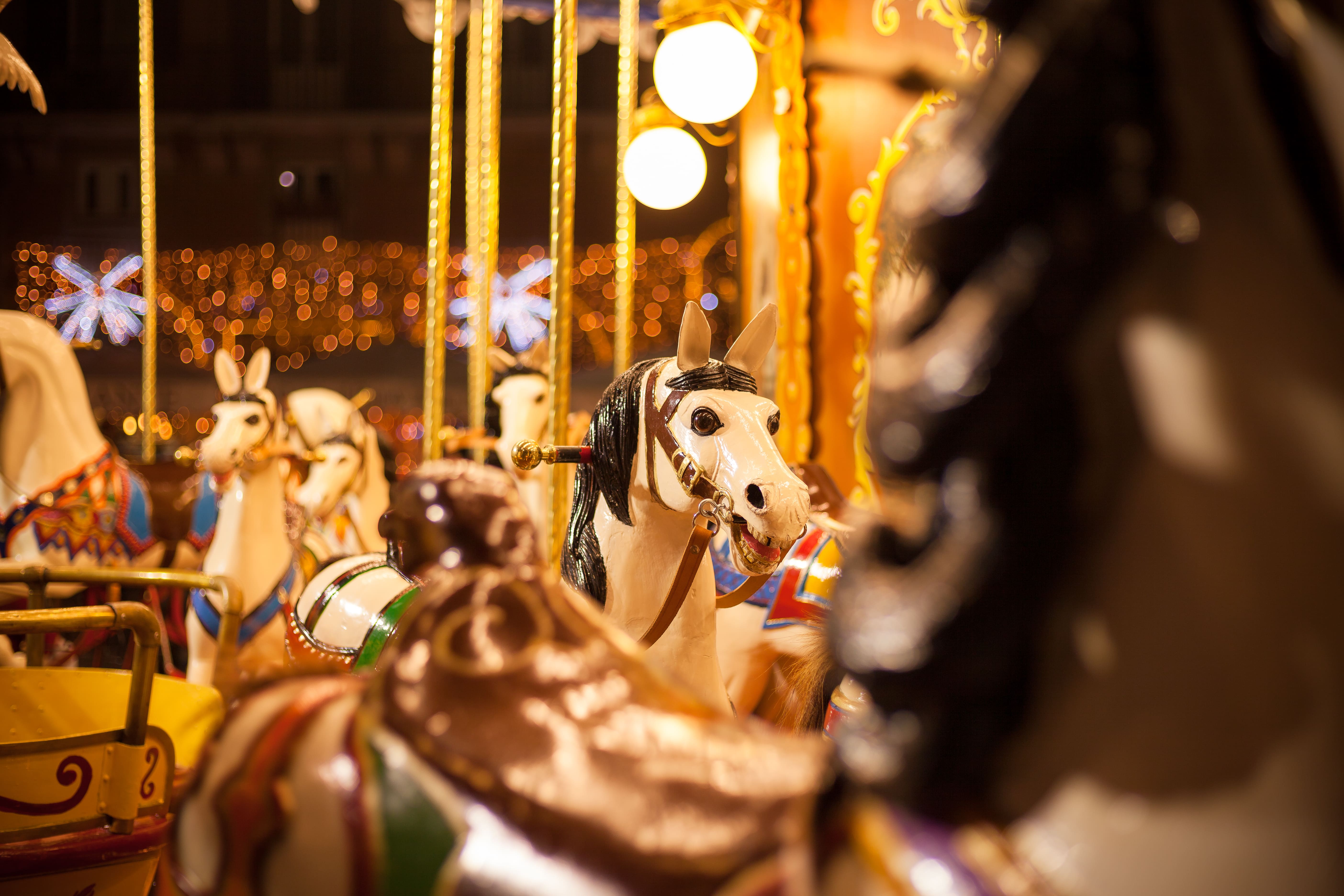 Munch on sweet treats and pick up some artisan-made toys, holiday decorations and crafts — all against the backdrop of one of Rome's most beautiful piazzas and its Baroque masterworks. The market kicks off every day at 10am and stays open until 1am during the week (2am on weekends), so you can squeeze in a visit after dinner without any risk of being booted out. Don't skip the carousel for a whimsical moment of pure holiday fun.
Take in the glittering holiday lights 
Few things spark more joy than Christmas lights — my personal favorite (and mostly free) way to celebrate the holidays is wandering around Rome and basking in their glow. Some of the sparkliest are concentrated in the shopping boulevard of Via del Corso and on Via dei Condotti toward the Spanish Steps. Trastevere, too, dials up the charm even more than usual this time of year; the highlight in that area is the show-stopping Incanto di Luci experience at the Orto Botanico, which dazzles with its 1.5km trail of glittering lights. Tickets are limited — and the fun only runs through January 8, 2023 — so you'll want to book ahead on their website. 
Twinkle lights are stars in their own right, but what's Christmas without a tree (or a few?) If it's trees that tower stories high you're after, you'll want to add Piazza Venezia, Piazza San Pietro and the Colosseum to your lights tour.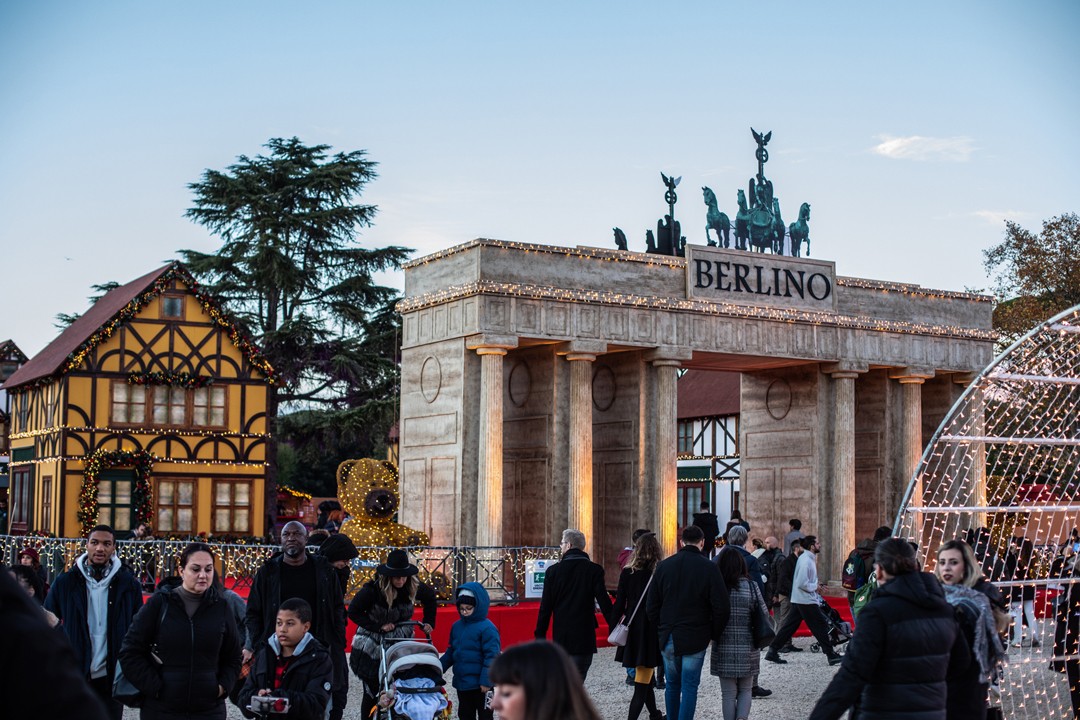 Organizers say it's the largest Christmas event in Europe. Though other markets and villages have made similar claims, "who's truly the biggest?" seems like needless hair-splitting when you've got 30,000 meters of Christmas cheer spread across Villa Borghese to enjoy. Decorations and stands take inspiration from global capitals (and Santa's workshop): You'll explore New York, Berlin, Paris, Tokyo, London, and the North Pole during your visit, with each area offering tailored entertainment and activities. Tip: Book in advance and, if you're flexible on visit times and find crowds a challenge, consider the period between Boxing Day and New Year's, when many locals will be snuggled up at home.
Admire the nativity scenes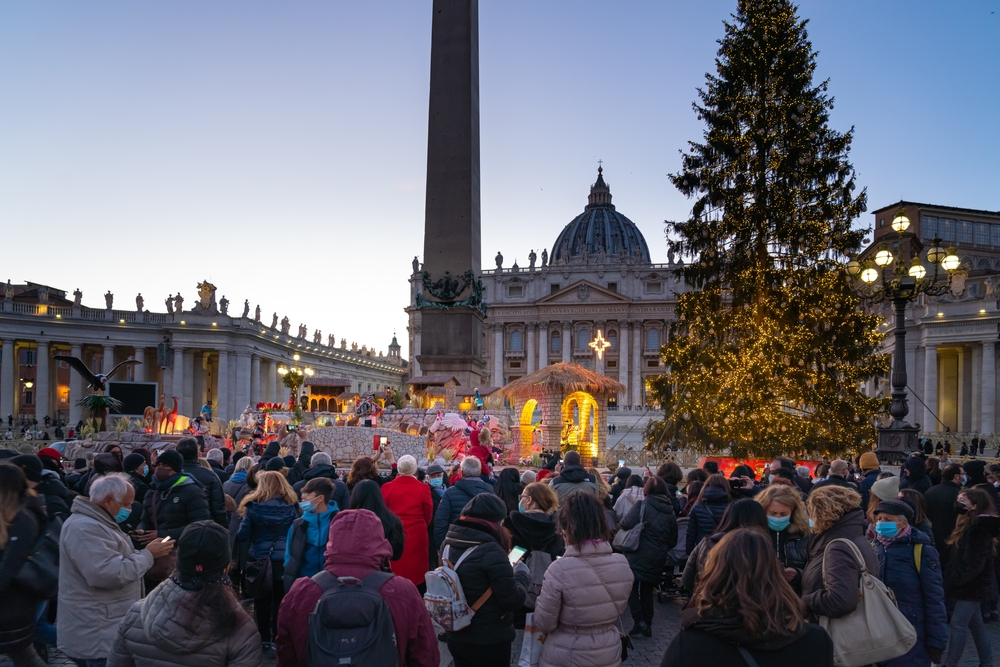 It's no surprise that in a city with more than 900 churches, you'll find countless presepi (nativity scenes) on view. Ranging from small and traditional to expansive and modern, presepi are a quintessentially Italian Christmas tradition and a must during holiday trips to Rome. The city's most sought-after nativity scene is found just where you might expect it, in St. Peter's Square. This year, the 116-square-meter scene was entirely crafted from sustainably sourced wood by artisans from Sutrio in the Udine province. But it's not just Italian crafters in the spotlight at Saint Peter's: Spaced throughout the famed colonnade are additional presepi that make up the fifth edition of the 100 Presepi in Vaticano exhibition, sourced from countries as far-flung as Taiwan, Venezuela and Ukraine. Entrance is free.
And hey, while you're there, you might as well step off to visit the epicenter of Catholicism. 'Tis the reason for the season, after all: After you've presepe-hopped and gazed at the albero di natale (Christmas tree), take a tour of St. Peter's Basilica and the Vatican Museums to gain a greater understanding of the history of the Catholic faith and its influence in Rome. 
What to expect during December 24-26 in Rome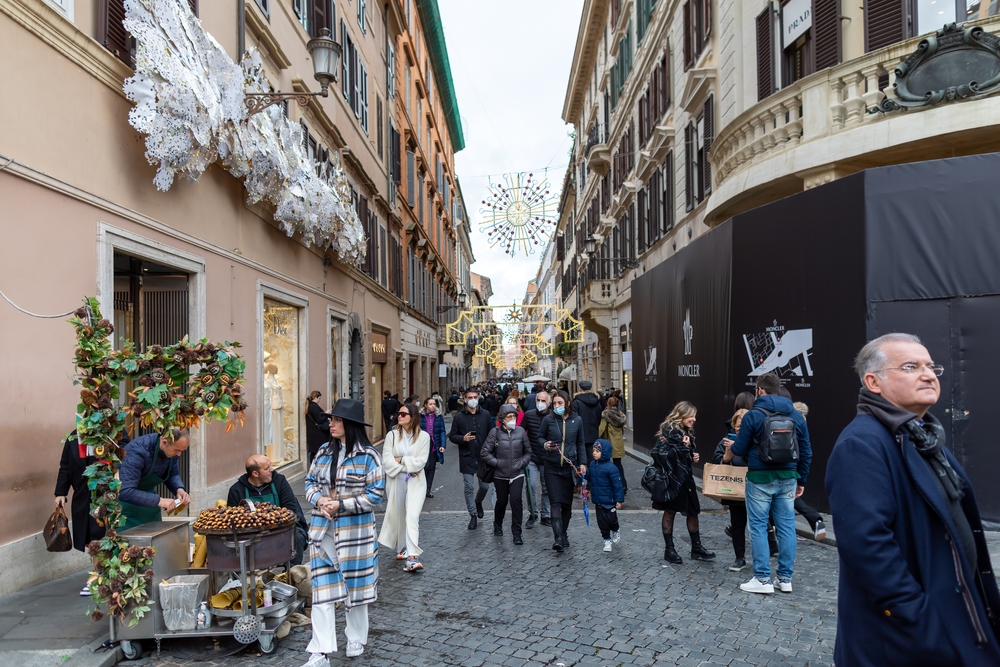 If you will be visiting Rome at the height of the Christmas holiday, you'll need to plan ahead to ensure that you avoid any "no room at the inn"-style scenarios as you explore the city. Make note of these tips and get moving if you want to experience Christmas like a Roman: December 25 will be here before you know it!
Many restaurants close on Christmas Eve and Christmas Day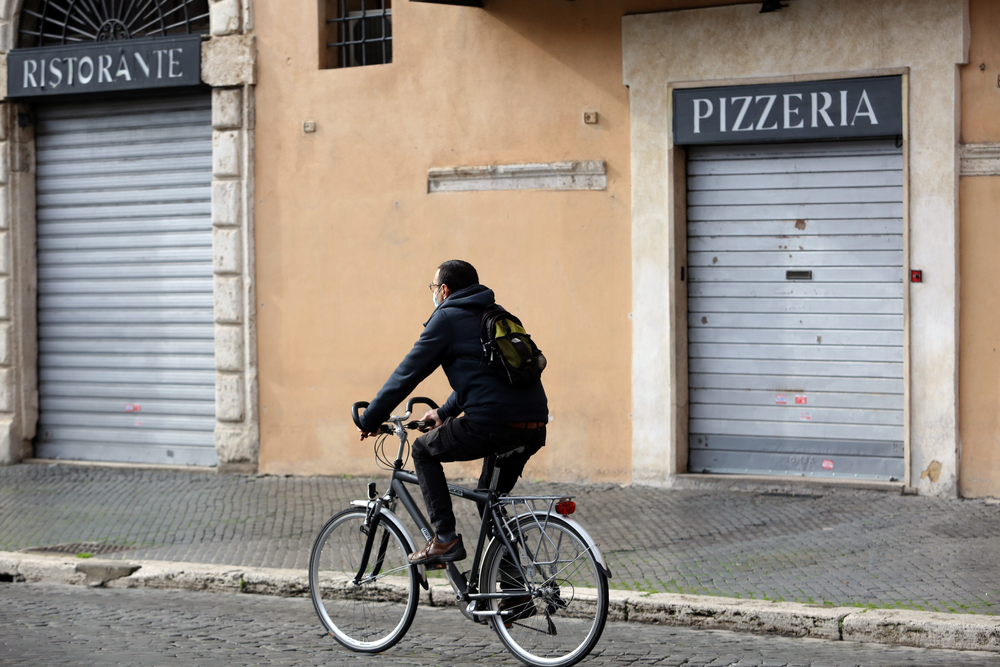 As many restaurants close their doors to celebrate Italy's biggest holiday, you'll need to proactively book for Christmas Eve dinner and Christmas Day lunch or dinner. Check out this list of restaurants located near the city's most famous monuments and call around to find a spot for a delicious festive meal. (Emailing or online booking for restaurants is very hit or miss; start trying at least a week in advance if you can't call.) A good rule of thumb is that fine dining joints and luxury hotel restaurants (like Settimo at the Sofitel Roma Villa Borghese) are more likely to be open and to feature fixed-price holiday menus than your neighborhood trattoria — giving you a ready-made excuse to splash out. I'd also typically suggest trying your luck at restaurants located in the city's historic Jewish quarter, but this year Hanukkah and Christmas overlap, causing a frenzy of festive meals!
Museums in Rome close on Christmas Day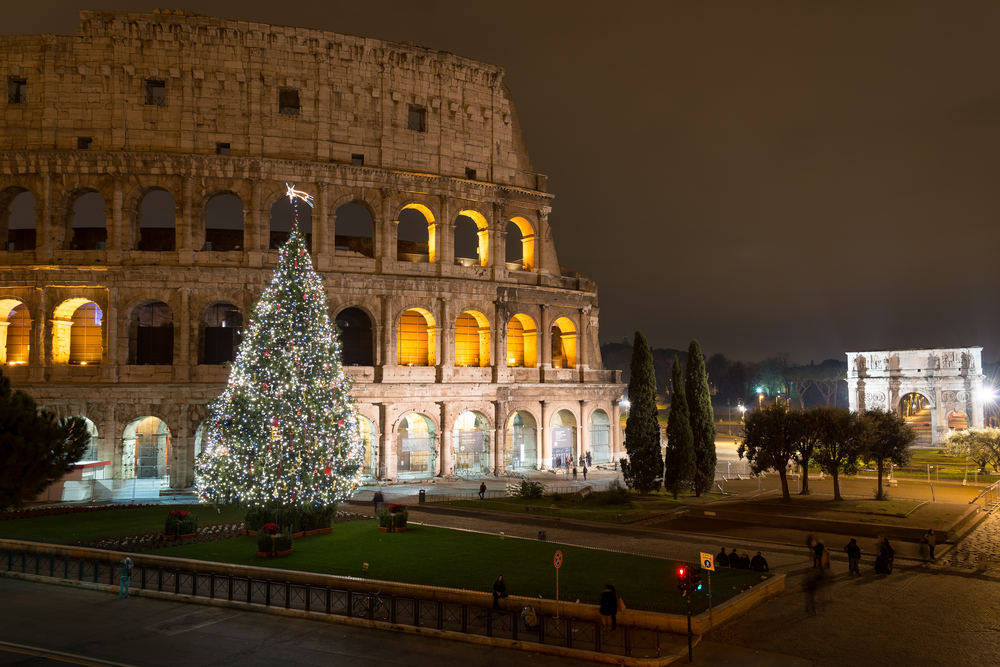 In 2022, all of the civic museums (which include the Capitoline Museums, Trajan's Market, and the Ara Pacis) are closed on Christmas Day but will be open on Christmas Eve from 9am-2pm, with last admission at 1pm. State museums (which include the Colosseum, Roman Forum and Palatine Hill; the Galleria Borghese; the Museo Nazionale Romano; and Palazzo Barberini, among others) are also closed on Christmas Day, but their opening times on Christmas Eve, New Year's Day and Epiphany are much less uniform. If you can brave a squint-inducing timetable in Italian, here is the complete list from the City of Rome's tourist call center, 060608. 
Attend a midnight mass on Christmas Eve
While you would have needed to request Papal Mass tickets for Christmas Eve several months ago, you can still watch the service from the big screens in St. Peter's Square without a ticket. Otherwise, you can attend a mass at any of the city's many churches in Italian. For those looking for services in English, St. Patrick's Catholic American Parish near the U.S. Embassy or St. Paul's Episcopal Church on the central Via Nazionale have full Christmas season calendars.