When I first visited Sicily, I fell in love with the sun-drenched island, balmy evenings, luscious desserts and excellent wines. I stocked up on the sweet golden Zibibbo from Pantelleria and bold fruity Nero D'Avola wines and fancied myself an expert on Sicilian tipple for a while. However, the more I learnt about the island the more I realized how little I knew about its grapes. There are so many unique varieties, one better than the other!
Old traditions
"For several centuries, the island wines developed apart from the influence of continental Europe. As a result, there are scores of indigenous grape varieties that we only see growing in isolated parts of the island. They have peculiar names, wonderful aromas and amazing flavors that are fresh and unforgettable," explains Benjamin Spencer, an American expat living in Sicily, director of the Etna Wine School and the author of the forthcoming book, The New Wines of Mount Etna.
Benjamin says that Sicily is a working museum of wine because some winemaking traditions there exist since Greek, Roman and medieval times. "Mount Etna's palmenti (gravity-operated wineries) are prototypes for modern facilities and gentle winemaking practices; in Marsala, there is a long tradition of perpetual aging sweet wines; in the production of passito (delicately sweet raisin wine), grapes are laid out to dry in the sun to evaporate the water in the grapes."
Many local wineries still have remnants of ancient vineyards on their properties as a reminder of Sicily's long-standing wine production and vines dating more than 100 years back.
New wave wines
Roman emperors and nobles loved Sicilian wines but, as centuries passed, they lost their appeal and for a long time were exported in large quantities for blending. It all started to change about a decade ago when some local wine makers decided to switch from quantity to quality choosing low-yielding native grapes over industrial production. Since then the island's wines have been steadily conquering the hearts and palates of international connoisseurs.
There is nothing generic about Sicilian wines. With about 20 indigenous grapes, changing altitudes, diverse climates and an array of soils, the range of wines in this relatively small region is mind-boggling for a novice. Benjamin Spencer suggests to keep it simple in the beginning. "Starting with wines and wineries in west Sicily is a good strategy for a beginner. Another avenue is to begin with regional wines (Terre Siciliane or DOC Sicilia). From there, it is easy to focus on the appellation wines and eventually single-vineyard wines from specific soils and grape varieties."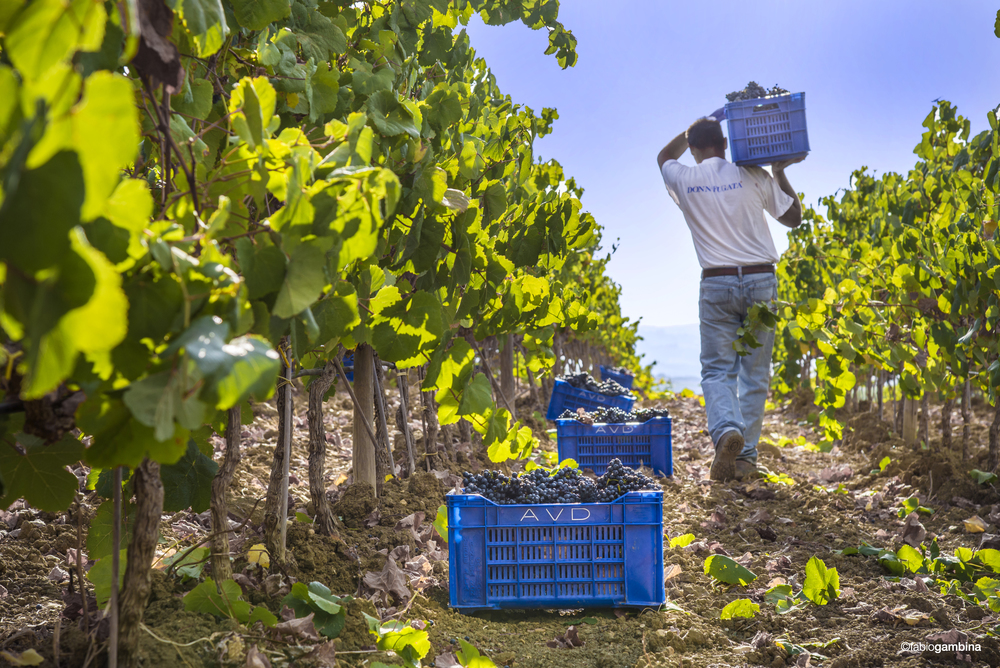 Photo credit: Donnafugata vineyard
Donnafugata wineries run tastings all year around where you can try such DOC wines as Grillo, Marsala, Passito di Pantelleria. Another iconic producer, Planeta, which spearheaded the Sicilian wine renaissance, offers guided vineyard visits and degustations in their wineries in Noto, Menfi and Etna, which will introduce you to their DOC wines Nero D'Avola, Moscato, Chardonnay.
Heroic wines
I have a soft spot for so-called heroic wines (I have written about them here before) and Sicily boasts a handsome share of the Italian extreme vineyards. The slopes of Mount Etna, one of the world's most active volcanoes, the volcanic islands of Lipari and Pantelleria are dotted with vineyards. The difficult terrain where the vines grow require truly heroic efforts from producers here. "You are completely at the mercy of Nature's spontaneous and plodding rhythms. Every year, there is another challenge: the potential for cloudbursts, hail or drought; the onset of mold in the vineyard following rain; the hot sandy North African winds (sirocco); or the need to rebuild and replant a vineyard—by hand—on the steep terraces of the Etna volcano. To make wine in Sicily, you need the kind of stubborn passion to go on regardless of the obstacles. The rewards are absolutely worth it," explains Benjamin.
Such extreme conditions mean smaller quantities of wine, higher prices and a unique character. You can taste the volcano, Sicilian heat and that fierce African sirocco in a bottle.
Visits to heroic winemakers are fascinating and unmissable if you are for any wine buff. Many of them are small and not open to the public on a daily basis, so make sure you call or email first. C & S Biondi makes spectacular wines with native grapes such as Carricante, Cataratto, Nerello Mascalese and Nerello Cappuccio. Frank Cornelissen doesn't use any chemical treatments in his vineyards. His wines are often described as "sensational" and are accordingly expensive (a bottle of Magma Nerello Mascalese red wine costs about €200 and only 1500 of them are produced each year). During visits, you can stroll in an ancient vineyards and taste 3-4 wines. If you happen to be on the Island of Lipari, do not miss a tour of Tenuta di Castellaro with its striking underground winery, tiny vineyards clinging to steep volcanic terraces overlooking the sea and exquisite Malvasia.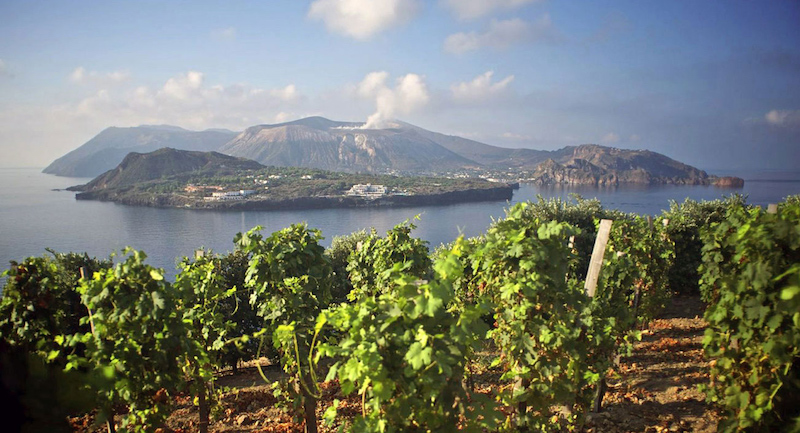 Photo credit: Tenuta Di Castellaro
The incredible variety of Sicilian wines means that there is something for everyone. "White wines from Inzolia, Carricante and Grillo are fresh, aromatic and intensely gratifying. Red wines from Perricone, Nerello Mascalese and Frappato are delicious, versatile, and age-worthy. Sweet wines from Malvasia delle Lipari and Zibibbo are extraordinary, luscious and juicy. Prices usually increase from white wines through reds to sweet wines, but Sicilian wines have very high quality for a fraction of the price. It is one of the many reasons they are so fabulous,"says Benjamin.     ​