The Hidden Gems of Sardinia You Don't Want To Miss
Culture. Festivals. Atmosphere. Sardinia has it all, and John Bensalhia lists some good reasons why...
Sardinia has everything you could want when it comes to culture. It's the setting for a variety of festivals that celebrate heritage and tradition, as well as a superb range of music shows that cater to all kinds of musical tastes. And if you're after a trip to the theatre, then Sardinia can oblige. But there are also some hidden gems that are just the thing if you want some old style Sardinian ambience...
Festivals
The early part of the year nets the highly popular festival, Sagra del Bogamari – or the Sea Urchin Festival.
The town of Alghero becomes a massive culinary hotspot, attracting not only locals but people from all over the globe who wish to sample some of the local delights. All kinds of dishes based on the Bogamari are available to try and buy, including of course, the famous Sea Urchin Spaghetti, a favourite for many a year.
Alghero certainly puts on a show, with its costumes, delicious food and unique sea-themed ambience.
Sardinia gets its very own special day on 28th April. To mark the Sardinian Vespers revolt in 1794, Sa Die de Sa Sardigna is held in Cagliari and various other locations such as Barisardo, Nacao and Saniuri.
Quick history lesson: The year before, in 1793, a French fleet attempted to conquer the island, but the Sardinians held fast with sturdy defence. The following April, this uprising concluded with both the expulsion of Viceroy Balbiano and the island's release from the grip of Piedmont.
The festival re-enacts many of the key events connected with this period, complete with period costumes and wigs. The folklore is also explored in a number of musical shows, which also conclude the event along with other general music concerts and joyous celebrations.
Early May sees the Feast of Saint Efisio. The first few days of this month honour the martyred Saint who came to Italy to originally counter the spread of Christianity. But the legend has it that Saint Efisio experienced a vision in the sky – that of a shining cross, as well as hearing the voice of God. Once in Sardinia, he converted to the religion that he had originally come to counter.
It's claimed that around 5000 people participate in what's described as one of the largest, one of the brightest and one of the most colourful religious processions in the world. The procession is steeped in tradition, whether it's the costumes, the rituals, or the route itself – moving across the route from the prison where Saint Efisio was held at the place of martyrdom in Nora to the church Stampace.
Sa Sartiglia combines history, masked horseback jousts and a sense of the theatre. It's held in Oristano over a three-day period, and adds a splash of colour to the month of February.
There is some debate as to when this much-anticipated festival first came to light. Was it a rite of Spring in the days before Christianity? Did it come from Spain in a response to the similar festival La Sortilla? Or did the knights of the 2nd Crusade bring Saracen-style events to Sardinia in the 12th century?
The joust is the centrepiece of this event – it's overseen by an arbiter called Su Componidori, and this is where that sense of the theatre kicks in, as this enigmatic figure is dressed in medieval costume, complete with a white mask and ribbons. The aim of the joust is for each competitor to aim for a star-shaped ring that hovers three metres above ground level. It's believed that the more hits scored, the better the prospect of a good harvest and good luck to the locals and the farmers.
The crowds love it, and they will also love the other events including daredevil horseback stunt performances, younger riders giving it a go on miniature horses, plus traditional song and dance.
Music
When it comes to culture, Sardinia prides itself on its excellent music festivals – taking in all kinds of styles and musical genres.
If you like your jazz, then you won't go wrong with Berchidda's Time In Jazz, which is usually held every August.  The area comes to life as it hosts a week's worth of great acts, with events held in the main square of Berchidda, the evening concerts theatre, and also the woods of Mount Limbara.
Among the artists to grace this event are Jan Garbarek, the Kronos Quartet, Maria Pia De Vito, Ahmad Jamal, and Jon Hassell. The festival isn't just limited to jazz though – other styles are catered for including world music, theatre artists, singer/songwriters and even poets. Also, films and documentaries are screened as part of the Time In Jazz project, in addition to other performances, exhibitions and events to provide a varied and interesting cultural overview.
SUNANDBASS originally began life as a small-scale beach party. Today it stands as one of the finest drum and bass festivals in the world.
The Sardinian drum and bass event is well known for its fun, friendly atmosphere, getting the party started and keeping it going for eight days. The ambience at San Teodoro is very much one of everybody having a good time – not just the guests but the acts who are invited to perform. Well-known DJs have taken to the decks alongside up and coming new artists, making for a diverse and enjoyable line-up.
The event has grown in both reputation and size to accommodate various locales at San Teodoro, including Bal Harbour and the La Cinta Beach – both ideal places to enjoy the music and the sunny party flavour.
A great thing about Sardinian music culture is that it revels in bringing all kinds of genres to awaiting ears. Reggae music is one of the finest musical exports there is, and the decision to introduce a special festival by the cultural organisation Sardinian Reggae was an inspired one. Helping to enhance reggae music in the region, as well as creating new social activities, it's an unmissable experience.
The recent festival line-up was a typically strong one and included a wealth of international reggae acts including Dubtonic Kru, Sylford Walker, Zion Train, General Levy and Prince Alla. It's worth getting your hands on a ticket for the next festival – whether you're a reggae aficionado or just a fan of good music, this will be right up your street.
Theatres
Inaugurated in 1993, the award-winning Teatro Lirico di Cagliari plays host to all kinds of musical and dance performances. Opera. Ballet. Symphonic and chamber music.
It's a warm, welcoming environment, and also offers its own bookshop as well as a bar and a restaurant where you can enjoy a meal or a drink after a show. In 2001, the theatre received the Franco Abbiati Prize for its high quality and inventive programming.
It's attracted high calibre guests, such as the London Philharmonic Orchestra, the Israel Philharmonic Orchestra and the Chamber Orchestra of Europe, not to mention a slew of conductors, soloists and directors. Among the works on stage have been Schubert's Alfonso und Estrella, Prokofiev's Semyon Kotko and Debussy's Sebastian.
This year sees more coming to Teatro Lirico. The Orchestra of the Teatro Lirico di Cagliari will be busy in September, performing the likes of Dvořák's Serenade for Strings in E major, Op. 22, Beethoven's Leonore: Overture No. 3 in C major, Op. 72A and Rossini's William Tell. More is to come in late November with a selection of Schubert and Mozart classics.
Other treats in store for classical music fans include a visit from pianist Michail Lifits in October. Performances on the 29th will include Schubert's Sonata no. 21 in B flat major, D. 960 and Schumann's Waldszenen op. 82 and Sonata no. 2 in G minor, Op. 22. Meanwhile, in December, Olli Mustonen will take the pianist's chair with pieces by Tchaikovsky, Chopin, and Prokofiev.
Nuovo Teatro Verdi, Sassari
For all kinds of great performances, Teatro Verdi is an ideal port of call. The theatre is due to re-open in September, according to a post on its website. If past guests and performances are anything to go by, visitors can look forward to some future stage experiences to remember.
The theatre opened officially in 1884, and in case you were wondering, the opening days featured the Luigi Canepa's opera, Richard II which was received to great acclaim and thunderous applause. In addition, three more operas and a ballet also greeted newcomers to the theatre.
Recently, the theatre has showcased a variety of great shows and acts. These include Jersey Boys, the musical devoted to the music of Frankie Valli and The Four Seasons, the musical adaptation of Billy Elliot, and the world-famous Jesus Christ Superstar. Plays have included Three Women Looking For Trouble, and Two Matches, while comics providing the laughs have recently included Max Giusti, Ale & Franz, and Lillo & Greg.
Teatro delle Saline, Cagliari
Teatro delle Saline in Cagliari was originally built in 1931. Sixty years later, it was renovated to also welcome conferences, congresses and other public events. Its striking original design remains, having taken inspiration from the Art Nouveau style with its ceiling polychrome frescoes, baroque paintings and surface decorations.
Teatro delle Saline is notable for holding various initiatives to encompass all ages into the theatre. In addition to the regular shows for adults, Family Theatre shows for all the family and Theatre For Children for schools are put on, giving youngsters a glimpse of the theatre.
Recent performances in 2016 have included the Company Winter Theatre's version of 1970s musical comedy movie, Stardust, the Mario Brai Ensemble's A Sea Of Freedom, and a set from musical artist, Luca Wu.
Hidden Gems To Visit
Ogliastra
Had enough of the crowds but want to see a place of natural beauty?
Well, you're in luck with the location of Ogliastra – a name that derives from the local olive tree. Ogliastra offers an unspoilt haven for those who like to be by the coast. Including a wealth of natural treasures such as the sea-based cliff known as Pedra Longa or the beach harbours known as Cale (including Cala Sisine, Cala Gonone and Cala Luna).
It's believed that the population of Ogliastra is quite small, at around 45,000 people – but the regions are colourful, traditional and well worth a look. One of the key towns is called Lanusei, an old mountain town that looks on to the Ogliastra valley. Another worthy of mention is the coastal settlement of Tortoli, which is near to Arbatax Port. You can also visit the local villages which each have their own unique identity and heritage. Coupled with the natural wonders of this location and the beautiful cliff and mountain coastal sights, it's a Sardinian gem.
Posada
The village of Posada is the one for you if you're seeking that authentic medieval atmosphere.
Take the layout – which is complete with winding streets connected by arches, steep steps and local squares. One of the most notable aspects of the area is the ruins of the Castle della Fava, originally constructed by the Judges of Gallura. The castle has actually been restored to ensure that you can reach the tower by means of a wooden staircase. From this vantage point, you can then appreciate some wonderful views, taking in the likes of the sea and the orchards of the plain.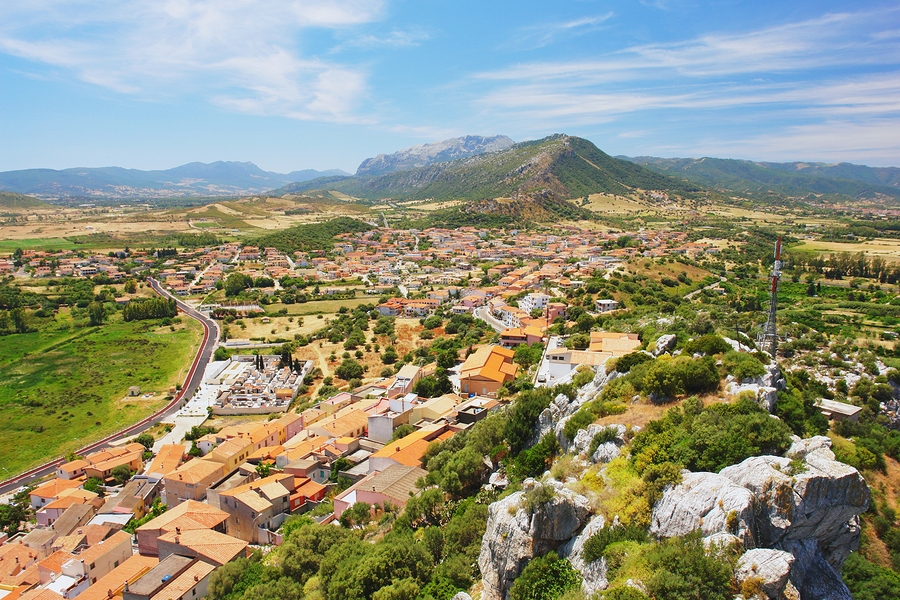 Other notable sights to see in Posada are the lake, which is bordered by lush pine forests, and the Parish Church of Sant'Antonio Abate, which was originally built in 1324, with a rebuild taking place in the 17th century. the seventeenth century.
Pula
Another great bit of Sardinian coastline is in Pula. There are three good examples – the Porto d'Agumu, famed for its white sand, sea and a clear view of Roman excavations. Talking of which, nearby is the Nora beach. Close to this are the impressive Roman excavations, which include an amphitheatre (the spot for a Summer music festival), the column from what is considered to be an old Roman temple, plus a forum and a spa.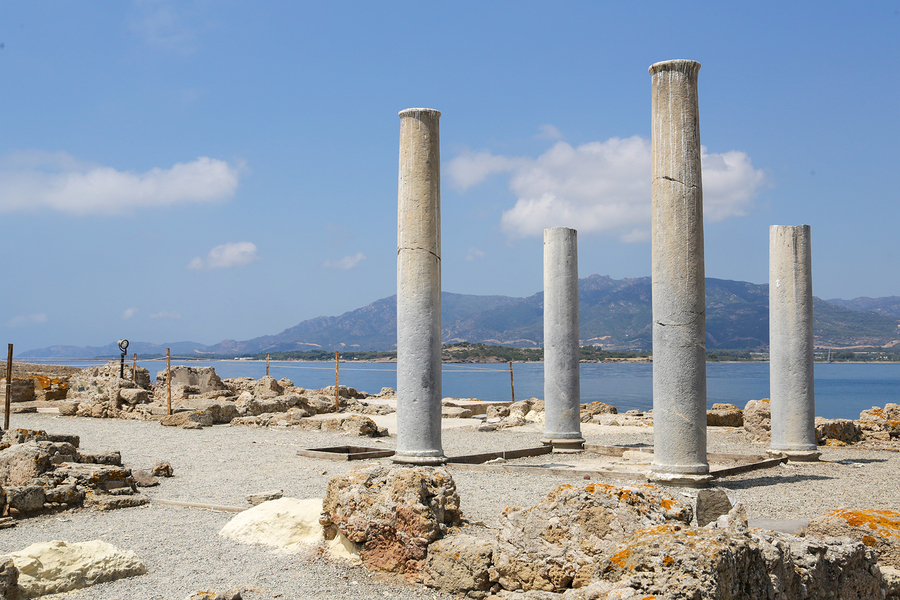 Fancy a relaxing beach walk? Santa Margherita di Pula is the village for you. It's full of lovely, natural surroundings and plenty of atmosphere.
Bosa
Sardinia contains a sizeable number of unspoilt and beautiful towns, and Bosa is no exception. This is another place to get away from it all, as the town is all about unspoilt countryside, amazing beaches and cool blue coasts.
Located on the north western coast, Bosa also has plenty to do. It's a successful fusion of old and new, with the old-style cobbled streets and piazzas meshing with plenty of facilities, bars, restaurants, cafés and shops.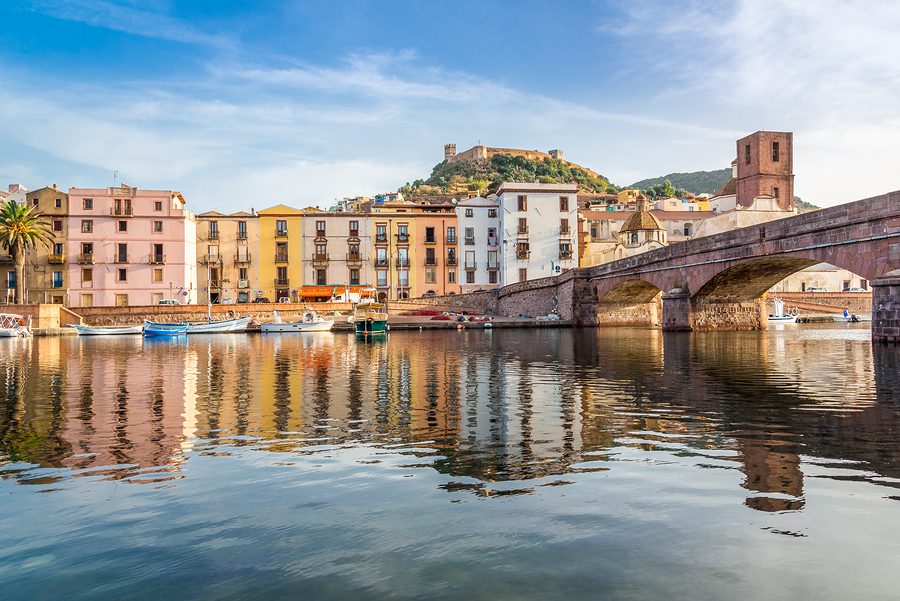 One of the most striking buildings is the Castle of the Malaspinas, which gives way to a great view of both the town and the sea. It's notable for housing a lovely old church which boasts a wooden statue of the Madonna and Child, as well as a selection of distinctive 15th century frescoes. If you're in Bosa, then it's also worth paying a visit to Cattedrale della Immacolata, a large 17th century building known for its paintings and coloured tiled dome.
If you're looking to go to the beach, then the nearest one is Bosa Marina, said to be one of the cleanest beaches in Italy. Once there, you can either lay on the cool, sandy beach, take a dip in the sea, or take advantage of the facilities on offer which include boats for hire and diving trips. The locals will also like to welcome you into the wide range of beach-side restaurants, cafés and clubs.
Topic:
Location:
You may also be interested in...