BACKGROUND
If there was one Verdi opera that could lay claim to being the longest, it's Don Carlo. Don Carlo started out life as a five-act opera that ran for approximately four hours. Based on
Don Carlos, Infant von Spanien
by Friedrich Spiller, this lengthy piece saw Verdi put the music to a French libretto by Camille du Lode and Joseph Mery. After the opera had been written, it was found to still be too long during the rehearsal period. Since the audience would need to leave before midnight, further cuts were made during this time in order to make sure that the opera finished before this deadline. Prior to an Italian performance in London in June 1867, notable cuts were made, including the removal of the complete first act, a third act ballet, a curtailed Elizabeth of Valois aria and a shortened duet between Philip II of Spain and the Grand Inquisitor.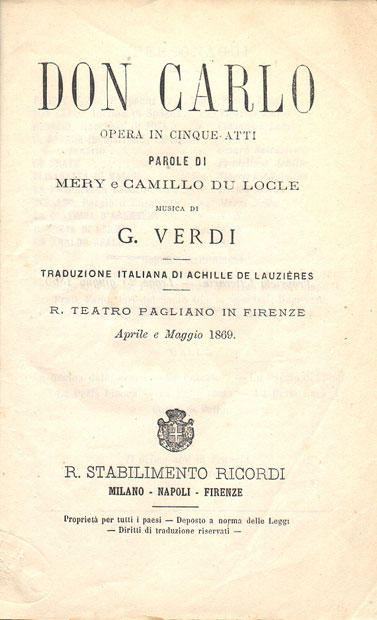 With these cuts in mind (some of which were allegedly made without Verdi's permission), later in his life, Verdi decided to shorten the opera for future performances in the 1880s. Between April 1882 and March 1883, he set about editing the piece to bring it to four acts instead of five. The end result premiered in January 1884 at La Scala, Milan. Intriguingly though, a later performance at Modena in late 1886 saw the first act restored, albeit without the ballet sequence. The opera was commissioned by Theatre Imperial de l'Opera and is based on the life of Carlos, Prince of Asturias. The opera revolves around the peace treaty of the Italian War of 1551 to 1559, which saw the Habsburg and Valois factions at war. Carlos' betrothed, Elizabeth of Valois, is the lynchpin to the peace treaty, as she must marry Carlos' father Philip II of Spain instead, to ensure that peace.
FIRST PERFORMED
11th March 1867, Theatre Imperial de l'Opera – Salle Le Peletier
NOTABLE PERFORMANCES
11th March 1867 – Theatre Imperial de l'Opera, France 4th June 1867 – Royal Italian Opera House, London, Britain 27th October 1867 – Teatro Comunale di Bologna, Italy 9th February 1868 – Teatro Apollo, Rome, Italy 25th March 1868 – Milan, Italy 10th January 1884 – La Scala, Milan, Italy (four act version) 29th December 1886 – Modena, Italy (restored five act version)
CHARACTERS
* Don Carlo – Son and heir of Philip II, the King of Spain * Philip II – King of Spain, Father of Don Carlo and husband to Elizabeth of Valois * Elizabeth of Valois – Daughter of the King of France, and the wife of Philip II * Rodrigo – The Marquis of Posa and friend of Don Carlo * Princess Eboli – Aristocrat and admirer of Don Carlo * Grand Inquisitor * Monk * Thibault – Page of Elizabeth of Valois * Countess of Aremberg – Elizabeth's lady in waiting
PLOT
(
Please note that this refers to the original five act opera
) On a cold winter's day in the Forest of Fontainebleau, Elizabeth of Valois reassures a group of unhappy woodcutters and their wives that her planned marriage to Don Carlo will end the Spanish War. Don Carlo himself has overheard this declaration and already falling for Elizabeth, he reveals his identity to a similarly smitten Elizabeth after pretending to be a delegate of the Court of Lerma. And indeed, peace has been announced, but the marriage is to take place between Elizabeth and Don Carlo's father, Philip II of Spain. A crushed Don Carlo visits a monastery in Saint-Just and is offered peace through God by a monk who resembles his grandfather, Emperor Charles V. Don Carlo's friend, Rodrigo, suggests that he should leave Spain for Flanders -Don Carlo later puts this suggestion during a clandestine meeting with Elizabeth, during which he continues to profess his love. Elizabeth rejects Don Carlo's declarations. A further meeting is arranged in Madrid. Don Carlo has received a note stating the time and place, but in fact, 'Elizabeth' turns out to be Princess Eboli, who threatens to tell Philip of the feelings between the two. Meanwhile, despite impressing King Philip II, Rodrigo's pleas to stop the oppression of Flanders fall on deaf ears. At a combined parade and burning of heretics, Don Carlo attends with six Flemish deputies who plead for the freedom of their country. After Philip refuses, an angered Don Carlo is persuaded by Rodrigo to halt his attack on the King – Rodrigo is then made duke by Philip. Realising that Elizabeth will never love him for who he is, Philip asks the Grand Inquisitor if the Church would have any problems with putting Don Carlo, his son, to death. The Grand Inquisitor points out that God sacrificed Jesus, but orders the death of Rodrigo. A reluctant Philip urges the Inquisitor to forget that this conversation had taken place. Worried and confused by the Inquisitor's ambiguous stance, Philip accuses Elizabeth of adultery. To add further mystery, a casket of jewels belonging to Elizabeth has gone missing. While Philip learns that Elizabeth has never committed adultery, she also learns that a jealous Eboli stole the casket. Eboli is confronted with a choice – either to go into exile or go into a convent. An imprisoned Don Carlo is helped by Rodrigo, but his friend is killed by a mysterious shrouded figure. In his dying throes, Rodrigo tells Don Carlo that Elizabeth wishes to meet him tomorrow at Saint-Just. A horrified Philip denounces Don Carlo's accusations that he killed Rodrigo, and furthermore, a vengeful crowd of people also seek revenge on the King – during the melee, Don Carlo and Eboli escape, as the Inquisitor demands that the people bow to their king. During the secret meeting with Elizabeth at a monastery in Yuste, she vows to help Don Carlo fulfil his destiny in Flanders. As Philip and the Grand Inquisitor enter, Don Carlo prepares to do battle with the Inquisitor's guards. However, emerging from the tomb is the enigmatic monk, who actually turns out to be Charles V. Proclaiming that no one can rest except in heaven, he drags Don Carlo into his tomb and closes the entrance forever.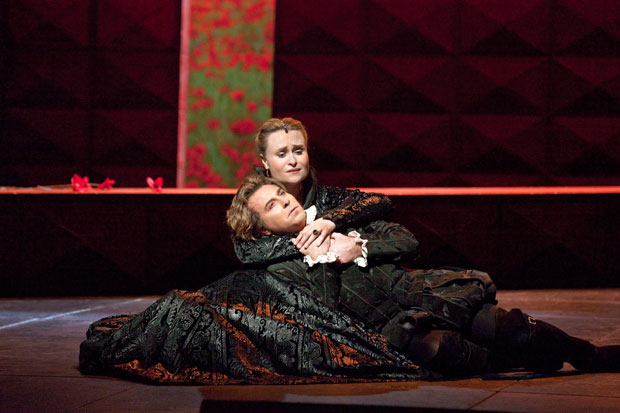 ANALYSIS
The lengthy, fabled Verdi piece from 1867 is an appropriately epic opera that not only encompasses the choices confronted in power, but personal struggles among the participating characters. One of the overriding themes of Don Carlo is that of love eluding its characters. Don Carlo wants Elizabeth, but can never have her because she is to be betrothed to his father. In turn, Philip knows that Elizabeth's heart can never be his. Eboli also finds that her love for Don Carlo is not requited, and in this respect, it shows the dangers of impossible love, given that her subsequent actions put her, Elizabeth and Don Carlo in danger. It's also an opera that examines the constant struggles of power – in this respect, the character of Philip II is interesting. Although he holds power, he is still seen to be plagued by self-doubt and heartbreak. This is most notably seen in the scene in which he mourns the fact that Elizabeth does not love him.
Ella giammai m'amò
is dripping with heartbreak and restlessness, the two emotions cleverly realised by Verdi's musical tricks. The jerky, stuttering score which stops and starts emphasises Philip's restless frame of mind, while the moody violin and cello re-inforce his heartbroken realisation. In fact, Don Carlo contains many sombre pieces, thanks to striking use of lower register woodwinds, horns and orchestration. Good use of lower register techniques can be seen, for example, in the duet between Philip and the Inquisitor: two grand bass voices jostling for power. A further sense of regret can arguably be pointed out in the repetition of the piece between Don Carlo and Rodrigo that both celebrates the friendship between the two men and the liberty of Flanders. However, the second instance of this piece is played at a slower, sombre tempo in the scene in which Rodrigo is made Duke by Philip, having thwarted Don Carlo's attack on the King. The mournful repetition suggests that the friendship is not what it was. Even a light-hearted interlude, Eboli's Song Of The Veil - a whimsical piece that dips between a flamenco and waltz - takes on a more sinister tone when she later removes her veil during the meeting with Don Carlo, prompting her revenge in the aftermath of unrequited love. Don Carlo has had a complicated journey – as a result of the removal and return of notable scenes. But it still stands the test of time as an atmospheric, dark opera that depicts both the political and human sides of power.