Background
Hot on the heels of the success of Rigoletto, Verdi was commissioned to put together another opera by La Fenice. Verdi's next inspirational port of call was the novel, La dame aux Camelias (The Lady of the Camelias) by Alexandre Dumas. Verdi had both read the book and had recently seen a performance of the piece, and so, decided to work on his own interpretation with librettist Francesco Maria Piave. 
Although the choice of opera was deliberately chosen to avoid the attention of the censors, the new work (originally known as Violetta) was subject to change from La Fenice, requesting a past setting rather than a contemporary one (future performances would change the setting back to the modern day). The modern day setting was not deemed practical enough, so it was switched to the 17th century in the "era of Richelieu".
With a change of title to La Traviata, perhaps one of the most infamous aspects of this opera is its opening night, or more specifically the reaction. The choice of soprano Fanny Salvini-Donatelli attracted criticism because she was deemed too old for the part of Violetta and also the wrong weight for a character who was dying from tuberculosis. Having noted the lukewarm reaction in a letter to a friend, Verdi made further changes between 1853 and 1854. The opera ran again on 6th May 1854, and this time, the reaction was far more favourable, with plaudits going to Maria Spezia-Aldighieri, the replacement soprano playing Violetta.
First Performed
6th March 1853, La Fenice Opera House
Notable Performances
4th May 1855 – Vienna
24th May 1856 – Her Majesty's Theatre, London, UK
3rd December 1856 – USA
6th December 1856 – France
Characters
* Violetta Valery – Courtesan
* Alfredo Germont – A young bourgeois and lover of Violetta
* Giorgio Germont – Father to Alfredo
* Barone Douphol – Lover of Violetta
* Flora Bevoix – Friend of Violetta
* Annina – Maid to Violetta
* Count Gastone – Friend of Alfredo
* Giuseppe – Servant to Violetta
* Marchese d'Obigny
* Dottore Grenvil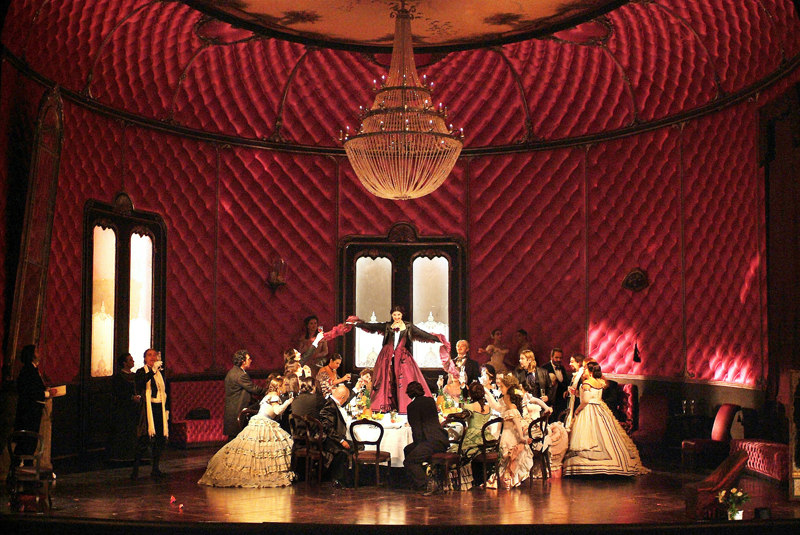 Synopsis
To celebrate successful recovery from an illness, courtesan Violetta Valery is holding a party at her Parisian salon. Among the guests are Count Gastone and his friend Alfredo, a long-time admirer of Violetta's – to the point where he attended her house during her recuperation. Alfredo makes an immediate impression at the party, by singing a Brindisi (drinking song) after Violetta's current lover Baron Douphol has refused to make a toast. 
Later, during the party, Violetta feels unwell. A concerned Alfredo proclaims his love for Violetta. While she rejects his advances, Violetta is still touched by his words and gives him a flower, telling him that he should give it back when it has wilted.
Three months pass, and during this time, Violetta has changed her lifestyle radically. She has chosen to live with Alfredo in a country house outside Paris. However, Alfredo has learned that Violetta has sold practically all of her possessions in order to fund her new life. Meanwhile, Violetta receives a visit from Alfredo's father, Giorgio Germont. Giorgio urges Violetta to break up with his son because her reputation has threatened his daughter's engagement. Reluctantly, Violetta agrees and devastated, she gives her servant a goodbye letter which is to be passed on to Giorgio. She then leaves for a party held by her friend, Flora. Alfredo is equally devastated by the letter and suspects that Violetta is reconciling with Baron Douphol. Despite his father's pleas, Alfredo goes in pursuit of Violetta to Flora's party to demand answers.
At the party, Alfredo initially busies himself at a gambling table. While he proves to be a success at the table, winning lots of money, this success is not matched in his confrontation with Violetta. Alfredo demands that Violetta admit that she is still in love with Douphol. In order to protect the truth, Violetta confirms Alfredo's worst fears. A furious Alfredo humiliates and verbally demolishes Violetta, to the point where he throws his winnings at her as "payment". Both Giorgio and the guests are appalled by Alfredo's behaviour.
Time passes again, and Violetta's condition from tuberculosis worsens considerably. She receives a letter from Giorgio, who tells her that he told Alfredo about the sacrifice that he asked Violetta to make for the sake of his daughter. Alfredo enters and asks for forgiveness and to leave Paris again, but Violetta is on the verge of death. The two lovers sing one last duet as Violetta notes that the pain and discomfort have gone before passing away.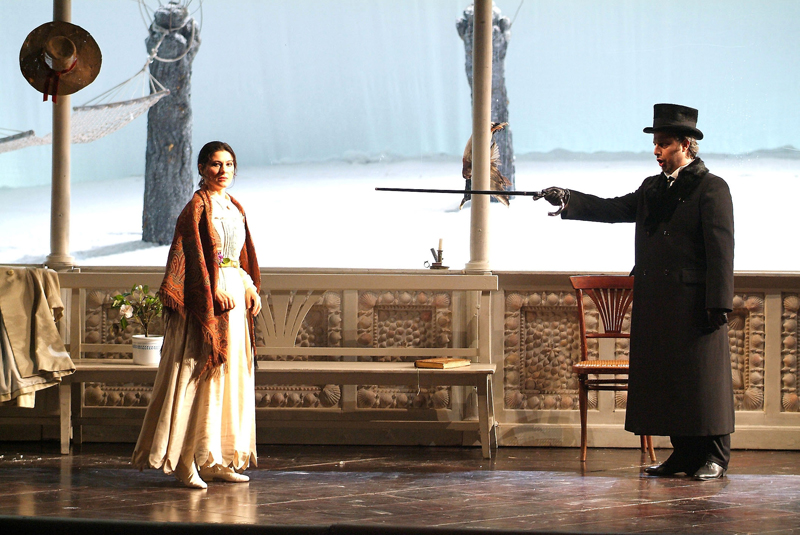 Review
One of the most notable aspects of La Traviata is how low key it is. Previous Verdi operas have dealt with higher stakes: wars, court intrigue, opposing factions... by contrast, La Traviata is a simpler love story. However, while the stakes may be smaller, the opera offers another example of the tragic love story, as the central character Violetta makes the selfless decision to unravel her own happiness for the sake of one man's family. It's a personal, domestic opera that eschews bombast for a look at a love affair that can never come to fruition.
La Traviata revolves around the central figure of Violetta Valery, a courtesan, who as translated in the title, is a "woman gone astray". Violetta leads something of a decadent lifestyle, attending glitzy parties and entering into empty relationships such as her loveless affair with Barone Douphol. Verdi sums up this somewhat empty lifestyle in the boorish drinking chorus of Libiamo ne' lieti calici. Having started out as a lightweight, pleasant duet between Alfredo and Violetta, the song takes a darker, ominous tone with the rest of the guests joining in, turning it into a brash celebration of a shallow lifestyle.
It's ironic that Violetta's escape from this lifestyle is so short lived. Alfredo proves to be the man that offers the only meaningful relationship that she will ever have. Verdi's composition, Sempre Libera sees Violetta ponder on a life of freedom away from the shackles of her current lifestyle. It's an emotional piece with the soaring high notes arguably representing Violetta's quest to leave the life that she leads – by the second act, she has accomplished this aim, living her life with Alfredo outside of Paris.
For La Traviata, Verdi showcases the emotion. Giorgio Germont's duet with Violetta cleverly runs the gamut of emotions. It's achieved in parallel as Giorgio urges Violetta to break off her relationship with Alfredo for the sake of his family. While Giorgio goes from overbearing patriarch through to a sympathetic ear, Violetta crumbles from blazing fury through to resigned acceptance. It's a clever, economic way of telling this part of the story, summing up Giorgio's and Violetta's dilemmas perfectly.
The ending is worthy of Shakespeare, as Violetta prepares to die alone, having lied to Alfredo for the sake of his father. While Alfredo learns the truth at the last minute, as with many other Verdi works, it's too late. Violetta is free once again – this time of the pain and discomfort that the tuberculosis caused. But once again, love fails to conquer all, and in La Traviata, Verdi successfully brings out the emotional side of the tragedy through subtle musical flourishes. Although it may have had a shaky start on opening night, it deservedly received rapturous acclaim in the long run.