BACKGROUND
Having enjoyed a hugely successful career, by the early 1870s, Verdi felt that the time was right to take retirement. Verdi's publisher disagreed with Verdi's decision, suggesting that composing more operas would be a win-win situation for both composer (acclaim and money) and the fans. Verdi reportedly hinted that if a libretto could intrigue him enough, then he would consider coming out of retirement.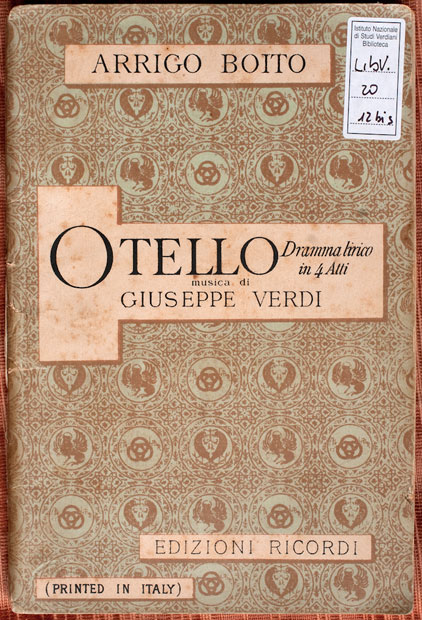 With Shakespeare having been an integral element of Verdi's operatic career, another of his plays seemed like a safe bet. Verdi was introduced to Arrigo Boito, who was to produce the libretto for Otello, the play selected to turn into an opera. Verdi had been impressed by Boito's capabilities as librettist, and set to work. However, Verdi kept the build-up secret and claimed that he had the right to bring the curtain down on the opera premiere at the last minute. In the end, the February 1887 premiere was a huge success and earned 20 curtain calls on the night.
FIRST PERFORMED
5th February 1887, Teatro alla Scala, Milan
NOTABLE PERFORMANCES
16th April 1888 – Academy Of Music, New York
5th July 1889 – London October
1894 – Paris
CHARACTERS
* Otello – The new governor of Cyprus
* Desdemona – Wife of Otello
* Iago – The conniving, overly jealous ensign of Otello
* Emilia – Maid to Desdemona * Cassio – Otello's captain
* Roderigo – Gentleman of Venice
* Lodovico – The ambassador of the Venetian Republic
* Montano – The previous governor of Cyprus
PLOT
As the battle with the Turks comes to a head, a crowd of Cypriots gather on an ominous, stormy evening to await the entrance of their new governor Otello. A victorious Otello eventually arrives after an earlier scare that his ship had been wrecked by the storms.
As the Cypriots celebrate, one man is not so happy: Iago, Otello's ensign, is jealous that another man, Cassio, has been selected as captain of the navy. Beginning a scheme, he offers to help a Venetian man, Roderigo, to seduce Desdemona, Otello's wife. Iago then turns his attention to bringing down the reputation of Cassio, which he does by plying him with wine at the victory celebration, and then passing him off as a regular drinker to the previous governor, Montano. Taking umbrage with both Roderigo's amused reaction and the lie, Cassio duels with Montano –an angered Otello witnesses this and demotes Cassio.
In the wake of this, Iago suggests that Cassio should try and talk to Desdemona so that she can change Otello's mind. Far from being helpful, this is part of Iago's plan to implicate Cassio and Desdemona in a clandestine affair, which is further fuelled by the scheming ensign forcibly taking Desdemona's strawberry patterned handkerchief from her maid, Emilia. Iago tells Otello that he saw Cassio with the handkerchief, and this enrages the governor even more, having angrily rebuked his wife for trying to persuade him to undo Cassio's demotion.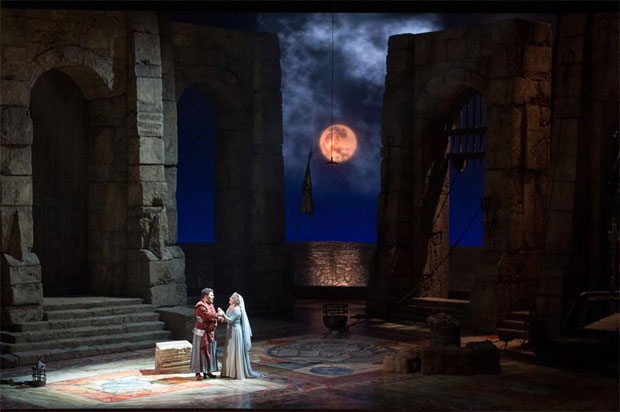 Otello confronts Desdemona and demands that she produce the patterned handkerchief. When she finds it missing, this fuels Otello's paranoia further, and matters are not helped when he sees Iago and Cassio talking about a meeting with a woman, Bianca – Otello mistakenly believes that Cassio is referring to his wife, especially when the missing handkerchief is produced.
Iago steps up his campaign of deceit by imploring Otello to suffocate Desdemona in her sleep while he deals with Cassio. Iago finally gets his wish as he is made captain. In order to deal with his nemesis, Iago tells Roderigo that the only way to prevent Desdemona leaving is to kill Cassio.
Otello accuses Desdemona of a sinful tryst with Cassio and strangles her. However, Emilia then declares that Iago stole the handkerchief and planted it in Cassio's lodgings. The story is backed up by Cassio himself, who has slain Roderigo (who also implicated the duplicitous Iago in his last dying moments). Devastated at his mistake, a grieving Otello commits suicide by stabbing himself with a dagger and falls down dead next to his wife.
ANALYSIS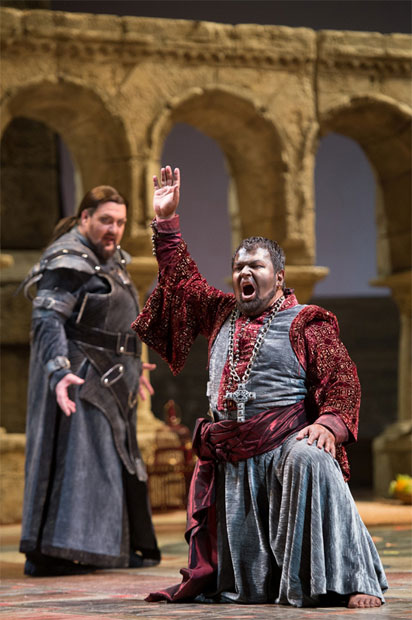 A Shakespearean tragedy of epic proportions, Otello is given the full works by Verdi. The opera deals with many of the themes present in many Verdi works: betrayal, power struggles, and of course, love that can never last.
Verdi employs a number of clever musical tricks to represent the action unfolding on the stage. One of these is a relatively unusual trick of combining a series of different melodies to meld together to form a complete whole. A notable example is the duet between Otello and Desdemona at the end of the first act. Different instrumentation is also used: Otello's opening bid is underscored by a mournful cello, which then contrasts nicely with the gentler violins and violas for Desdemona's response. This is a clever way of showing the different agendas of both characters: Otello's fears that he will never know happiness again and Desdemona's hope that their love will last forever.
It's an opera of swooping and flowing contrasts. The ominous orchestration and heavy clarinet sounds of Credo in un Dio Crudel to symbolise Iago's duplicity contrast with the gentler music reserved for Otello's entrance. The two men's discussion of Desdemona's apparent betrayal is also one of musical contrasts, dovetailing between deep strings and woodwinds and a chorus and mandolin (which represents her sweet nature).
Another trick used by Verdi is that of repetition. Whether it's the sombre chords opening the final act (heralding the final death scene) or Desdemona's cries of "Salce" to reflect her sorrow, the repetition heightens both the drama and the poignancy of the piece. The Kiss Theme is the best example of this, occurring three times: During the kiss at the end of the second act; Otello's kiss before killing his wife; and as Otello commits suicide. It's a poignant method of comparing the love that Otello and Desdemona once had with the tragic events spun out as a result of Iago's evil scheming.
One of the ultimate examples of Verdi's tragedy operas, Otello is also a perfect example of Verdi's musical accomplishments.
Photos courtesy of Verdi 200 - www.giuseppeverdi.it