BACKGROUND
One of the most acclaimed Verdi operas, Rigoletto at one point, was very much a case of "touch and go". The three-act opera, based on Victor Hugo's play "Le roi s'amuse", came under close scrutiny of the Austrian censors.
Initially, the play was commissioned in 1850 by La Fenice Opera House after Verdi had expressed an interest in Hugo's play. However, a potential obstacle was the subject matter: a depiction of Francis I, King of France, as a cynical womaniser. This was to prove shaky ground with respect to the censors, and Verdi kept in close contact with the selected librettist Francesco Maria Piave. Piave composed a letter to attempt to calm the fears of the censors, saying that their doubts about the morality of the opera were unfounded. One Austrian censor, De Gorzkowski, stated in a letter that the piece was "repugnant" and contained "obscene triviality".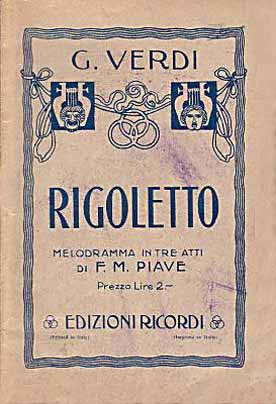 However, by January 1851, a breakthrough was reached, albeit with a number of amendments to the original work. The original setting of the royal court of France was to be changed either to a duchy of France or Italy, while many of the characters were to be renamed, notably the jester, who went from Triboulet to Rigoletto. With the deadline for the premiere looming, Verdi managed to complete the work by early February, leaving a month to spare.
FIRST PERFORMED
11th March 1851, La Fenice Opera House
NOTABLE PERFORMANCES
14th May 1853 – Covent Garden, UK
19th February 1855 – New York, America
CHARACTERS
* Rigoletto – Jester to the Duke of Mantua
* Gilda – Rigoletto's daughter
* Duke Of Mantua
* Sparafucile – An assassin hired by Rigoletto
* Maddalena – Sister of Sparafucile
* Giovanna – Nurse to Gilda
* Count and Countess Ceprano
* Matteo Borsa – Courtier
* Count Monterone
* Marullo
* Court Usher
* Page

PLOT

In 16th century Mantua, the womanising Duke contemplates his life in his palace. Musing on the two women in his life at the current time (the Countess of Ceprano and a mysterious woman that he has seen in his local church), his hunchbacked jester Rigoletto mocks the men of these women, suggesting that they either be imprisoned or slaughtered.
At a ball, Rigoletto's confidence is shaken by a furious Count Monterone (whose daughter was also seduced by the Duke), who puts a curse on both the Duke and his jester after being arrested. An assassin called Sparafucile offers his services to Rigoletto, who declines, while musing on the parallels between the assassin's razor sharp sword and his razor sharp "tongue of malice".
Rigoletto goes home to his daughter Gilda (who has been kept hidden from the Duke). Gilda later talks to her nurse about a man she met at the church, and having overheard this, the Duke proclaims his love for her while posing as a student called Gualtier Malde.
A group of noblemen have been plotting against Rigoletto, having believed the jester to have a lover. They plan to abduct Gilda who they mistakenly believe to be Rigoletto's mistress and trick the jester into actually helping them carry out the act. They blindfold Rigoletto and tell him that they plan to abduct Countess Ceprano. An unassuming Rigoletto helps the nobles abduct his daughter, but when he learns the truth, he is devastated.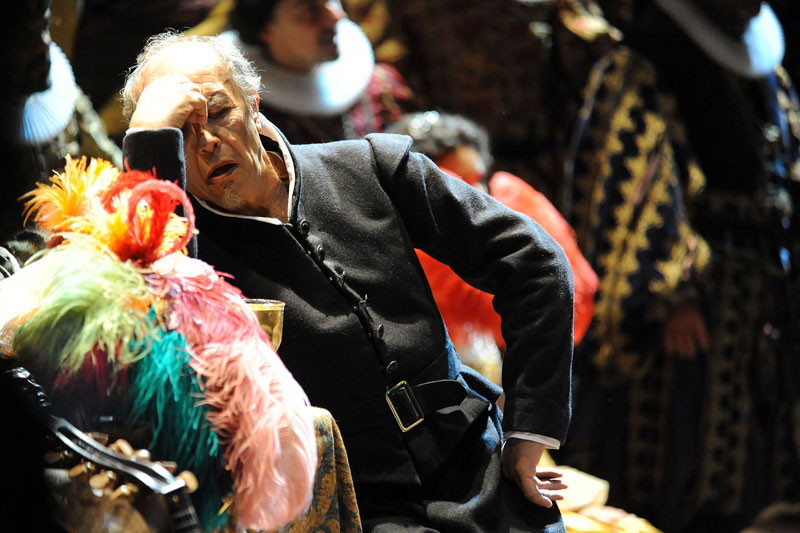 The Duke learns of Gilda's abduction after recognising her description in a talk with the bragging noblemen. After an initial front of nonchalance, Rigoletto pleads for Gilda's safe return. He is reunited with Gilda, but vows revenge on his paymaster, offering Sparafucile 20 scudi to kill the Duke. The Duke now has the assassin's sister, Maddalena, in his sights, having belted out a chorus of La donna e' mobile, denouncing women as a fickle sex of infidelity.
Maddalena learns of Sparafucile's latest target and begs him to reconsider. Sparafucile agrees but on the condition that he can kill another who will take the place of the Duke. Gilda has overheard this, and despite vying for the Duke's attentions with Maddalena, decides to pose as a man and sacrifice herself in his place.
Later, Rigoletto receives a bundled body. Expecting this to be the Duke's corpse, he takes the body to the river, only to hear another chorus of La donna e' mobile from his master. He opens the bundle and is horrified to see the dying body of Gilda, who declares that she was glad to die in the Duke's place. As his daughter draws her final breath, a devastated Rigoletto cries out that Count Monterone's curse has come to pass.
ANALYSIS
Once described by the man himself as "revolutionary", Verdi's Rigoletto is unique in a number of ways. There is only one double aria in this opera, which occurs in the second act: the slow cavatina, Parmi veder le lagrime and the cabaletta, Possente amor. Neither is there a big ensemble finale, only Rigoletto lamenting the tragic curse that has come to pass.
Rigoletto himself is an unusual type of Verdi character. This hunchbacked, acidic-tongued jester is a contrast to the conventionally action-oriented central figures of Nabucco or Don Carlo. While he proves to have a poisonous turn of phrase as sharp as Sparafucile's sword, he manages to set his own personal tragedy in motion without knowing what has happened. Twice. Not only does he unassumingly allow his daughter to be captured by nobles, he also sets the wheels in motion for Gilda's death.
Verdi also provides this tragic figure with an unusual musical style in the first act. His monologue is not set to a conventional tune, more a string of musical fragments that don't really form a cohesive whole. It's a clever trick that sums up Rigoletto's rambling emotions and train of thought.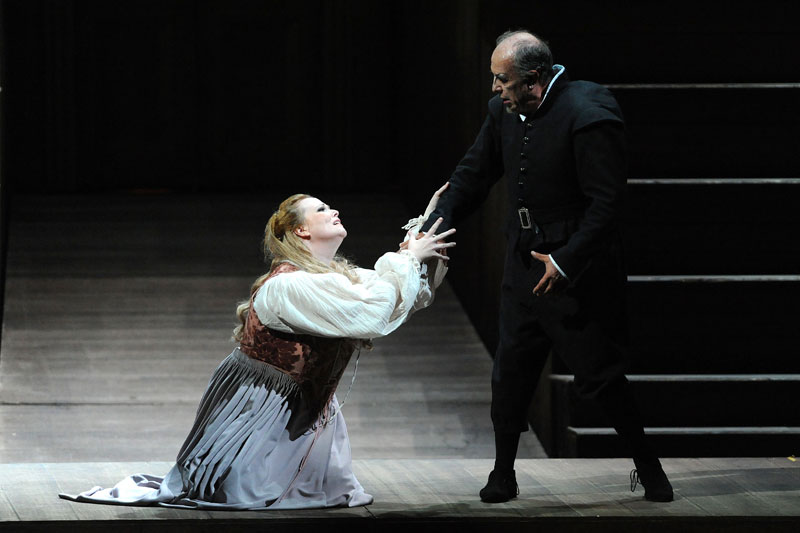 By contrast, the Duke of Mantua gets his share of more accessible tunes, although the brash, strident nature of his songs such as Questa o quella sum up his brash, shallow personality. The most infamous example is La donna e' mobile, a familiar standard which takes on an ominous tone at the opera's conclusion when Rigoletto realises with horror that his chosen target has not been assassinated, but someone far closer to home. The song is also ironic in that Gilda's devoted self-sacrifice goes against its lyrics which declaim women as fickle.
Gilda's gentle personality is summed up by subtle orchestration, such as her love duet with the Duke. This softer personality contrasts nicely with the dramatic, ominous score that Verdi composes for the scene in which she discovers that her father is plotting to kill the Duke. On that subject, Verdi employs foreboding low notes to represent the murderous actions of the assassin, Sparafucile.
Rigoletto is memorable not only for attempting a more experimental approach, but for being a dark, skilfully told opera. It is a perfect example of Verdi's musical talents with clever musical representation and allegory, and is still hugely popular today.
Photos courtesy of Verdi 200 - www.giuseppeverdi.it - See more at: /featured-story/homage-verdi-othello#sthash.jjenyVyT.dpuf
Photos courtesy of Verdi 200 - www.giuseppeverdi.it