Ed.: The Inspired Stays series highlights hotels we love around Italy. Each property is independently reviewed by an Italy Magazine writer, who is generally hosted on a complimentary basis. Our contributors do not accept compensation or gifts in exchange for specific types of coverage. We only showcase properties we would genuinely recommend overall.
Why we love it
Though only a 20-minute walk to the center of Sorrento, Hotel Mediterraneo feels like a peaceful resort, with its garden-set pool, private beach, and balcony rooms and suites overlooking the Gulf of Naples.
What to expect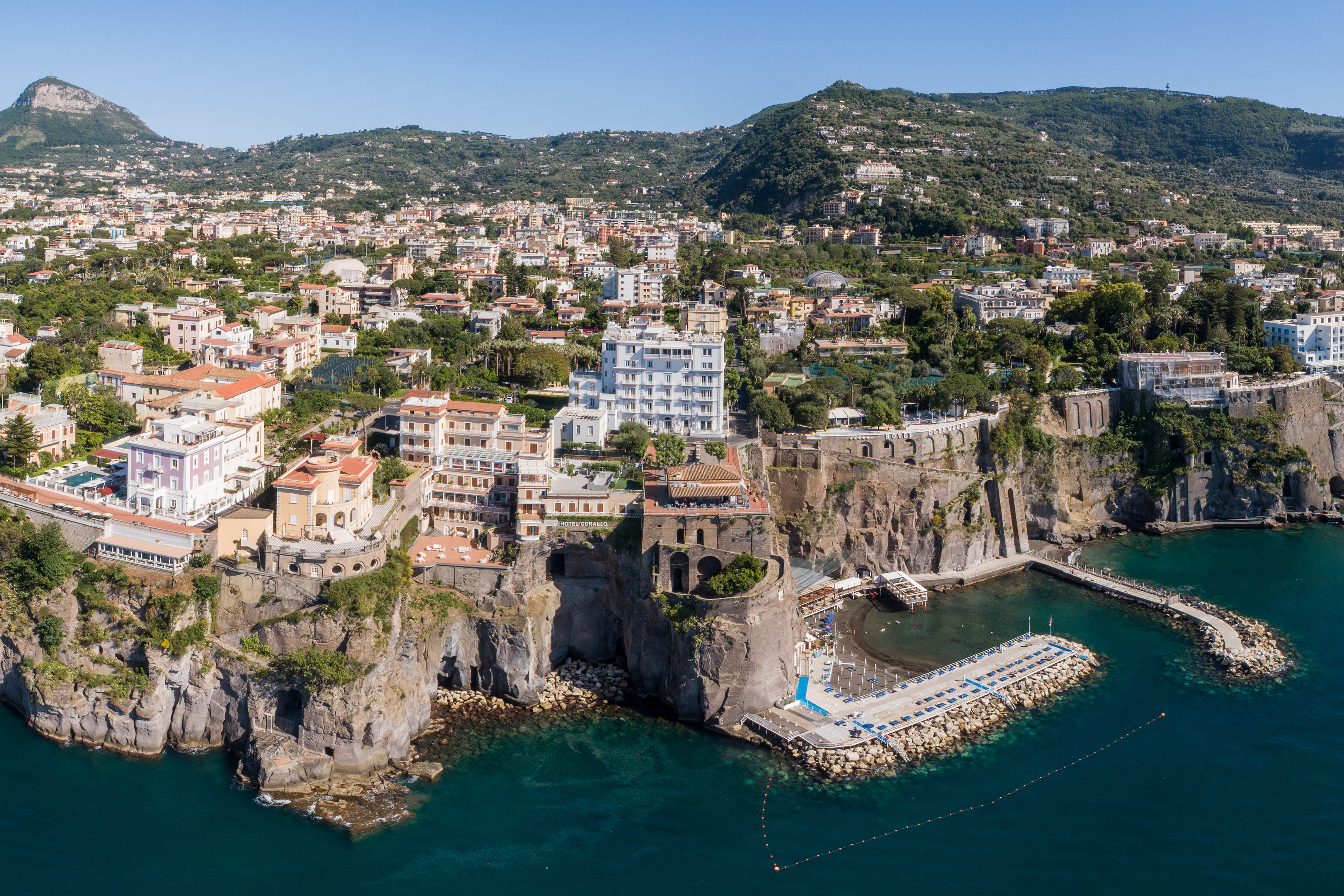 This 71-room hotel in Sant'Agnello combines luxury with the hospitality of a local family that's helmed it for four generations. A sense of calm comes from its spa hidden in a volcanic tunnel, panoramic rooftop restaurant, and suites with turquoise velvet upholstery and spherical glass lampshades — all made shiny with a 2021 renovation. It's a place to recharge after sight-seeing around Pompeii and Naples, or for a low-key vacation. 
Background
Some of the staff are grandchildren and great-grandchildren of Antonietta Lauro who opened the hotel more than 60 years ago. The private home built in 1912 has evolved from a guest house to luxury resort with a popular rooftop bar, lounge, spa and two gourmet restaurants. 
Location, location, location
On the Sorrento Coast, it can be difficult to avoid crowds at the height of tourist season. The hotel is within easy walking distance of Sorrento while still offering a chance to get away. There's close access to a train station that takes you to Pompeii and Naples. These sorts of conveniences, together with the hotel's refined details, make it a solid mix of practical and sumptuous.
Where you'll sleep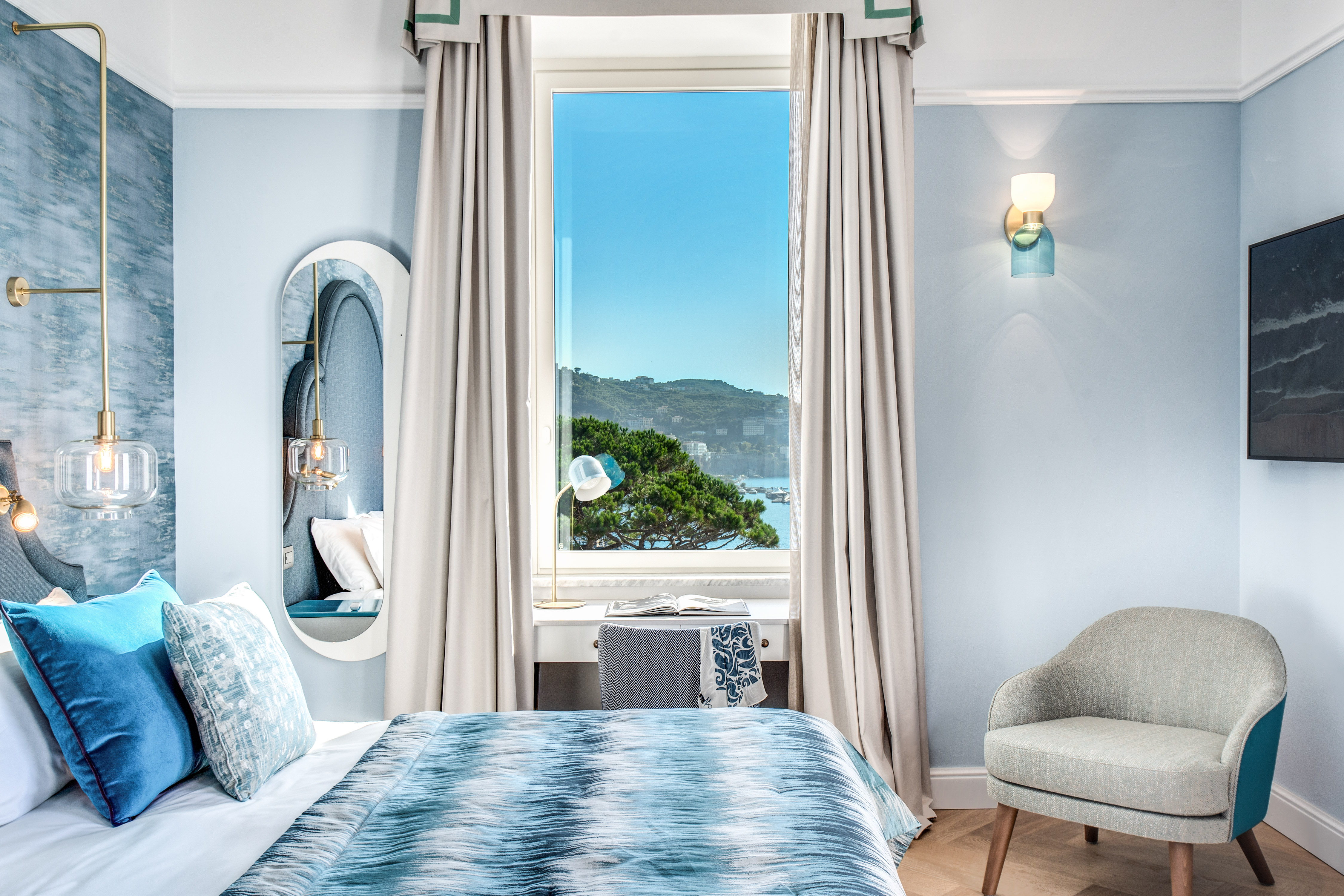 Nearly every room has a view here, whether of the Gulf of Naples, the Sorrento Peninsula's hills, or the property's lush gardens. The modern decor evokes sailing away on a pristine yacht: Blue hues combine with brass hardware on white furniture. There's also a nod to the region with Vesuvian lava-topped side tables and orange-scented bath products. If you forget your flip-flops or oversized canvas beach tote, the hotel has you covered with both.
Dining and drinks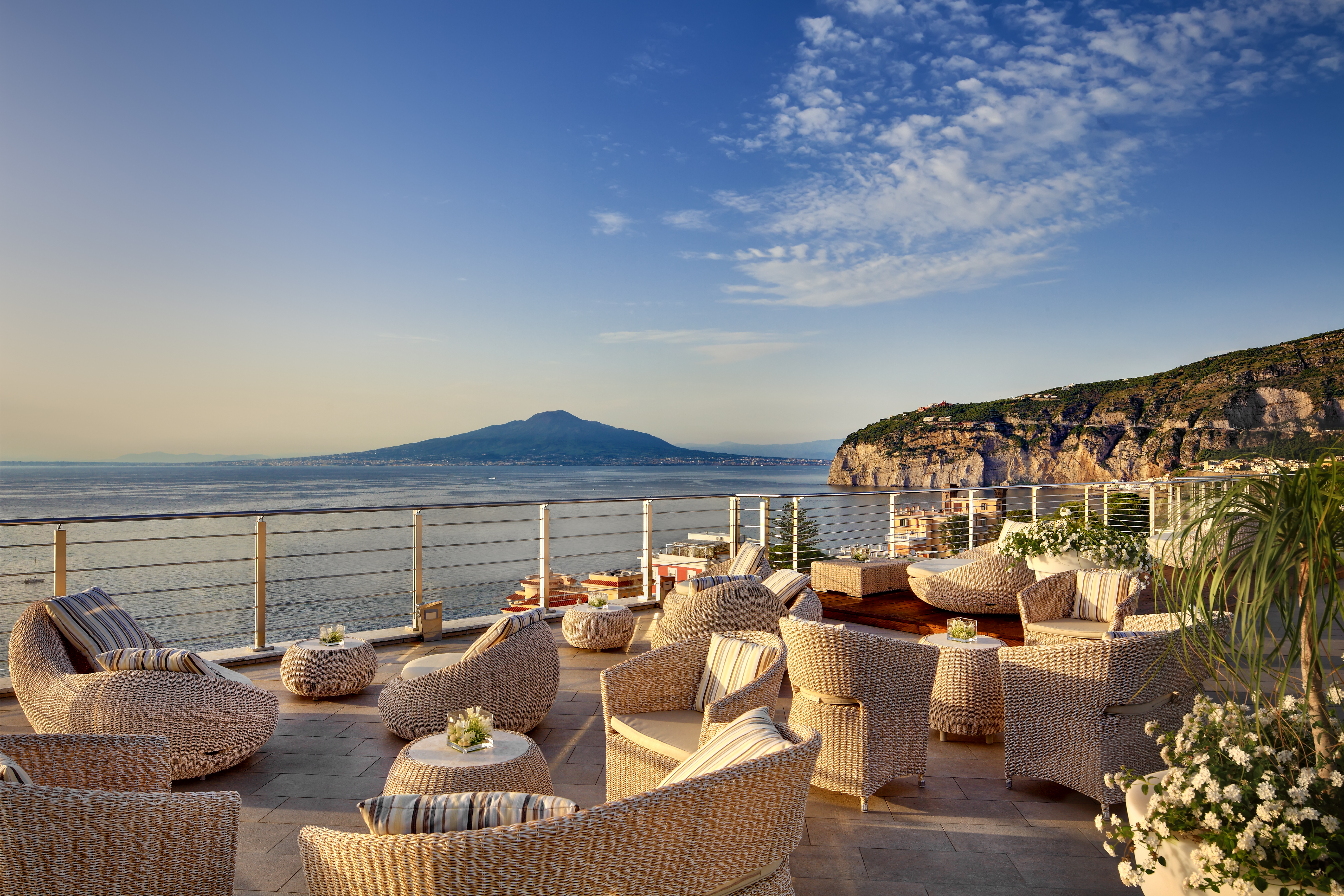 Vesuvio restaurant's namesake is in its views and volcanic amuse-bouche tableware. Regional dishes such as gnocchi alla Sorrentina (dumplings with tomato, mozzarella, and basil) and parmigiana di melanzane (eggplant parmigiana), get an inventive twist by Neapolitan chef, Giuseppe Saccone. At Aqua Pool lounge, order an after-swim pizza to learn the difference between dough from Naples and Sorrento. Oltremare serves cocktails, and at Vista Sky Bar, you can dance to live DJ sets at dusk.
Service notes
To fully appreciate the hotel's location, ask for a waterfront room. In low- and mid-level rooms, bathrooms are small; the four suites have a soaking tub and shower. Make the most of breakfast by ordering hot dishes à la carte in addition to the buffet.
Spa time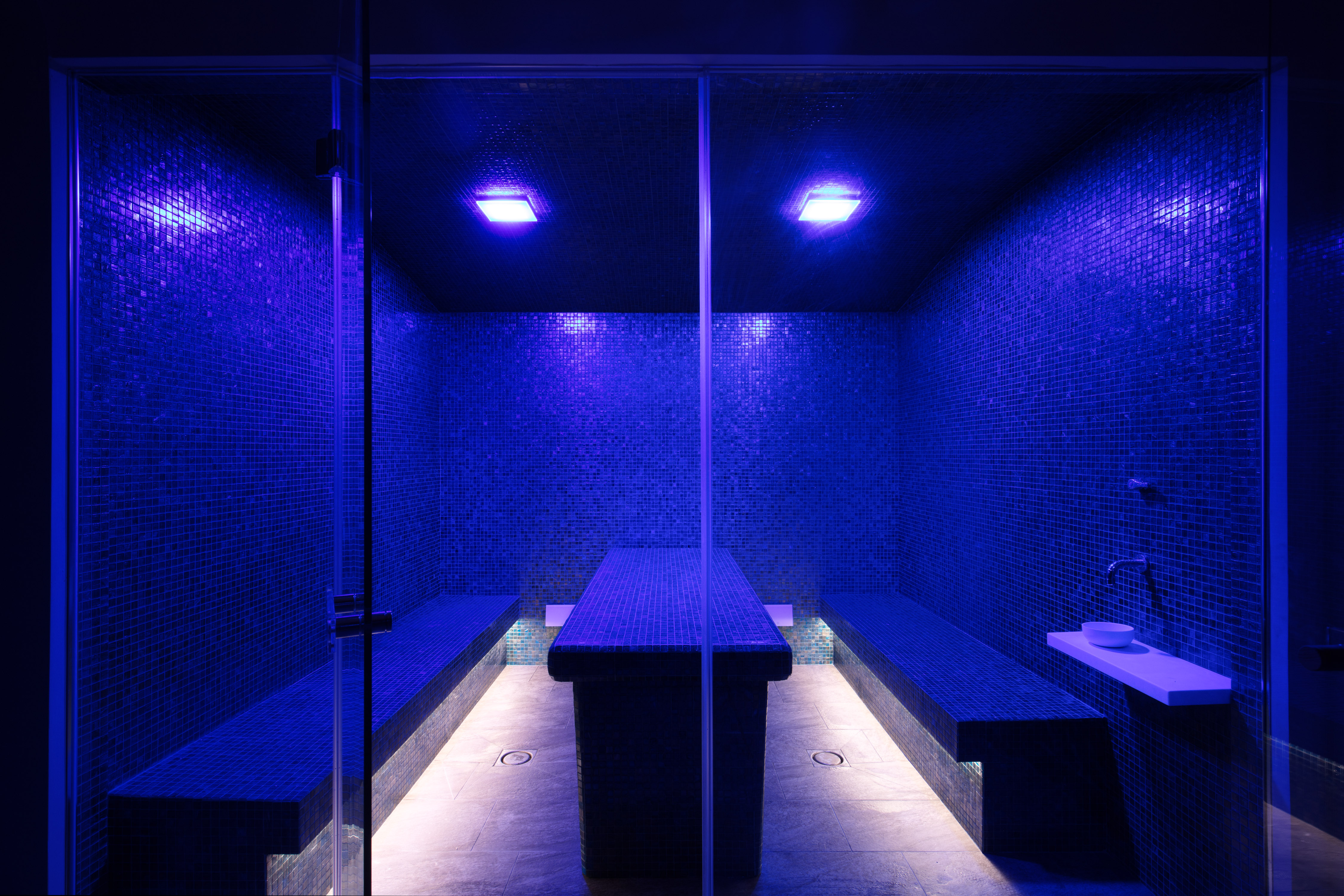 Built in a starlit tuff basement, the spa's Turkish bath with a massage platform, sauna, hot tub and relaxation area is bookable to one set of guests at a time. This makes it an intimate space to relax before or after a citrus essential oil massage, facial or other treatment.   
Family perks
There are family-friendly accommodations, kids' menus and babysitting services available. The concierge team can also organize kid-friendly activities, like a guided tour of the Amalfi Paper Museum.
You should know...
Staff will book a private boat tour or hiking guide for you to explore the Sorrento Coast's trails, and beaches or the Campanian Archipelago. Marinella Beach has chairs, umbrellas, and a bar accessible for guests-only using the hotel's main elevator and a tunnel from the spa level. Yoga lessons are offered in the garden.
Features & amenities
Waterfront
Seaside
Restaurant 
Bar
Free WiFi
Free parking
Pool 
Spa
Garden 
Fitness room
Rooftop terrace
Elevator
Contacts
Hotel Mediterraneo 
Corso Marion Crawford, 85, Sorrento                               
Tel. +39 081 878 1352
Website