Bologna's train station, known as Bologna Centrale, is one of the busiest in Italy, both for the number of passengers (about 58 million a year) and for the number of trains per day (about 800). It is also a strategic junction of the country's railway network as it stands at the intersection of the main north-south and east-west routes. Therefore, it is very well served and very well connected with the rest of Italy.  
Bologna Centrale is also one of the largest railway stations in the country, with one ground level and three below-ground levels, as well as a main entrance and a side entrance, and two side platforms areas.
Here's our guide on how to navigate Bologna's train station.
Where
Bologna's train station is on Piazza Medaglie d'Oro, at the northern edge of the city center. It's a 20/25-minute walk to Piazza Maggiore, the city's main square. Many local buses going into the city center stop at the station; there is a taxi stand to the right as you exit from the main hall (atrio centrale), or you'll find them right in front of you if you exit from the side hall. Bologna's train station is also connected to Bologna's Guglielmo Marconi airport via the Aerobus, a shuttle that runs every 11 minutes every day of the year (an approximately 20-minute ride).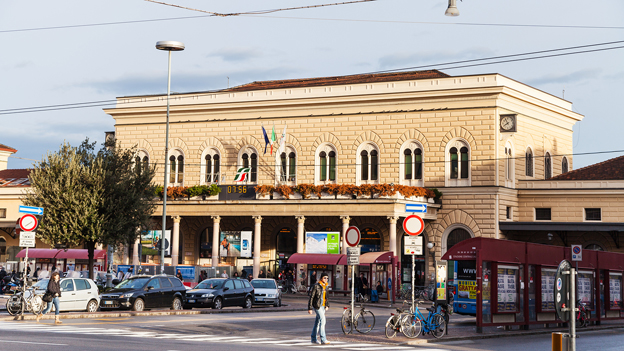 [Bologna's train station is on Piazza Medaglie d'Oro, at the northern edge of the city center.]
Bologna's train station explained
There is a main entrance hall, known as atrio centrale. As you enter, you'll find the arrival and departure boards up high in front of you. Make sure you understand how to read them: look up your train by number, not by destination, as your destination is not necessarily the final destination of the train, which is the one listed on the board. Use the board to check your track number and if your train is on time or delayed. A loudspeaker also announces (in Italian and English) arriving and departing trains with respective track number and, if the case, delays.
As you enter the main hall, on your right you'll find the ticket counter and customer service booths for both Trenitalia and Italo, Italy's two train companies. Make sure you take a number from the dispenser machine. You can also buy your ticket at the self-service machines nearby. Even smarter, buy your ticket online beforehand.
In the left end corner of the main hall is a newsstand selling foreign-language newspapers and magazines, local bus and FICO Eataly World bus tickets (the FICO shuttle departs from the train station every 20-30 minutes).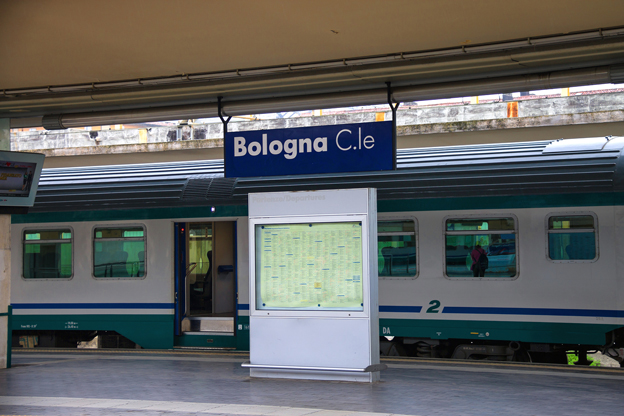 [Bologna's railway station has one ground level and three below-ground levels.]
You can access track number one from the main hall, as well as the two groups of side tracks, known as Piazzale Ovest and Piazzale Est (respectively on the western and eastern side of the entrance hall); these side platforms are only for regional trains. 
To access all other tracks, you need to descend the stairs and take the tunnel which has side openings to get back up to the platform of your train. Everything is very well marked, and you'll find additional screens in the tunnel with departure and arrival information.
Bologna's train station has expanded a lot in recent years, with the addition of the Alta Velocità (high speed) area reserved for high-speed trains. If you read AV on the departure board, then you'll know that you have to descend to the lowest level, which is where high-speed platforms 16 to 19 are located. Consider about 10 minutes to reach them from the main hall. If you're arriving by taxi, ask your driver to take you to 'Alta Velocità', that way you'll be dropped off at the first below-ground level, the one for pick-ups and drop-offs; you'll be much closer to platforms 16-19.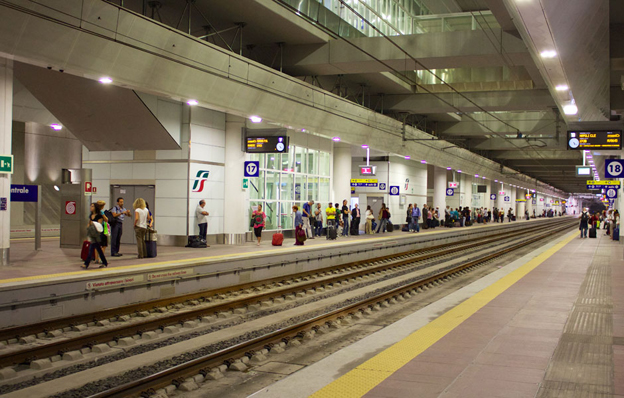 [Bologna's Alta Velocità - high-speed - platforms, located below ground.]
The second below-ground level is the waiting area for the high-speed trains departing from tracks 16-19. It is equipped with chairs, a coffee shop, bathrooms and some shops.
These below-ground levels are connected by walkways, stairs and elevators (so disabled access is possible).
What to do at Bologna's train station if you have a stopover
A waiting room with chairs, open 24 hours a day, is located on track number one. If you'd like to do some shopping, head to the side entrance (to the left as you look at the neoclassical building where the main entrance hall is located). There are several shops in this area, mostly chains.
If you have a few hours and want to go explore Bologna a bit, you can leave your luggage at the 'Deposito bagagli', which is in front of 'Binario 7 ovest' (track 7 west), open 7 am to 9 pm. 
You can access Wi-Fi by connecting to the open and free 'Iperbole Wireless' network.
What's nearby
The area around Bologna's train station isn't especially charming. You need to walk about 10 minutes to reach the better part of Via Indipendenza, a shopping street, which, if you walk for its entirety, will take you to Piazza Maggiore. The Parco della Montagnola isn't far either, but we wouldn't especially recommend going. In front of it, on Fridays and Saturdays, there is 'la Piazzola', an open-air market on Piazza VIII Agosto, also a ten-minute walk from the station, but the quality of the items on offer is mediocre.
Right in front of the train station are three four-star hotels, the UNA Hotel Bologna, the Starhotels Excelsior and the Mercure Bologna Centro.
Need to book a train departing from Bologna? We recommend booking in advance using the Italia Rail website.