A word of advice. If you're thinking of travelling around the mezzogiorno by public transport, don't expect much help from the locals. 'Ma sei matto?!" said one of my Puglian friends, Vanni, recently, when I told him about my plan to tackle the Gargano without a car, "It's a crazy idea man, don't do it, I mean it… it's for your own sake!" 
Vanni's reaction was, on paper, understandable. The south and islands don't make things easy for those who voluntarily or otherwise, cannot drive in Italy. The train lines are limited and services infrequent. The buses are hot, cramped and forced to make their way along trafficky pot hole filled roads. Navigating the inevitable delays and peculiar timetables is, I'd be the first to admit, not for everyone. 
For those with a bit of patience, though, things aren't as insurmountable as they might first seem. The major cities, Naples and Palermo, are surprisingly well connected to the north. Even beyond, though, with a little effort, it's possible to enjoy some beautiful less-trodden areas. And that's the real joy of such a trip isn't it? Traversing varied and largely unspoilt landscapes, exploring anomalous towns and villages, where the air is fresh and the food is cheap and served in abundance. 
Naysayers have laid waste to many such adventures. Don't let them put you off. With a little foresight, and a sense of what can and can't be done, you can plan an itinerary that will be just as immersive as any journey behind the wheel.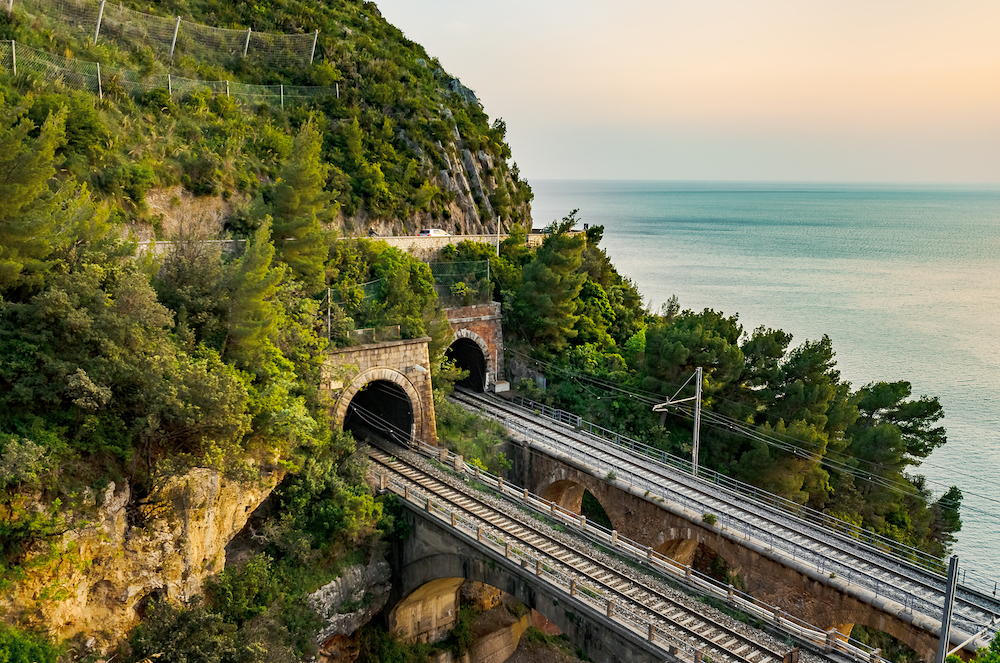 [A picturesque view along the train route in Italy's Calabria]
Cross the boot, from Salerno to Bari
For first-timers south of Rome this is a valid option and relatively easy to pull-off. Start in the capital and take the fast train down towards Salerno. Instead of stopping there, though, get the connecting Italo bus to Matera which is celebrating its status as European capital of culture this year. You'll need a couple of days to see the sassi, and take in the festivities. After that though, why not take the easy connection to Bari, the Puglian capital? The city itself has a bit of a dodgy reputation, but it really doesn't deserve it. This is a beautiful, wind-lashed place, with a great white-washed old town. If the bustle is too much, though, and it is for some, a good option is to take one of the local regionale trains up and down the coast to find a quieter spot. While the beaches aren't particularly glam, towns like Molfetta, Bisceglie and Trani are perfect places to stop for a few days, to take slow, ambling, passeggiate and enjoy the local seafood. 
Like this article? Don't miss "Tips and Suggestions for Train Travel in Italy for 2019"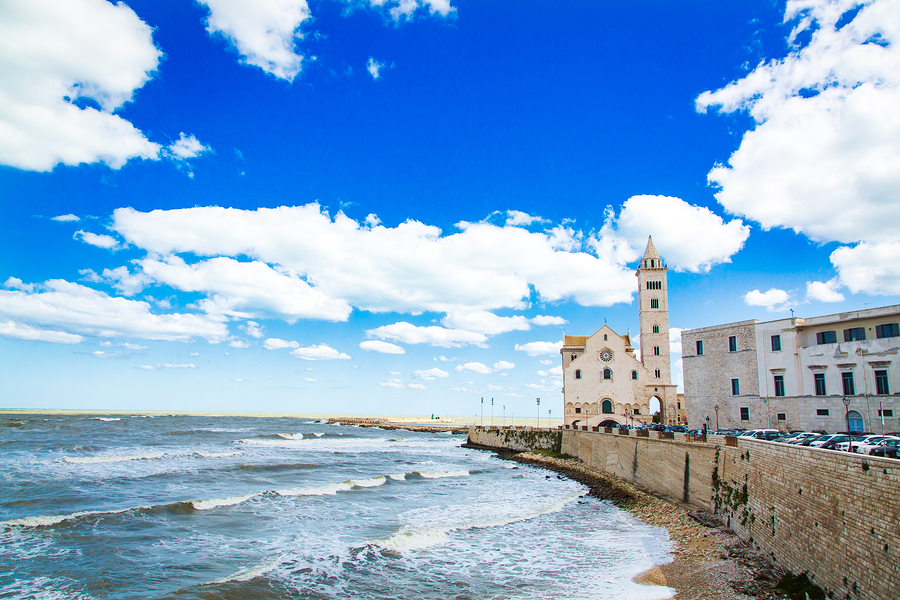 [Coastline and cathedral Trani]
Give Salento a miss
There's a fashion among Italians, and increasingly international travellers, for the southern tip of Puglia, and Salento in particular. It's a charming area for sure, with beautiful clean sea, undulating dunes and wonderful tomatoes, bread and olive oil. For all its popularity though, this corner of the peninsula remains pretty much inaccessible by public transport. All trains in the mezzogiorno come with delays. The Ferrovie del Sud Est, though, takes the biscuit. I remember a few years ago asking the driver on a tiny two-carriage moving train "do you stop in Lecce?" to which he simply shrugged, "I don't know." To make matters worse, despite the relative calm of the farmlands and prati, the major seaside towns are still somehow overcrowded in the summer months. If you have a bike it makes sense to stay just off the coast, in a small place like, say, Nardò away from the overpriced beach hotels. Given the other options, though, your energy is probably better spent elsewhere. 
Slowly meander through Calabria 
Even Italy's most intrepid rail-travellers are probably unaware that Calabria actually has a train line on its southern coast. The main ferrovia runs through the Tyrrhenian-facing towns like Tropea and Scilla which, it should be said, are valid destinations in their own rights. On the other side of the region, though, a more rickety and beautiful series of lines takes in a plethora of wilder, more romantic destinations. The area around Crotone in particular is a revelation. While blighted like much of the south by some ugly concrete resorts, it's also home to long stretches of empty white sand and quiet historic towns. As the author Tim Parks recently put it in a piece for The Guardian, travelling in Calabria is not about instant gratification but simply accepting "the sun-struck languor of the hills and beaches, the odd mix of hospitality and indifference that characterises the locals, the general invitation to a warm, wine-fed fatalism."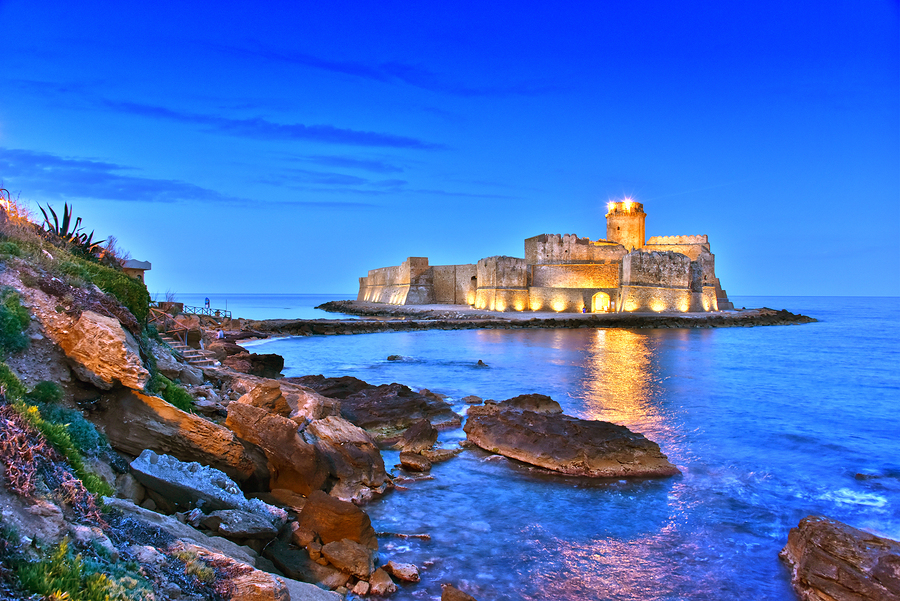 [The castle in the Isola di Capo Rizzuto in the Province of Crotone, Calabria, Italy]
Take-on Sicily… by bus!
This last one is not for the faint-hearted. If southern Italy is hard by public transport, Sicily, most people will tell you, is impossible. Yes, there's an old train line, which stretches around the coast. It's functional enough, but slow and a little dull. Adventurous travellers, though, might prefer a more unpredictable option. While native Sicilians staunchly deny their existence, local bus services do in fact exist, and, bizarre scheduling aside, boast quite comprehensive itineraries. Salemi and Interbus run services that loop Marsala, Mazara del Vallo and Enna to name just three often overlooked destinations.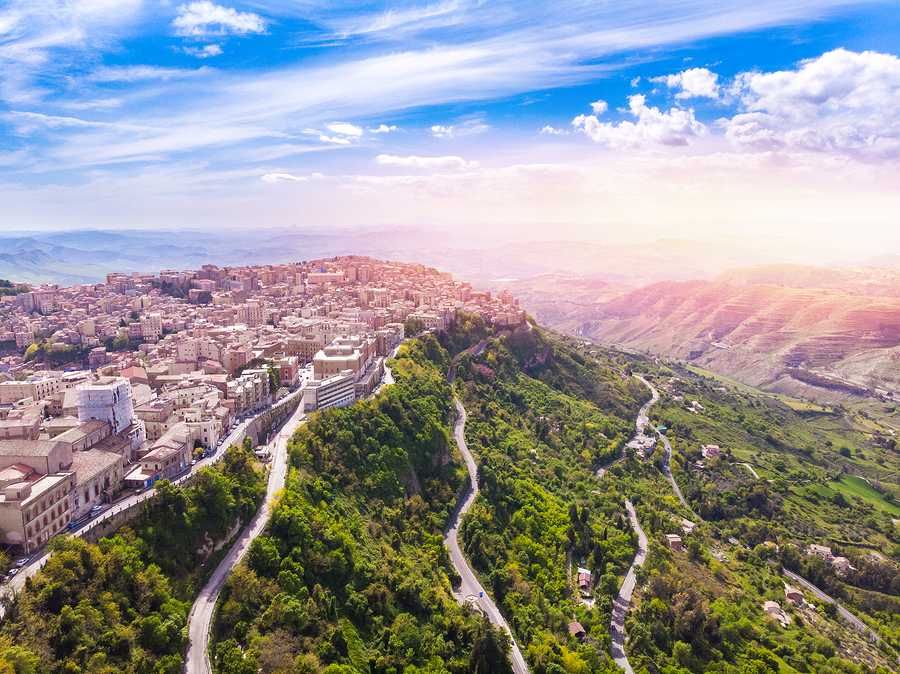 [Sunset on Lombardy Castle in Enna Sicily, Italy]
The best base, though, is Ragusa, which is occasionally reachable by bus from Catania. Don't be too alarmed if you find yourself unexpectedly dumped by a roadside in the blazing sun and told to change lines, whatever your ticket says. For better or worse that's part of travelling on the island. If you pull it off, though, once in Ragusa you can use the local transport network to see the other baroque towns of Noto, Modica and Scicli. And that in itself should be reward enough.