The secret's been out a while now: Puglia is hot. The region has seen incredible spikes in tourism in recent years, with 2022 bringing some 10 million visitors in the summer months alone and the full year count exceeding pre-pandemic numbers.
Part of what makes Puglia such an appealing region to visit, though, is the geography and the space it gives you to breathe, despite those numbers. Outside of trulli hotspots like Alberobello are scores of coastal towns worth exploring, including Molfetta, where I added +1 to Puglia's tourism stats last summer while on a voyage to rediscover my family roots. 
Here's a mini-guide to what to see and do in Molfetta, a destination perfect for a low-key late-spring or early summertime day trip if you're in the Bari area. Or, slow down and stay a few days: You're in southern Italy, after all!
Centro storico (historic center) highlights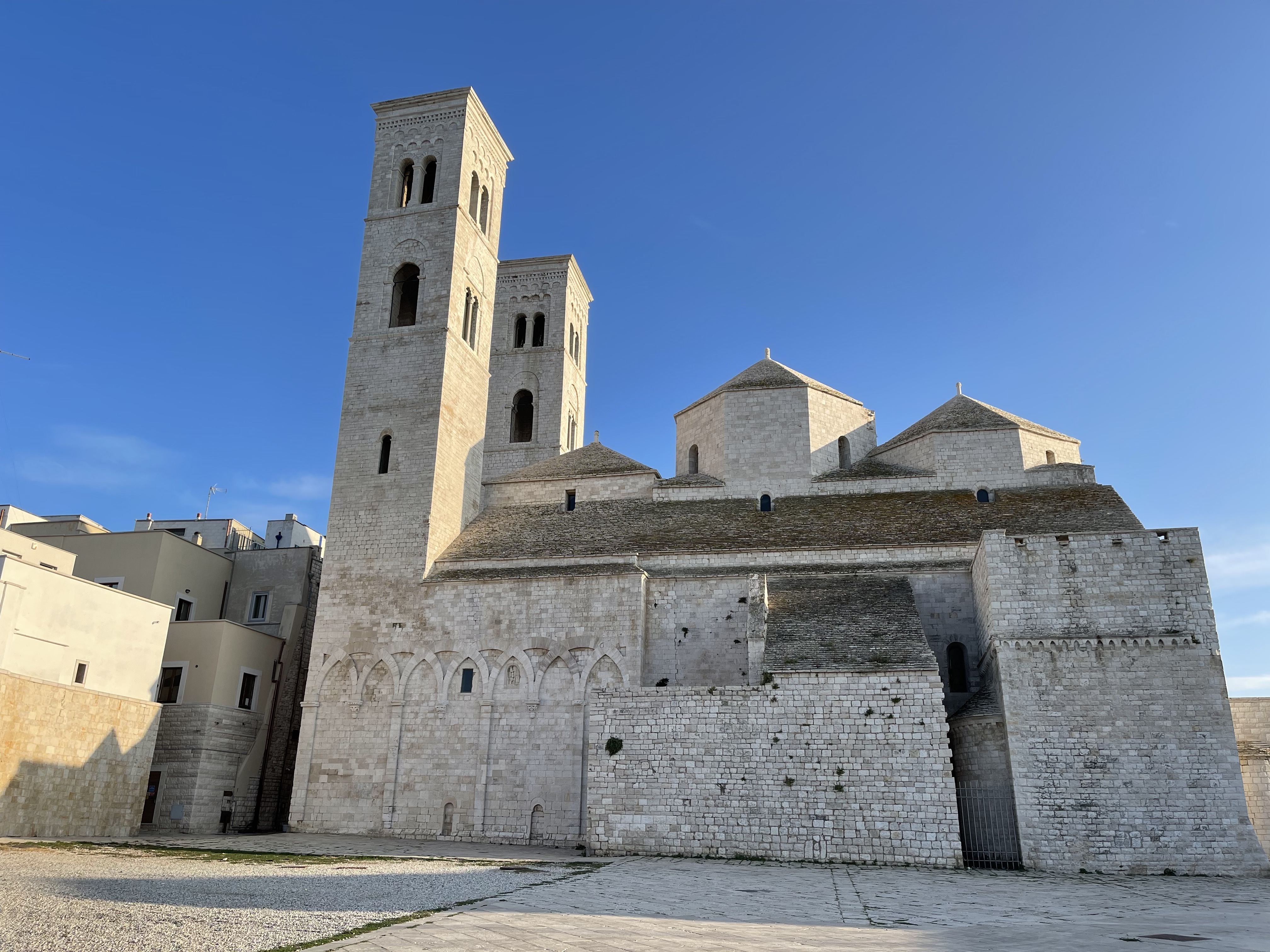 At its core, Molfetta is a port town and the best way to begin exploring is with a little passeggiata (stroll) along the Banchina San Domenico. You'll spot local fishermen bringing in the fresh catch of the day to be distributed and served at restaurants and food markets.  
Much of what you will find of Molfetta's past lies within the centro storico. Molfetta Vecchia (Old Molfetta), the old city of Molfetta where this seaside community first took shape, dates back to the 4th century BCE and is known for its historical links to the Knights Templar. In years past, the old city was largely abandoned and run down, but with Puglia's fresh focus on tourism, efforts have been made to polish up Molfetta Vecchia while preserving its character. 
In the heart of Molfetta Vecchia, facing the port and looking out onto the Adriatic Sea, you'll find the Duomo Vecchio di San Corrado, which isn't just a place of worship but the de facto symbol of the town, built in a Pugliese-Romanesque style and dating from the 12th to 13th century. Molfetta's Duomo is known for its identical towers — one a classic campanile (bell tower) and the other a watch station. 
After the Duomo, another historic-center highlight is the Baroque Cattedrale di Santa Maria Assunta (Cathedral of Saint Mary of the Assumption), whose understated facade belies its status as a seat of bishops (since the 19th century). 
For a taste of more modern local history and daily life, as well as a prime spot for a picnic and people-watching, check out the Villa Comunale at Piazza Garibaldi. Alongside parents pushing their children on the swing sets, you'll find space to spread out for a picnic or a bit of bench reading. Within the park is also the requisite Monumento ai Caduti della Prima Guerra Mondiale (World War I memorial), common to so many Italian towns yet unique in each of them, commemorating those in the community who were lost to the conflict. 
Molfetta doesn't lay any claims to being anything much more than a quaint and photogenic port town — and yet pockets of the historic center do have a somewhat trendy, tourism-friendly atmosphere, where the distinctly Pugliese architecture meets 21st-century vibrance. It's not just chain stores and sleek cafes, either: You'll find plenty of charming, locally owned boutiques and bars lining the streets jutting out from the colorful Via Piazza.
Madonna dei Martiri: monuments and traditions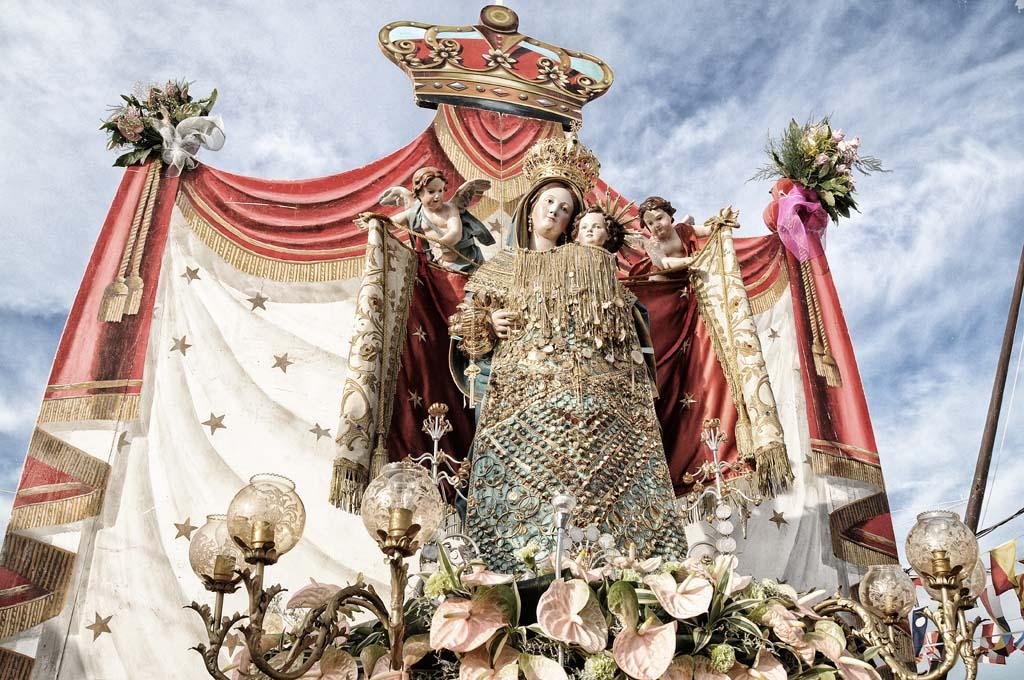 Madonna dei Martiri (Madonna of the Martyrs) is the patron saint of Molfetta, and a stop at the namesake basilica sheds light on her enduring significance to the local community. 
On September 8 each year, Molfetta hosts the Feast of the Madonna dei Martiri, which begins with a procession through town of the statue of the Madonna, who will then be sent out to sea by boat from the port before returning later in the day. By nightfall, the procession continues to the Cattedrale di Santa Maria Assunta (Cathedral of Saint Mary of the Assumption). The statue of the Madonna spends one week at the cathedral before another procession takes place on the following Sunday, in which she returns to the Basilica. (Ed. Stay tuned to Italy Magazine for a forthcoming article on the specifics of this local tradition.)
Where to shop and dine in Molfetta
There's only one market in town that has earned high-enough status to be referred to by all local molfettesi as, simply enough, il mercato. Any time you hear that uttered around town, know that the speakers are referring to the outdoor market del giovedì — the Thursday market held away from the centro storico, in the newer part of town around Via Monsignor Salvucci. Residents of Molfetta as well as visitors from the surrounding communities of Giovinazzo, Bisceglie and Terlizzi congregate for the covetable fresh produce and quibble over the household odds and ends. Prepare for a lively scene of people, a long line of tents and, of course, plenty of bargaining and deals to be cut. 
When your stomach starts to rumble, Molfetta has options for all palates and budgets. For breakfast, brunch or a quick coffee, Cin Cin Bar (Corso Dante Alighieri 30) is a long-standing establishment and popular local gathering spot, also famous for its signature Pugliese panzerotti — baked or fried dough turnovers with delicious fillings. The best version to try here is stuffed with tomato, mozzarella and capers, but you can also sample sweeter renditions made with Nutella and powdered sugar.
For traditional wood-fired pizza in a rustic space, either at lunch or dinnertime, try Dentro Le Mura (Corso Dante Alighieri 42), which has an elegantly appointed outdoor patio, open seasonally and ideal for dining all'aperto.
For something a bit more refined, Pàlato Cafe e Bistrot (Via Dante Alighieri 66) is housed within a three-level 18th-century palazzo, containing a chapel along with different dining and drinking ambiences depending on your needs: a cafe-bar, a main restaurant and an American-style bar. It's my pick for a cocktail in a contemporary-chic locale.
Like any southern Italian town worth its salt, Molfetta has a go-to gelateria popular among both locals and visitors: Gelateria San Marco (Piazza Giovene), a favorite since 1947. It's just steps from the centro storico, near Villa Comunale.
If you go
Molfetta is best reached by car, being less than a 30-minute drive from Bari International Airport-Karol Wojtyla. It is also easily accessible by train from Bari Palese station to Molfetta station, which is about a 15-minute trip. You can also taxi from the airport directly to your destination.
If you opt to stay overnight, Molfetta has a range of hotels, budget B&Bs and seasonal apartment rentals. For travelers looking for a more upscale stay, the elegant Dogana Resort is a 5-star hotel adjacent to the Duomo.