As an 'adopted'  local, narrowing down a list of things to eat and drink in this elegant, portico-lined city is no easy feat.  Located in the northwestern frontier region of Piedmont, Turin is surrounded by Alpine mountains, the rolling green hills of the Langhe and Monferrato and the fertile Po valley. This variety in terrain and climate, as well as the many influences from neighbouring Liguria and France, have all played a great part in contributing to a remarkably rich and varied gastronomic tradition.  
As the former capital of the Duchy of Savoy and Italy in its first years of unification, Turin, with its proximity to France, also played an integral role in revolutionizing how food was served at Italian tables from north to south in the late 19th century – that of serving dishes in separate courses from antipasto to dolce. The city, moreover, has played host to Slow Food's biannual Salone del Gusto and Terra Madre conferences since 2004. As a result of this, Turin is increasingly appearing on many a foodie's culinary map. Here is a summary of the gastronomic delights my adopted city has to offer visitors.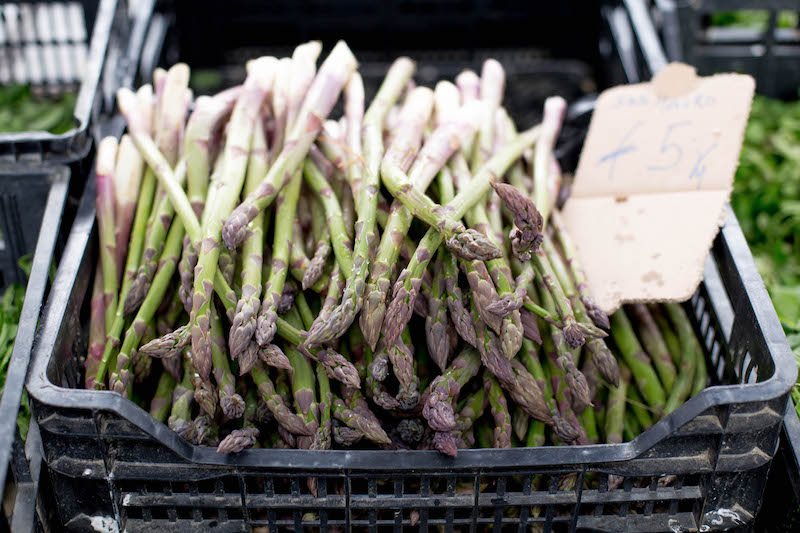 Butter and cheese
The city receives an abundant supply of dairy products and cheeses from the surrounding plains, hills and alpine areas. Butter is often used as a cooking fat and Slow Food lists over 48 special cheeses unique to Piedmont. Notable among these are the family of Toma cheeses, Robiola, Castelmagno, Raschera and the Piedmontese variety of ricotta known as seirass.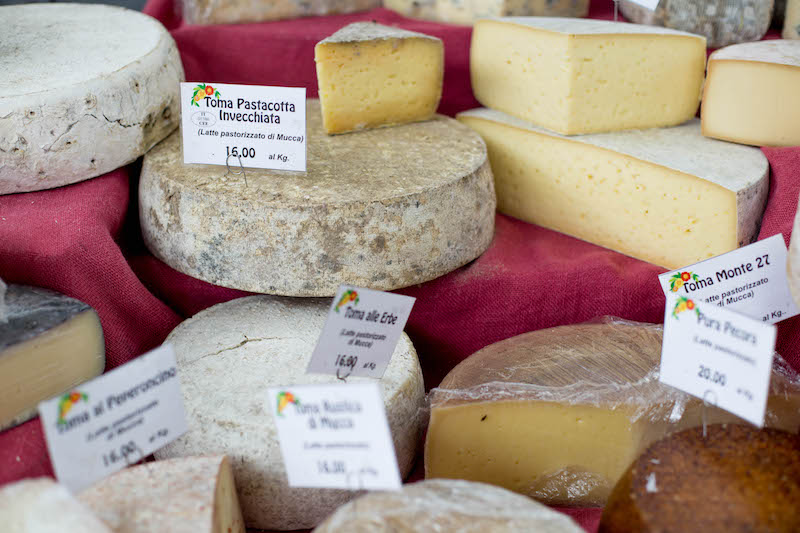 Bread and other savory baked goods
While visiting the city you may also wish to sample some of the local varieties of bread and other savory baked goods. Unique to Piedmont are the soft-crusted biovette and miche piemontesi. Wary of gluten? Then look no further and try a slice of farinata, an unleavened oven-baked pancake made of chickpea flour, water, olive oil and salt. Though its place of origin appears to be Genoa, Piedmont's proximity and historical ties with Liguria have meant that many local bakeries have adopted it as they own too.  For the most quintessentially torinese bread experience though, you can't go past breadsticks or, as they are known in Italian, grissini. The city appears to have been the birthplace of these and locals are fond of retelling the legend of how they were invented in 1675 for the young Duke of Savoy, Vittorio Amedeo. He had been frail since birth  and suffered from digestive ailments. The court doctor and a local baker teamed up to make a long, crisp bread without any crumb called a ghersin for the young duke and he was cured of his chronic maladies. These days, you'll find two main types of handmade grissini in the city's bakeries – rubatà and stirati.
Drinks
The city was also at the forefront of the industrial production of aperitifs (alcoholic drinks which are served before a meal) in the 18th century. Household names such as Cinzano, Campari, Vermouth and Martini all originated in Turin. Whetting your appetite before dinner with one of these iconic drinks and stuzzichini (savoury appetizers) at one of the city's historic bars and cafes is a definite must.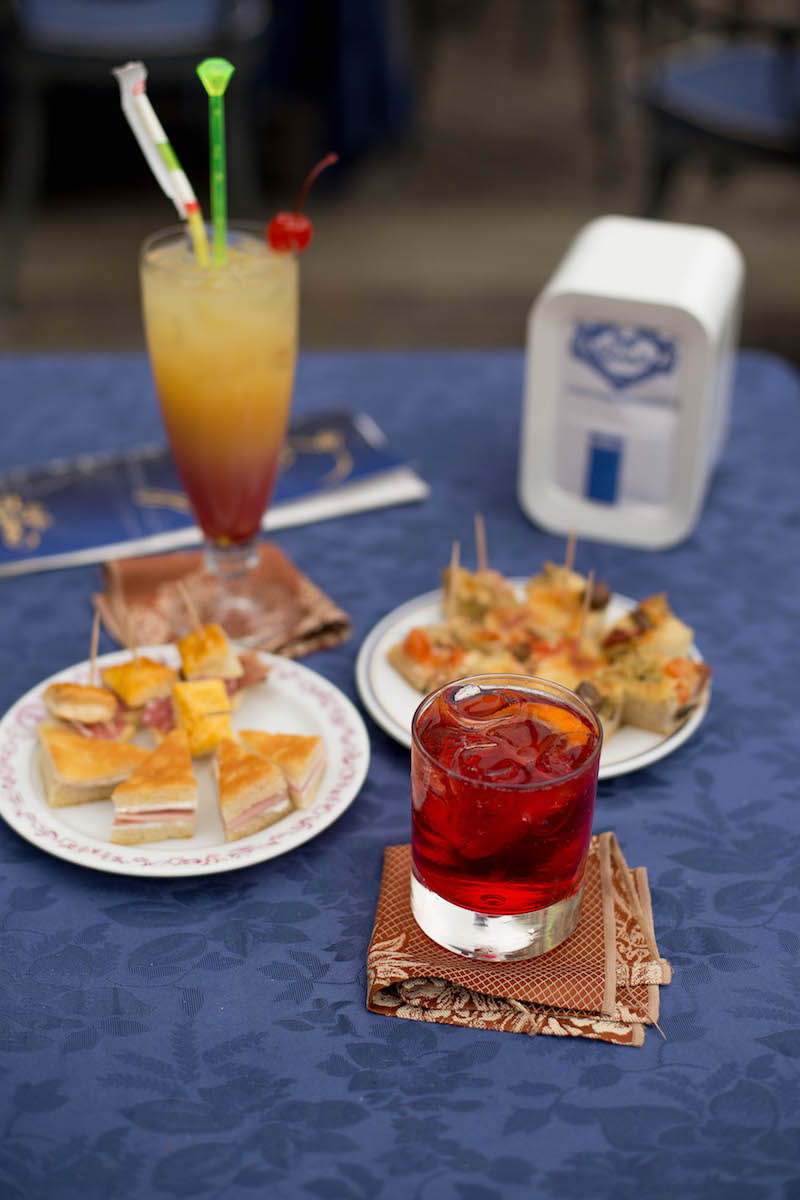 Don't care much for aperitifs? There's nothing stopping you from having a glass of a local white such as Arneis, Erbaluce and Favorita or a Piedmontese red like Dolcetto, Barbera and Nebbiolo with your nibbles either. 
Internationally-renowned coffee houses such as Lavazza and Vergnano also have their origins in Turin, making the city and its myriad cafés the perfect place to savor this beverage. For breakfast, eat a buttery brioche (the local word for croissant) accompanied by a cappuccino. Cappuccino-drinking is frowned upon by locals after 10.30, so you're better off enjoying an espresso or caffé macchiato after lunch. Prefer a weaker coffee? Plenty of bars will give you a jug of hot water to add to your coffee to make a caffé americano. Looking for a sweet twist on the coffee theme? Visit the historic café Il Bicerin and try their signature drink, also called il bicerin (meaning 'glass' in the Piedmontese dialect), which is made with layers of espresso coffee, chocolate and cream.
Fresh pasta, polenta and rice
Piedmontese varieties of fresh egg-based pasta include tajarin (long and thin strips of egg-based pasta) and agnolotti (ravioli-like dumplings stuffed with a mixture of meat – generally beef, rabbit and pork - and vegetables). Tajarin are often served with a meat ragù. Autumn condiments include truffle shavings  or porcini mushrooms. A watered-down gravy-like sauce known as sugo d'arrosto is generally used for agnolotti. Agnolotti del plin, the smaller, 'pinched' cousins of agnolotti, are served in a meat-based broth.
Turin is also located near the rice-producing area of Vercelli in the Po valley.  Locally-grown varieties such as Carnaroli, Baldo and Arborio are often used to make a variety of risotto dishes. On restaurant menus, look out for risottos made with local red wines, cheeses and seasonal vegetables. 
Polenta is another commonly used starch in Piedmontese cookery. Unlike rice and pasta though, it is more often served as an accompaniment to one of the region's many rich, meat-based mains.
Meat, offal and preserved fish
Piedmont is home to a prized breed of cattle, the creamy white razza piemontese. Several notable dishes are made with this flavorful and tender meat. If travelling in the colder months, you should try Brasato al Barolo,  a secondo or main course prepared by marinating and braising a boneless cut of chuck roast in vegetables, herbs, spices and Barolo wine.
Another delicious beef-based dish to look out for is vitello tonnato.  This antipasto or appetizer is made by boiling a boneless cut of veal, leaving it to cool and then serving it sliced with a tuna, egg, egg, anchovy and caper-based sauce on top. You will fall in love with this antipasto's distinct meat-fish combination.
For those who don't wince at eating raw meat, there's also Piedmont's answer to steak tartare, carne cruda all'albese. Made from the freshest and tenderest cut of beef, the meat is sliced as finely as possible and is generally served marinated in lemon juice, olive oil, salt and pepper. In some variants, slices of celery,  parmesan and, during truffle season, shavings of the Alba white truffle can also be included.
The city and surrounding region also boasts a long tradition of nose-to-tail eating. Adventurous eaters may wish to try il bollito misto, il fritto misto and la finanziera.  Offal and other extremities all feature prominently in these dishes.  
Although Piedmont is landlocked, trade with the neighbouring coastal region of Liguria has given Turin and the surrounding region access to preserved fish throughout the ages. As a result, you will find salt cod and anchovies are used in many local dishes, such as merluzzo con polenta, acciughe in salsa verde and bagna cauda, a truly delectable garlic and anchovy-based dipping sauce eaten in a similar fashion to a fondue.
Sweets and confectionery
A visit to Turin would not be complete without going to one of the city's many artisanal bakeries, patisseries, chocolate shops and gelaterie to indulge your sweet tooth. The torinesi take great pride in putting together well-curated window displays of biscuits, cakes, chocolates, pastries and other confectionery.
Typical of the city are the small-sized choux or bignole, as they are known to locals. Often daubed with a variety of coloured icings, these tiny pastries are filled with creams flavored with hazelnuts, pistachios, lemon and chocolate to name a few.
Also, do not forget to sample the artisanal chocolate the city has been renowned for producing for hundreds of years. Unique to Turin is gianduia  chocolate which is made with a mixture of cocoa and hazelnuts. The torinese chocolate maker Michele Prochet is said to have invented this type of chocolate in 1806 after a blockade of the Mediterranean rendered the costs of importing cocoa into the Savoy kingdom astronomically high. Try this unique chocolate in the form of a gianduiotto, gianduione or crema gianduia (the chocolate-hazelnut spread that inspired Ferrero's Nutella).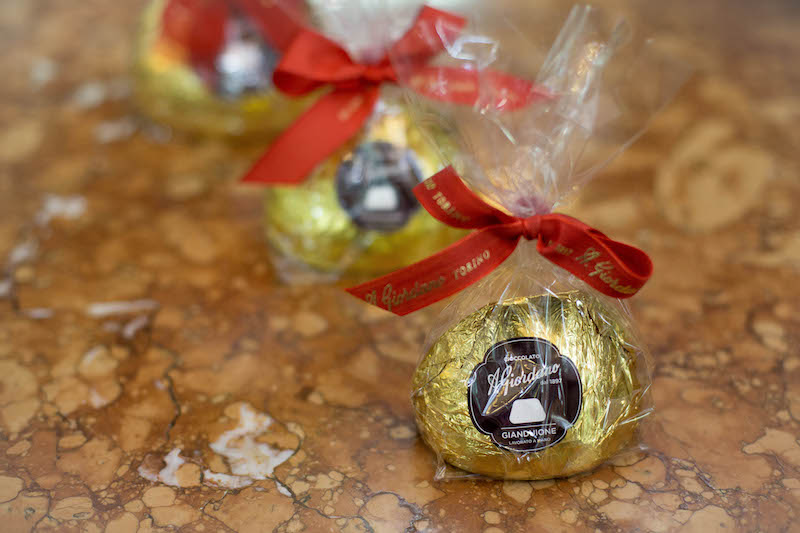 Don't care for chocolate? Try some of the biscuits on display in the local bakeries instead. Look out for torcetti, paste di meliga (shortbread –like biscuits made with fine polenta flour),  the meringue-like brutti ma buoni and baci di dama.
Eating in one the city's restaurants and unsure what to order for dessert? Try finding bonet (a chocolate and amaretti biscuit pudding), torta di nocciola (hazelnut cake), the wonderfully wobbly spoon dessert panna cotta and the warm, custard-like zabaglione on your dessert menu.  Don't fancy any of these after dinner? Go to one of the city's many artisanal gelaterie and buy a gelato or sorbetto instead. Common flavors include chocolate, nougat, coffee, cream, fior di latte, strawberry, lemon, pistachio, hazelnut and gianduia.
And while you're in Turin, you may want to visit some of these personal favorites…
• Farina nel sacco (bakery); Via Andrea Massena, 11/C, 10128 Torino; Tel. (+39) 011 076 8749
• Perino Vesco (bakery); Via Camillo Benso di Cavour, 10, 10123 Torino; Tel. (+39) 011 068 6056
• Il Bicerin (café);  Piazza della Consolata, 5, 10122 Torino; Tel. (+39) 011 436 9325
• Pasticceria Caffetteria Alicino (cafe/patisserie); Corso Francia, 305/bis, 10138 Torino; Tel. (+39) 011 723509
• Corner Caffè (café/patisserie); Corso Vittorio Emanuele II, 100, 10121 Torino; Tel. (+39) 011 536 0807
• Gertosio (café/patisserie); Via Giuseppe Luigi Lagrange, 34, 10123 Torino; Tel. (+39) 011 562 1942
• Cioccolateria A. Giordano (chocolate shop); P.zza Carlo Felice, 69, 10123 Torino; Tel. (+39) 011 547121
• Larivera Cioccolato  (chocolate shop); Via Luca della Robbia, 10, 10141 Torino; Tel. (+39) 011 779 0024
• Ziccat (chocolate shop); Via Bardonecchia, 185, 10141 Torino; Tel. (+39) 011 779 2352
• Alberto Marchetti (gelateria); Via Po, 35bis, 10122, Torino;  Tel. (+39) 011 814 1160
• Bar Gelateria Miretti (gelateria); Corso Giacomo Matteotti, 5, 10121 Torino; Tel. (+39) 011 533687
• Gelateria Popolare (gelateria); Via Borgo Dora, 3, 10152 Torino; Tel. (+39) 348 670 8713
• La Gelateria Menodiciotto (gelateria); Piazza Castello, 54, 10122 Torino ; Tel. (+39) 011 56 18 198
• Mercato di Corso Brunelleschi (open-air food market); Corso Filippo Brunelleschi, 10141 Torino
• Mercato di Porta Palazzo (open-air food market); Piazza della Repubblica, 1012, Torino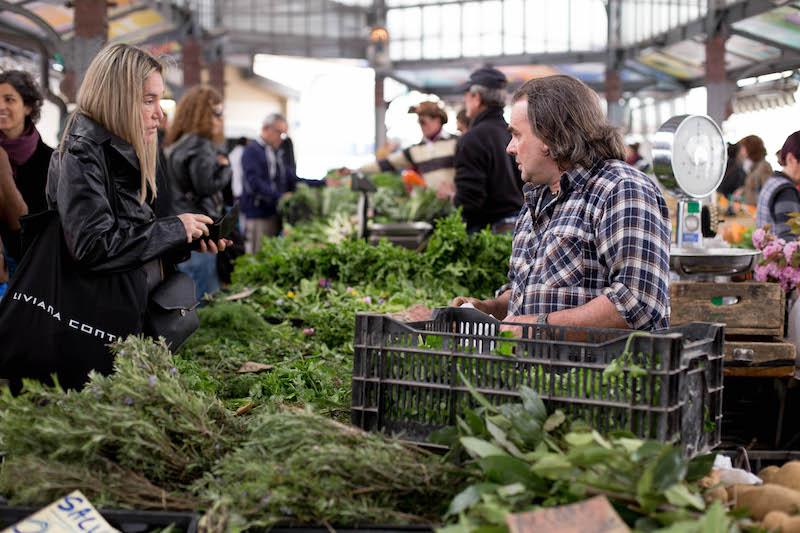 • Osteria Antiche Sere (restaurant); Via Cenischia, 9, 10139 Torino; Tel. (+39) 011 385 4347
• L'Acino (restaurant);  Via San Domenico, 2/A, 10122 Torino; Tel. (+39) 011 521 7077
• Ristorante Sotto la Mole (restaurant); Via Montebello, 9, 10124 Torino; Tel. (+39) 011 817 9398