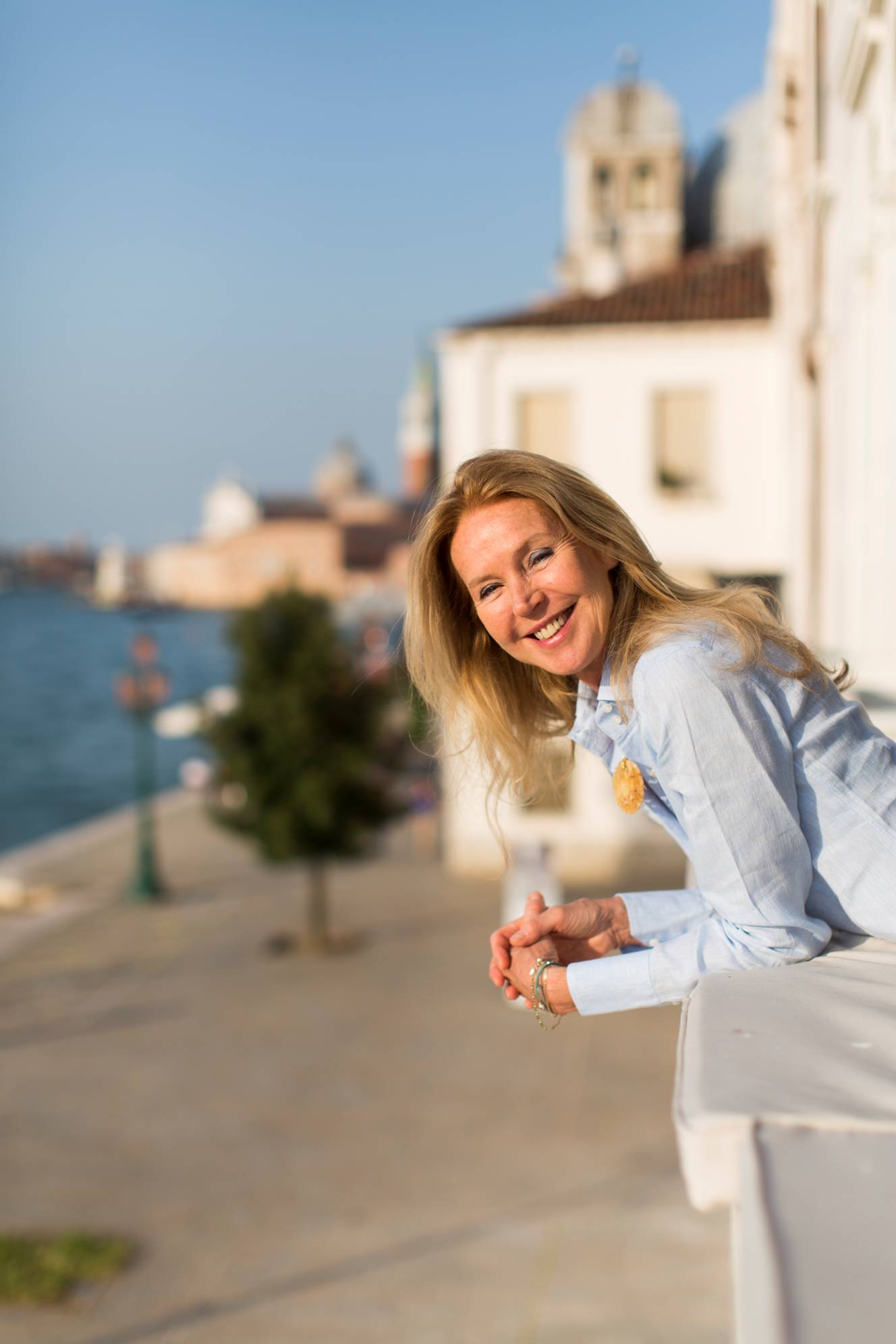 With over 30 million visitors (!) flocking to Venice each year, you need savvy insiders to open their address books to experience the city as locals do. So who better to give us the scoop on native favorites than Venice-born and raised Francesca Bortolotto Possati, a tireless advocate for her home town (she is on the Board of Directors of Save Venice), and the CEO and owner of the famed Bauer Hotel Group. Here we take a look at her recommendations.
FOR APERITIVI (AND MORE)
Trattoria Ca D'Oro (nicknamed "Alla Vedova," when the mother of the current owner became a widow) is as much bacaro (wine bar) as trattoria. This spot, usually packed at lunch and dinner, overflows at cocktail hour when locals tuck into the renowned cicchetti (the Venetian term for snacks). Order a local white or prosecco and sample the legendary polpetti (pork meatballs), considered the best in the city. If you snag a table, try one of the Venetian-style pastas--bigoli in salsa (a thick spaghetti topped with onions and anchovies), or linguini al nero di sepia (with squid ink sauce).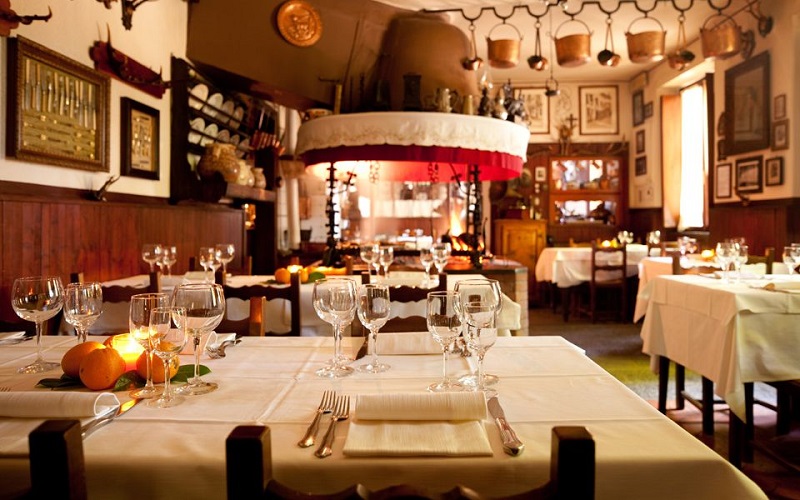 Trattoria Ca D'Oro, photo credit: http://www.whitelinehotels.com/
Another favorite stop for aperitivi is Al Prosecco in the Campo San Giacomo da l'Orio ("one of the most beautiful squares in the city," says Possati). Here you can sample organic Veneto proseccos and wines, along with the cicchetti prepared by the owners from small, specialty producers. 
Trattoria Ca D'Oro, Calle del Pistor 3912 (Cannaregio)  Tel.: 041 528 5324
Al Prosecco, Campo San Giacomo da l'Orio, 1503 (Santa Croce). Tel.: 041 524 0222
FOR GREAT FISH
Osteria Anice Stellato is an out-of-the-way spot, located in a part of the Cannaregio sestriere that sees few tourists. The restaurant interior is rustic, with beamed ceilings, and terracotta-tiled floors, but in good weather you'll want an outdoors canal-side table. Fish is the specialty, and some outstanding options include the octopus salad, risotto di pesce, and the fish stews. Since this area is off the beaten path for most visitors, it may be worthwhile to get a water taxi to take you back to your hotel at night. Fondamenta de la Sensa (Cannaregio). Tel.: 041 720 744

Photo credit: Osteria Anice Stellato
Hostaria da Franz. Celebrities like Brad Pitt, Angelina Jolie, Rod Stewart, and Miuccia Prada flock to this restaurant near the Rialto, but Venetians revere it for the scrumptious fresh fish, much of it caught only hours earlier from the lagoon. Everything is made in house by chef Gianfranco Gasperini, who runs the restaurant with his son, Maurizio. The menu changes daily, based on the available catch, but most fish entrees can be prepared to your liking--grilled, fried, salted, or oven baked. Try the cuttlefish with polenta, or the casarecce (twisted, tube-like pasta) with sea scallops and orange. Keep things super local by ordering Orto Venezia, the only wine produced in Venice. Salizada San Antonin 3499 (Castello), Tel: 041 522 0861 
FOR VENETIAN SPECIALTIES (with a modern twist)
Linea D'Ombra. Although this restaurant has been discovered by well-heeled travelers, sophisticated locals come here, too, for updated Venetian classic dishes and terrace dining with spectacular view across the Canale della Giudeca toward Il Redentore, the 16th-century church designed by Andrea Palladio. The fish is sublime (check out the off-menu options, determined by what catch is in season), whether served as appetizers like the squid and asparagus, or baccala with pistachio; in such pastas as the lobster spaghetti; or with entrees like the sea bass cooked in salt. "Maybe the best restaurant in Venice," says Possati, who suggests ordering the mille-feuille of scampi with onions and apples. Dorsoduro, 19 (Dorsoduro). Tel.: 041 241 1881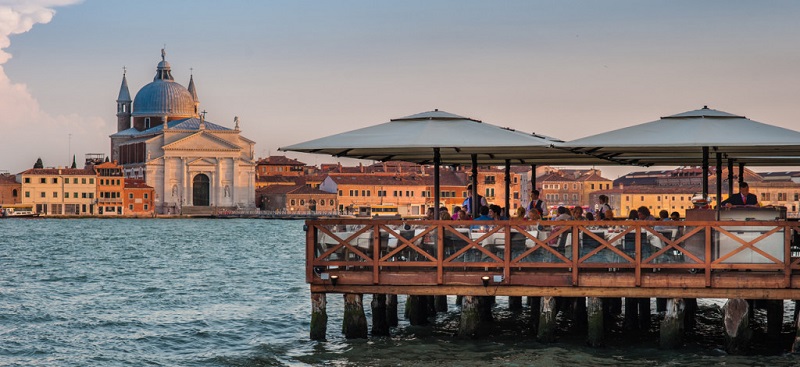 Photo credit: http://www.ristorantelineadombra.com/

FOR GELATO 
Gelateria Artiginale il Doge. In a town sprouting with gelati options in warm weather, it's hard to know where best to calorie splurge. Possati recommends the ice cream shops in the Campo Santa Margherita, which is worth a visit alone for its authentic, far-from-the-tourist-frenzy vibe. The Campo, one of the largest in Venice and lined with pastel, ochre, and red houses dating from the 15th century, is a popular market and gathering spot for students from the nearby Ca Foscari during the day. In the Campo, Gelateria Artiginale Il Doge often has a line snaking out the door as locals line up for the made-from-scratch offerings. The nutella, strachiatella, and the crema de Doge, a heavenly mix of chocolate and orange flavors, are popular choices (order the maxicono to sample more than one). On hot summer days, opt for the granitas and sorbetti, made from fresh berries. Possati also likes Gelateria Alaska, where owner Carlo Pistacchi hand makes organic ice creams in such unexpected flavors as basil and rose. She recommends the fig or kiwi gelato. 
Gelateria Artiginale al Doge, Campo S. Margherita 3058a (Dorsoduro). Tel.: 041 5234607.
Gelateria Alaska, Calle Larga dei Bari 1159 (Santa Croce), Tel.: 041 715 211
FOR SWEET TREATS
Dal Nono Colussi. Possati goes to this much lauded pasticceria artiginale for Easter-time Colomba, but it's a year-round must for sweet treats made on the premises. The foccacia veneziana (which is more like a cake than the flat bread you find elsewhere in Italy), frittelle con crema, and pandoro are superb. Calle Lunga San Barnaba, 2867/A (Dorsoduro) Tel.: 041 523 1871
FOR AUTHENTIC VENETIAN MASKS
Ca' Macana. Each mask is hand-crafted using centuries-old artisan techniques with detailing so exquisite that Europe's leading opera houses often commission pieces here for their productions. (The late Stanley Kubrick did as well, for his film, Eyes Wide Shut.) Owner Mario Belloni, who founded the shop in 1984, is largely responsible for the mask revival in Venice; as recently as the late 1970s they were hard to find in a city that once considered them part of the daily uniform. (In 18th century Venice, politicians and society figures used masks, not just for parties and Carnevale, but to conceal their identity, often a necessity in a small and crowded city where intrigue and shifting political alliances were about as common as the acqua alta.) At Ca' Macana there are dozens of stylish options--flirty eye masks with rhinestones and feathers worthy of a first-class seductress, commedia dell'arte comic masks, and the bauta, a favorite of scheming pols since it covered most of the face. Calle delle Botteghe 3172 (Dorsoduro). Tel.: 0 41 277 6142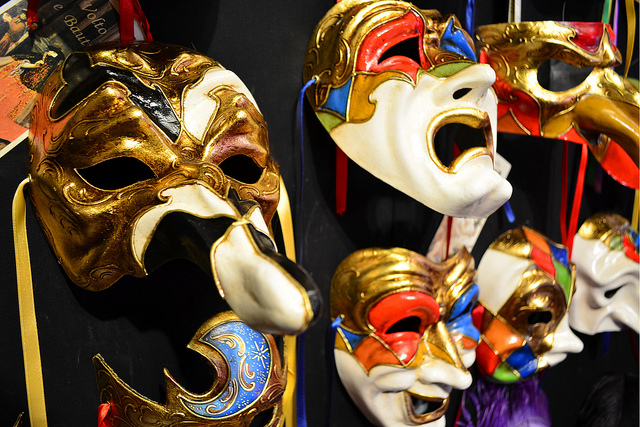 Photo by: madatticbertha (flickr). 
FOR JEWELRY
CODOGNATO. In the same location as it was when founded in 1866, this shop is a Venetian institution, having drawn such clients over the years as Renoir, Manet, Chanel, Luchino Visconti, and Elizabeth Taylor. A pioneer in archaeological gold-smithing, Codognato made a name for itself by specializing in jewelry inspired by objects found on antiquarian digs. Codognato has also served as the primary goldsmith for the iconic Basilica San Marco. Etruscan, serpentine, and memento mori themes define the bold, statement-making jewelry coming from this shop. San Marco, 1295. Tel.:  041 522 5042.