Herb Eckhouse's goal was never to replicate Italian prosciutto; rather, it was to make a distinctive American prosciutto that would rival the celebrated Parma and San Daniele hams. However, the inspiration for it came from Italy, precisely from Parma, where Eckhouse lived for three years, from 1986 to 1989, with his wife and two daughters while working as the chief executive of Pioneer Hi-Bred Italia, the Italian subsidiary of a company based in Iowa.
"When we came back to Iowa, we were struck by the beauty and bounty of our State, and thought, what great food are we making here to show our appreciation of our good fortune," Eckhouse said, explaining how the idea to get into the prosciutto business came to him. "We could not think of much, and, since we had enjoyed prosciutto in Italy, and seen how it added to the well-being and economy of people in the Parma area, we thought of prosciutto.  In Iowa, we have more pigs than people."
Eckhouse started making prosciutto at home and testing what people liked and did not like about it. "All of our Italian associates said that we would not be able to make good quality prosciutto in the U.S. - the pork would not be right, the air would not be right..." Eckhouse said. "We had to try to find out that, in fact, it is possible. Once we had our basic practices identified, we looked to Italian equipment suppliers and an Italian consultant, Giorgio Giuffredi, to help us build a commercial scale facility."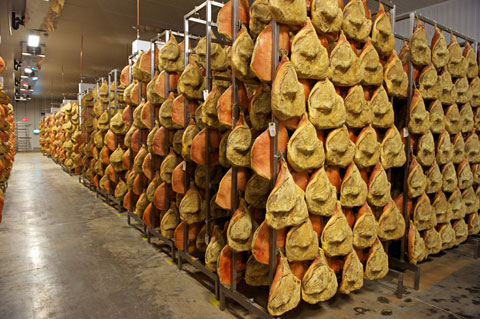 In 2005 Herb and his wife Kathy established La Quercia, in Norwalk, just south of Des Moines. La Quercia means "the Oak" in Italian. As explained on the company's website, the oak is a traditional symbol of the province of Parma, and, through its acorns, has been associated with the production of premium dry cured ham for millennia. Surprisingly, it is also the state tree of Iowa.
The Italians taught Herb and Kathy the basic steps: salagione, riposo, stagionatura; they then developed their own methods. The company also uses Italian equipment as the technology is generally developed in Italy where prosciutto production is at least 10 times what it is in the U.S.
A few months into the business, the Eckhouses released their first batch of Prosciutto Americano, introducing the first organic prosciutto ever in the USA.
Eight years later, La Quercia produces award-winning prosciutto that keeps receiving enthusiastic reviews and is featured on the menu of upscale restaurants across the U.S. The "best American prosciutto on the market," chef Mario Batali has said. "The most amazing prosciutto I've ever seen outside Italy," claimed New York chef Andrew Carmellini. "The best prosciutto you can get in America, hands down," raved James Beard award-winning chef Paul Kahan. Other renowned chefs who use La Quercia prosciutto are Emeril Lagasse, Wolfgang Puck and Nancy Oakes.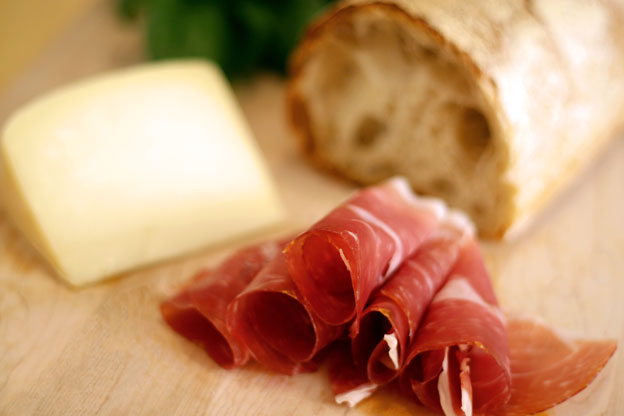 La Quercia now makes six kinds of prosciutto, each with a different type of pork, each with a distinct and uniform taste, texture and aroma profile, with the Americano still their most popular.
The main difference with Italian prosciutto is when the salting takes place: "We make what would be called in Italy a "sgambato" - we open up the leg prior to salting," Herb explained. "As a result, our prosciutto has a lower salt level and lower water content than Italian prosciutto."
If it weren't for the difficulties involved in exporting to Europe, Herb would even consider getting on the Italian market. "We would like to sell into Italy, just to 'wave the flag,' he said. "We are proud of the quality of meat raised by our farmers here, and would like to just be present in Italy, so that people would know that we can make prosciutto here too."  
It would have to meet with the resistance from the lovers of Italian prosciutto, especially the purists who would probably sneer at the idea of prosciutto coming from Iowa. Nevertheless, Herb remains undeterred: "Look at what some of the top chefs in the United States say and do - they say it is better and they cite it on their menus.  Read the reviews, look at the awards. But better yet, taste it and decide for yourself."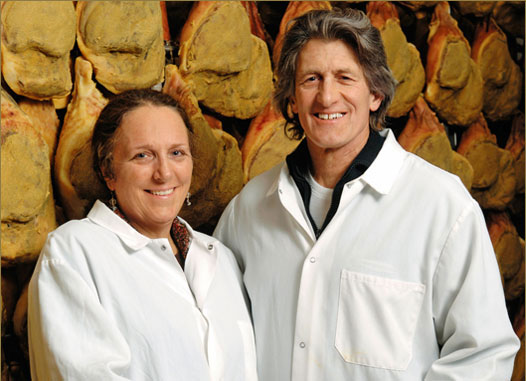 Besides the production techiniques, what Eckhouse was able to experience first-hand during the years he lived in Parma was the passion shared by those who work pork meat to produce a product that is both healthy and tasty, a passion Herb himself feels: "One of the people we met who showed us around his plant in Italy said 'fare prosciutto è bello' (making prosciutto is beautiful). It is.  We take a raw piece of meat and work with it 27 times, and at the end it is a beautiful, delicious prosciutto. It is like assisting at a miracle."
Watch Herb and Kathy Eckhouse speak about the process of making La Quercia prosciutto to bring a "new taste to America":
For more information on La Quercia, visit: http://laquercia.us/