Angela Velenosi  of Velenosi Wines started her company  in 1984 to bring the unique wines of the Marche region of Piceno worldwide. Here she chats about what it means to be a woman in a notoriously male dominated wine world and about her role as President of The Consortium of Piceno wines a consortium of about 40 wine professionals, 80% who are either first or second-generation wine makers.  
Velenosi's wines have won many awards. Their sparkling Passerina Brut received a Gold Medal by the 50 Great Sparkling Wines 2016. Brecciarolo, a Rosso Piceno made with Montepulciano and Sangiovese grapes, has won many international awards. Full-bodied, warm and persistent, it has the flavor of juicy red fruit with dark spices aroma. Ludi, their Offida Rosso DOCG wine is also highly decorated, winning Best Italian Red Wine with 97 points in the Best Italia Wines Guide 2015 and other awards.
How did you begin your journey in the wine business?
I started from scratch. This field is full of great stories of producers who have handed down this work and their lands, from generation to generation. Great families for great territories. My story is different, because I started being a producer when I was 20, after my marriage, with a thoughtlessness that today would soften anyone's heart. I was barely more than a little girl, but that childish curiosity helped me a lot. I have always been determined: I understood that this was the road to follow and so I set off with a firm belief, sacrifice and humbleness.
Describe a typical work day.
My alarm rings at 6:00 am. The first thing I do is have breakfast and then I head off for my usual jog. If it rains, I run anyway, either at the gym or at home, but I can not do without it. These are my habits. If I am around for promotions and events, my day probably starts off traveling. Otherwise I go immediately to the office. I am a workaholic, but since I love this job I could not be any different.
Do you have many female colleagues in the wine industry in Italy?  Are there any special problems with being a female in this very male industry?
I have several important female colleagues in the wine industry in Italy and now it is no longer a surprise to find a woman having a central role in this business. Of course, the wine industry still remains mostly a male dominated industry, but this holds true for all sectors of entrepreneurship. The fact of being a woman in this field has never created problems, in the sense that no one has ever placed any obstacles towards me as a woman in this industry. However, there is no denying that difficulties exist. First of all, the compatibility between motherhood and the role of an entrepreneur. Being a mother and heading a company means making big compromises. In my daily life I have not always been able to spend the time I wanted with my children, and this has been a great sacrifice. Nevertheless a mother's love is always and forever.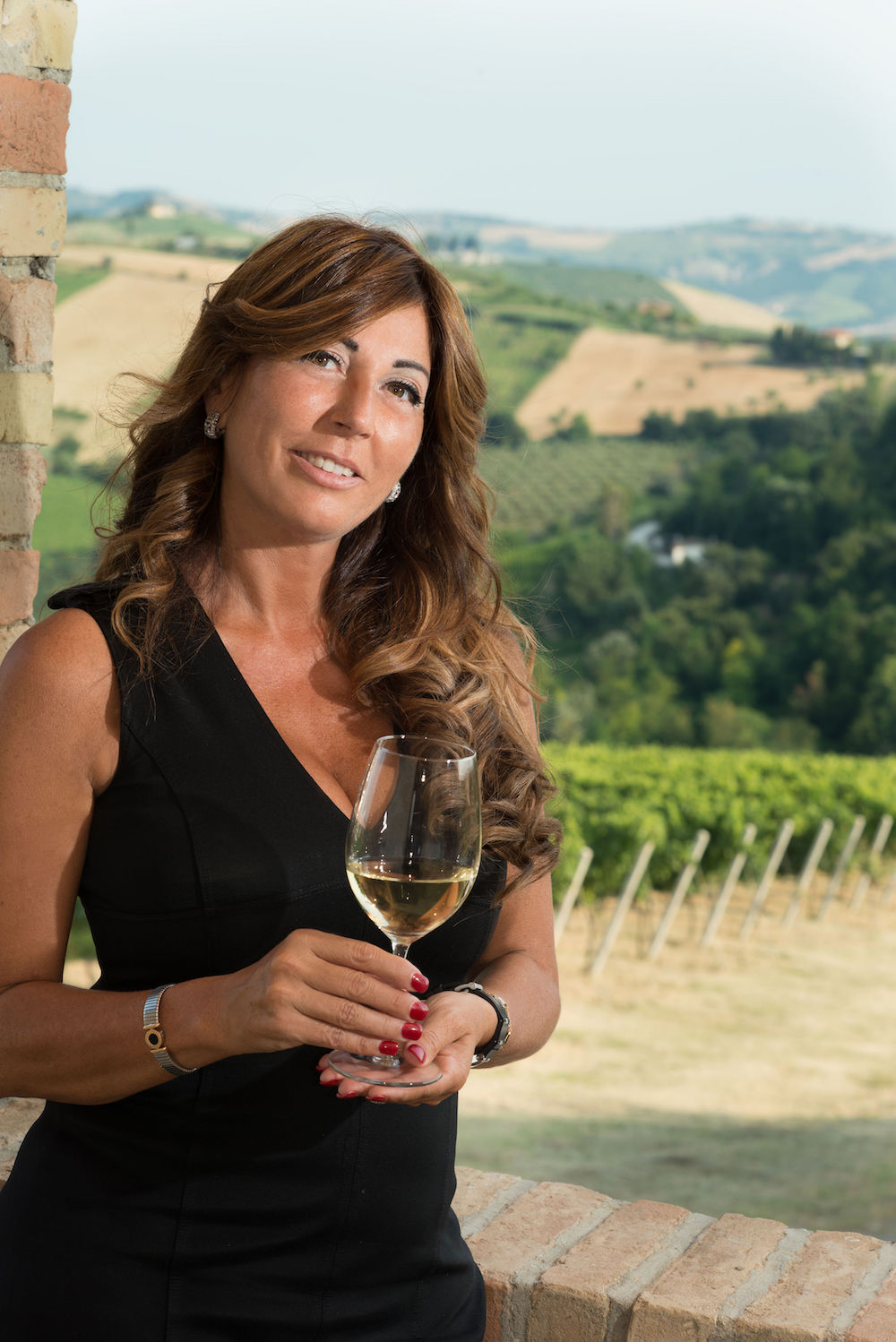 [Angela Velenosi]
You are one of the few females to be named President of a wine consortium. What are your duties as President?
Being President of the Consorzio dei Vini Piceni is an educational experience, in that you stop thinking in terms of singular and start thinking in terms of plural. This plurality is actually a kaleidoscope of experiences. I have learned to look at the wine industry from all points of view: from that of the small producer, to the farmer and finally to the winemaker, just to give some examples of those who make up the Consorzio. This helps you to grow as well as look into the details of this sector. There is also a good dose of political life, which is perhaps the most difficult part. My aim is to find a mutual point of agreement by mediating the parts and representing the totality of the members. At times it is really complicated.
You travel around the world for business. What are some travel tips? How do you stay fit while away from home? 
Velenosi wines export to 50 countries and I am often around the world for work. The temptations, when I travel, are many. All the restaurant owners who host me would like me to taste all their dishes and learn their cuisine. I wish I could give them this satisfaction, but I am not always able to as I usually try to follow a balanced diet. When I do taste something, I try not to overdo it. However, my daily jog is what really helps me keep fit.
Which is one of your favorite Velenosi wines?
A mother should never be asked who her favorite child is!  I apply this also to my wines.  I love all my wines, from the smallest to the biggest, from entry level to top of the range. Each of these wines represents a step in my journey as well as an important key to understanding our territory. Having such a large range provides me with the hope that everyone is able to find a wine that he/she likes, suitable for all situations. On my behalf, I adore them all. My desire and hope is that this love is perceived, because they are all Velenosi wines, and I put my name on each of them, from the first to the last.
Velenosi wines showcase lesser-known grapes like Passerina & Pecorino. Tell us about these wines. 
Italy is the country of bell towers: each hill has its own native variety and its appelation.  In addition, a lot of work has been done to recover these varieties, many of which risked being lost. We have worked hard for the recovery of Passerina and Pecorino. The local grape varieties are one of the advantages of Italian viticulture, but we must also recognize the limit of small productions, which are more fragile from a market point of view. We have invested a lot on Passerina and Pecorino, and in particular the latter has received great acclaims from the public. Its aroma, with a note of exotic fruit, has made it a big success, and today is one of our cornerstones. I have produced both these varieties also in an organic version so as to combine tradition and innovation.
Like this article? Don't miss "'Historic' Wine: Where to Find Italy's Oldest Vines"
What are you working on now?
We have recently acquired a company in Abruzzo! It is located in a magical territory called Controguerra, overlooking the Marche border. There is a lot of work to do, yet we are already very proud of the results. Now we are working to release the first wines, and we have high expectations. At Vinitaly we presented the first harvest which was greatly appreciated. This company is located in a territory with a high potential, and for this reason we are already developing the top of the line for this new range, the DOCG Colline Teramane. This project is very important for me, as I am  originally from Abruzzo but have been adopted by the Piceno area. The wines of Controguerra join the two sides of my heart.