Favourite places in our family have often been found by chance, sometimes via random and tortuous routes.
And so it was with Le Terre del Lago – the area around Lake Bracciano in Lazio - a short drive north of Rome.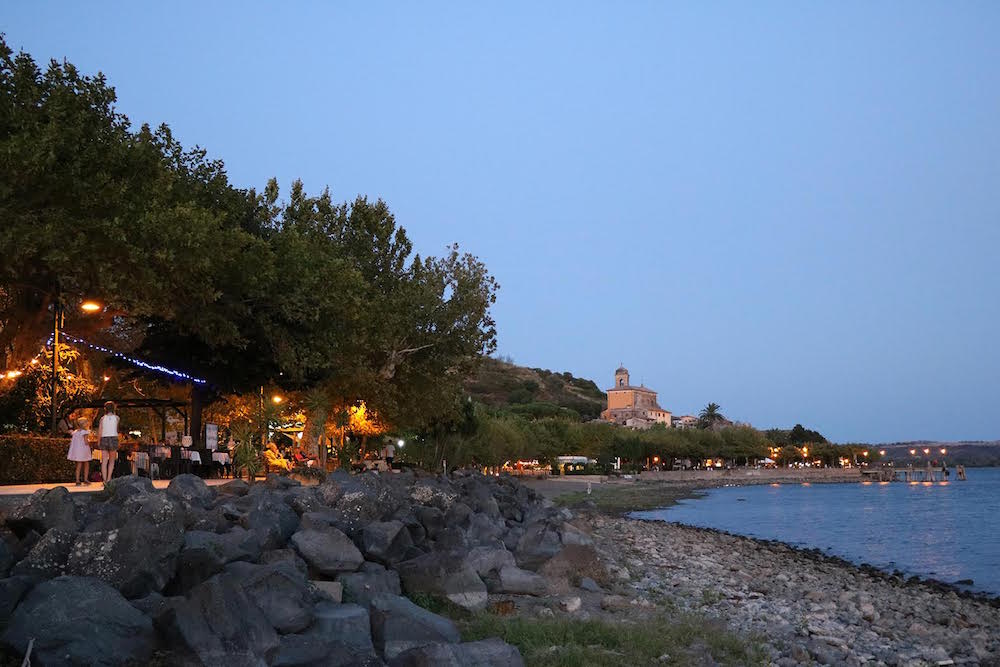 [Photo credit: Jo Cavanagh]
It all began last year with someone else's secret, whispered through the pages of an out of date road atlas abandoned in a rented villa, deep in the Italian countryside.
We had one day left of our glorious Summer holiday and with reports of soaking rain and gloom emanating from home, we began looking for an excuse not to return. The yellowed post-it note was all it took to get us moving.
'Lake Martignano,' it read in beautifully formed cursive, followed by a complicated set of directions from somewhere in Rome before finally: 'The road turns into a dusty, bumpy track keep going to the top – it's worth it! Park @ top, walk down hill to volcano (extinct) lake. Clear water, black sand beach. Ps: It's a secret!'
It was only an hour's drive from the house we'd rented near Poggio Catino – a previous secret to which we've returned year after year – so within minutes we'd made a rash online booking at an apartment in a town we'd never heard of, as close as we could get to the lake at such short notice.
Then we packed up in good spirits, and with swimming costumes and a picnic lunch at the ready, set off in search of the mysterious lake. Many hours of backtracking along crater-filled dirt roads in the baking heat ensued, but still the promised glittering shores remained frustratingly elusive.  With hungry children begging to be taken home to England, tears running through the white dust that had settled on their pink cheeks, we called it a day. Defeated, we limped into Trevignano Romano where we'd booked the apartment for a night.
Like this article? Don't miss "Seven Charming Villages in Lazio You Should See." 
And that's where things took a turn for the better. What we found then had us returning this year for more.
Trevignano Romano nestles on the northern shores of Lake Bracciano - apparently the third largest lake in central Italy but certainly one of its lesser-known attractions.
[Photo credit: Jo Cavanagh]
Strangely absent from most popular tourist guides, this truly Italian town with its lively piazza where people of all ages sit down to family meals that go on for hours; drink coffee from early morning with oven-warm cornetti pinched between napkins, and eat gelato all day, is only 29 miles from Rome.    
With evidence of ancient civilizations always near, surrounded by miles of unspoilt countryside and everywhere, the lake, Trevignano comes alive in the evening as cool air blows in across the water.
Residents and visitors gather in the many good bars and restaurants, sometimes dancing until the early hours as children chase one another around the ancient piazza that has seen barbarian invasion, Papal bombardment, siege, earthquake, occupation by one of Italy's great medieval families and finally, restoration. We were told the area has been inhabited since the Etruscan era.
Now it's a popular escape for hip Romans seeking respite from the clamour and crowds of the Eternal City – and has been for more than 2000 years. Who could blame them?
'It's where I come to recover,' someone told me in the supermarket queue on a Sunday morning, her basket loaded with slivers of prosciutto, mortadella and panini made with olive oil. 'For me, it's a place for the soul'.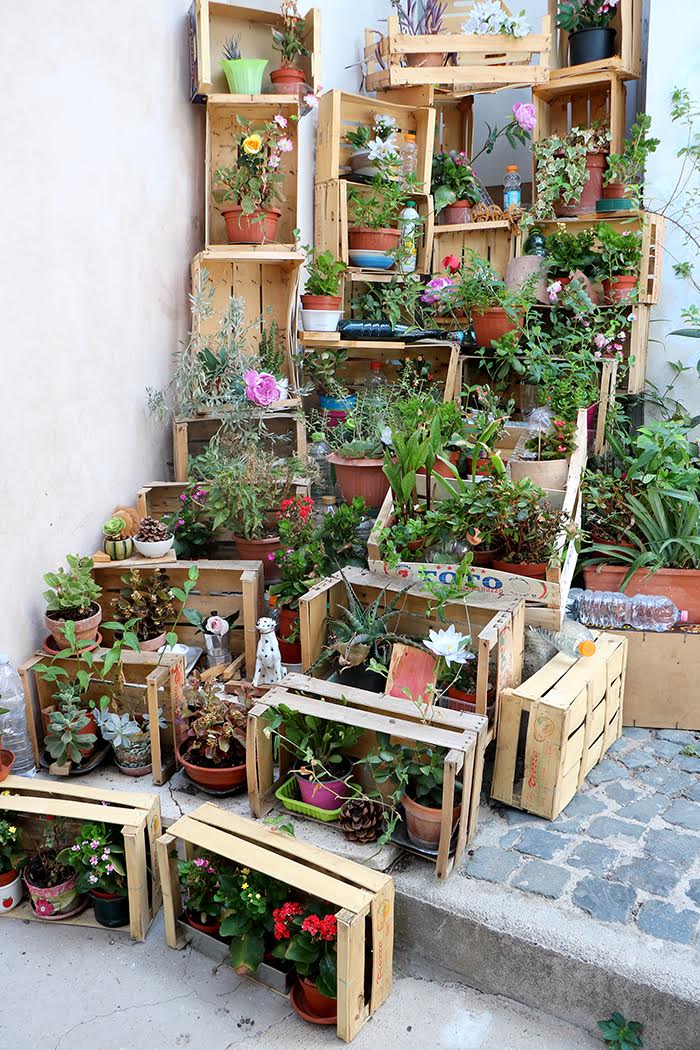 [Photo credit: Jo Cavanagh]
Over Aperol on a jetty off the tree-lined promenade, the warm glow of a slow lake sunset on our bare shoulders, a resident told us that they'd started with a weekend apartment in the medieval quarter of the town but, tired of the pollution and traffic, had ditched Rome entirely. They commute to the capital three times a week, and have done so for 20 years.
'Trevignano is full of artists and writers from all over,' she said. 'It's got the best of everything.'
Wandering through the beautiful old quarter of the town over the next few evenings we came upon a poetry reading, an entranced audience seated in the street, tear filled eyes glistening in soft light; a pop-up open air cinema with an old black and white film being screened on pock marked town walls; and later, what appeared to be a spontaneous outburst of street music and dancing.
Trevignano is the smallest of three towns on the lake. In Anguillara Sabazia, we approached the tourist information office in search of an exhibition of Neolithic longboats recovered from a village now under water. Marmotta dates back to 5,700BC and was billed in a local tourist leaflet as one of the most ancient settlement sights in Europe.
The helpful woman there told us that the exhibition had not been open for two years due to the lack of funds.
We had noticed that the lake was significantly lower than it had been the year before due to the ongoing drought, and that the usual ferries were not operating because of this. Already, we'd first hand experienced the relentless heat, seen evidence of wildfires and read of water rationing in Rome and devastating damage to crops.
She told us the lake was the lowest it had been in modern times. 'Rome has always drawn water from it which was usually replenished by regular rains. However, there has been no rain this winter, in fact no rain for the past six months.'
She said the lake had dropped suddenly by two metres, exposing Roman artifacts and making them vulnerable to damage and theft.
By and by, the conversation switched to our Mystery Lake. We related our previously unsuccessful mission to find it.
'Lake Martignano has been given back to nature,' she said. The little restaurants and boat hire shops that had built up over the years have been shut down. 'It is now a beautiful destination for nature lovers with lovely clean water for swimming.'
We jotted down instructions and hurried back to our apartment with the news. Early the next morning, a Monday, picnic packed and towels tucked under our arms, we set off once again.
As instructed, we drove along an inconspicuous looking road for a few miles, leaving our solitary car in a vast and strangely desolate car park. We paid 5 Euros for parking and 2 Euros each to a man sitting at a table at one end of the empty field. This was for transporting us to the lake in a shuttle, which he promised would be along shortly. Dust billowed as a flock of sheep, galloped past, herded by three dogs. The sun baked down as the children looked around nervously, wiping dust from their eyes, reminded of the futile expedition only a year before.
But, the stars were with us this time and true to the parking attendant's word, a little bus arrived within minutes to ferry us safely over hazardous potholes and down into the crater where the glistening and pristine waters awaited. The driver gave us his number and promised to be back when we were ready.
Then he left us in the breathtaking silence. To our astonishment, we were the only people there, surrounded lake and nature reserve.
The black sand alongside the shore sparkled in the sunshine; bright red and blue dragonflies danced on the cool water; fish jumped.
We explored tentatively, at first along the lakes edge and then up the banks into a natural forest, where we came upon the Marie-Celeste-like skeleton of an abandoned restaurant. Nearby, we found some derelict paddleboats.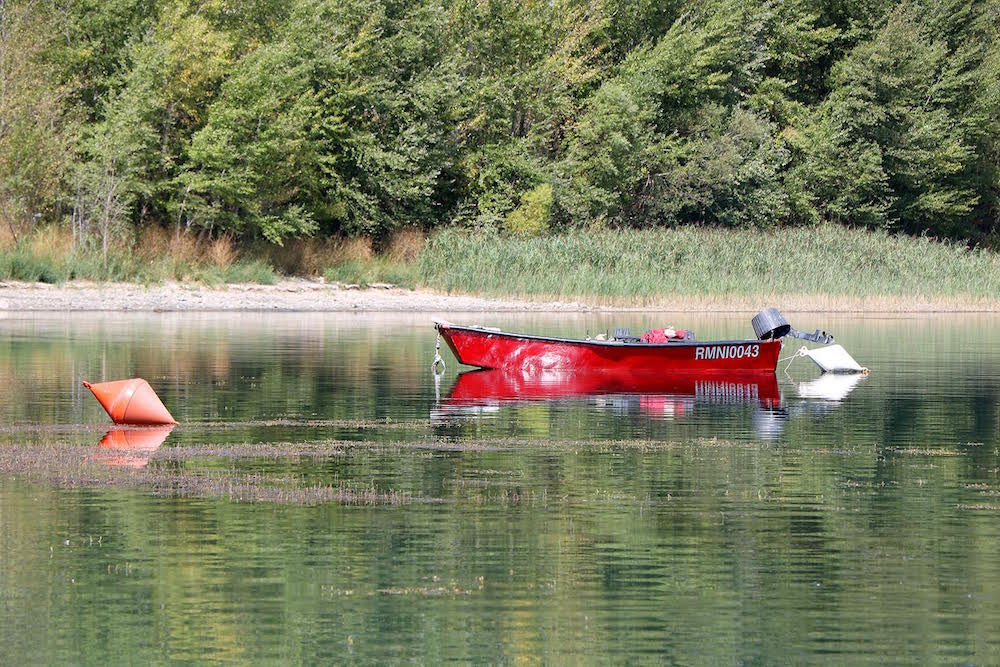 [Photo credit: Jo Cavanagh]
Before coming, we'd read reviews from a few years back, of places alongside the lake to buy food, hire umbrellas, loungers, canoes, sailboats and windsurfing equipment. But just as we'd been told in Anguillara Sabazia the day before, these are no more.
We swam for hours, deep into the lake, way too deep to stand. We sat at wooden picnic table under the trees eating delicious panini and watermelon before reading and then falling asleep in the tranquil shade. The children paddled and swam all day.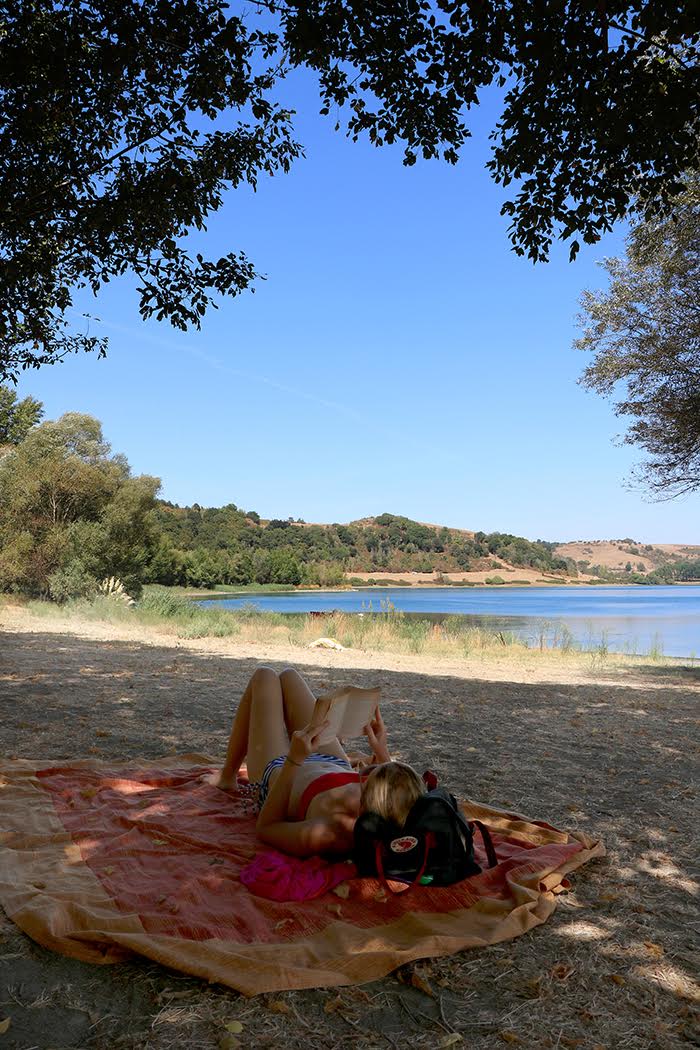 [Photo credit: Jo Cavanagh]
After awhile, officials arrived from the municipality to check the water quality. 'It's good,' they pronounced and left. A handful of other visitors turned up later. In the distance, across the lake, it looked as though someone had been camping and even further away, we saw what looked like a small farm. That's all.
There are no lakeside roads, no cars at all save the shuttle. We were told that there is a cycle path that crosses the reserve, from where there are spectacular views of both lakes – but we saw no cyclists either.
Lago di Martignano has definitely been handed back to nature.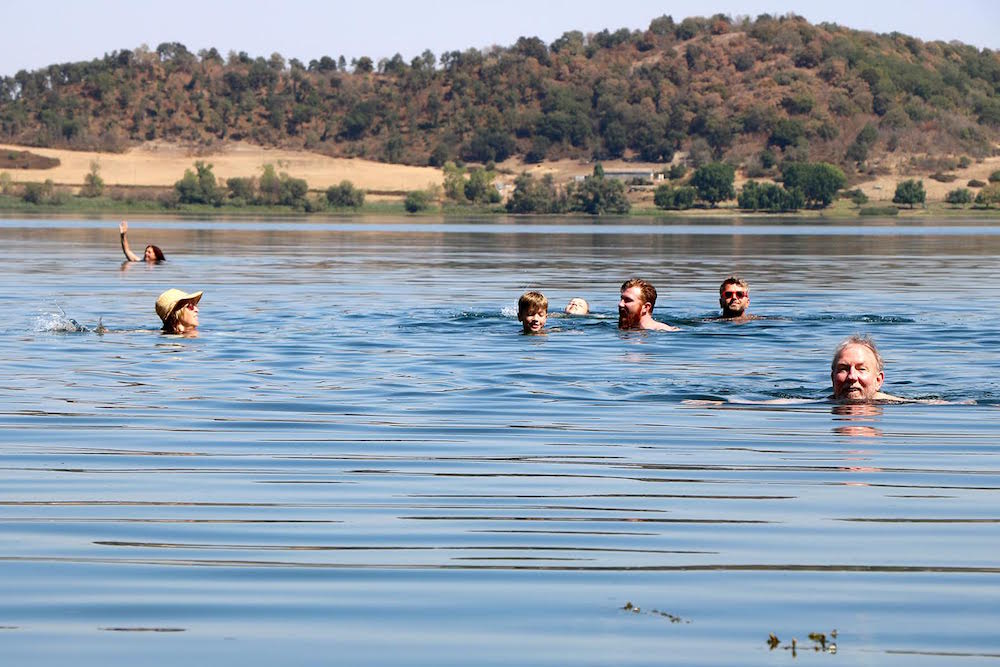 [Photo credit: Jo Cavanagh]
Begged by the children and eager ourselves; we returned two days later for more of the same and left reassured that this secluded Italian lake, surrounded by nature reserve and ancient treasures, so close to Rome yet somehow so far away, really exists.
So we raise a glass of Prosecco to you, anonymous road atlas message writer. We found your lake at last and it was worth the effort.
Yes, it's still a secret.
But for how long?
We flew to Rome at the end of August and rented an apartment on the main piazza in the medieval quarter of Trevignano Romano, for a week.
There's a huge amount to see in the area, far too much to take in on a single visit or describe in one article.  All three towns advertise bathing and sailing on the lake; cycling, hiking and horseriding. Apparently birdwatching is also a popular pursuit.  
At Sutri, about 8 miles north of Trevignano Romano, we were alone in a splendid Roman amphitheatre and then joined a small group of visitors being led through locked doors into a 3rd Century Mithraeum, burrowed into the cliff-side. This later became the church of Madonna del Parto with fascinating frescoes adorning its clammy walls.
The Orsini-Odescalchi Castle in Bracciano town, packed with frescoes, weapons, paintings, furniture and tales of adultery, murder and incest, is well worth a visit. The castle is let out for events – the wedding of Tom Cruise and Katie Holmes was held there. We visited in August and, with the exception of the woman at the door and some workmen, appeared to be the only people in the castle.
Calcata Vecchia, about 14 miles from Trevignano, was described to us as a medieval town 'that became a hippie commune and a picturesque artists' village' after the Italian government, fearing that an earthquake would shake houses down the mountainside, moved residents new area nearby in the 1930s.  We were fascinated by the claim that it was once 'home to the foreskin of Jesus Christ', but fortunately found no evidence of this relic when we visited for lunch one incredibly hot day. Instead we enjoyed bowls of simple handmade organic tonnarelli pasta accompanied by a jug of wine, and bought some local pottery.
La Rocca, the ruin of a fortified castle over looking Trevignano Romano, and destroyed in 1496 in the battle between the Orsini and Pope Alexander VI Borgia, was unfortunately closed due to restoration work both times we visited. This fortress dominates the landscape and can be reached easily from the town - we were sad to be denied access. Legend has it that there's a ghost that lurks in a cave under the fortress, and numerous tunnels built by residents in the Middle Ages. Maybe next time.
Unable to get to La Rocca, we enjoyed a moment of reflection in the beautiful Church of Santa Maria Assunta, with a spectacular view of the town and lake below and a frighteningly gruesome fresco of The Sleeping Madonna, attributed to the school of Raphael.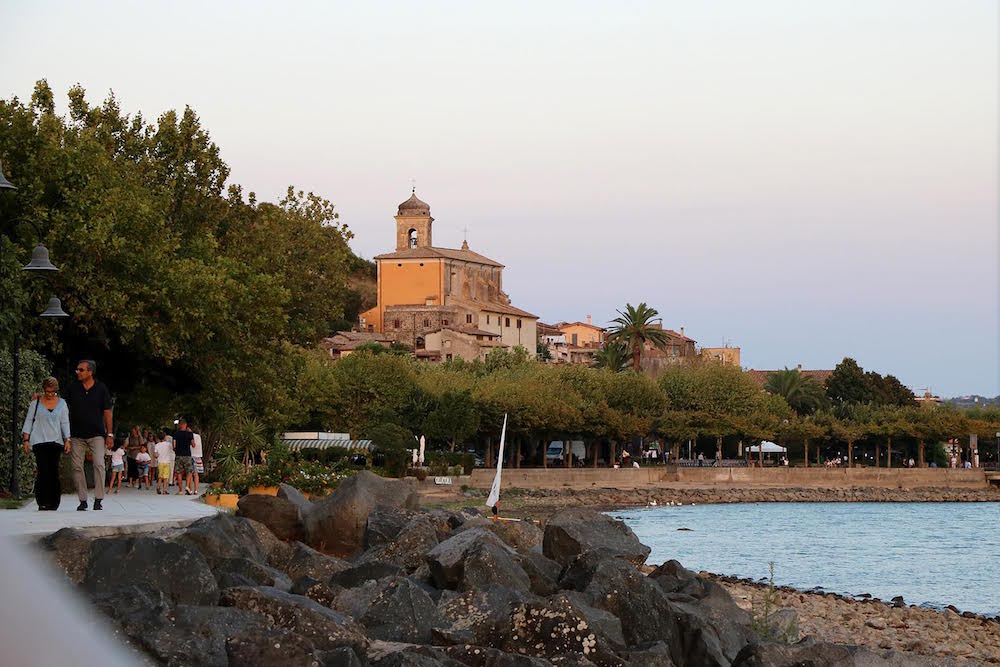 [Photo credit: Jo Cavanagh]
It's easy to find good food in the area:
Bar Ermete, in the the central Piazza Vittorio Emanuele III, was our favourite for coffee, pastries and ice cream. It's open from early in the morning until late at night, and clearly popular with locals of all ages.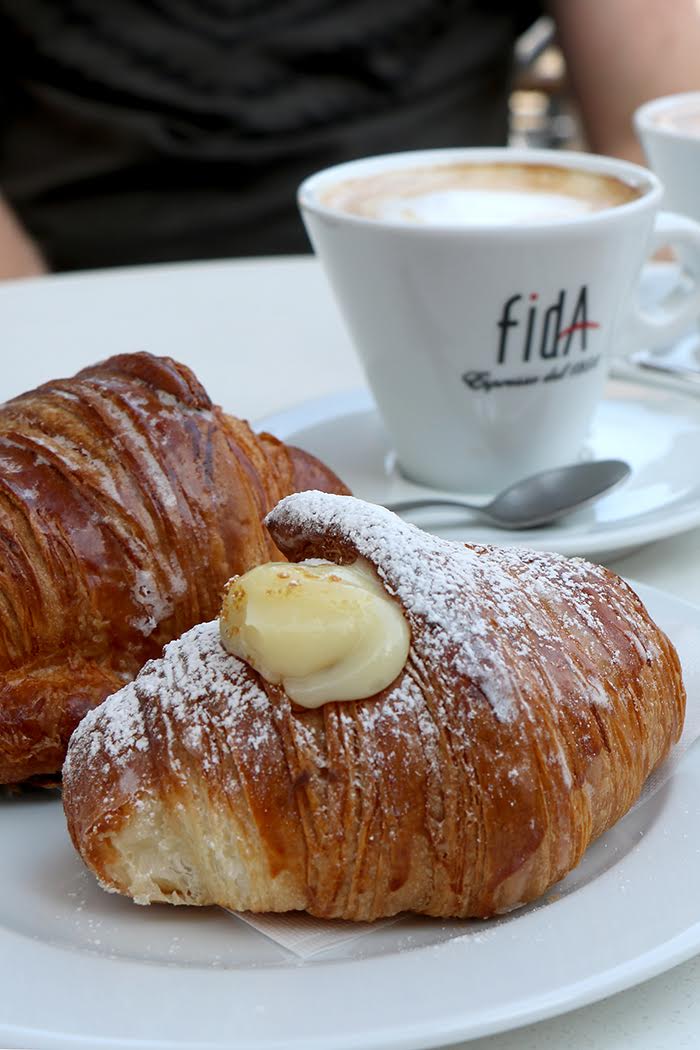 [Photo credit: Jo Cavanagh]
At La Botte Piena, which has an indoor restaurant down an alley in the medieval quarter as well as seating alongside the lake, we ate the most delicious gnocchi with king prawns in a lemon and saffron sauce, accompanied by the house white which turned out to be our favourite too: Est! Est! Est! from the nearby Province of Viterbo.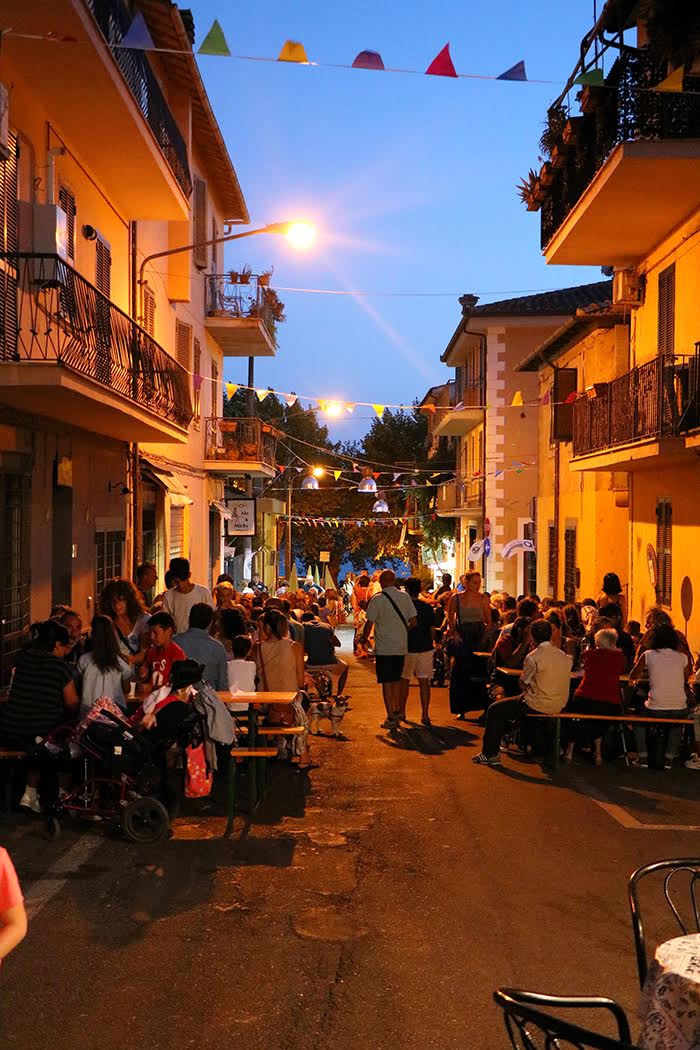 [Photo credit: Jo Cavanagh]
At the lakeside Il Caratello, we devoured mouth-watering pan- fried squid as well as crispy battered prawns and calamari. Once again, this was accompanied by a bottle of Est! Est! Est!
At La Vela, which has seating on a jetty that extends out into the lake as well as an indoor restaurant across the road, we enjoyed cocktails on several evenings and then the most succulent baked zucchini flowers stuffed with ricotta and coated in fine breadcrumbs, followed by grilled octopus on a chickpea mash.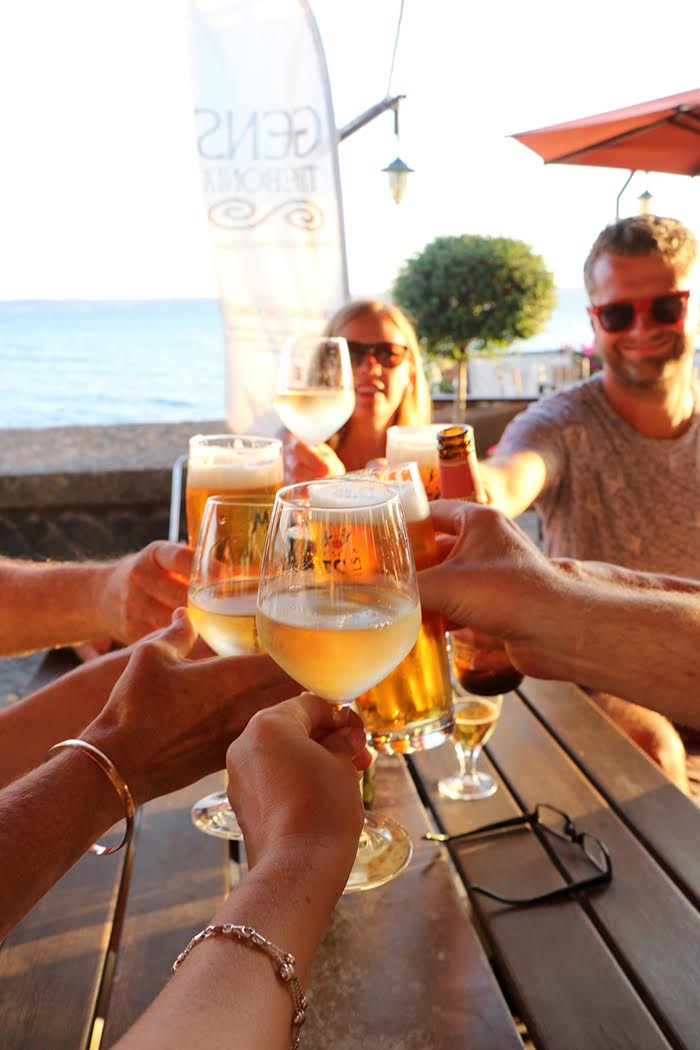 [Photo credit: Jo Cavanagh]
Probably our favourite dish, two years in a row, was the zucchini flower and shrimp risotto from Alfredo's, on the lake near the town of Bracciano.
Want to find more off-the-beaten-path itinerary suggestions? Browse our articles here or our series dedicated to sustainable travel.