Ed.: The Inspired Stays series highlights hotels we love around Italy. Each property is independently reviewed by an Italy Magazine writer, who is generally hosted on a complimentary basis. Our contributors do not accept compensation or gifts in exchange for specific types of coverage. We only showcase properties we would genuinely recommend overall.
Why we love it
La Posta Vecchia is less than an hour from busy Rome, but a stay here gives you the chance to unwind in style — with a seaside Renaissance palazzo as your backdrop, transporting you back in time.
What to expect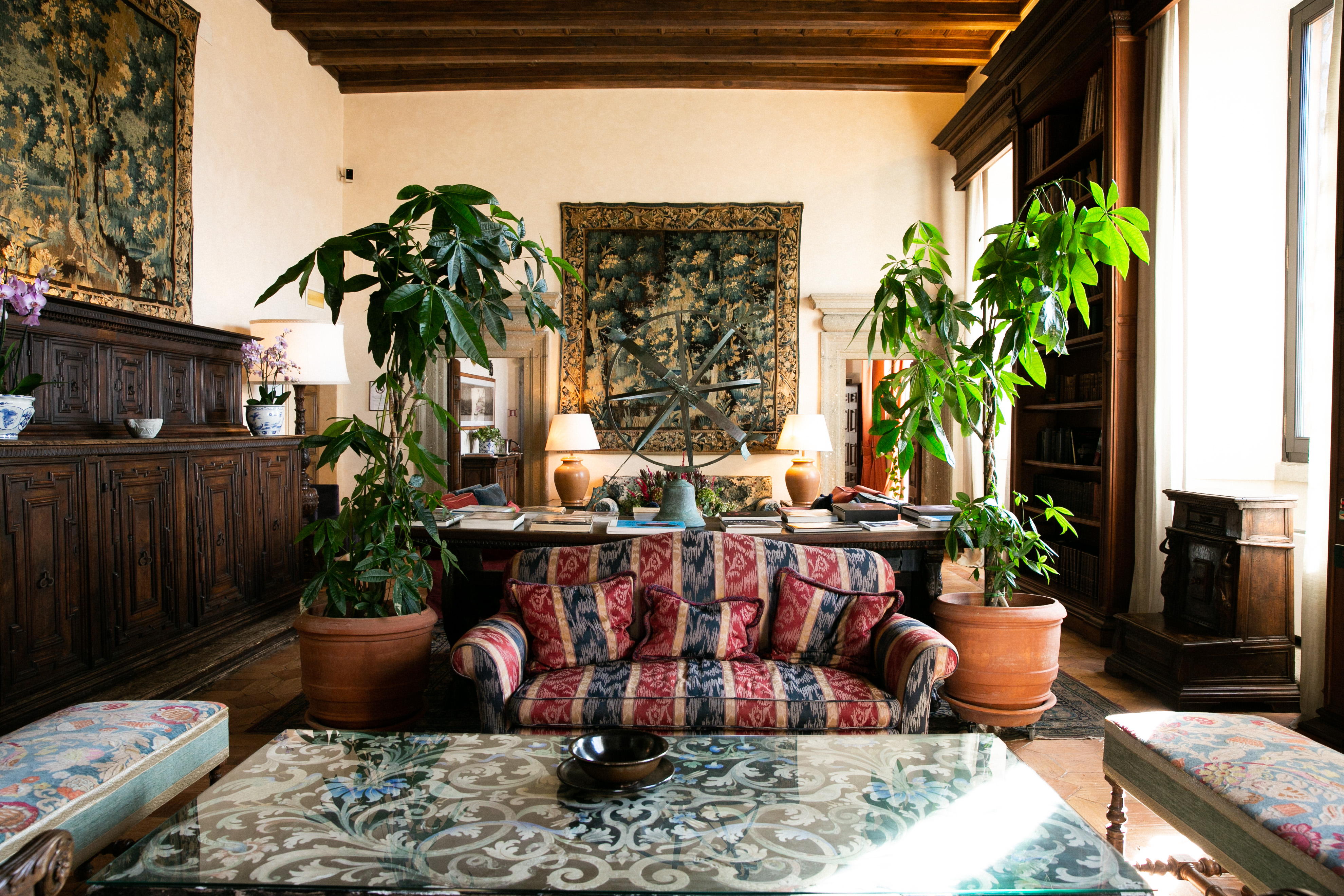 The property is a member of Pellicano Hotels, whose namesake retreat in Tuscany was immortalized by Slim Aarons, so needless to say, it's exceedingly chic. It's also a member of the Leading Hotels of the World, so you can expect top-notch everything. Originally a private villa, it was purchased by Roberto Sciò in the 1980s. He opened it as a hotel and today it's run by his daughter Marie-Louise, who's a style icon in her own right. And following a yearlong refurbishment, it's fresher than ever.
Background
The villa dates back to 1640 and was home to the noble Orsini and Odescalchi families before being purchased by oil tycoon and art collector Jean Paul Getty in 1960 and filled with an impressive collection of Renaissance furniture. When Sciò bought it from Getty in the 1980s as his summer home, he kept it as Getty had left it. 
Location, location, location
The hotel is located in the small town of Palo Laziale, about 40 minutes from Rome. It has direct beach access and is also an easy drive away from the scenic beaches of Santa Severa and Santa Marinella. Cerveteri, which has an Etruscan necropolis, is a short drive away.
Where you'll sleep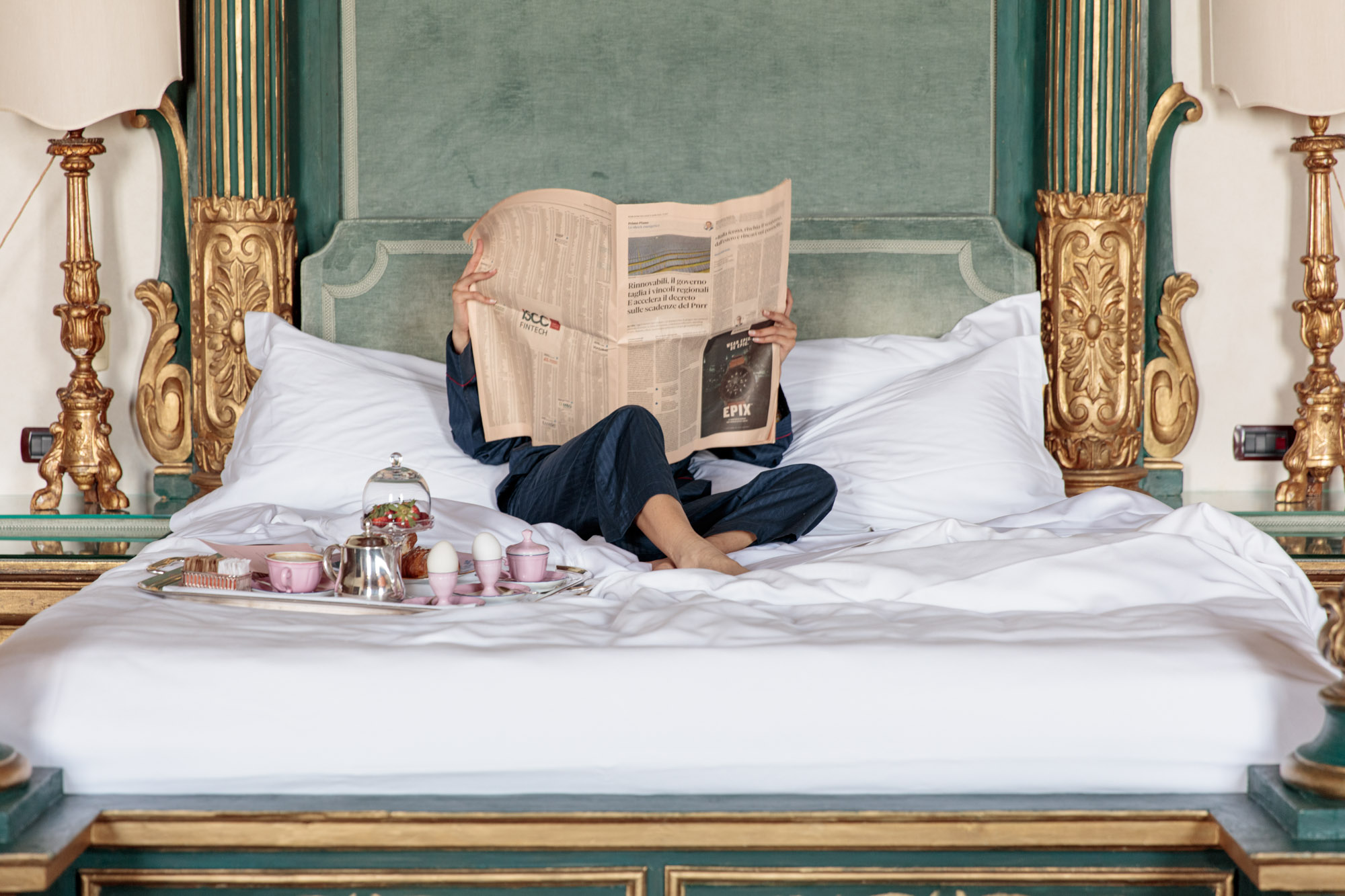 There are only a handful of rooms and each one is unique. Standouts are the Getty Suite and the Medici Suite, which has a deep pink bathtub that's quite the showpiece. I stayed in the Olive Suite, which has a sitting room separate from the bedroom. The antique-filled suite has wood ceilings and overlooks the terrace and the sea. The bathroom is adorned with beautiful patterned tiles and comes with bespoke bath products. All of the rooms have a bluetooth radio and complimentary mini-bar.
Dining & drinks
Ristorante The Cesar serves classic dishes with a contemporary presentation in a blissfully relaxed setting on the sea-facing terrace. Executive chef Antonio Magliulo sources fresh produce and herbs from the hotel's garden, which he will happily show to inquiring guests. The bartenders in Bar Piranesi shake up creative cocktails for aperitivo or as a nightcap. The buffet breakfast — laid out on a long marble table — has an especially impressive selection of vegan and gluten-free pastries. 
Service notes
The staff are attentive without being invasive — absolutely five-star.
Spa time
Located just off the pool, the small spa has two massage rooms and a caldarium. Treatments incorporate products from the world-famous Santa Maria Novella pharmacy in Florence. There's an outdoor gym and complimentary bicycles, but you're coming here for some R&R, so grab one of the striped lounge chairs and post up by the pool or on the beach.
Family perks
Kids are pampered with amenities like teddy bears, cookies, board games, and coloring books.
You should know...
Don't leave without taking a peek at the unofficial museum in the basement, where Getty uncovered the remains of an ancient Roman villa during renovations. The mosaics, amphorae, and other archaeological finds have been preserved and are displayed in glass cases with placards explaining the history of the site.
Accessibility
The hotel has no elevator.
There are handicap-accessible rooms, but not handicap-accessible bathrooms because of the complications involved in renovating a historic palazzo.
Features & amenities
Seaside setting
Restaurant
Bar
Free WiFi
Parking (free)
Pool
Spa 
Garden
Fitness room
Pets allowed
Family friendly 
La Posta Vecchia
Via Paolo Laziale
Tel. +39 069949501
Website