The first time I heard about the 'Feast of the Seven Fishes' was on my first Christmas in the United States. I had just moved to California and my American friends, who took me to a Mexican restaurant on Christmas Eve, felt sorry for me that I could not celebrate what they thought was a heartfelt Italian tradition. I was not sad however – the thing is, I had never heard of the Feast of the Seven Fishes before living in the U.S. (Plus, I love Mexican food.)
As the subject kept coming up at Christmas time in subsequent years, I asked my Italian friends living in the U.S., especially those from the south of Italy, if they practiced this tradition, which, in the U.S., is celebrated on Christmas Eve (la vigilia) and consists of a seven-course dinner entirely based on seafood; none of my friends did, or even knew about it either.
So I turned to Italian-Americans – and yes, many of them do celebrate the Feast of the Seven Fishes, but when I asked about its origins, everyone I talked to did not have a sure answer. They simply enjoy the tradition, which often means coming together a few days before Christmas to cook the recipes together, as Maria Marino, the Events and Membership Coordinator at the Italian American Museum of Los Angeles, pointed out: "It's not just sitting down and eating together, but also bonding in the kitchen and learning recipes passed down from one generation to the next."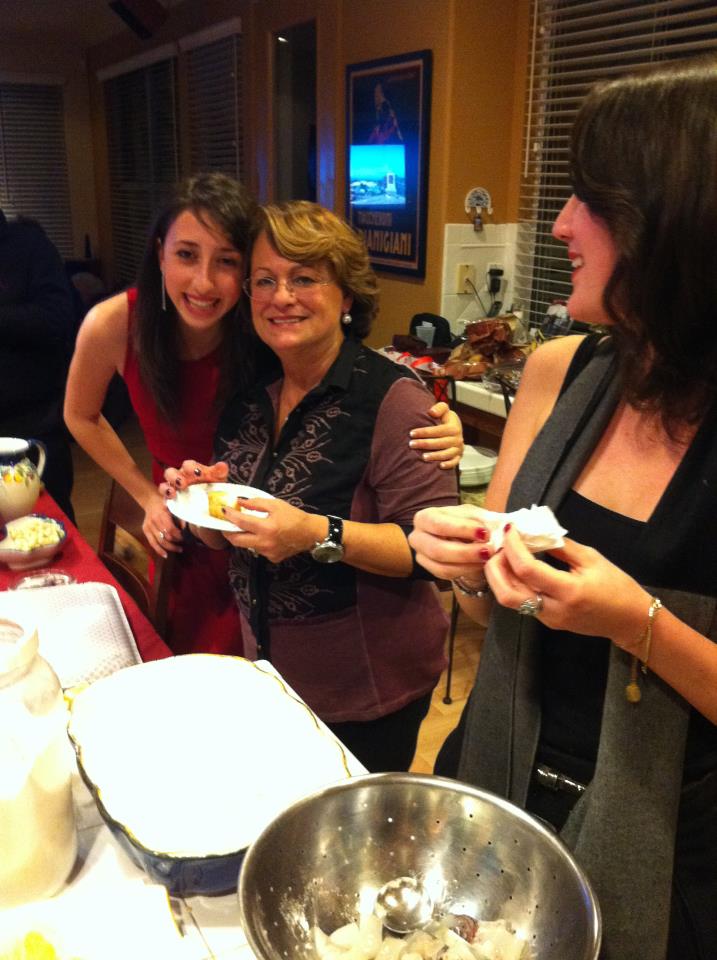 [Photo: Italian-American Maria Marino celebrating the Feast of the Seven Fishes with her family at Christmas.]
In fact, while the courses are typically seven (but could be more), Italian-American families will not necessarily make the exact same dishes for the Feast. "Some that we normally prepare," Maria explained to me, "are calamari fritti (fried calamari), baccalà (salted cod- a Southern Italian Christmas tradition), gamberoni alla griglia (grilled shrimp), impepata di cozze (mussel soup), insalata di mare (seafood salad), spaghetti alle vongole, and branzino (sea bass). Starting with an aperitivo, we normally eat the fried calamari, baccalà, and the insalata di mare first, followed by the impepata di cozze. The main course usually consist of some type of pasta dish with shellfish, followed by a second course, which is usually pesce al forno (baked fish) like branzino with vegetables on the side. I am usually beyond stuffed by the time I make it through all the courses!"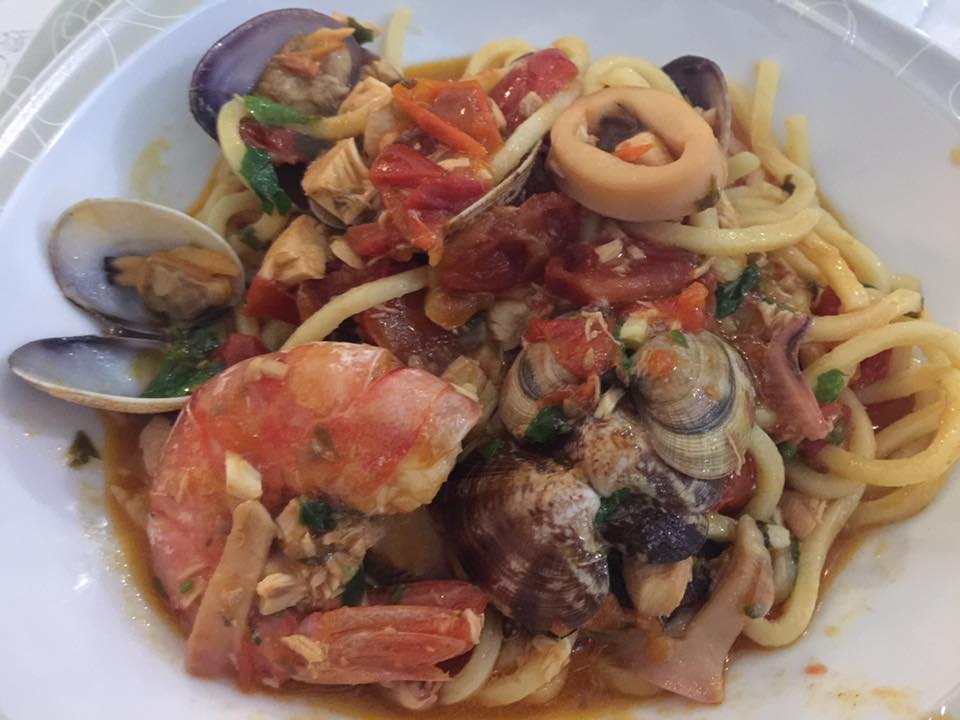 [Spaghetti allo scoglio may be a typical pasta course during the Feast of the Seven Fishes. Photo courtesy of Maria Marino.]
The fact that dinner on Christmas Eve (la vigilia) consists only of seafood is indeed related to how we celebrate la vigilia di Natale in Italy because many families, including mine (except this year: we're eating tortellini - oops), will abstain from eating meat the day before Christmas, following a Catholic tradition. Abstinence from meat and animal fat is a precept of the Catholic Church, to be observed on Fridays and certain times of the year, such as on the eve of feast days like Christmas. It has to do with what is considered a spiritual practice, fasting, and performing penance for your sins. Fish is allowed during abstinence because it is not considered as 'rich' and filling as meat.
But the number seven – that remains a mystery. It may have a religious significance, for example seven is the number of days it took God to create the Earth according to the Christian tradition, seven are the cardinal sins, as well as the number of holy sacraments.
Or maybe it's just that Italians like to eat a lot, especially on festive days, so why limit yourself to one or two courses when you can have seven (or nine, or 12). 
Indulge, enjoy – Buon Natale from all of us at ITALY Magazine!