Last week we started you off with a brief guide to the beloved city of Venice in part one of our series. Now we have arrived in part two as our writer John continues to explore a city that fascinates and inspires, even today. 
Once on land, there's a wealth of Venetian architecture to see. Particularly notable is the trend of Venetian Gothic architecture which originated in the 14th century. Mixing early Gothic styles from Italy with Arab influences from Moorish Spain and Byzantine influences from Constantinople, Venetian Gothic emphasises a luxurious, detailed, aesthetically striking style. Notable examples include the Doge's Palace (which dates back to 1340) and Ca d'Oro, a palace on the Grand Canal that was built between 1428 and 1430 for the Contarini family. Ca d'Oro means Golden House on account of the one-time visual impact of the gilt and polychrome external decorations on the building's walls.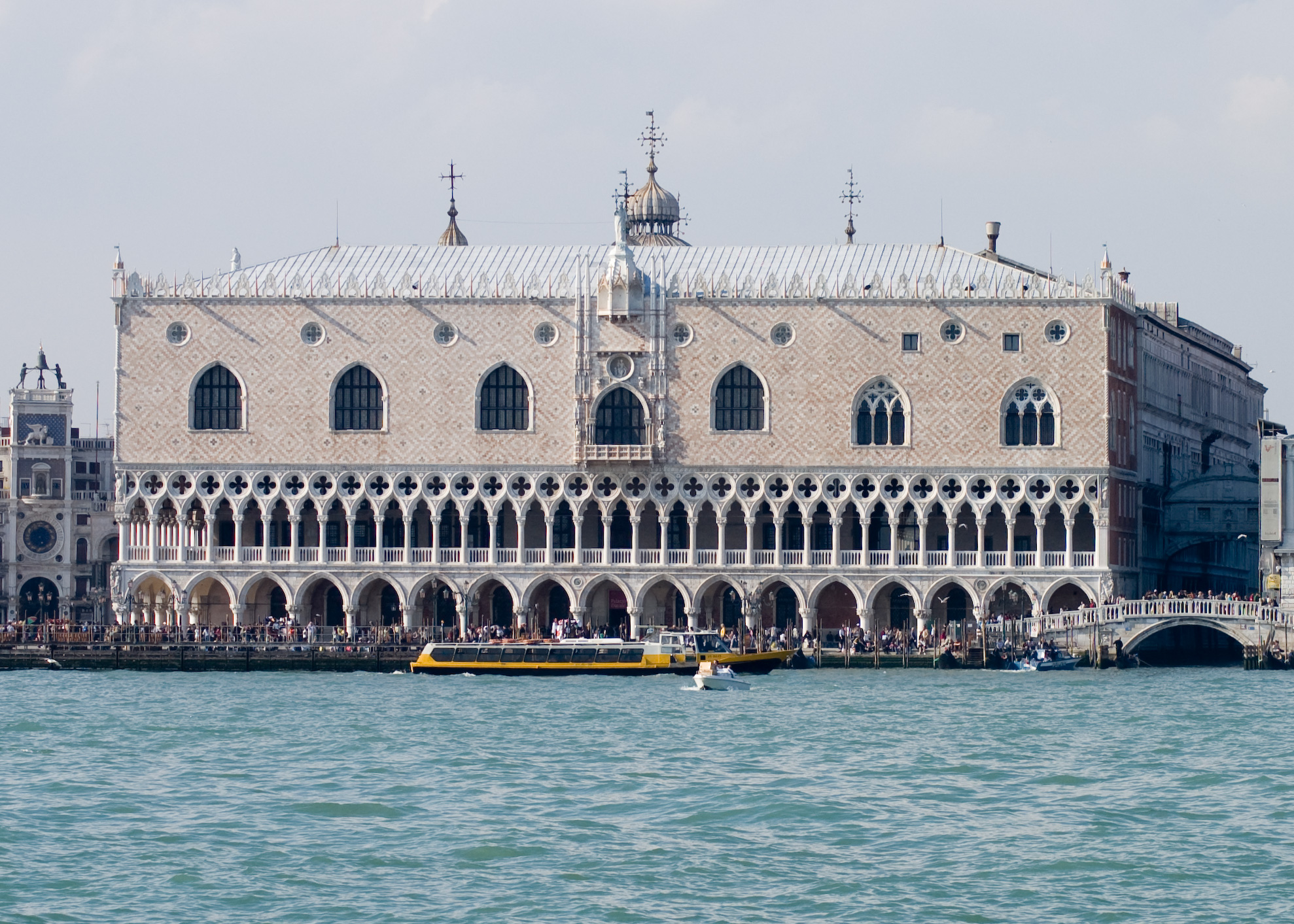 (Doges Palace: Ph. Wikimedia Commons)
One of the most famous examples of Venetian architecture is St Mark's Basilica. The combination of ornate, detailed design and its interior mosaics make St Mark's Basilica a great example of Venetian architecture at its finest and also a notable symbol of the city's power and status. Originally, the building started out as the Chapel of the Doge, but by the early 19th century, became the city's cathedral. It was originally built in 828, while its present form was begun in around the year 1073 (with consecration around 1084). While additional mosaics and domes have augmented the Basilica over time, its basic structure has largely stayed the same.
Notable exterior elements of the Basilica include the bronze statues of the horses of Saint Mark, the statue of the four Tetrarchs (which was designed to reflect the new co-emperor ruling plan in a bid to stabilise the Roman Empire) and the Narthex, the porch that acts as a taster for the wonders inside with portrayals of characters from the Book Of Genesis such as Joseph, Moses and Noah.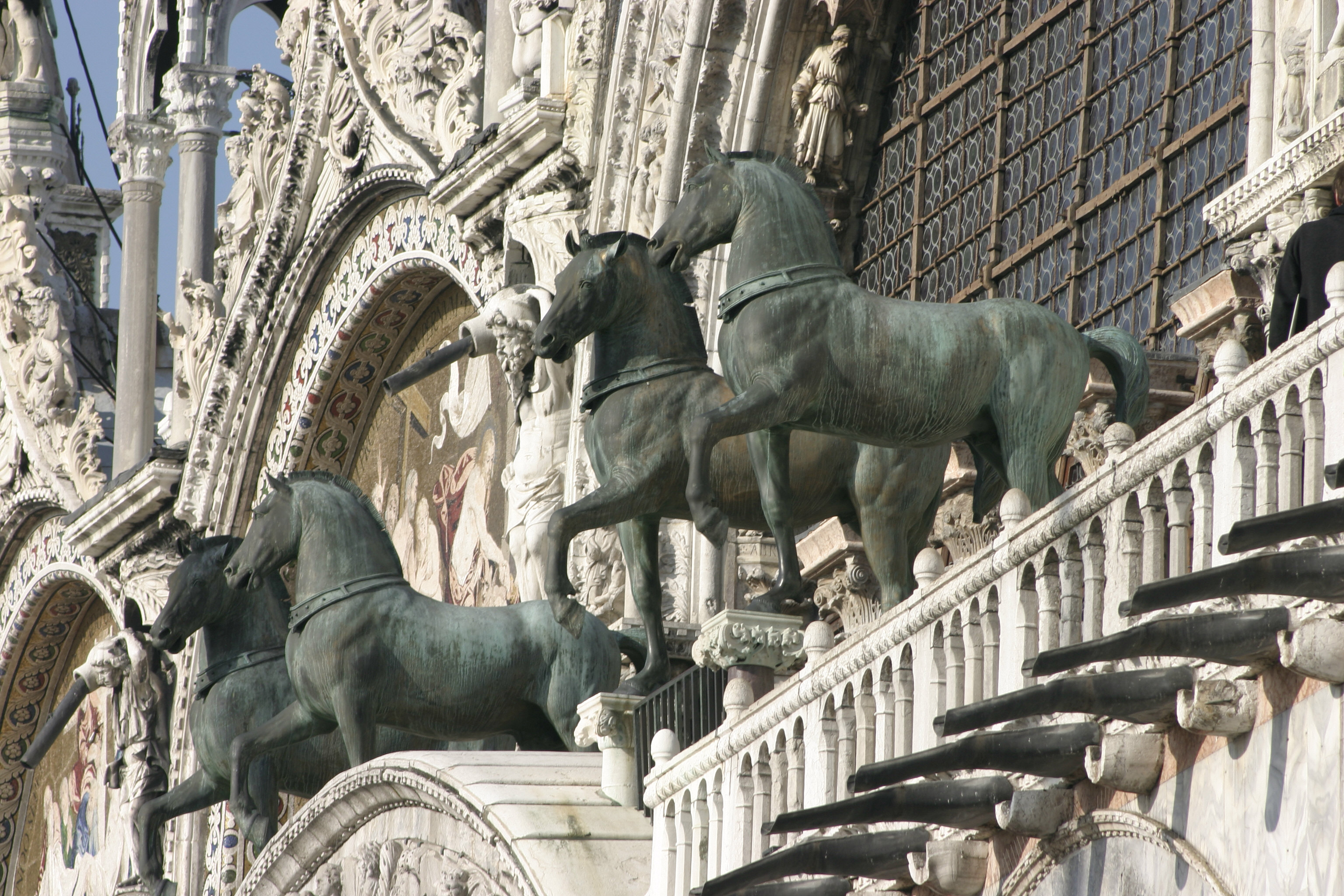 (St. Marks Square, Bronze Horses, Ph: Wikimedia Commons) 
Once inside, the gold ground mosaics on the upper walls and ceilings instantly catch the eye. There are large-scale cycles that offer detailed visual representations of the Life Of Christ, the Life Of The Virgin and the lives of Saints including John, Peter and Mark. Many of the mosaics used the background of gold glass tesserae – however, it's said that roughly only one third of these mosaics have these backgrounds owing to restoration which was carried out in the 19th century.
St Mark's Basilica is a focal point of Piazza San Marco – or St Mark's Square! The dominant public square of Venice also boasts many other amazing sights in and around the area. There's the Clock Tower, an iconic feature which was completed in 1499. Or Palazzo Patriarcale, the Neo-Classical building that's next to the Basilica. Or the Procuratie Nuove, three connected buildings, originally completed in 1640 by Baldassare Longhena (having been started by Vincenzo Scamozzi in 1586).
It wasn't just the building exteriors that boasted lush Venetian design. Venice is famed for the trend of Rococo interior design which is marked out by its luxurious, extravagant style. Furniture items such as beds, chandeliers and cabinets would be made with real flair and an eye for the ornate. Beds would be designed and made to perfection, boasting extra stylistic touches as statues of angels and flowers. Cabinets would be lacquered to give them that extra sheen. Chandeliers would be produced to the highest standard with Murano glass and precious stones to give that additional sumptuous effect.
If you're feeling peckish after having seen the sights that Venice has to offer, then there are plenty of local delicacies to enjoy. One of the most popular local dishes is also one of the most simple. Polenta is boiled cornmeal and can be cooked in a variety of ways. Baked, grilled, fried... Polenta continues to be a common dish of Venice. Many local pasta dishes are hugely popular – whether it's fresh filled pasta Casunziei or a special pasta dish, Bigoli in Salsa which is served with anchovy and onion sauce. Fettuccine and Risotto dishes are also enjoyed in Venice, as are a variety of local seafood specialities such as Sarde in Saor (marinated sardines).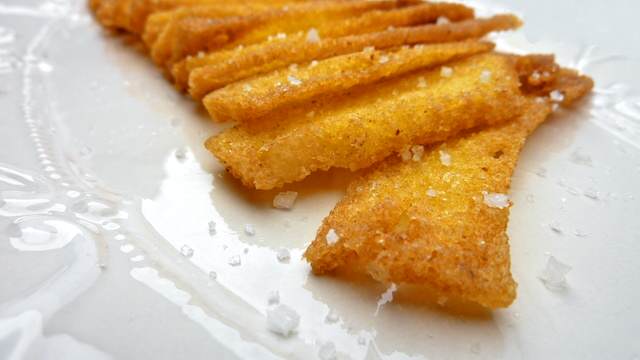 And for those with a sweeter tooth, popular desserts in Venice include Fregolotta (a crumbly almond cake), Baicoli (sea bass shaped biscuits) and Frittole (a fried doughnut made with a dough that includes raisins and orange and lemon peel).
Venice is truly a destination of wonder. It's packed full of colour, vibrancy and its own sense of style. Unique may be an over-used phrase, but Venice's history and cultural achievements (and of course, its canals!) do earn the city a very special status indeed.