With the talk of traveling a little differently on the rise this new decade, one sure way to do this is to scrap the concept of stress-inducing bucket lists and embrace the power of slow. For those who love and live Italy on the daily that is what is what brought most of us here in some form or another, the need to slow down and take in ones' surroundings con calma.
In Italy's big cities, as fascinating and versatile as they are, a visit there can be counterproductive to a relaxing vacation for most with long lines standing shoulder-to-shoulder in major museums, expensive restaurants and crowded centers. For those looking for a true escape from their daily life, might we suggest visiting a region you may have never heard of but that "has it all" – Abruzzo.
Abruzzo is in central Italy, east of Rome in a mountainous, green region divided into four provinces: L'Aquila, Teramo, Pescara, and Chieti that also offers an impressive amount of coastline. It is also home to the famous Trabocchi or traditional wooden platforms directly on the sea selling fresh seafood to hungry diners. There are national parks, UNESCO heritage sites, delicious local culinary culture and a bevy of beautiful medieval towns.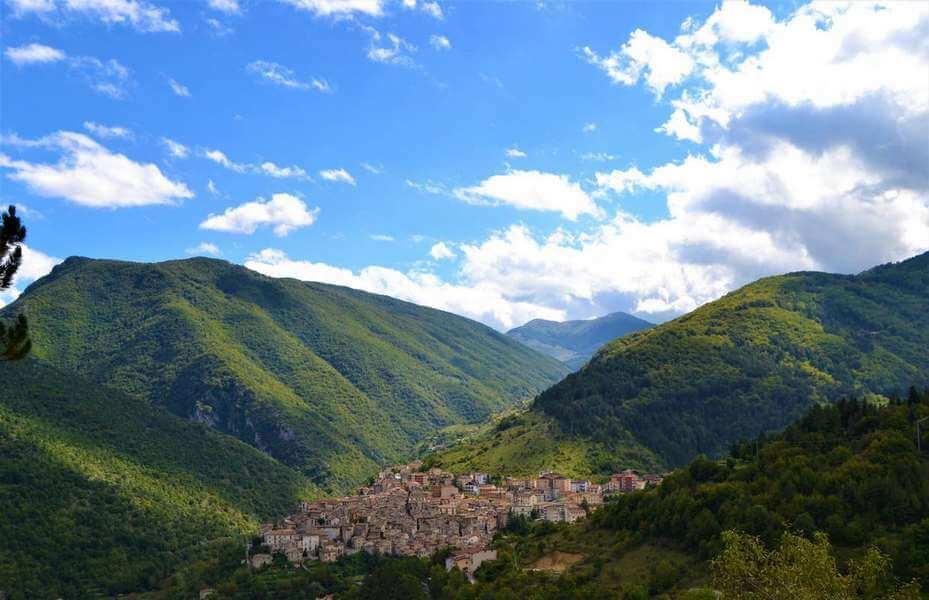 While it is possible to organize a trip on your own, it isn't the easiest region to navigate if you've never been. In fact, it's the kind of place where a seasoned expert is truly appreciated as much of what is really special is simply a bit more hidden. One of the most beautiful aspects of Abruzzo is the fact that life just simply hasn't changed much here over the years, a feeling that is increasingly harder to find in Italy in popular regions more affected by mass tourism. 
One such tour operator Italia Sweet Italia is aiming to show visitors exactly that.
Founder Fabrizio Lucci, firmly believes in sustainable tourism and slow travel, hence why he is  so passionate about offering small-group tour experiences showcasing the very best that Abruzzo has to offer. La "dolce vita" in the form of life-lasting memories shared together with a true ambassador of the region. 
Easier to reach than you think, Abruzzo is just a few short hours from Rome by car. You can also arrive via plane, with many flights arriving at the airport located in Pescara, it is also reachable by bus or train. 
With all there is to look forward to in this dynamic region that promotes a slow travel experiences, here are five reasons why you should consider making Abruzzo your 2020 vacation destination.
The "Green" and "Blue" Region of Europe
For those who appreciate nature, this is a fabulous destination. In Abruzzo alone, there are three national parks, one regional park, and 38 protected nature reserves, which cover one third of its territory. The fauna that can be found here include the golden eagle, the Abruzzese chamois, the Apennine wolf, and the Marsican brown bear. For those who prefer nature by the lake, Lake Bomba has tourist resorts along with that at Scanno and Barrea.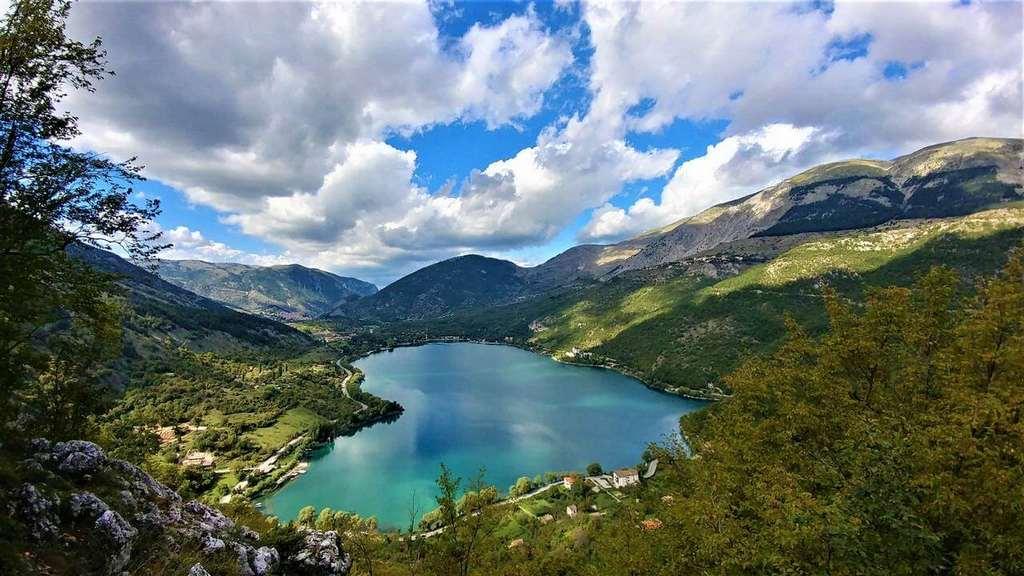 For those who appreciate sports, you can enjoy cycling, skiing and plenty of hiking trails. Since it is currently ski season, the dense resorts within the Gran Sasso, Roccaraso, the Majella, Velino-Sirente, the Cinque Miglia plateau, the Carseolani, and the Simbruini Mountains are perfect for lovers of the snow.
One exciting discovering that you can look forward to (which we will uncover soon in an upcoming article) is an abandoned railway discovered in Abruzzo south of Pescara, along the Trabocchi coast. They are currently working on it to become a picturesque cycle-pedestrian trail that will take cyclists into the green and blue heart of the region.
Lovers of the seaside will have plenty of option to choose from in regards to seaside resorts which during the summer season are packed with locals going for a dip. Places like the Alba Adriatic are home to long, white-sand beaches and cool pine forests. Vasto is home to one of Italy's best beaches and from Martinsicuro to Silvi Marina there are seven resorts dubbed the "seven sisters" that are ideal for those looking for a beach holiday.
One way to discover more of the "green" areas is on board the Historic Trans-Siberian Line in Abruzzo and Molise, quite literally like traveling on board a moving museum! The route goes through the Appennine peaks in Molise and Abruzzo where those on board can enjoy the scenery of the Majella National Park with stops along tiny mountain villages, brimming with character. You can visit the Stiffe Caves and the San Venanzio Gorges and there are often wine tastings and gastro tours offered during the warmer months. 
You won't go home Hungry
Like many places in Italy, food here stays true to tradition by the local dedication to zero km products – things produced, sold and eaten locally such as extra-virgin olive oil, tomato sauce, olives, wine, cheese. As Fabrizio says "if you want to live like an Abruzzese, you must put yourself in from of a brodetto" a famous local fish soup packed with fish fresh from the Adriatic and simmered in a fragrant tomato broth that hails from the city of Vasto. 
It was even mentioned in the book by American author "Mimi Sheraton" as one of her "1,000 Foods to Eat Before You Die". Another must-try is the most popular meat dish: arrosticini (sheep skewers) cooked over an open grill, one of the tastiest dishes this Tuscan Texan has ever had. Ventricina del vastese, instead is an award-winning pork salami flavored with fennel and dried red (sweet or spicy) pepper.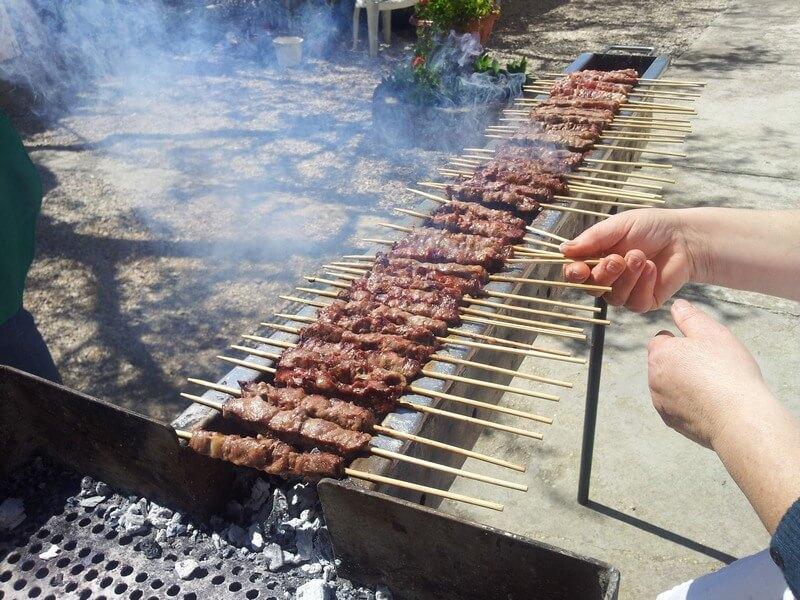 Pasta-lovers will appreciate that this is the birthplace of spaghetti (or maccheroni) alla chitarra, made by pressing or cutting pasta through a chitarra, a machine that forms long thin noodles similar to spaghetti. This why taking a local cooking course in the area is such a great idea, you can learn how to make these traditional recipes at home together with Mamma Anna Maria, Fabrizio's mother. 
Wine lovers won't be disappointed either. Home to the great Montepulciano d'Abruzzo, we also suggest trying the local "ratafià", an interesting blend of the organoleptic qualities of Montepulciano d'Abruzzo and dark cherries (fruits or leaves) locally known as "visciole". 
The tradition of Trabocco
One of the best-known attractions in Abruzzo are the centuries old fishing structures along what is known as the "Trabocchi Coast" - a 42-kilometer coast that stretches from Ortona to Vasto, in the province of Chieti. 
They are a sight to be seen, a ramshackle structure emerging from the sea like an alien. The structure itself can be found at the end of a long narrow pier, with multiple wooden poles supporting a large net that is hauled in with winches.
Once owned by individual families, nowadays many of them feature seafood restaurants offering olive-drenched anchovies, sardines and the local catch of the day (think seabass/sea bream) along with a glass or three of chilled Trebbiano d'Abruzzo or Pecorino wine. Prepare to stay for a while as these meals are a slow travel experience you want to dedicate a few hours towards. With a breeze from the Adriatic Sea slowly filtering in while you eat with new friends, to experience this in person is something you won't soon forget.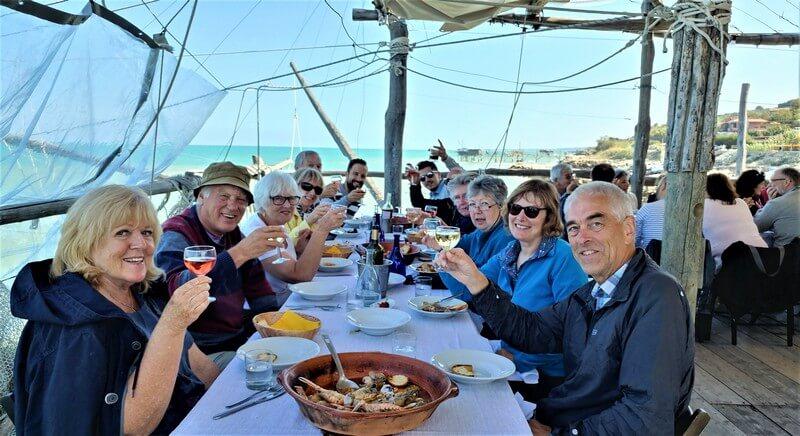 Fabrizio's favorite is Punta Tufano because it is considered a "trabocco informativo," meaning it serves to educate the public about the history of these piers via displayed historical explanations along with serving an eclectic zero-kilometre local menu of delicacies.
Beautiful Medieval Villages and a Rich History
History lovers will appreciate the numerous remains from the Roman civilization that are scattered throughout the region, such as Amiternum near L'Aquila, Alba Fucens and Sulmona and it's worth noting that human settlements in Abruzzo have existed since at least the Neolithic times. In fact, one skeleton from Lama dei Peligni in the province of Chieti dates back to 6,540 BC under radiometric dating.
When it comes to jaw-dropping Italian villages with a rich cultural history, Abruzzo has a plenty! The highest mountain fort in Italy (1,500 meters above sea level) can be seen at the majestic Rocca Calascio, and other towns that should definitely be on your radar include Pescasseroli, Scanno and Santo Stefano di Sessanio. We might be biased Abruzzo is home to Italy's most beautiful castle. Perched on top of a 100-meter limestone cliff, Roccascalegna is known locally as the "Castle in the Sky" and it should be the number one castle on your list.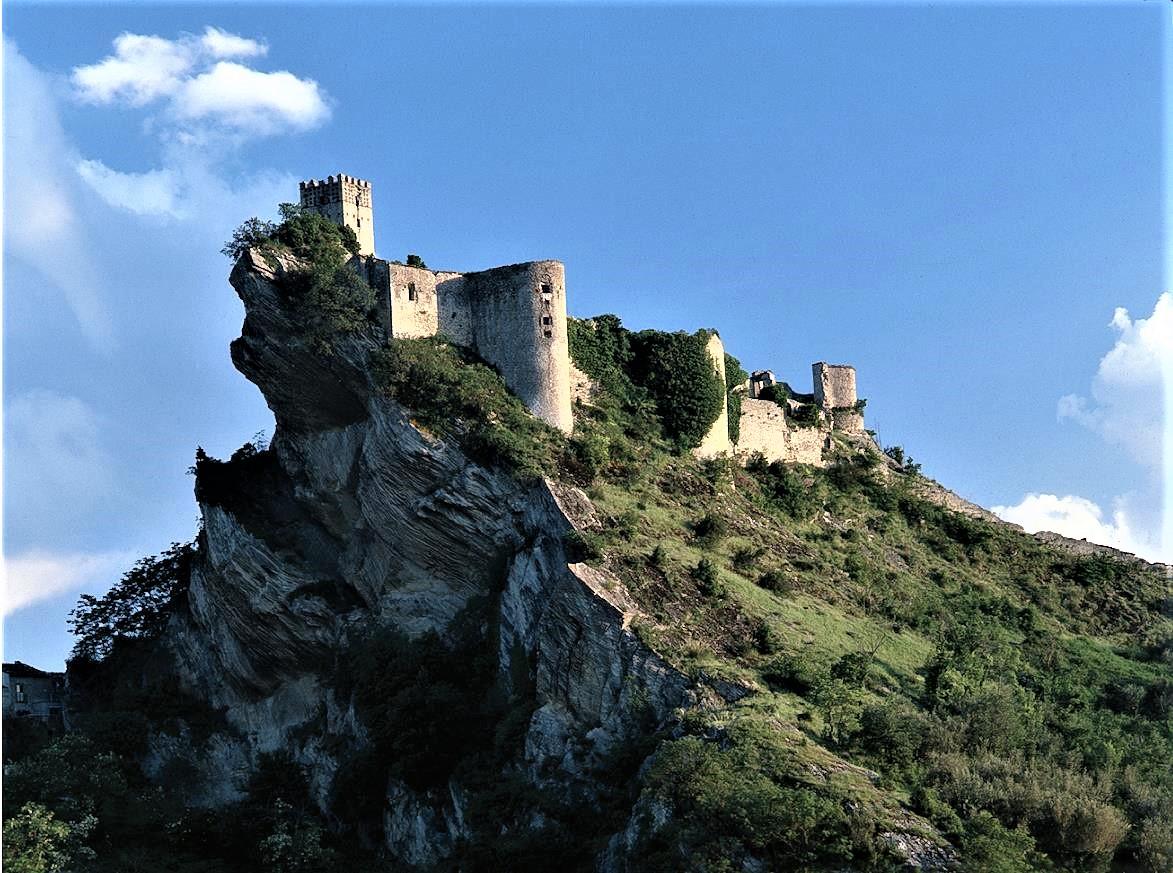 In historic towns like Sulmona, which lies within a UNESCO-protected valley, you'll find a popular treat beloved by the entire nation, sugared almonds, known as "confetti" and torrone, the classic Italian nougat that can stick in your teeth.
Vasto, for example, is considered one of the best places in Abruzzo, Italy, it is a hilltop ancient Roman town overlooking the Adriatic Sea, and a starting point for Fabrizio's tours.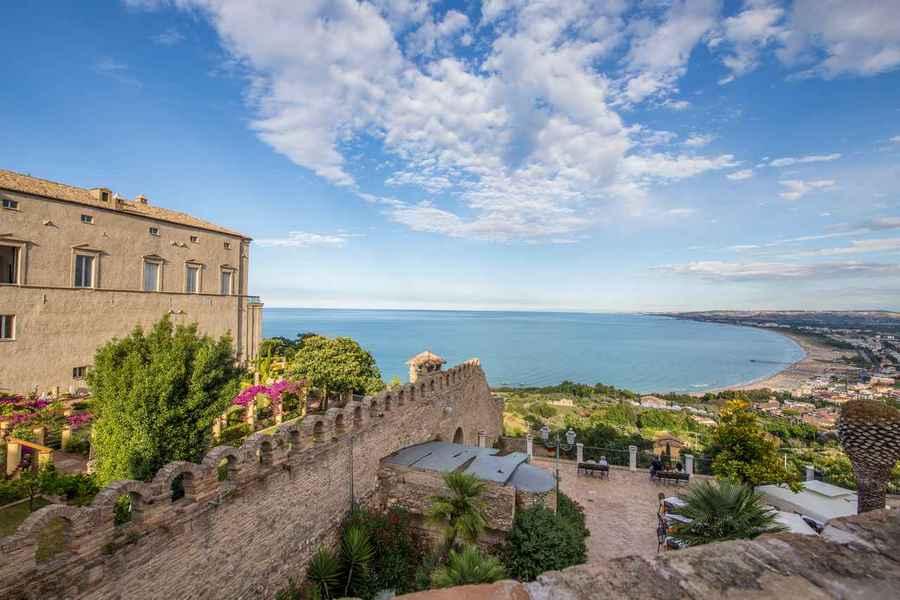 His evocative family memories show why this place is so close to his heart. 
"It is definitely the town where I used to watch my Mamma (Anna Maria) and her mother, Nonna Lucia, making homemade pasta every Sunday after a stop at my church, Chiesa del Santo Patrono – San Michele Arcangelo – where I played soccer in the streets with my friends, just ten meters away from the house where I grew up with my family and grandma" he shared. "I remember I used to have a Sunday snack made of bread and tomato sauce, slowly cooked for hours and hours, starting from the passata we prepared (and we still do) every summer together with her, my father Angelo, my brothers and cousins." 
Meeting locals and making friends (for life)
To give an idea of how people consider those who come from Abruzzo, think of the words of Primo Levi. The visiting nineteenth-century Italian diplomat and journalist said that the adjectives "forte e gentile" (strong and kind) best describe the beauty of the region and the character of its people. "Forte e gentile" has since become the beloved motto of the region and its inhabitants.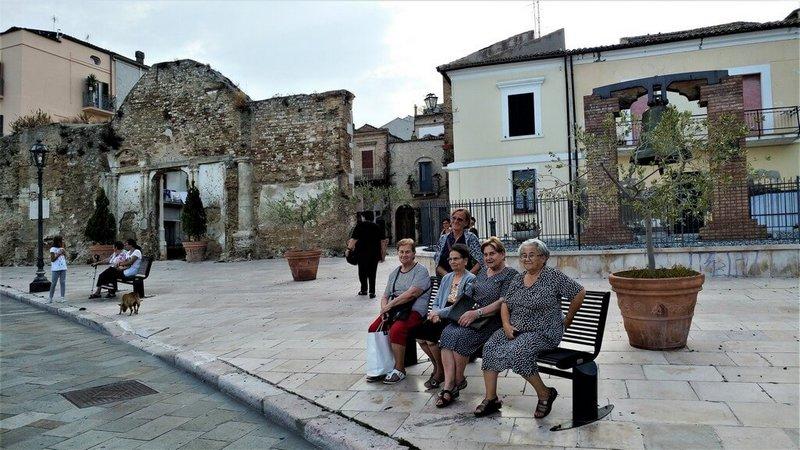 Part of seeing this is to simply partake in a lunch or coffee break that lasts for hours, ending with an ammazzacaffè and taking the time to just "be" as the locals do without feeling the need to rush or ask yourself "what's next". One of the best reasons to join a small group tour run by a local from the area like Fabrizio is that they will introduce you to their family and friends and invite you in as if you were one of their own. This doesn't always happen when traveling solo and I can attest that my own personal favorite experiences in Italy have been these moments, with strangers that become life-long friends over the lunch or dinner table.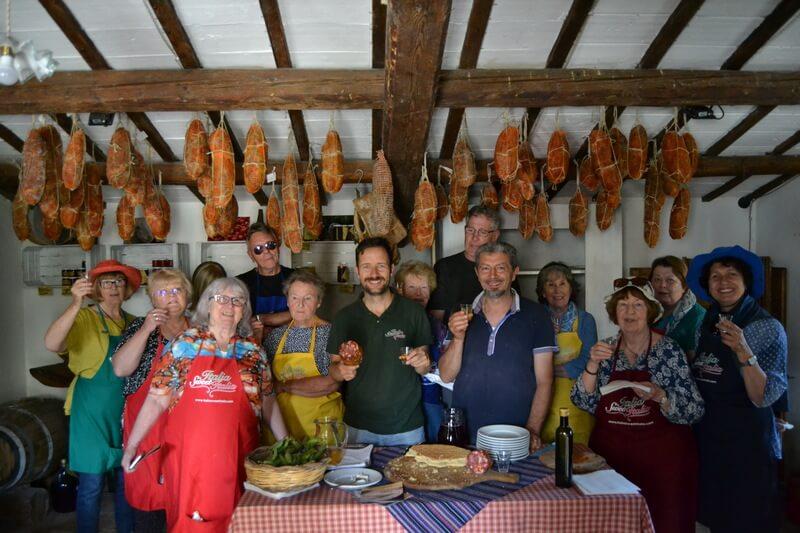 It is worth noting on the optic of sustainable tourism that supporting businesses like that of Fabrizio is helping local places in the area survive. This isn't a huge agency outsourcing tours from NYC, this is born and bred from people who live and breathe this region on the daily. His company is primarily focused on preserving the Abbruzzese way of life and building the local economy. This includes visits local artisans and boutique shops and the chance to help local producers get better known around the world. 
The diversity of Italy's regions is why this country is so incredibly special, from north to south you'll find a huge different in not only culture but dialect which is why I absolutely loved this video sharing Abruzzese local phrases, to end on a fun note! 
For anyone eager to live an immersive adventure in the Italian culture and traditions, where you really get to know the food, region and people - your host and local guide Fabrizio of Italia Sweet Italia, together with his family & friends, has put together amazing experiences that combine passion, beautiful places and locals to show you the best of the region's of-the-beaten-track secrets.