Loretta Lovisa is a petite woman with bright and expressive eyes that sparkle when she speaks — particularly about her line of work. A master needleworker, Lovisa is almost single handedly carrying on Orvieto's long lace-making tradition, Merletto di Orvieto, which typically depicts scenes and artistic motifs that mirror the bas-reliefs on the city's spectacular Gothic cathedral.
The 73-year-old Lovisa, who was named the Pialletto d'Oro Artisan of the Year for 2023 by the CNA (Italian Confederation of Craft Trades and SMEs), recently got the coveted invitation from Rome-based luxury brand Fendi to design one of their "Hand in Hand" Baguettes — a limited-edition collection of the brand's most famous bag, centering independent artisans and the specific regional traditions they represent.
The Baguette in brief
The Fendi Baguette is a compact, handled purse designed in 1997 by Silvia Venturini Fendi under the direction of the late Karl Lagerfeld. It was put on the mainstream map after its appearance on Sex and the City in 2000, when the show's fashion-crazed protagonist Carrie Bradshaw (Sarah Jessica Parker) famously quipped "It's not a bag, it's a Baguette" while getting mugged in broad daylight.
Italy Magazine staff writer and Orvieto resident Toni DeBella sat down with Ms. Lovisa to talk about what makes her brand of handicraft unique and how she is enjoying her "later-in-life" foray into high fashion and luxury goods, becoming one of only a handful of Baguette designers.
This interview has been lightly edited for length and clarity.
Loretta on lace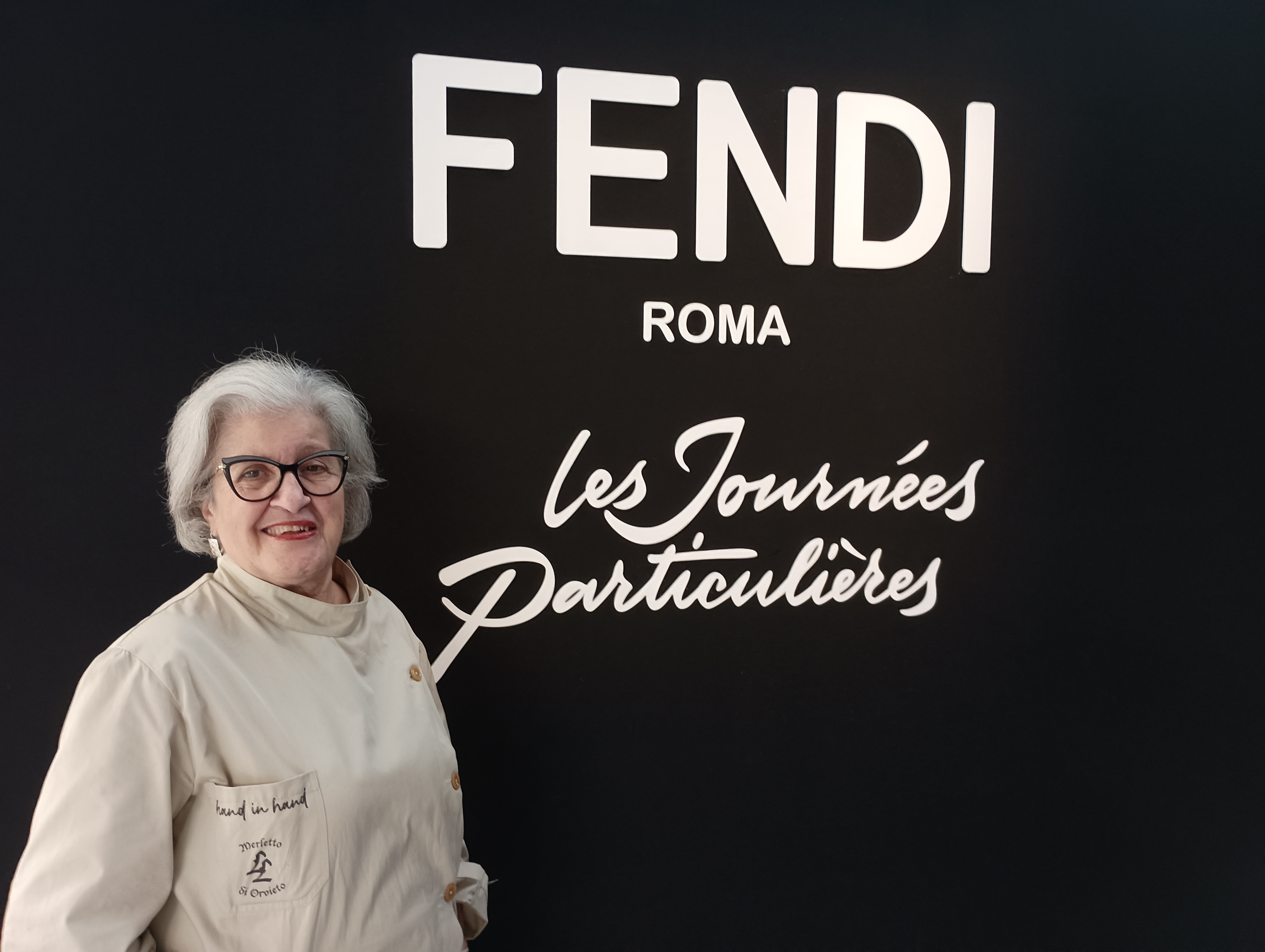 Toni DeBella: Designing a Baguette for Fendi is quite a feather in your cap. How did this opportunity come about?
Loretta Lovisa: It was a sunny day, and the phone rang. The man on the other end of the line said he was calling from Fendi in Berlin. He said he was interested in my technique and asked if he could come to my workshop. We made the appointment and he came, along with a few stylists. I showed them my technique, some samples and they said they were interested in me making a Baguette. 
To be honest, I was very embarrassed, because Fendi is a world that I didn't know much about.
TD: How'd they find you?
LL: Knowing that Fendi was looking for artisans from all over Italy, a young woman I had done work with in the past mentioned my name.
TD: So, what exactly is Merletto di Orvieto?
LL: The typical Orvieto lace is made with a crochet technique that takes its cues from 17th-century Irish lace, which is made by several hands and in different stages: creating the flowers or leaf motifs, and the netting at the bottom. The lace contains history in its simple designs.
Merletto di Orvieto began around 1907. Orvieto Senator Count Eugenio Faina established an association as a way for women to gain economic freedom by making the lace from home. I grew up learning the craft from my grandmother, mother and my aunt, who was a home economics teacher. The association closed down in 1974,  but the art continued to be taught in schools.
TD: What can you tell us about the process of designing a Fendi Baguette?
LL: First, they chose different elements from my samples and then we made a drawing. Once Fendi was satisfied with the prototype, they entrusted me to start production of the lace. It's not easy, because I must make the net first, then the leaves, motifs and so on. I send Fendi the finished shell and when it's lined and all the finishing touches are complete, they place the inverted "FF" insignia and it's ready.
TD: What was it like to work with Fendi?
LL: I am really very satisfied with the House of Fendi. I was invited to Florence in October, when they inaugurated clothing from the new factory. And there they were (the bags). I was the [designer] representing Umbria. I was also invited, along with the artist from Basilicata who also made a Baguette, to Tokyo for an exhibition of all the Italian Fendi Baguettes — all the same bag but made in different designs and with different techniques, each from a region in Italy.
TD: Do you know when your bag will be introduced to the market?
LL: Not yet.
Where to find Loretta
Il Merletto di Orvieto
Via della Cava 115, Orvieto
Tel. +39 340 1458327
Website