When temperatures drop low, what's better than a steaming hot drink to warm the body and spirit? Here are nine drinks to enjoy in Italy in winter. 
Bombardino
The name alone is enough to bring on some cheer. Bombardino (meaning 'little bomb') may very well be the favorite hot drink of skiers as you will see many of them gulp one down at Italy's rifugi (mountain huts) in popular ski resorts. Bombardino is made with warm zabaione, cream, and brandy, although there are three main variations according to the area: 
Calimero, made with zabaione and espresso coffee 
Pirata (pirate), made with zabaione and rhum
Scozzese (Scotsman), made with zabaione and whisky. 
Bombardino originated in the northern region of Lombardy, precisely in Livigno, Valtellina area, at the mountain hut Mottolino. 
Be prepared for the burst of heat you'll feel after drinking it, due both to its temperature and its alcohol content (approximately 30°).
Vin brulé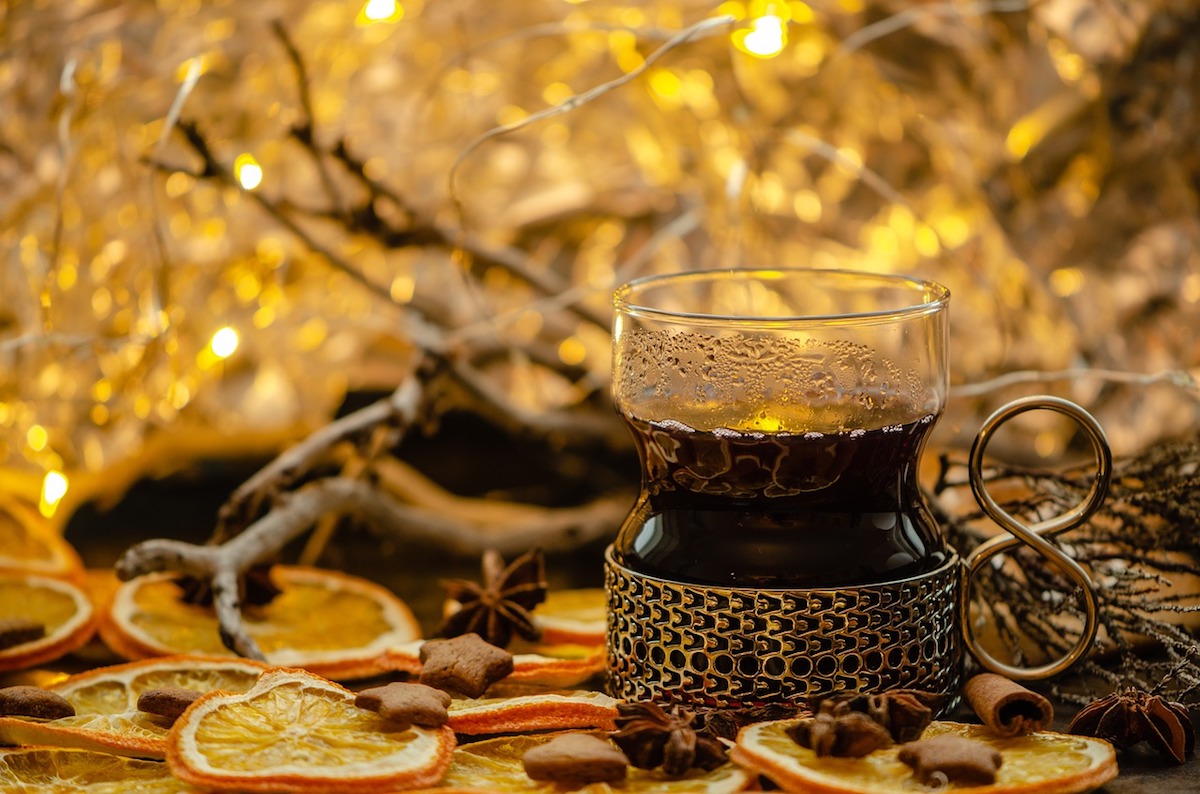 Among the most typical Italian winter drinks is mulled wine (vin brulé), which becomes a real must during the holiday season. It's a wine-based drink, usually red wine, enriched with spices, such as cinnamon and cloves, orange, apple and lemon.
Mulled wine is consumed mainly in the northern regions, and it is not uncommon to see people sipping it as they visit the local Christmas markets.
To make it at home, buy a very intense red wine, untreated oranges and lemons and very fragrant spices. The basic recipe can be enriched, depending on your taste, with the addition of red fruits, honey and other spices such as star anise, cardamom, ginger and nutmeg.
Hot chocolate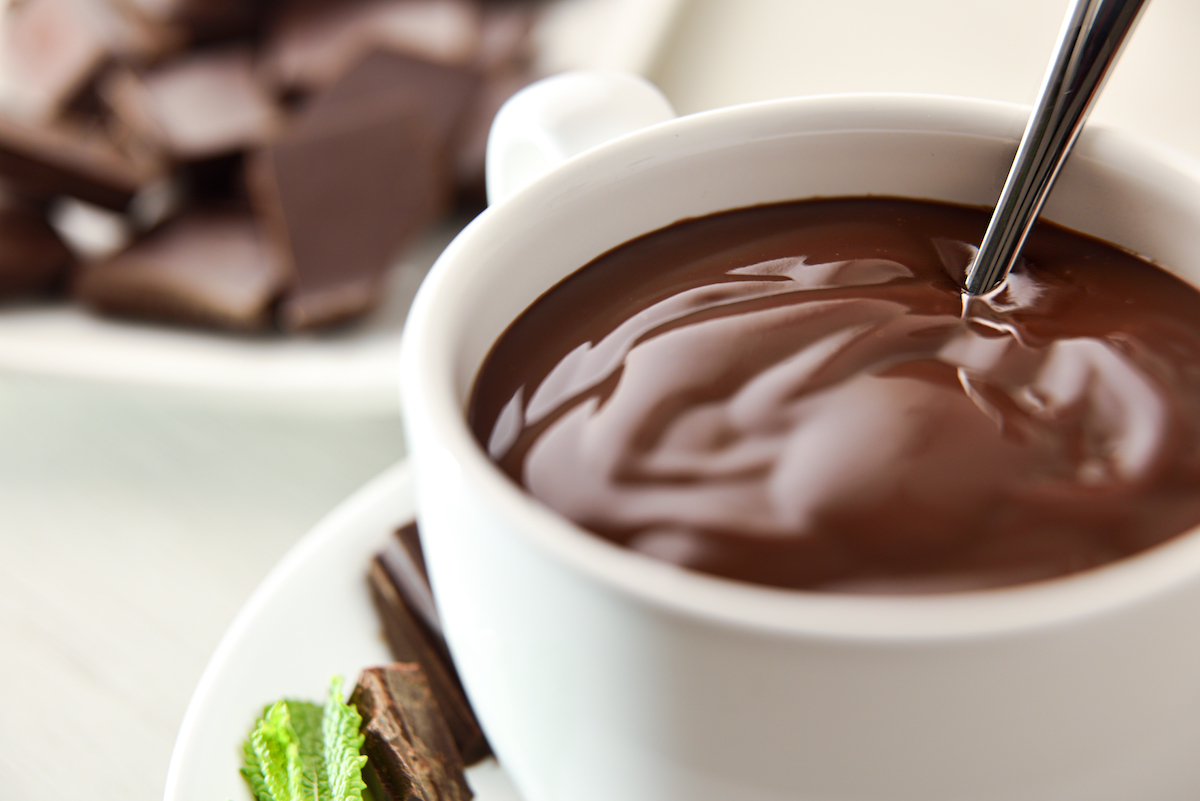 A true classic that everyone enjoys, adults and children alike, especially when topped with panna montata (whipped cream). There are spiced versions as well: with orange and cinnamon, with ginger, cloves or with chili pepper, which match well with the aroma of chocolate.
Try this recipe at home: melt some dark chocolate in pre-warmed whole milk with a little sugar. The secret to a perfect hot chocolate is adding potato starch and cooking over low heat. For a lighter version, you can use skimmed or vegetable milk.
Zabaione
Interchangeable as a dessert or drink, zabaione (zabaglione in southern Italy) is a thick crema made with beaten egg yolk, sugar and a drop of Marsala. In the case of this drink, preparing it in the right way is more complicated. You need a special pot and then you must carefully respect the doses and temperatures indicated. It can be served hot with dry biscuits such as Lingua di Gatto, Amaretti or Savoiardi, and also with the addition of a dollop of whipped cream.
Caffè amaretto
When it comes to hot Italian drinks, it would be impossible not to mention at least one with coffee, given the Italians' love for it. The 'caffè amaretto' is a revisited, alcoholic version of the classic coffee, served hot. Amaretto, a sweet Italian liqueur that originated in Saronno (Lombardy), has strong notes of bitter almond. By combining both coffee and amaretto, you get a little 'cocktail' to be enjoyed during the cold season. Garnish with almonds. 
Hot apple cider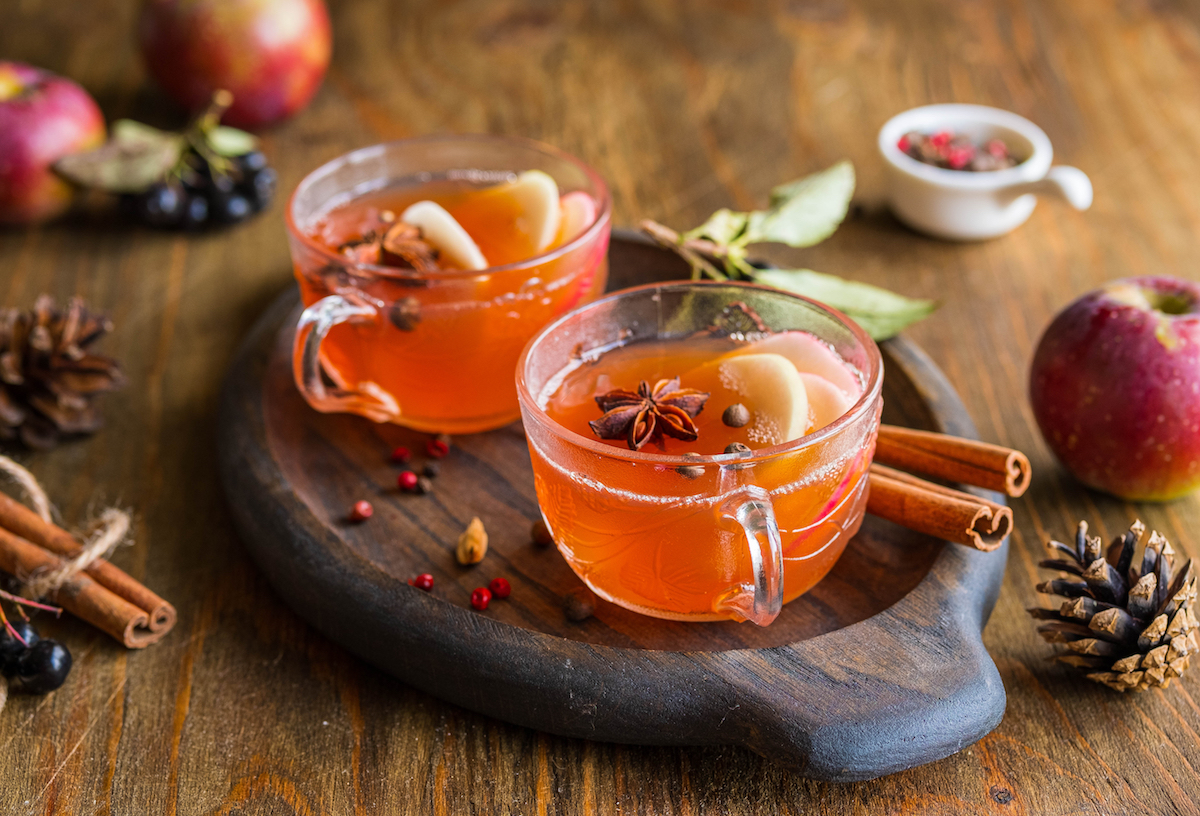 A fruity alternative to classic infusions, and really great to warm up in winter, is hot apple cider. Making it at home is very simple and there are numerous variations to enrich the classic recipe. You can prepare a non-alcoholic version starting from apple juice, to be heated to a boil along with pieces of fresh ginger, cinnamon sticks, cloves, and brown sugar to taste. Perfect accompanied with a slice of warm apple pie.
Ponce livornese 
Ponce is an alcoholic drink invented in Livorno between the 17th and 18th centuries and derived from punch, which was popular in the Tuscan city because of the large British community living there. The original composition of English punch included five ingredients: tea, sugar, cinnamon, lemon and brandy (or rum).
The Livorno punch replaced tea (or boiling water) with concentrated coffee, while the so-called 'rum fantasia' is used instead of brandy or rum (which do not match the flavor of strong coffee); rum fantasia is a local invention consisting of alcohol, sugar and dark colored caramel, sometimes flavored with a rum essence.
Ponce al mandarino  
Unlike ponce livornese, ponce al mandarino isn't made with coffee, but with a citrus-flavored liqueur, the ponce mandarino, which has a 47% alcohol content and is slightly sweet.   
The best way to taste it is after spraying it with steam from the espresso machine, and then garnished with lemon or orange peel.
Ponce al mandarino, which looks bright orange just like an aperol spritz, is a perfect substitute for spritz in winter, given that the classic aperitivo drink isn't as suitable for the cold winter months.
Ginger, honey and lemon herbal tea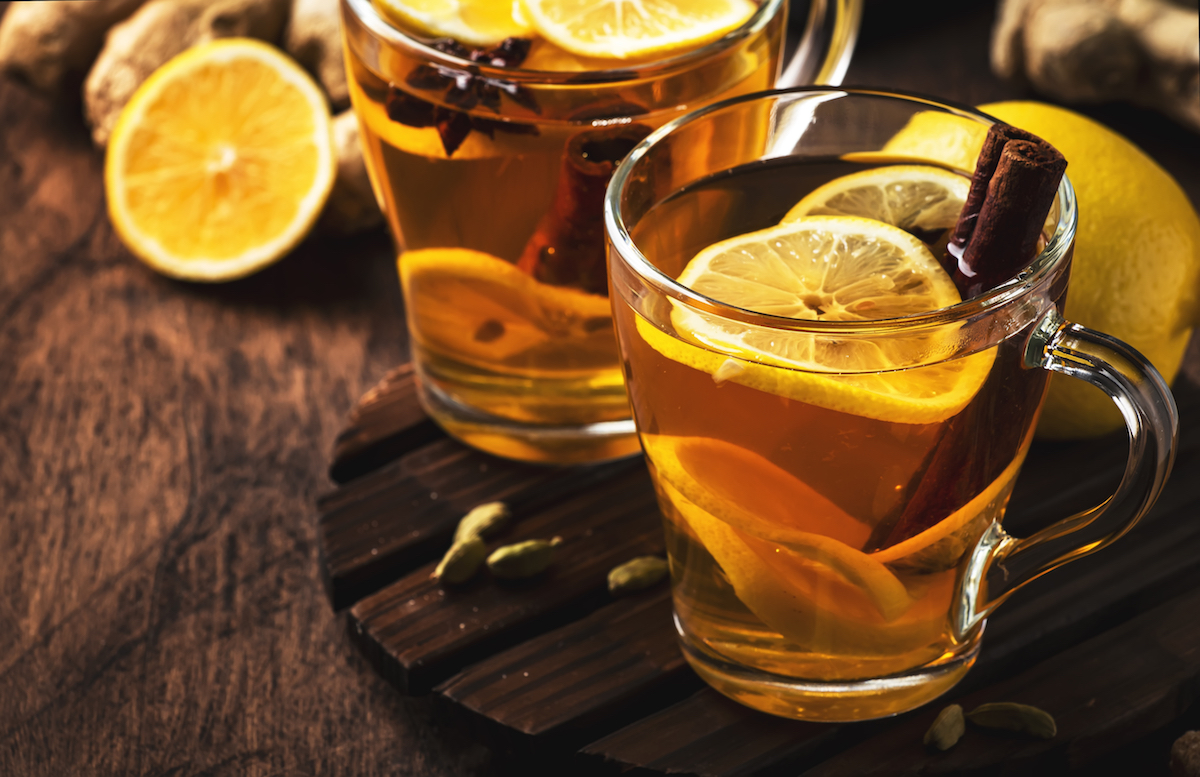 To keep warm, and also to aid digestion, fight a cold and strengthen the immune system, try this beneficial herbal tea, very easy to prepare, which you can enjoy after meals. Just prepare a classic kettle with water and two slices of peeled fresh ginger per person and then wait for the mixture to boil. Allow to cool slightly and then add the juice of a whole lemon. Leave to infuse for a few minutes. To temper the acidity of lemon, you can add a teaspoon of honey or brown sugar. Decorate with a slice of fresh lemon.
Enjoy and be warm!